Notable Incidents
The 2,863gt/1996 built and 3,900dwt cargo vessel Listervik was damaged after grounding in Bråviken Bay, west Oxelösund, Sweden, on 8th February. She suffered a hull breach, followed by water ingress and had been en-route to Norrköping, Sweden, from Nakskov, Denmark, with a cargo of wheat.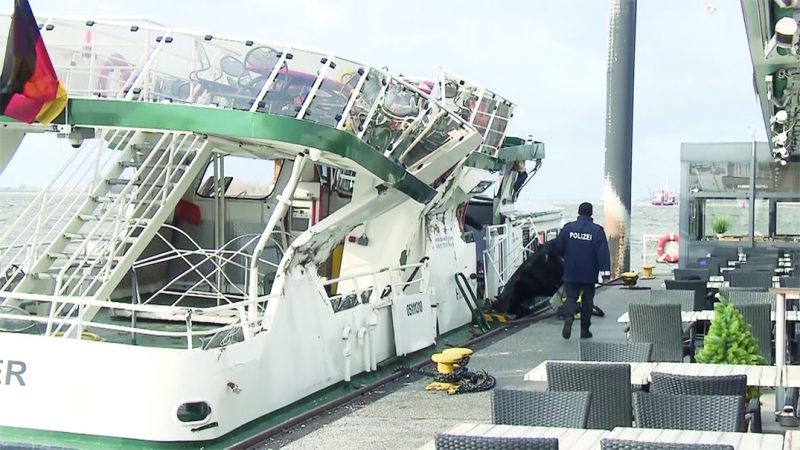 On the morning of 9th February, the 217,612gt/2018 built and 20,000 TEU capacity Ever Given brushed against the moored 25m long River Elbe ferry Finkenwerder at the Blankenese ferry pontoon as she headed down river. The Ever Given kept going en-passage to Rotterdam as to stop her could have created other issues. The container ship was not out of control, just passed too close and the slight touch was enough to inflict considerable damage to the superstructure of the ferry as seen above.
On 11th March the 56,642gt con-ro Grande America of the Grimaldi Group caught fire in the Bay of Biscay off the coast of France. The fire grew and the crew decided to abandon ship. Luckily, the Royal Navy Frigate HMS Argyll picked up the Mayday call and diverted to rescue the entire crew of 26 plus 1 passenger. The Grande America was on a voyage from Hamburg to Casablanca when the fire broke out. Despite salvage efforts the vessel sank on 12th March.
Container Fleets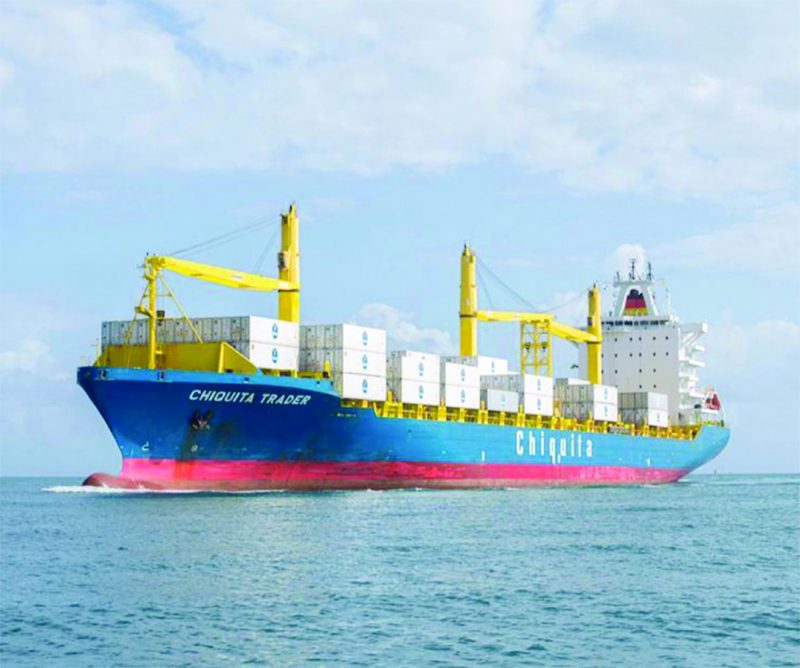 Chiquita's first fully containerised ship arrived at Vlissingen on 18th February. The 27,059gt/2005 built Chiquita Trader (above) is the first of two "new" container ships for the company, the second being the sistership Chiquita Express. Three other ships have also been chartered for the routes to Europe, guaranteeing weekly calls at Vlissingen rather than bi-weekly arrivals. The container ships have the capacity of two reefer ships and the company has also invested in a series of state-of-the-art reefer containers. This new generation of reefers uses a third less energy than their predecessors. Each container offers space for 1,080 boxes of bananas. The ships sail between Costa Rica, Panama, and the port of Vlissingen with the bananas then being transported from Vlissingen using short sea services operated by Unifeeder and Samskip. The fruit is shipped to Sheerness, Oslo, Helsingborg and Helsinki.
Unifeeder, recently acquired by DP World, began operating a direct shuttle service between Poland and DP World's London Gateway facility on 22nd February using Holwerda Shipmanagement's 3,999gt/1995 built and 508 TEU capacity Maria. The ship will depart Gdynia on a Friday and arrive London Gateway on a Monday. The new service announcement came just over a month after DP World's 100% acquisition of the Unifeeder Group
Offshore News
A.P. Møller-Mærsk A/S announced on 21st February that it had initiated a demerger and separate listing for Maersk Drilling, to be completed on or before 4th March. This followed on from the announcement on 17th August 2018 where the Board of Directors decided to initiate the separation of A.P. Moller-Maersk's drilling activities through a demerger of A.P. Moller-Maersk.
Ocean Infinity announced on 17th February that it had located the wreck of the lost 148,431gt/1993 built South Korean bulk carrier Stellar Daisy in the South Atlantic Ocean approximately 1,800 nautical miles due west of Cape Town. The 266,000dwt Very Large Ore Carrier (VLOC) sank on 31st March 2017 while transporting iron ore from Brazil to China. Tragically, 22 of the 24 crew were lost.
Bulk And Tanker News
Algoma Tankers Limited, an operating sector of Canadian shipping company Algoma Central Corporation, has purchased a 2010 built product tanker, the youngest in its fleet. The 16,512dwt tanker, to be renamed the Algoterra, will become the eighth ship in Algoma's Great Lakes-based product tanker fleet. Besides the Algoterra, the company's tanker fleet comprises seven small clean tankers, built 1998-2008.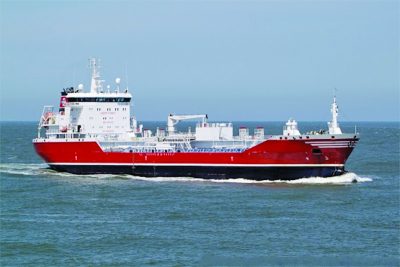 The acquisition comes just over three months after the purchase of the 12,164gt/2008 built tanker Ramira, now renamed Algonorth (right). The Algoterra will join the fleet in March and enter service in April. On 16th February the company took delivery of the 24,640gt/2019 built Algoma Conveyor, the company's third Seawaymax Equinox Class 740' self-unloading dry-bulk carrier. The 38,000dwt ship then commenced her 8 week delivery voyage from the Yangzijiang Shipyard in China to Canada, expected to arrive in April. The Algoma Conveyor will be the eighth Equinox Class vessel to join Algoma's domestic dry-bulk fleet since the first vessel, the Algoma Equinox, arrived in 2013. The company's Equinox Class fleet now includes four gearless bulkers and four self-unloaders. The Algoma Conveyor was the first and only Equinox self-unloader partially built for Algoma by the now bankrupt Nangtong Mingde shipyard. Algoma acquired the hull at auction in September 2017 and it was then taken to the Yangzijiang shipyard for final construction. Algoma owns and operates the largest fleet of dry and liquid bulk carriers operating on the Great Lakes/St. Lawrence Waterway, including self-unloading dry-bulk carriers, gearless dry-bulk carriers and product tankers. Algoma also owns ocean-going self-unloading dry-bulk vessels operating in international markets and a 50% interest in Nova Algoma, which includes a diversified portfolio of dry-bulk fleets operating internationally.
Cruise News
Amsterdam Misses Out
Carnival UK has followed other operators by switching Amsterdam calls to an alternative location thanks to the ridiculous decision by the Amsterdam City Council to levy a new €8 head tax on ocean cruise tourists. From March 2019, all bar possibly one of P&O Cruises calls to Amsterdam's central city terminal will be replaced by extended stops in Ijmuiden. The Ventura's call to Amsterdam in September 2019 may instead be Rotterdam but guests will be advised in advance. Cunard is also opting for berthing in Ijmuiden too. In total, this equates to ten calls across both Carnival UK brands in 2019 and five for 2020. Complimentary shuttle buses from Ijmuiden into the centre of Amsterdam will be available for all guests and all will be advised in advance of the change. MSC and CMV are also both switching to Rotterdam. With 125,000 transit cruise passengers a year, the revenue gained by Amsterdam would have been around €1 million which happens to equate to the shortfall in the city's budget. What with this money-grabbing scheme and Venice's anti-cruise ship campaign, such popular cruise destinations are at risk of being left high and dry.
Funnel Vision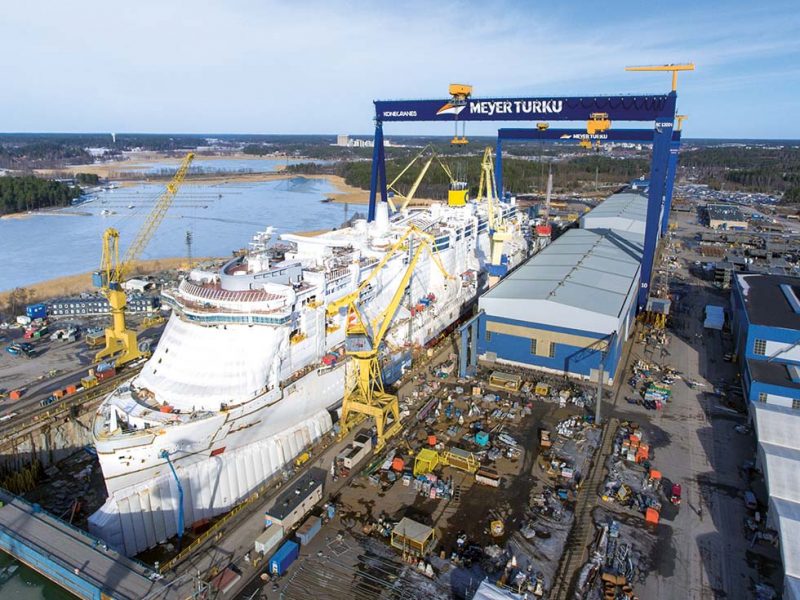 On 26th February the 180,000gt Costa Smeralda, the new flagship of the Costa Cruises fleet, received her trademark funnel at the Meyer shipyard in Turku (above). The Costa Smeralda will be the first cruise ship for the world market to be fuelled, both in port and while at sea, by LNG, the cleanest fossil fuel in the world. The 2,600 stateroom Costa Smeralda will enter service on 20th October 2019 with a 15 day inaugural cruise from Hamburg to Savona.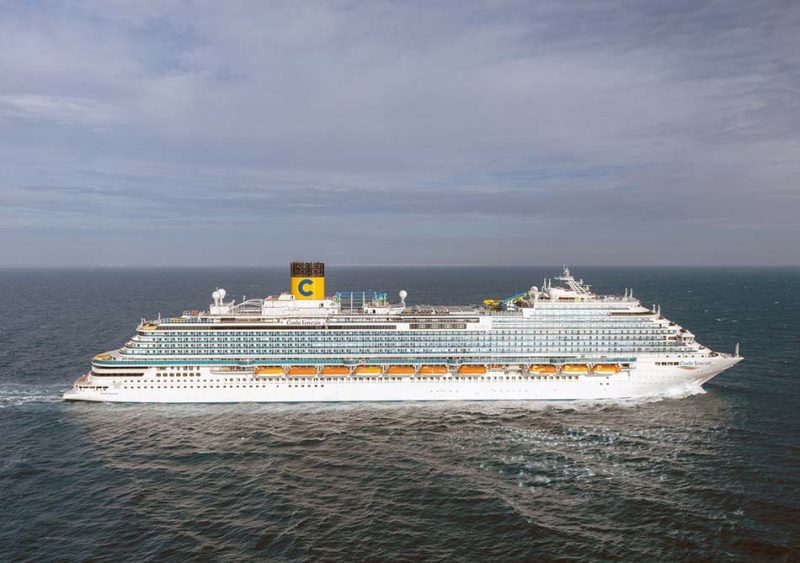 On 28th February the 135,500gt/2019 built Costa Venezia (above) was delivered at Fincantieri's Monfalcone Shipyard in the presence of the Deputy Prime Minister and Interior Minister of Italy, Matteo Salvini and the Deputy Minister of Infrastructure and Transport, Edoardo Rixi, The Costa Venezia is tailored for the Chinese market and is part of an expansion plan that includes a total of 7 ships being delivered to Costa by 2023, for a total investment of over €6 billion.
Southampton Hosts MSC's New Belle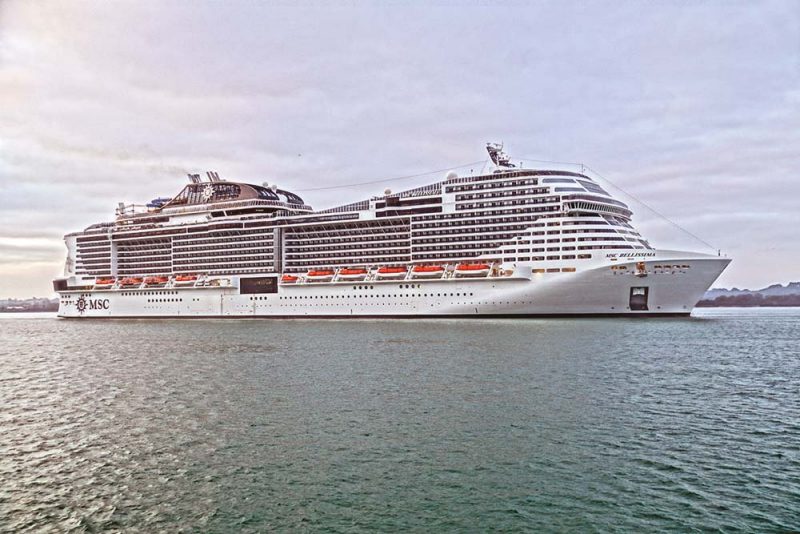 MSC Cruises' second Meraviglia Class ship, the MSC Bellissima, was handed over to MSC at the Chantiers d'Atlantique Shipyard in St. Nazaire on 27th February during a delivery ceremony prior to setting off that evening with guests aboard for her debut celebrations and naming ceremony at Southampton. She is seen above arriving in Southampton on 2nd March.
Norwegian Cruise Lines' 155,873gt/2010 built Norwegian Epic suffered an 'epic fail' on 12th February whilst attempting to berth at San Juan, Puerto Rico. The ship had to divert there from her Caribbean itinerary after suffering power loss and an engine failure on 11th February. The ship proceeded to the port at reduced speed but struck two sections of the berth upon arrival, causing both to topple in to the harbour. It is understood that manoeuvrability was limited due to the existing problems. The ship reportedly only sustained scratches/dents and technical repairs proceeded as required.
Scenic's 228 guest capacity Scenic Eclipse has been delayed at the Uljanik Shipyard in Croatia again. The company has announced that it will take delivery of the new luxury vessel in August 2019, a year later than planned. Shipyard workers have not been paid full salaries since August 2018, which has led to strikes and manpower shortages as well as several other shipyard disruptions, resulting in months of lost production.
Viking Ocean Cruises are preparing to launch their expedition programme in 2021 when the first of two newbuilds will join the company's fleet. The newbuilds will be given the name Polaris Class and each vessel will feature a number of expedition amenities, including zodiacs plus submarines and a 20-person expedition team. Further details of these dual-fuel vessels have yet to be revealed, but steel cutting is expected to take place later in 2019 at a VARD Shipyard. The new 47,861gt/2019 built Viking Jupiter was damaged during her maiden arrival at Piraeus on 14th February. A tug line failed in breezy conditions causing damage to the starboard side ducktail when the ship was blown against the quay. Repairs were quickly completed as the ship was in port for 3 days.
Ferry News
Red Kestrel Takes Flight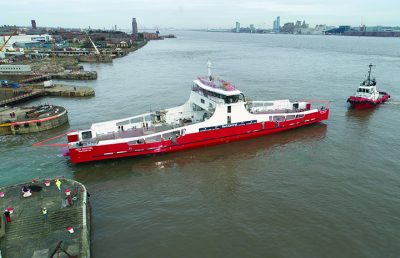 On the morning of 19th February, the latest addition to the Red Funnel IoW Ferries fleet was floated out at Cammell Laird's famous shipyard in Birkenhead (right). The £10 million freight vessel Red Kestrel will operate between Southampton and the Isle of Wight from May 2019 following a period of trials and training. The 74m long, 17m beam and 265 lanemetre capacity Red Kestrel is Red Funnel's first ship to be designed solely for freight traffic and will carry 12 HGVs and a maximum of 12 passengers. To minimise the environmental footprint, the hull shape has been designed specifically to reduce wash and a propulsion package has been selected to make her highly fuel efficient whilst meeting the latest Tier III emission regulations. The use of proven azimuth thrusters supplied by Rolls Royce, will also make the ship very manoeuvrable. The crossing time of 55-60 minutes will be identical to Red Funnel's existing Raptor class Ro-Pax ships and she will use the same berths in Southampton and East Cowes. Power will be provided by two Cummings Tier III diesels and the service speed will be 12.5 knots.
DP Acquires P&O
On 20th February DP World PLC announced the acquisition of the holding company of P&O Ferries (consisting of P&O Ferries and P&O Ferrymasters) for a purchase price of £322 million. As many readers will know, P&O Ferries is a pan-European integrated logistics business consisting of a market leading Ro-Ro ferries operation and a European transportation and logistics solutions provider, P&O Ferrymasters. P&O Ferries operates a fleet of 21 vessels on the Short Sea, North Sea and Irish Sea sectors across 11 ports whilst P&O Ferrymasters provides supply chain solutions in 19 European locations. P&O Ferries handles over 2.5 million freight units per year which accounts for approximately 75% of group revenues. P&O Ferries reported 2017 revenues of £1.1 billion. The transaction is subject to customary completion conditions and is expected to close in the first half of 2019. Would it be cynical to attribute the Dover fleet's reflagging to Cyprus as making the company more attractive to buy? The 17,464gt/1994 built Norbay went to refit in Gdansk from the Liverpool-Dublin route in late February with the 10,471gt/1999 built Mistral being sent to cover a few days later.
Tilbury2 Approved
Tilbury's new port expansion was given approval by the UK's Secretary of State for Transport on 20th February on a site next to the Port of Tilbury. Tilbury2 will be built on 150 acres of brown field land in Thurrock. Forth Ports Group's £1bn investment programme will see the volume of cargo handled at the Essex site double from 16 million to 32 million tonnes. Tilbury2 is central to the Port of Tilbury's £1bn investment programme during 2012-20. Tilbury has doubled the size of its business in the past 10 years and is projected to double the volume of cargo across the quay (from 16 million to 32 million tonnes) and increase direct employment (from 3,500 to 12,000 jobs) over the next 10-15 years. Tilbury2 is scheduled to become operational in 2020, will cost in excess of £200 million and will provide P&O Ferries with river berths free of restrictions caused by using the Port of Tilbury's existing lock system.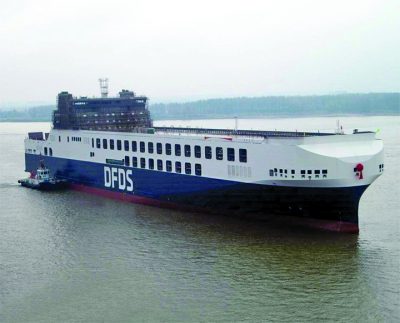 DFDS took delivery of the first of six new Ro-Ro goliaths from the Jinling Shipyard in China on 31st January (right). The ship's name was finally revealed as Gothia Seaways. The 55,780gt ship then commenced her delivery voyage to Turkey, where she arrived at the Port of Pendik on 23rd February prior to entering service on 9th March with a debut at Trieste on 11th March. With a freight capacity of 6,700 lanemetres and a service speed of 21 knots, the 237.4m long Gothia Seaways can accommodate 12 passengers and 450 trailers. This new series of freight ferries is equipped with a ramp system with three independent stern ramps and internal ramps on each side, making them able to load and unload trailers quickly and efficiently. This will reduce time in port considerably. Due to the large capacity, the six freight ferries' energy consumption per trailer transported will be significantly decreased. The ships will all be equipped with scrubbers to reduce sulphur oxide and are prepared for the global sulphur limit regulation which takes effect from January 2020. Two sisterships will be delivered to the company this year, with another three to be added to DFDS fleet in 2020. The Gothia Seaways was renamed Ephesus Seaways before entering service.
MBNA Thames Clippers' latest newbuild, Venus Clipper, was lowered into the water at Wight Shipyard, East Cowes, IoWight, on 14th February (above). The vessel then underwent sea trials prior to delivery to the River Thames to become the company's 19th vessel in the year when MBNA Thames Clippers celebrates its 20th anniversary.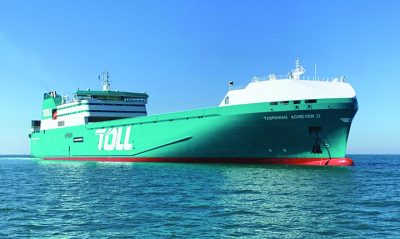 Toll Shipping named the new 28,709gt/2018 built Tasmanian Achiever II (left) at a ceremony in Burnie on 17th February. The ship is currently the newest and largest cargo ship to both operate in Australia and fly the Australian flag. The new Ro-Ro vessel entered service on 1st March between Melbourne, Australia, and Burnie, Tasmania. The new ship will make the 396km Bass Strait crossing between Melbourne and Burnie in 13 hours, an hour faster than her predecessor, the 20,343gt/1999 built Tasmanian Achiever, and has capacity to carry 40% more cargo, in both trucks or containers. The ship's twin sister, Victorian Reliance II, was christened at a ceremony held at Toll's wharf in Webb Dock, Port of Melbourne, on 24th February. The latter will replace the 20,343gt/1999 built Victorian Reliance.