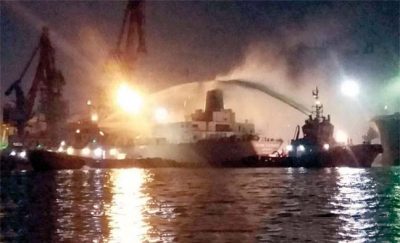 On 16th September the 152 meter long, 21,780 dwt cement carrier Divine Success (above) caught fire while berthed in Tanjung Priok, Indonesia. She had arrived from Sukabumi with a cargo of bulk cement when a fire started in the engine room. The crew alerted local authorities who requested three fire brigades to the harbour. Helped by two tugboats, the fire fighters were able to extinguish the blaze several hours later.

The 1,213gt/1984 built Turkish general cargo vessel Murat Hacibekiroglu II, owned by Hacibekiroglu Denizcilik of Istanbul, sank in the Mediterranean Sea, northwest of Cyprus, on 19th September. As with similar casualties, the ageing ship was laden with cement and sank one hour after the vessel's Master issued a distress call, stating that the engine room was taking on water. The crew of 10 were rescued by the 30,047gt/2002 built containership Electra A.
Sign-up today to read the full article!
Simply click below to sign-up and read the full article, as well as many others, instantly!