On 5th October the 9,618gt/2008 built and 12,742dwt general cargo vessel BBC Colorado experienced severe engine issues in the Gulf of Alaska. With a storm approaching the Master requested assistance from the Coastguard and the USCGC Morgenthau went to the scene to ensure safe transit of the vessel and her 12 crewmembers. The 1,058gt/1978 built ocean going tug Resolve Pioneer then reached the ship on 8th October and set up a tow to take her to safety.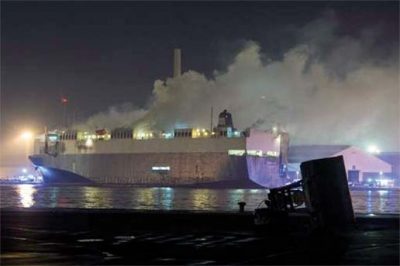 During the early hours of 20th October the 39,043gt/1989 built car carrier Silver Sky caught fire at a dock in Antwerp (above). Firefighting teams were not able to enter the vessel for several hours and instead used water jets from the quayside and from three tugs to cool the ship's hull. A total of 24 crewmembers were evacuated from the Silver Sky and given accommodation ashore. The ship was loaded with her usual cargo of used cars at the time of the fire, intended for export to Africa. Records show that in March authorities in Antwerp detained the Silver Sky for a period of five days for deficiencies related to fire safety, in addition to concerns regarding the condition of her main engine, electrical systems and navigation equipment.
Sign-up today to read the full article!
Simply click below to sign-up and read the full article, as well as many others, instantly!