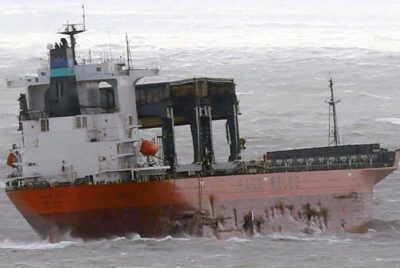 The 29,381gt/1996-built general cargo ship Saga Sky anchored at Dungeness after suffering damage when she collided with an anchored rock barge, the Stema Barge II, three miles south west of Dover due to the ferocity of Storm Angus in the early hours of 20th November. The Saga Sky had discharged a cargo of wood pulp in Brake, Germany and was sailing in ballast to Uruguay. The ship entered the Dover Strait traffic separation scheme as the weather rapidly deteriorated, with wind speeds in excess of 80 knots. The vessel's speed dropped and she began to pitch heavily. The propeller came out of the water causing the engine to over-speed and shut down. The engine was restarted and the vessel was manoeuvred out of the traffic lane. However, she then began to drift rapidly towards the Varne Bank and shallow water. Both anchors were deployed but this failed to arrest the drift. The alarm was raised at 0720 but the Saga Sky struck the barge at about 0840. The collision resulted in significant damage to both vessels and two coastguard search and rescue helicopters evacuated eleven of the 23 crew members who were on board the cargo ship. Due to the particularly challenging weather conditions at the site, the coastguard declared this a major incident. The 1,585gt/1979 built Abeille Languedoc was dispatched to the scene and the stricken ship was towed to Dunkerque for repairs.

At the end of November officials in the Cayman Islands were trying to determine exactly how much damage was caused to a coral reef after the grounding of the 2,936gt/2001 built containership Saga near George Town. The 3,800dwt ship ran aground early on 25th November as she was leaving port. The ship's hull reportedly crushed a significant area of the coral reef. In October, the Cayman Islands Government had settled with Microsoft billionaire Paul Allen over damages to a reef caused by the anchor of his mega-yacht Tatoosh earlier this year.
Sign-up today to read the full article!
Simply click below to sign-up and read the full article, as well as many others, instantly!