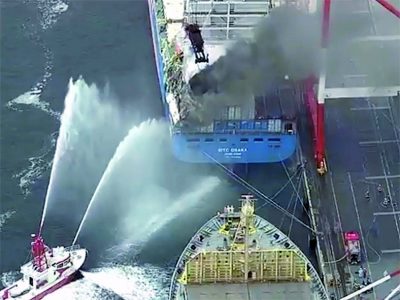 On 4th May the 9,566gt/2012 built and 141m long SITC Osaka collided with the 97,825gt/2007 built and 338m long NYK Venus near Rokko Island, Kobe, Japan. The SITC Osaka was entering Kobe while the NYK Venus was leaving the port when the collision happened. The NYK Venus largely escaped damage but the SITC Osaka sustained damage to her port side stern quarter above the waterline. The ship was still berthed in Kobe at 10th May unloading containers when a fire broke out in one of the damaged containers on the ship (above). Several containers were damaged before the fire was extinguished.

A Turkish vessel carrying wheat to Yemen was reportedly hit by a rocket or missile on 10th May according to a senior European naval official. The 30,011gt/2002 built bulk carrier Ince Inebolu was damaged by an explosion some 70 miles off the Red Sea port of Salift.
Sign-up today to read the full article!
Simply click below to sign-up and read the full article, as well as many others, instantly!