The 499gt Japanese registered general cargo ship Izumi Maru laden with approximately 1,100 tons of scrap metal capsized after colliding with 9,940gt Contship Uno in the Kii Channel off Japan on 24th August. The Liberian flag containership was outbound from Osaka to Keelung, Taiwan when the collision occurred at around 23.30 local time. Three of the Izumi Maru's crew were rescued by a co-ordinated Japanese Coast Gurad search and rescue operation but two, including the captain, remained missing.
In a remarkable tale of survival, the Ukranian Chief Officer of the 2,468 TEU MSC Nadriely fell overboard in the Black Sea on the night of 30th August. Although the vessel turned back and started a search and rescue (SAR) operation assisted by other boats and aircraft co-ordinated by the Maritime Rescue Co-ordination Centre he could not be found. After a night spent swimming, he was spotted and rescued the following day, 20 hours and 50nm from the location his absence was first reported, by the crew of the Turkish registered 4,425gt general cargo ship Moonlight.

There was widespread public outrage and political fallout following the tragic and callous circumstances surrounding the death of a 36 year old passenger, Antonis Kargiotis, in Piraeus port on the night of 5th September. Mr. Kargiotis, a labourer from Crete was attempting to reboard (having earlier disembarked) the 27,200gt inter-island ro-ro vessel Blue Horizon via her stern ramp when he was involved in an altercation with crew members. On his second attempt he was pushed off the ramp as the vessel departed, and the crewmen involved allegedly looked on without rendering assistance. Coronary reports showing a head injury suggest Mr. Kargiotis drowned after striking either the ramp or the pier. The captain and the crew member responsible for pushing the victim face manslaughter charges whilst two bystanders are accused of complicity to manslaughter. On 7th September Spyridon Paschalis, CEO of the ship's operators Attica, tendered his resignation promptly followed by the sacking of the Piraeus port master and a coastguard official for failing to do their duty. None of this appears to have assuaged public anger and ultimately Miltiadis Varvitsiotis, the Greek shipping minister resigned.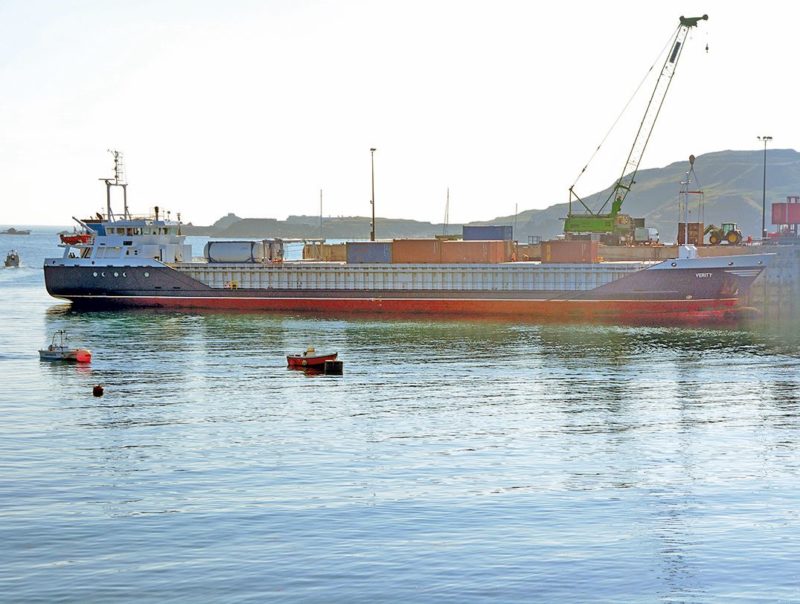 On 24th October the 2,601gt/2001 built Verity (above) of Faversham Ships sank after a collision with the 38,069dwt Polish bulk carrier Polesie off the coast of Heligoland, a German archipelago. At the time of writing two crew members of the Verity have been rescued and one other crew member has died. The other four crew members are still missing. A massive search was launched including the P&O cruise ship Iona.
The above are excerpts from the December 2023 issue.
For more get the December 2023 issue –

CLICK HERE

for full contents.