Allseas, operator of the 403,342gt/2014 built and €2.6 billion megaship Pioneering Spirit, is reportedly pushing going ahead with the development of an even larger offshore vessel to be named the Amazing Grace. Both vessels are designed to lay pipeline as well as to install and dismantle offshore oil and gas platforms.
ASV Global's unmanned craft C-Worker 7 has become the first autonomous vessel to join the UK shipping register. The C-Worker 7 will be used for work such as subsea positioning, surveying and environmental monitoring. It can be used under direct control, semi-manned or completely unmanned.
Maersk Supply Service took delivery of the first Stingray Class deep subsea support vessel Maersk Installer on 16th October from the COSCO Dalian Shipyard. The new ship is 11m high with a 27m beam and length of 137m. The delivery dates for the Stingray Class vessels were postponed in mid-2017 due to the current market situation with new dates ranging from summer 2017 to spring 2018. The Stingray class SSVs were designed together with Marin Teknikk as a flexible platform to carry out a wide range of deep and shallow water operations in challenging offshore environments. These DP3 vessels feature a 400t active heave compensated crane and 2 work class ROV's capable of operating in up to 3,000m water depth. The 1,925m2 working deck is designed with hundreds of non-welding, sea fastening features and cofferdams are built in above all tanks to ensure flexibility for client operations. The accommodation features 120 modern single cabins to meet increased comfort level requirements. Back in July, Maersk Supply secured a contract with Subtec S.A de C.V. of Mexico, a subsidiary of Blue Marine Group, for one of these newbuilds. The ship will be operating in the Bay of Campeche performing general support duties, including IRM and maintenance of Pemex's platforms as well as enhancement and well stimulation. The contract commences in autumn 2018 with a confirmed timespan until June 2020.

OOS International confirmed on 21st November that it had entered into a memorandum of understanding with Chinese offshore services company Jiangsu Fanzhou Shipping Co., Ltd. where both companies agreed to form a strategic alliance to expand the coverage of their vessels globally. OOS International operates a fleet of heavy lift accommodation semi-submersibles, while Fanzhou offers a fleet of transport semi-submersibles, barges and marine vessels. Together, both companies intend to expand their international businesses. This collaboration enables Fanzhou to increase their activity in Europe, the Americas and Mexico through OOS International's established presence and OOS International will be able to extend their presence in Asia through Fanzhou.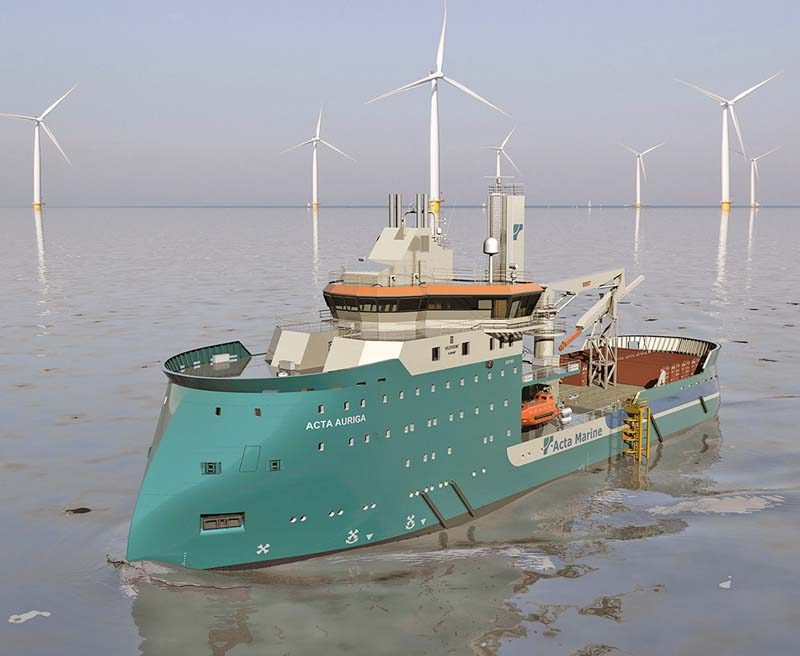 Ulstein Verft declared on 16th November that the Acta Auriga (above), the new X-Bow equipped DP2 Walk-to-Work construction support vessel (CSV) had arrived at the company's Ulstein Werft yard in Norway from the fabrication yard in Poland. This Ulstein SX195 hull has now commenced the fitting out process whilst positioned in Ulstein Verft's sheltered dry-dock. The work will include the installation of the SMST provided mission equipment, motion compensated gangway for safe and step-less people and cargo transfer in seas up to 3.0m and 3D motion compensated knuckle boom crane for 6 ton cargo handling in sea conditions up to 2.5m. The ship will also offer state of the art hotel facilities to accommodate up to 120 persons and 1,000m2 of deck space for cargo storage. The Acta Auriga is scheduled for delivery around March 2018, joining the Acta Orion, her semi-sister, becoming the second vessel in the Acta fleet dedicated for walk to work, offshore logistics and accommodation services for a variety of clients in the offshore renewable and offshore energy industry.

Wagenborg Offshore has been awarded a 6-year contract by Nederlandse Aardolie Maatschappij (NAM) and Shell UK Exploration & Production (Shell UK) for the provision of a second walk-to-work vessel. NAM and Shell UK work together in a combined business unit on the gas production on the Southern North Sea. The vessel will support its offshore operations. This long-term contract was signed on 13th November by the directors of the companies. The Walk-to-Work Emergency Response and Rescue Vessel (W2W ERRV) will operate as a standby and support vessel for inspection and maintenance of the unmanned platforms in both Dutch and British waters. For the provision of the W2W ERRV, Wagenborg and Ulstein have signed an agreement for the delivery of a standard PX121 Platform Supply Vessel (PSV). Built according to the Ulstein Accommodation Standard, the PX121, with a deck area of 840m2, is particularly suited for a conversion to other types of services, such as walk-to-work or Emergency Response and Rescue, without comprising her Dynamic Positioning performance. The Dutch shipyard Royal Niestern Sander in Delfzijl will be undertaking the conversion of the PX121 from a PSV into a W2W ERRV vessel. The 83.40m long, 18m beam, 6m draught, 15.8 knot and 3,600gt vessel will be equipped with an additional accommodation module, motion compensated gangway and motion compensated crane to comply with the requirements of NAM-Shell. The conversion will take place over a period of 16 weeks and the new look vessel is expected to be delivered to Wagenborg Offshore in March 2018.