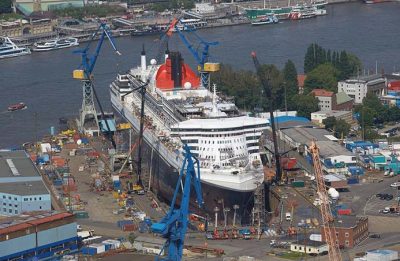 After a one-way cruise voyage from Southampton to the German port, the Queen Mary 2 (QM2) entered dry dock at Blohm & Voss, Hamburg, on 27th May for her 25 day overhaul. In her 12 years of service the QM2 has sailed 1,780,000 nautical miles (1.78 million miles) which is the equivalent of the distance to the moon and back more than four times (4.2 times). This is the largest refit ever undertaken by Carnival UK and Cunard has been a customer of the Blohm & Voss yard since 1990.

The QM2 was last drydocked there in 2011 and was out of the water for 19 days during this latest visit. Approximately 1,200 crewmembers, 2,500 contractors and 1,500 yard workers were involved in this mammoth project. Carnival UK's Alison Clixby (Director of Hotel Design and Projects) has worked with SMC Design to achieve the new look for the ship.
SMC Design was founded in 1994 and is a London-based design consultancy that specialises in the maritime sector. The design team has worked on many ships from small luxury yachts to some of the largest ships ever built.

Sign-up today to read the full article!
Simply click below to sign-up and read the full article, as well as many others, instantly!