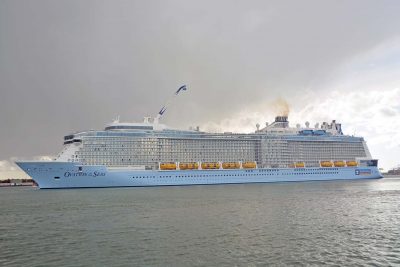 The ovation of the Seas (above) undertook her first of four cruises from Southampton on 12th April and, on 3rd May, she departed on the 52 day repositioning voyage to Tianjin, China (above). once there in June she will be christened and homeported for her debut season in China. The ship will then move to Hong Kong prior to a short season in Sydney during January/February 2017.

On 25th April, while sailing to Ajaccio, Corsica, the 78,878gt/1997 built Rhapsody of the Seas encountered inclement weather. Five stateroom windows on the third deck were broken, resulting in water incursion. Six rooms were damaged, and carpeting in some nearby hallways and staterooms on deck three was soaked by water. No serious injuries were reported. The windows were replaced and the ship resumed her itinerary. in total, 45 guests were relocated to other staterooms, and 44 departed the ship in Corsica.
After 2017 the legend of the Seas will be withdrawn from her Brisbane base and relocated to Europe. The move will mean RCI no longer has a summer vessel based in the Queensland capital after next year, with facilities there unable to cope with larger ships. The Port of Brisbane has proposed to develop a new cruise terminal at the mouth of the Brisbane River to allow larger voyager and Quantum class vessels to be based there in the future.

The 69,472gt/1996 built Splendour of the Seas has come to the end of her operational life with Royal Caribbean, 20 years after the maiden voyage in March 1996. The ship departed Dubai on 4th April on a 16-night Suez Canal cruise to Venice. as the TUI discovery, she will enter service with Thomson Cruises from June 2016, offering cruises from Palma de Mallorca.