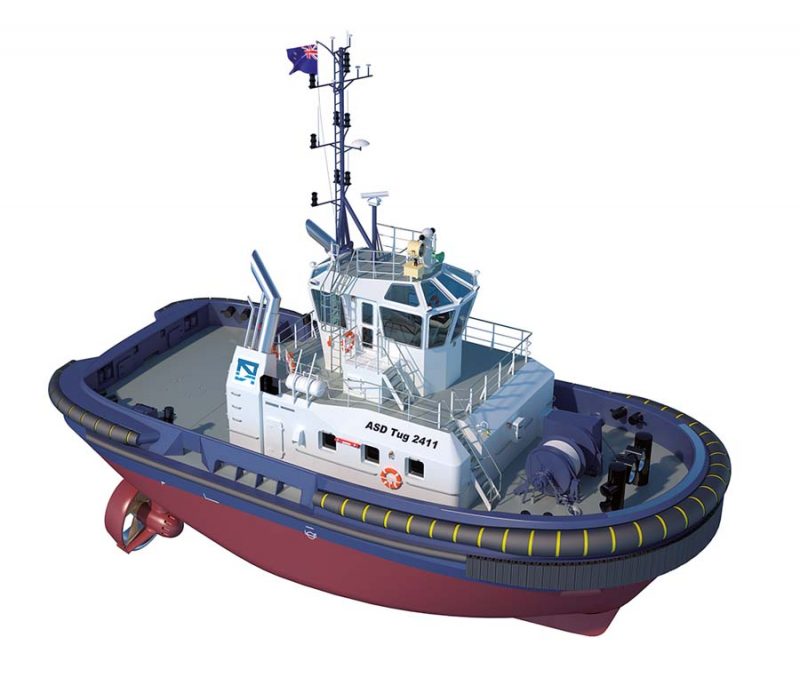 Damen Group signed a contract on 10th December with Port Nelson for an ASD Tug 2411 (above) to expand operations. As part of the expansion, Damen's client will increase its wharf in order to accommodate vessels up to 280m in length. For this, the port requires tugs with additional bollard pull and the ASD Tug 2411 offers a 70t bollard pull. The port previously purchased a 212gt ASD Tug 2310 in 2016, named Toia.
EMAR Offshore Services, a Netherlands-based dedicated maritime service company, has placed an order for a Damen ASD Tug 2811. This stock vessel will be named E-Two and delivered to the client in the first quarter of 2019. An additional FiFi1 system and aft winch will be installed.

Ports, Waterways & Shipyards
ABP's Port of Silloth has celebrated a record-breaking year in 2018, handling the highest cargo volumes since 2015. This year the port handled a total of around 156,000 tonnes of cargo, representing nearly a 20% growth in tonnage volumes since 2017. In addition, in December 2018 the 2,971gt/2007 built vessel Blue Six, delivered more than 3,700 tonnes of French wheat, becoming the fifth largest delivery at the port since official records began in the 19th century. The top spot for Silloth's largest cargo delivery is still held by the then Arklow Venture, now the SP Venture, which transported over 4,200 tonnes of bulk fertiliser from Antwerp to Silloth in March 2014.
Harland & Wolff (H&W) was put up for sale in December as its Norwegian parent company, Fred. Olsen Energy, is carrying out a major restructuring. The infamous H&W yard has diversified into renewable energy installations since the last ship was built there in 2003. The decline of shipbuilding has also been marked by a steady fall in employee numbers from around 30,000 in the 1930s to around 100 today. The building dock is the biggest in Europe but that facility is somewhat under-utilised at present. The most recent passenger ship to visit the yard was the 30,277gt/2001 built Azamara Pursuit in spring 2018. The yard was again utilised by Stena Line for their £5 million winter refit programme.
The Panama Canal issued a temporary maximum draught limit to shipping from December due to unusually low water levels following a prolonged spell of dry weather.

Royal Boskalis Westminster N.V. (Boskalis) submitted a tender to WSA Cuxhaven for the deepening of the river Elbe and on 18th December came the announcement that the company had submitted the lowest price. WSA Cuxhaven will verify the commercial and technical aspects of the tender and was expected to award the contract of approximately €200 million in the second half of January 2019. The dredging activities are due to commence in February.