APL has set up a new weekly service, the India Pakistan Europe (IPE) Service, that will connect India and Pakistan to major ports in Europe. The first eastbound sailing was on 1st October from Southampton and the first westbound was on 4th October from Port Qasim. The IPE service will call the ports of Port Qasim (Pakistan), Nhava Sheva, Hazira, Mundra (India), Jeddah (Saudi Arabia), Djibouti (Djibouti), Southampton, Rotterdam, Antwerp, Felixstowe and Le Havre. From 14th October APL launched the Andino Service (ANS), a new weekly regional service expected to enhance connectivity between West Coast South America and major ports in Asia and the USA. Commencing from San Antonio, the ANS service calls at San Antonio (Chile), Callao (Peru), Guayaquil (Ecuador), Buenaventura, Manzanillo, Kingston (Jamaica), Cartagena and Balboa.

CMA CGM: In September the company decided to postpone the delivery of certain vessels until 2017 and reduce its capital expenditure commitment as part of a plan to improve operating performance, which includes a programme to reduce costs by $1 billion over the next 18 months. CMA CGM saw its net loss deepen from $100 million reported in the first quarter of 2016 to a net loss of $109 million for the second quarter of 2016, and against a net profit of $156 million seen in the second quarter a year earlier. NOL is also now a wholly-owned subsidiary of CMA CGM and has been delisted from the Official List of the Singapore Exchange Securities Trading Limited (SGX-ST). Classification society DNV GL, CMA CGM (and its subsidiary CMA Ships) and Gaztransport & Technigaz (GTT), maker of LNG containment systems, have signed a co-operation agreement with new project participants ABB, Caterpillar's Solar Turbines, and OMT for phase two of the PERFECt project. The Piston Engine Room Free Efficient Containership (PERFECt) project investigates the possibility of using a combined gas and steam turbine system (COGAS) to power an ultra large container vessel (ULCS). The aim of the second phase of the project is to detail the technical concept and the commercial feasibility. The project's phase two will build on the results of the original study which was launched in 2015. Some of the focus areas are process technology optimization of the COGAS system including the steam turbine, use of the available cooling capacity of the LNG, and further optimization of the ship design to attain greater efficiency and increased cargo capacity. In phase one of the project GTT, CMA CGM (and its subsidiary CMA Ships) and DNV GL released a technical and feasibility study for a COGAS-powered LNG-fuelled electrically driven mega boxship. Based on the results of that study, the PERFECt vessel design was found to offer potentially increased cargo capacity, greater layout flexibility and reduced maintenance costs than comparable conventionally powered (heavy fuel oil) HFO and LNG designs, DNV GL said. According to the study, an engine room would not be needed anymore. The three electric main motors, which are arranged on one common shaft, can be run fully independently of each other providing increased redundancy and reliability and a high level of safety.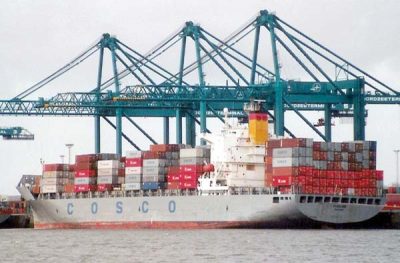 COSCO HOLDINGS scrapped five containerships between July and August for Yuan90m ($13.5m). Net losses from the disposal stood at Yuan341 million ($51.1 million). The five ships were the 3,324 TEU Na Xi He, 3,400 TEU Bu Yi He, 3,248 TEU Yu Gu He (above), 3,400 TEU Ha Ni He and 3,400 TEU Jing Po He. All the ships, with a combined tonnage of 224,560 dwt, were built in 1997 and owned by a subsidiary of the company, Shanghai Panasia Shipping.

CROWLEY MARITIME CORPORATION launched a new, weekly, fixed-day container shipping service between Jacksonville and Costa Rica on 17th August. The company has deployed two containerships on the service, which calls at the Jacksonville Port Authority's Talleyrand Terminal on Thursdays, Port Everglades, Florida, on Fridays, and arrive in Puerto Limon, Costa Rica, on Wednesdays.
Subscribe today to read the full article!
Simply click below to subscribe and not only read the full article instantly, but gain unparalleled access to the specialist magazine for shipping enthusiasts.