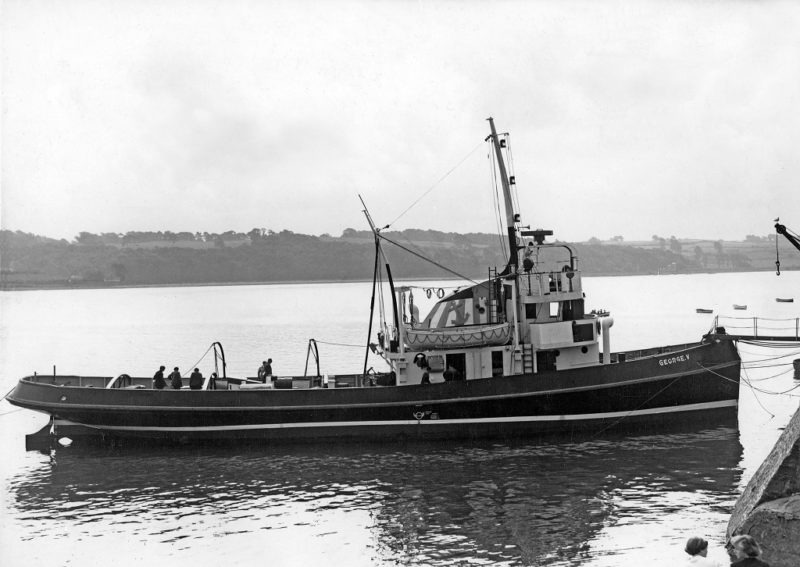 Coastal towage had always accounted for around 15% of the total revenue of Tyne towage. This figure compares with over 50% of total revenue for United Towing Ltd. (UTL) of Hull, with a big fleet of powerful deep sea tugs and around forty oil rig movements in the North Sea per year from 1967/68.
The Victorian and Edwardian days of sailing ships moving slowly up the English Channel or becalmed at the Downs on the South Coast or to the south of Flamborough Head gave much work to steam tugs 'seeking' work from the Tyne to tow them to their ports of destination on the North East Coast of England. When a sailing ship was sighted that was bound for North East Coast ports, bargaining over the price of a tow would take place until an acceptable figure was reached.
I knew the Master of one of these tugs, Capt. Hector Stewart (1900-1991), Master of the famous Tyne rescue tug George V, who performed over twenty rescues of ships in distress in gale force conditions in the North Sea in his illustrious career as Commodore of France, Fenwick Tyne & Wear Co. Ltd. from 1939 until his retirement on the last day of 1968. Capt. Stewart had become a tug Master at only 26 years of age, and on his rescue missions, George V on occasion lost lifeboats and accommodation doors ripped off their hinges and mountings and swept overboard in the Force 10 gales and high seas.
The triple expansion steam powered tug George V of 225 grt was built by the famous tug builder of J. P. Rennoldson & Sons Ltd. beneath the Lawe Top at South Shields, where Capt. Hector Stewart lived, and was completed in January 1915 for Redhead Tugs, which was subsequently amalgamated into France, Fenwick Tyne & Wear in 1944. She served the Royal Navy for six months in 1915 and again between 1917 and 1919, and on many rescues during World War II.

She was then converted into a motor tug at Appledore in Devon with a 12 cylinder 2SCSA oil engine by General Motor Corporation of Cleveland (USA) in 1954. In 1978, she was sold to Coastal Marine Services Ltd. of Plymouth and worked at various South Coast ports including Poole and Weymouth, before her sale in 1981 to Mr. N. E. Murray of Queenborough in Kent. She was given a warm welcome by her former Tyne tugs in November 1978 when she put into the Tyne for fuel and water while towing the Isle of Man ferry Snaefell to Blyth for breaking up.
She was eventually laid up at Chalk Wharf at Queenborough in a very rusty state near the Glass Containers Ltd. factory and was broken up at Queenborough in 2007 after a long career of 92 years.
A very similar tug with the same name of George V of 188 grt had been completed in September 1910 for Redhead Tugs for towing sailing ships, steamers and barges. She sailed from the Tyne in 1913 to Vigo on the Atlantic coast of Spain to help the Dutch ocean going tug Poolzee bring home to the Tyne the heavily laden sailing ship Glenmorven with a cargo of iron ore, which had unfortunately gone aground and damaged her rudder. George V was the stern steering tug until heavy weather blew up in the Bay of Biscay, and the running crew aboard the sailing ship abandoned her for the safety of the Dutch tug, which then left the area. George V reconnected with the tow and got her into Falmouth to stock up with water, food and fuel.
The tow was successfully completed to the Tyne with a large salvage award made to her owners and part distributed to the crew. George V was sold to Russia in 1914, with the equally successful George V (2) replacing her in 1915, and towing 'A' class and other Cunard liners into the Tyne for modernisation refits in the early 1920s.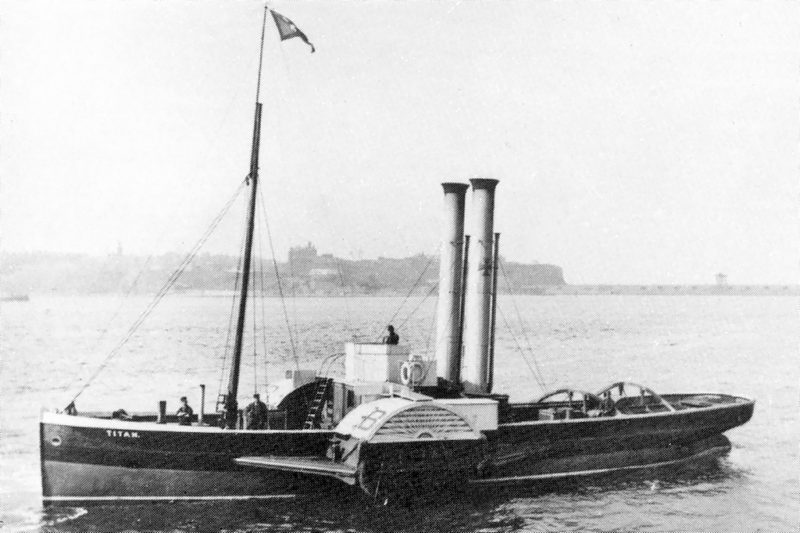 EARLY TYNE TUG FLEETS AND TOWS
Subscribe today to read the full article!
Simply click below to subscribe and not only read the full article instantly, but gain unparalleled access to the specialist magazine for shipping enthusiasts.