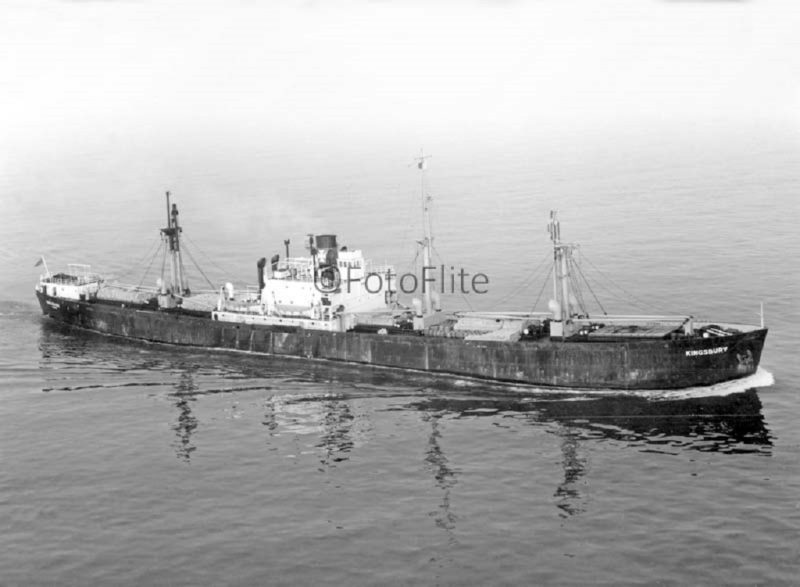 The 7,210grt Kingsbury was built in Bethlehem-Fairfield Shipyard at Baltimore as the Liberty Ship Samlamu. She became Kingsbury in 1947. In 1960 she was sold to the Polish SS Co. and renamed Huta Bedzin and in 1969 she was hulked and renamed MP-ZP-GDY-6. She was broken up by Haminan Laivaromu Oy at Hamina during July 1982. (FotoFlite)
Capper, Alexander & Co
Capper, Alexander & Company was registered in 1875 at 5, Mount Stuart Square, Cardiff by Edward H. Capper and Edward Alexander to own two iron full-rigged clipper ships, Aberaman and Abercarne, then building at Stockton by Richardson. The Capper family hailed from London, Capt. E.H. Capper having been in command of sailing ships since 1864 at the age of 25 years, and he came ashore around 1872 to establish his shipbroking business in Cardiff. Edward Alexander had previously been engaged in shipbuilding at Hartlepool, rising to become head cashier for Denton, Gray & Company before forming a partnership in 1869 with Edward Withy as Withy, Alexander & Company to take over the Middleton shipyard of Denton, Gray & Company. Edward Alexander withdrew in late 1873 from his shipyard, which had built thirty steamers in that five year period, and moved to Cardiff to join his cousin Capt. E.H. Capper.
Edward H. Capper purchased three steamers during 1876/77 and registered them under his own name. Around 1880 he moved back to London to open an office at 14,St. Mary Axe, almost next door to the Baltic Exchange where charters for the ships were fixed. He was sadly diagnosed as suffering from a serious heart condition and was sent by his doctor on a long voyage, and died at Newcastle (NSW) soon after landing. The three steamers under his own name were transferred to Capper, Alexander & Company during 1883. Five more steamers had also joined the company including the Sunderland built City of Durham and the Stockton built George Fisher. However the shipping slump of the mid-1880s meant that by 1886 only the latter was owned. She too, found a buyer in Cardiff, F. Binnington, but the sale did not complete and the ship reverted to Capper, Alexander & Company. She was then the only owned ship for nearly twenty years with Edward Alexander closing the Cardiff office in 1886 and moving to London. The elderly clipper-bowed steam tramp Isle of Hastings was purchased in 1907 from Dixon, Robson & Company. The ubiquitous George Fisher continued to give good service to the company until the end of WWI when she was sold to Hull owners and finally wrecked in September 1920.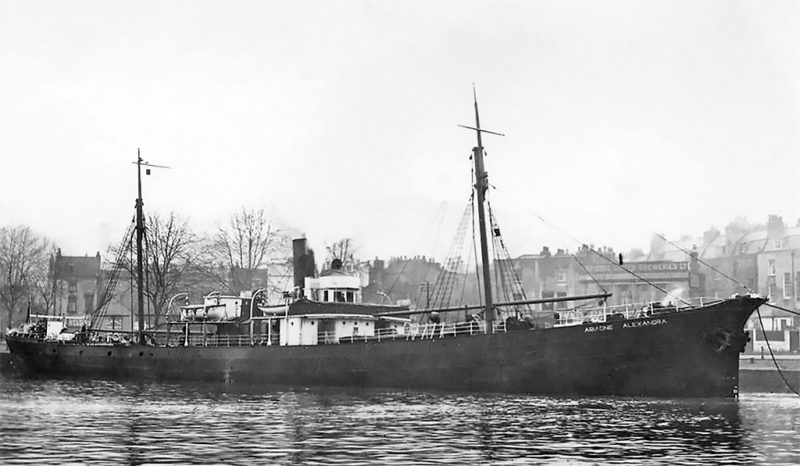 The acquisition of further second-hand tramps was accelerated between 1910 and 1914 with four additions, the last of which was the Clyde built Gogovale of 1904. She was renamed Westbury and registered under the Alexander Shipping Co. Ltd., formed during 1914 by Edward Alexander, to expand the fleet with 'Bury' names on his coal out to the River Plate trade followed by charter to Houlder Brothers for the return on their liner service or with grain. Six tramps were owned on the outbreak of war on 5th August 1914 and four of these were to be lost as well as the purchased Obi, renamed Ledbury in 1916:-

30.11.1915 Middleton
Captured/sunk by gunfire by U-39 75 miles WSW of Gavdo Island, Crete on a voyage from Mudros to Alexandria with sandbags, 4 lost.
5.10.1916 Isle of Hastings
Captured/sunk by bombs 10 miles SW of Ushant by UC-26 on a voyage from Fray Bentos to London with tinned meat.
26.3.1917 Ledbury
Subscribe today to read the full article!
Simply click below to subscribe and not only read the full article instantly, but gain unparalleled access to the specialist magazine for shipping enthusiasts.