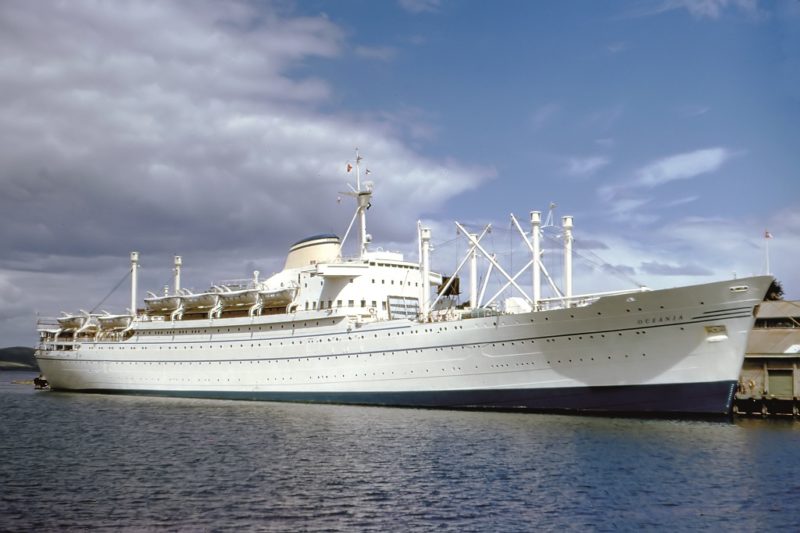 In the wake of the Second World War there was an almost insatiable demand for Europeans seeking to escape their war-ravaged continent and make a fresh start across the oceans. Nowhere proved more enticing than the Antipodes, where the Australian government actively encouraged the migrant tide. Nevertheless, like most of their compatriots, Italy's Lloyd Triestino's fleet had been decimated by the conflict, indeed the veteran 9,584grt Toscana, originally the German Saarbrucken, was their only large passenger vessel to survive intact. To meet this surge in traffic the Trieste based company therefore placed an order for three identical 12,389grt vessels with the local Cantieri Riuniti dell 'Adriatic (CRDA) shipyard. They were allocated yard numbers 1758, 1759 and 1760 and the first keel plates were laid, simultaneously on 15th May 1949.
The trio were the first element of Lloyd Triestino's post-war reconstruction. In many respects the company was fortunate, the Italians weren't subject to the moratorium imposed on their erstwhile German allies and were thus able to restart operations as soon as it was feasible. Furthermore, generous Marshall Aid funding, allowing both the restoration of shipyards and shipping, was deliberately channelled to Italy, and the Julian March region in particular, as an ideological buttress against the neighbouring socialist People's Republic of Yugoslavia. It transpired that forty percent of the new ships' construction costs were funded directly out of Marshall Plan money.

After a much needed refit and a brief stint on the South Africa run, Toscana resurrected the Italy-Australia service with a departure from Genoa on 19th October 1948. She was soon joined by the first two of a smart looking but somewhat austere new class of cargo liners on charter from the Italian Line. These Navigatori, Ugolino Vivaldi and Sebastiano Caboto, would remain on the Australian service until Lloyd Triestino's new trio were ready for service.
Amongst great pomp and witnessed by a large crowd including company hierarchy and prominent politicians, the first of Lloyd Triestino's new vessels, yard number 1758, was launched into the Adriatic as Australia on 21st May 1950. Just over two months later she was followed by Oceania and finally, on 1st October 1950, Neptunia. Fitting out the ships took almost exactly a year. Australia's maiden voyage, under the command of Captain Francesco Albanese, exceptionally commenced from Trieste on 19th April 1951 and terminated in Brisbane on 24th May. Thereafter she, and subsequently her sisters, operated a regular service between their home port of Genoa and Sydney, initially calling at Naples, Messina, Port Said, Suez, Colombo, Djakarta, Fremantle, Adelaide, and Melbourne outbound and the same ports, except Singapore (before Colombo) Cochin and Aden on the homeward leg. Oceania's maiden sailing departed from the Ligurian port on 18th August and Neptunia's on 14th September.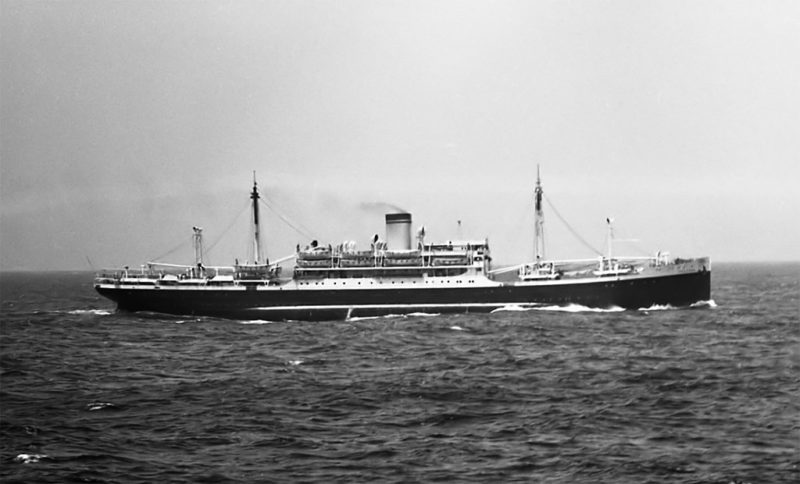 Subscribe today to read the full article!
Simply click below to subscribe and not only read the full article instantly, but gain unparalleled access to the specialist magazine for shipping enthusiasts.