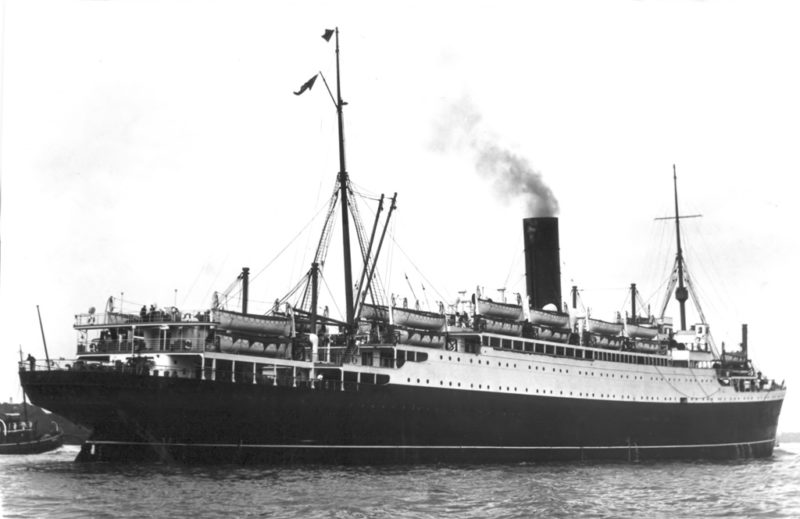 The Cunard Liner Ausonia (2), completed in December 1921, served the UK-Canada/USA service well until 1939 when, with the outbreak of World War II, she was requisitioned as an armed merchant cruiser, escorting convoys across the North Atlantic. She was converted to a naval repair ship from 1942 to 1944 and deployed in the Far East, returning home in 1946. Following periods laid up and modernisation she continued to serve the Royal Navy from 1958 to 1964, being scrapped the following year after 42 years of unblemished service.
The first Cunard Liner to be named Ausonia (1) was built by Swan, Hunter & Wigham Richardson at their Wallsend on Tyne yard, as Tortona for Cairn Line of Newcastle upon Tyne. Tortona was yard No 837, launched on the 18th August 1909, and completed some two months later.
Her dimensions were 7,907 gross tons 5,111 tons net, 450.6' x 54.2' x 29.2'. She was powered by triple expansion coal fired steam engines developing 888 nhp with twin screws giving a speed of about 12 knots. Palmer's Shipbuilding & Iron Co., Jarrow, built the engines across the Tyne from Swan, Hunters' yard.
Tortona had accommodation for 37 First Class and 1,082 Third class passengers.
In 1911 she was bought by Cunard for their new UK-Canada service and was registered at Liverpool and renamed Ausonia.
On the 11th June 1917 Ausonia was struck at the stern by a torpedo fired by German U-Boat U -55 (Wilhelm Werner) 20 miles south west of Fastnet. The ship was en-route form Montreal to Avonmouth, and one life was lost in the attack, however the ship managed to make Queenstown in Ireland for repairs.
U-55 was a U-51 class submarine, which survived the war being surrendered on the 26th November 1918, after which she was ceded to Japan being scrapped at Sasebo in 1922.

Ausonia finally met her end on the 30th May 1918, under the command of Captain Robert Capper, on a voyage from Liverpool to New York with general cargo, when she was torpedoed, shelled and sunk by German U-Boat U-62 (Ernst Hashagen). The liner was 620 miles west of Fastnet, and 44 lives were lost. Ninety-six survivors were picked up by the Royal Navy Flower Class sloop HMS Zinnia and landed at Bearhaven, Co. Cork.
U-62 was a U-60 class submarine that survived the war being surrendered on the 21st November 1918 and scrapped the following year at Bo'ness.
Several years before the First World War, Cunard started a new service to Canada with eventually five ships allocated to the route. They were the Ausonia (1) Ascania, Andania, Alaunia and the final vessel Aurania, completed during the war.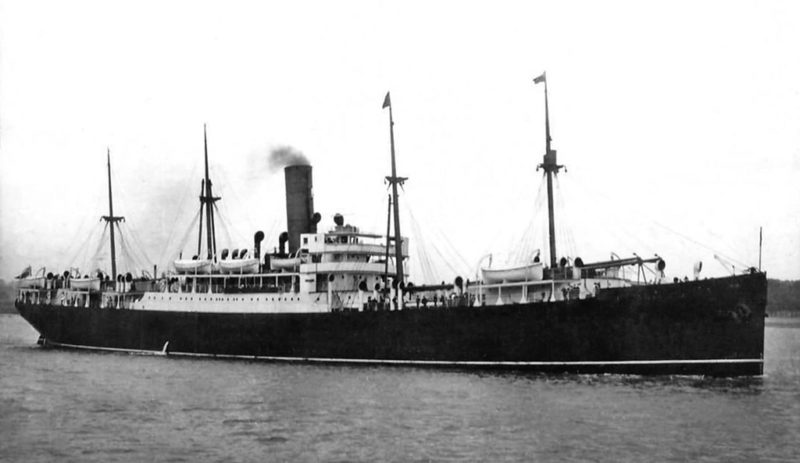 As mentioned above, Ausonia was lost on the 30th May 1918 by U-Boat torpedo/gun fire. Ascania managed to escape a German U-Boat on the 26th April 1917 after returning gunfire and sailing away. However, she was wrecked on the 13th June 1918 off Cape Ray, Newfoundland.
Andania was sunk by German U-Boat torpedo (U-46) on the 27th January 1918. Alaunia struck a mine on the 19th October 1916 and sank off Hastings.
The U-Boat, UB-67, torpedoed and sank Aurania on the 4th February 1981 off Inishtrahall.
Subscribe today to read the full article!
Simply click below to subscribe and not only read the full article instantly, but gain unparalleled access to the specialist magazine for shipping enthusiasts.