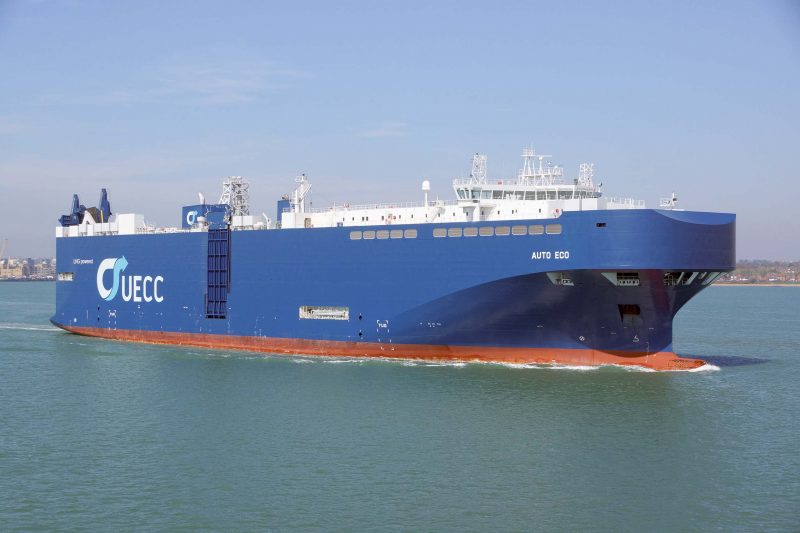 On 6th March 2014 a contract was signed by vehicle shipment specialist UECC with Kawasaki Heavy Industries (KHI) for two new vessels to be constructed at the NACKS shipyard in Nantong, China which is a joint venture between KHI and China Ocean Shipping (Group) Company. Deliveries of both the vessels were scheduled for the second half of 2016. The 181m long and 30m beam ships were designed with 1A super Finnish/Swedish ice class, facilitating year round trading in the Baltic area with the vehicle deck configuration optimised for both present and predicted future cargo mix. The duo also became the first Pure Car & Truck Carriers (PCTCs) in the world capable of operating with LNG fuel or heavy fuel oil and marine gas oil, providing greater flexibility and efficiency. An LNG fuel propulsion system had not previously been installed in such a vessel and the new ships would be able to complete a fourteen day round voyage in the Baltic using solely LNG fuel, including main engine and auxiliary power generation. LNG (Liquid Natural Gas) is of course recognised as the cleanest and most environmentally friendly choice of fuel suitable for marine transport with the cruise and ferry sectors already embracing this eco-friendly technology. The choice of LNG as a fuel significantly reduces CO2 and NOx emissions, as well as almost eliminating Sulphur Oxide and particulate emissions.
E for Eco

UECC has a tradition of inviting employees to name the company's new vessels. This proves to be a highly popular process and especially so when it came to naming the two new LNG vessels.
All employees were given the chance to submit their ideas, which were subject to certain criteria. Suggested names needed to start with "Auto" and end with a word that reflected the green/environmental profile of LNG fuel. A team of UECC judges then compiled a short list of the best suggestions. All employees were given the opportunity to vote for their favourite two names in the short list during Round Two of the process. The names receiving the most votes were to be given to the new vessels. In total, 66 UECC employees took part during the 30 day period for names to be submitted and 597 names were suggested. Ten names went forward for the final voting, 54 UECC employees voted and 109 votes were gathered. The two most popular choices were Auto Eco and Auto Energy (in that order) so the newbuilds had their identities. Collectively the new LNG powered class of ships are known as the E-Class. UECC (United European Car Carriers) was founded in 1990 and is jointly owned by Nippon Yusen Kabushiki Kaisha (NYK) and Wallenius Lines. The head office is located in Oslo, Norway, with eight offices and four port related terminals situated across Europe. UECC operates a fleet of 18 pure car and truck carriers (PCTC) that are designed to meet the necessary flexibility and efficiency requirements of the short sea market. The company's aim is to be the leading short sea ro-ro operator in Europe. Matching the Operator's initials, the company values are Unity, Energy, Challenging and Commitment. In total there are 353 employees, 112 shore based and 241 sea going personnel aboard the UECC owned ships.
The 18-strong fleet consists of the two new E-Class ships, three S-Class (AutoSky/Star/Sun), four P-Class (AutoPrestige/Premier/ Pride/Progress), four Breeze Class (Aegean/Arabian/Asian/ Baltic Breeze) and 5 Leader Class (NYK) ships (Coral/Emerald/ Opal/Vega/Victory Leader). Around 1.7 million units are shipped annually and UECC's network consists of the following:

Baltic: Southampton-Zeebrugge-Bremerhaven-Malmo-Hanko- St. Petersburg-Southampton weekly with Gdynia served every two weeks. Two E Class ships are deployed; Norway: Bremerhaven-Oslo-Drammen-Bremerhaven-Oslo using a P-Class ship twice weekly;

North Sea: Cuxhaven-Immingham-Cuxhaven-Immingham using a P-Class ship twice weekly;

Biscay: Santander-Pasajes-Zeebrugge-Southampton using an S-Class ship weekly; Santander-Pasajes-Rotterdam-Zeebrugge using an S-Class ship weekly and Pasajes-Zeebrugge- Southampton-Le Havre using a P-Class ship weekly; Pasajes- Portbury using an S-Class ship weekly;

Atlantic: Vigo-Le Havre-Zeebrugge-Sheerness every eight days using a Breeze Class ship; Vigo-Zeebrugge-Bremerhaven- Drammen-Wallhamn-Cuxhaven-Southampton weekly using two Breeze Class ships; North-South: Autoport-(Yenikoy)-Borusan- Vigo-(Southampton)-Bremerhaven-(Vlissingen)-Zeebrugge- Portbury-Vigo-Sagunto-Tarragona-Livorno-Piraeus with weekly calls using 5 Leader Class ships.

Sign-up today to read the full article!
Simply click below to sign-up and read the full article, as well as many others, instantly!