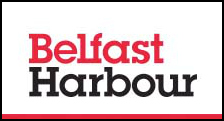 Belfast Harbour is a Trust Port, independent of the British Government and managed locally by locally elected Belfast Harbour Commissioners, of which there are currently fifteen. The port is run from the grand and imposing Harbour Office in Corporation Square, taking seven years of construction beginning in 1847 at a cost of £8,000 on the site of a filled up dock and shipyard. The 'Italian palazzo' style of architecture included colourful mosaic floors on the ground floor reception and first floor lobby, with impressive stained glass windows depicting industry, commerce and enterprise with coats of arms of many ports and cities with which Belfast traded in the past. The building houses an impressive art collection and was further improved by an extension completed in 1895 at a cost of £14,349. The ground floor houses the office staff engaged on day to day operations, while the first floor is used for monthly meetings of the Commissioners. The building has seen many developmen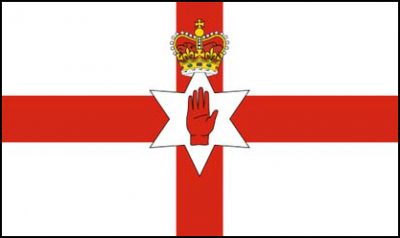 ts in Belfast, particularly the now defunct Harland & Wolff Ltd. shipbuilding yard, with the twin yellow gantry cranes, 'Samson' and 'Goliath', one of the greatest shipyards in the world, builder of the liner Titanic and her two sisters Olympic and Britannic.
History Of Belfast Port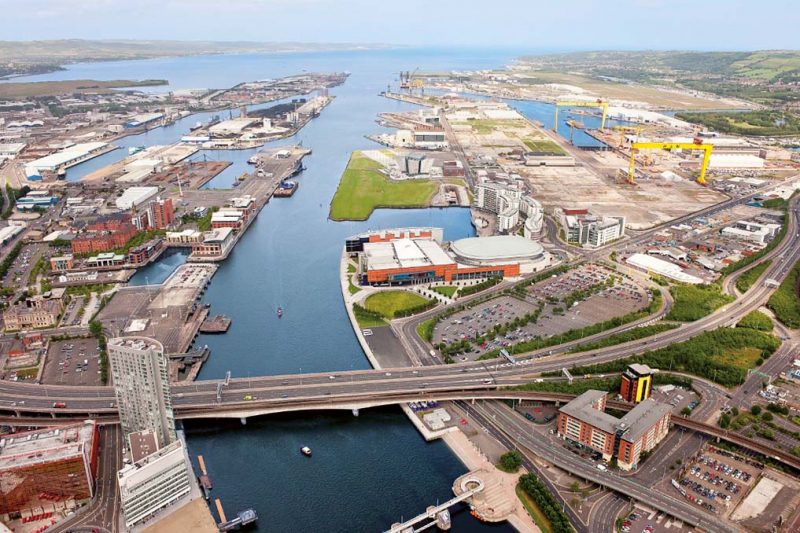 The origins of the port date back to its Royal charter of 1613 to provide a wharf at the confluence of the rivers Lagan and Farset. Belfast shipowners traded twenty nine small sailing ships in 1663, and trade began to expand in the following decades with the original quay lengthened and open area enlarged. Carrickfergus harbour with its dominating castle was replaced by Belfast as the most important port in Ulster by 1725. A number of privately owned wharves were subsequently constructed on reclaimed land. The 'Belfast Board' for improving the harbour was formed in 1785. Shallow water, bends in the Lagan, and the shifting channel approach, and the inadequate berths were major problems to be dealt with during the 19th century. All of the privately owned docks, shipyards and quays in the port had been purchased by the 'Belfast Board' by 1845.
Belfast Harbour Commissioners was formed in 1847 with seventeen commissioners, and a new entrance channel to the port was dredged two years later. The seven mile long new channel was named the Victoria Channel on 10th July 1849 by Capt. William Pirie by pouring a large bottle of whiskey onto the water. He was the grandfather of Lord Pirrie (1847-1924), who later became Lord Mayor of Belfast and Chairman of shipbuilders Harland & Wolff Ltd. until his death in 1924.
Gustavus Heyn (1803-1875), born in Danzig, arrived in Belfast in 1826 to take up the post of Consul for Prussia. He stayed with Capt. William Pirrie and married his daughter, Letitia Pirrie, in 1830, becoming the auditor and a director of the Belfast Harbour Commissioners for eight years until 1855. He then became a shipowner in Belfast, owning shares on the 64ths system in a fleet of deep sea sailing ships. His two sons, James and Frederick, then set up the Ulster Steamship Co. Ltd. in Belfast on 25th August 1977, known as the Head Line as most ships had names of Irish headlands e.g. Inishowen Head. Funnel colours were black bearing the 'Red Hand of Ulster' on a white shield, and these striking funnel colours were worn by a fleet of sixty deep sea steamers and motor vessels and fifty managed ships over the next century. G. Heyn & Sons Ltd. became the Heyn Group Ltd. in October 1896, and is still in business as stevedores and agents in the Port of Belfast today.
A patent slip was built on the south side of Queen's Island for dry docking of new ships and repair of trading ships to replace the dry docks that the 'Belfast Board' had purchased. On 6th September 1853 the Belfast Harbour Commissioners agreed to lay out a new shipyard on man-made Queen's Island, formed from the spoil of excavating the Lagan, which became Harland & Wolff in 1861. New quays, new trades and new methods of handling cargo at the main Donegall quay were then required. A Lagan river ferry was built for the Commissioners by Harland & Wolff Ltd. in 1872, as well as the tug and tender Duchess of Abercorn 308/37.
The Belfast Harbour Commissioners opened the Abercorn Basin in 1867, named after the Marquis of Abercorn, and built a shear legs crane of fifty tonnes capacity in 1871 on the east side of the basin to fit out ships from four new berths constructed on Queen's Island by Harland & Wolff Ltd. Six new liners for the Transatlantic services of the White Star Line were then completed in the basin at a specially constructed fitting out quay jutting out from the yard into the basin, and two more fitting out quays were completed by the Belfast Harbour Commissioners in 1884/85 for the use of Harland & Wolff Ltd.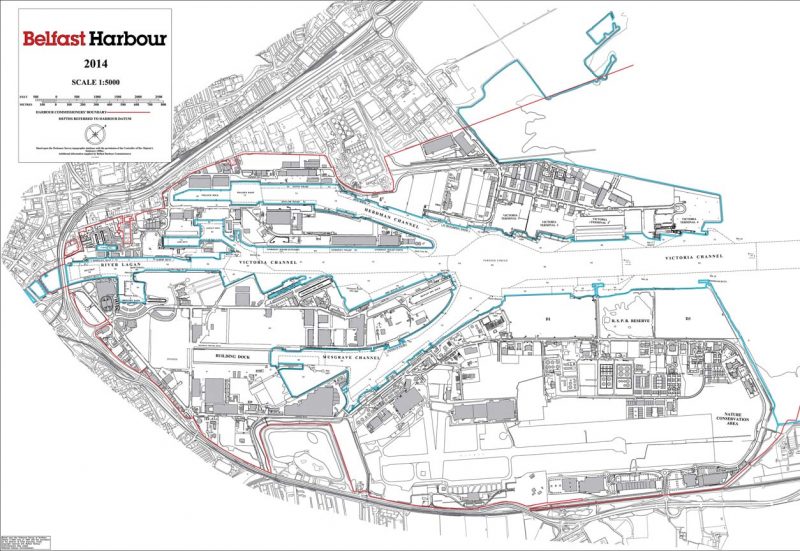 The other big Belfast shipyard was that of Workman, Clark & Co. Ltd., formed in 1880 by Frank Workman (1856-1927) and George Clark (1861-1935), which built ships for 55 years at two shipyards, one on the north bank of the Lagan next to the small Milewater Basin, and one on the south bank at Queen's Island. The latter yard was acquired from McIlwaine & MacColl, whose Ulster Iron Works operated from a site between the Alexandra Graving Dock and the Harland & Wolff yards. There were seven berths in the North Yard, and five berths in the South Yard, with a total of forty acres under shipbuilding. In 1919, the yard was taken over by the Northumberland Shipbuilding Co. Ltd. at Howdon on Tyne with backing from London bankers, but losses at the Belfast yard mounted steadily during the difficult years of the 1920s. A reefer ship was the only ship completed in 1932 in the dark days of unemployment with grass growing on most Belfast slipways, and the Shell tanker Acavus was launched on 24th November 1934 as the last ship on the order books.
The Irish Sea passenger and cargo steamers of the Belfast Steam Ship Co. Ltd. with their red funnels and black tops berthed at 42 and 43 Donegall Quay, and the London, Midland and Scottish (LMS) railway steamers and those of the Belfast and County Down Railway completed an impressive line of passenger steamers around the curve of the quay. Expansion on the County Down side of the harbour used an old river course running behind East Twin Island. Belfast Harbour Commissioners opened the Musgrave Channel in 1903, and their twin screw tug Musgrave 220/97 had been used in the dredging operation since 1899. The new Thompson Graving Dock was opened in 1911 after eight years of construction to give five very big and impressive graving docks owned by the Commissioners in order to dry dock large ships calling at the port and particularly the big liners then under construction by Harland & Wolff Ltd. and Workman, Clark & Co. Ltd. The dimensions of these big dry docks in feet were:-
| | | | |
| --- | --- | --- | --- |
| | Length | Breadth | Depth Over Sill |
| Thompson Graving Dock | 850.0 | 96.0 | 42.6 |
| Alexandra Graving Dock | 802.9 | 80.0 | 31.0 |
| Hamilton Graving Dock | 451.6 | 63.7 | 22.9 |
| Clarendon Graving Dock 1 | 239.0 | 27.9 | 14.9 |
| Clarendon Graving Dock 2 | 285.0 | 34.5 | 15.6 |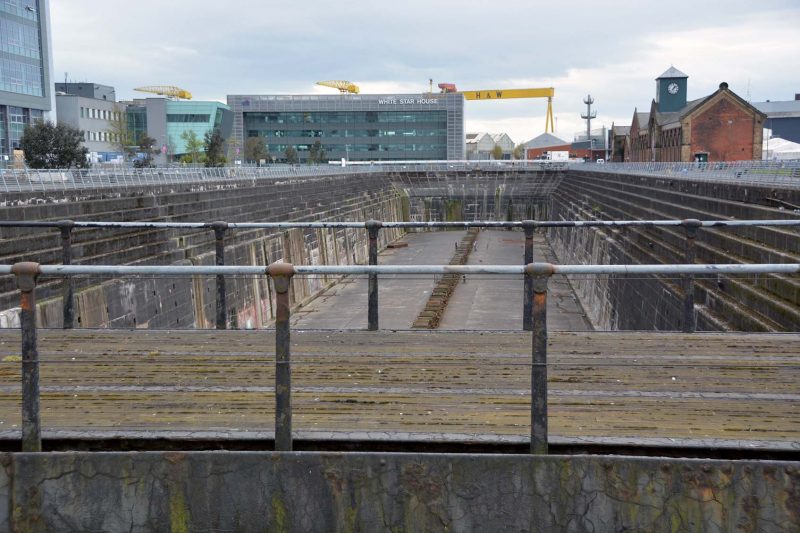 A caisson could be placed against the outer facing quoins of the Thompson Graving Dock to increase its length to 887 feet, the length of the Titanic and her two sisters Olympic and Britannic of around 46,000 grt, constructed during 1909 to 1915, being 883 feet and their beam 92.5 feet. Olympic was the first ship to use the dry dock on 1st April 1911 with the dry dock having cost £300,000. Princess Alexandra had named the Alexandra dry dock in 1889. Olympic and Titanic had 350 First Class Staterooms for 1,054 passengers with adjoining parlour suites, and there were two very luxurious suites with tickets costing ten times the annual average salary of the time. The public rooms of the luxurious White Star Line pair had several interior design styles including Adam, Regency, Empire, Italian Renaissance, Louis XV and Louis XVI. These public rooms were adorned with glass domes, gold burnished carvings, rare woods, silken fabrics and expensive works of art. During fitting out of the third sister, Britannic, she was converted into a hospital ship, but she was sunk by a mine explosion in the Zea Channel in the Aegean on 21st November 1916 en-route to Mudros with the loss of 21 lives.
The Inter-War Years And World War II
Two fitting out berths were constructed by Belfast Harbour Commissioners in the Musgrave Channel for the new East Yard of Harland & Wolff Ltd., completed in November 1919 as a second shipbuilding yard for the company in addition to Queen's Island. There were twenty Belfast Harbour Commissioners in 1919 including the Lord Mayor of Belfast, Sir George S. Clark, Sir Crawford McCullagh, Sir Thomas Dixon, Hugh M. Pollock (Chairman) and a number of Belfast shipowners including Samuel Kelly with a large coastal fleet running to England and Scotland. The General Manager was David J. Owen, Engineering Manager was T.S. Gilbert, with Capt. John McIntyre as Harbour Master.
During the inter war years, Belfast Harbour Commissioners extended or constructed quays of a length of twelve kilometres in the Lagan river, the Herdman Channel and the Pollock Basin (both opened during 1930/33) to the north west of West Twin Island, including the Pollock Dock (1933), Spencer Dock (1872), York Dock (1891) and originally joined to the old Princes Dock, as well as the old Dufferin Dock (1872) and Clarendon Dock (1870). Belfast Harbour Commissioners obtained powers in November 1935 to develop a new business opportunity for the construction of a new airport on their land near the East Yard of Harland & Wolff Ltd. in the Musgrave Channel. The deepening of the Victoria Channel and the erection of a new 250 tonne crane and the amalgamation of the two fitting out quays in the Musgrave Channel was undertaken in 1939 to be ready for the fitting out of new aircraft carriers urgently required by the Royal Navy in World War II.
The Royal Navy used Belfast as its home base for up to eighty convoy escort vessels engaged in Atlantic and Russian convoys, including convoy escorts of the Captain Class frigates of the Third Escort Group during World War II. The World War I light cruiser Caroline was subsequently permanently berthed in a dry dock at Belfast and currently serves as a training ship and headquarters for the Ulster Royal Naval Reserve. She is the second oldest commissioned warship in the Royal Navy and was launched at Birkenhead in 1914 and became a depot and training ship ten years later.
Post War Years In The Port Of Belfast
Belfast Harbour Commissioners gave permission in 1948 for their land to be used for the extension of the Engine Works of Harland & Wolff Ltd. Pollock Basin East was the site of the first British ro-ro service in 1950 that later became the Transport Ferry Service of the Atlantic Steam Navigation Co. Ltd. to Preston. A major scheme to widen and deepen the Victoria Channel in 1957 and the turning basin in the Musgrave Channel was begun. In 1965, construction began for the large new repair dry dock, Belfast Dock, of dimensions length 1,100 feet and width 165 feet, for Belfast Harbour Commissioners. The Prime Minister of Northern Ireland, Capt. O'Neill, drove in the first ceremonial pile, and the dry dock received its first ship for repair in 1968. Harland & Wolff Ltd. later considered building large tankers in the dock in the 1970s, which was also used by oil rigs, and the reconstruction of the badly damaged tanker Sea Empress after spilling 72,000 tonnes of crude oil in 1996 after a bad grounding and refloating operation at Milford Haven.
The Belfast West Power Station was opened in 1961 on a site in the port subleased to the Belfast Corporation Electricity Department, later renamed as Northern Ireland Electricity (NIE). The station continued to generate electricity until its closure in March 2002, with the three tall chimneys of 240 feet in height demolished by controlled explosions in July 2007. The site continues to be managed by NIE on behalf of the utility regulator, which affirms that the best use of the site remains in electrical generation.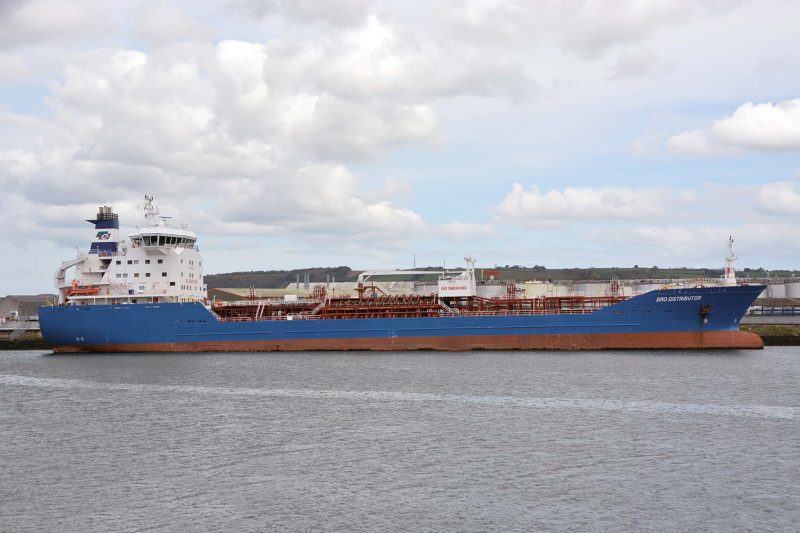 The facilities of the Belfast Harbour Commissioners in the 1970s and 1980s comprised twelve kilometres of quays, 82,000 cubic metres of warehouses, grain silos, three specialised container handling wharves, and five ro-ro berths with ramps for up to 150 tonne unit loads. There was one heavy load ro-ro platform for up to 600 tonnes unit load. There were more than fifty dockside cranes, the largest being of 200 tonnes working safe limit. There were three tanker berths with many large storage tanks for oil, chemicals and liquefied gas. Victoria Channel could handle fully loaded grain bulk carriers drawing 32 feet and oil tankers drawing 35 feet, but silting could occur and dredging was ongoing with the channel marked by light buoys. The berths and dry docks in the port in 1979 were as follows:-
| | |
| --- | --- |
| Richardson Wharf (opened in 1962) | Fertlisers |
| Herdman Channel West | Ro-ro and containers |
| Gotto Wharf, Herdman Channel | Unit load & containers |
| Pollock Dock | General cargo, grain silos |
| Sinclair Wharf | General cargo |
| Coal Wharf | Coal import to NIE power station |
| West Twin Wharf | General cargo, grain silo |
| Stormont Wharf (opened in 1959) | General cargo, one 200 tonne crane |
| York Dock | General cargo, ro-ro, containers |
| Ballast Quay | Unit loads to Heysham |
| Albert Quay | General cargo, coal, iron and steel |
| Donegall Quay | Ro-ro, containers to Preston |
| Queen's Quay/Abercorn Basin | Scrap metal, coal, steel |
| Fitting out wharves | Six shipbuilding quays |
| Refinery Jetty | BP imports and exports |
| Musgrave No. 4 Quay | Coal import to NIE power station |
| Steel Delivery Wharf | Steel for shipbuilding |
| Nos. 1 and 2 Oil Jetties | Oil terminal of 200,000 tonnes capacity |
| Airport Wharf | Special services |
| Hamilton Dry Dock | 139.6 by 19.4 metres |
| Thompson Dry Dock | 259.0 by 29.3 metres |
| Belfast Dry Dock | 335.0 by 50.0 metres |
| Harland & Wolff Building Dock | 556.0 by 93.0 metres |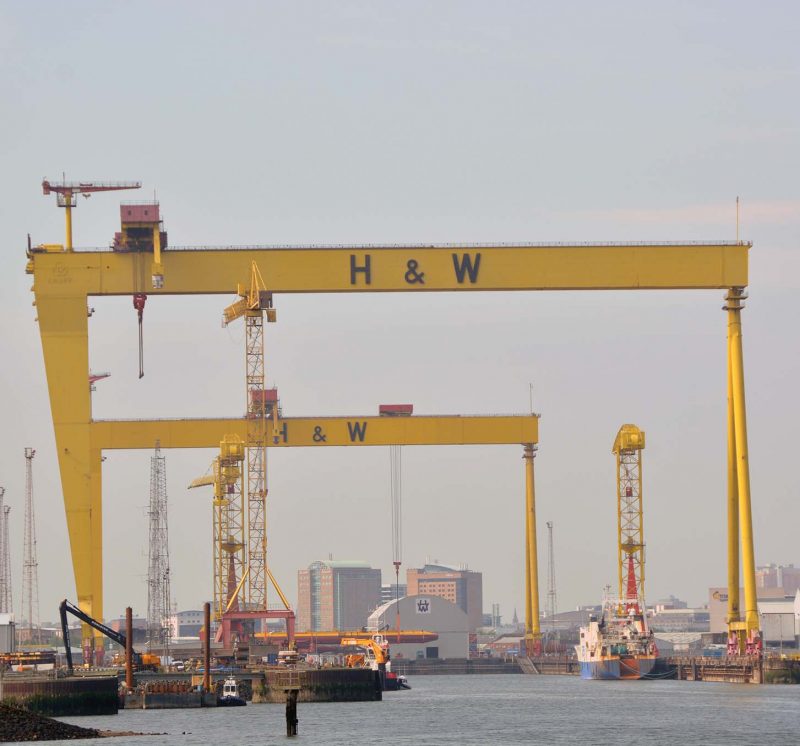 The Building Dock was owned by Harland & Wolff Ltd. until its closure in 2003 after the famous Belfast shipbuilder had completed over 1,750 ships. Construction on this the largest shipbuilding dock in Europe had started in 1968 with dimensions of 1,825 feet length, width of 305 feet, and depth of 27 feet six inches. After great difficulties with piling into the soft reclaimed ground at the bottom of the dock, and the placing of the huge dock gate, built by the yard, the dock was ready to receive the first sections of the first of two supertankers for Esso in the summer of 1969. The first of these was floated out bow first as Esso Ulidia on 11th May 1970, with the first sections for her sister already laid at the head of the dock.
The building dock was served by two huge Goliath gantry cranes of 840 tonnes capacity, popularly known throughout Belfast as 'Samson' and 'Goliath', which are of much greater width than the dock in order to pick up assemblies on the East side, and two cranes of smaller sixty tonnes capacity. A hinged partition, which folded into the bottom of the dock, allowed for dry working on sections at the head of the dock. The dock cost of £13.5 million was paid for by 45% of State capital from the Labour Government through the Shipbuilding Intervention Fund, with the remainder from the Northern Ireland Government. The last ships completed in the Building Dock in 2003 were the ro-ros Anvil Point and Hartland Point, the last two of a sextet for the Andrew Weir Shipping consortia with Houlder Offshore Engineering, James Fisher Ltd. and Bibby Line for charter to the Ministry of Defence Strategic Lift.
Belfast Harbour Commissioners built two new tugs in 1971 of 337 bhp named Ada Dorothy and David Andrews with yellow funnels and a black top, and the ship handling tugs at this time were Carrickfergus 161/58, Clandeboye 167/67, Coleraine 212/70, Craigdarragh 169/66, Cultra 202/62 and Dunosprey 173/68 owned by John Cooper (Belfast) Ltd. The Belfast City Council sludge vessel Divis 357/28 was employed on the Lagan for fifty years before being replaced by a new sludge vessel Divis II launched in 1978 by the James Lamont yard at Port Glasgow. Contract suction dredgers now maintain the dock areas, and maintain the depth in the Victoria Channel.
The Present Day Belfast Port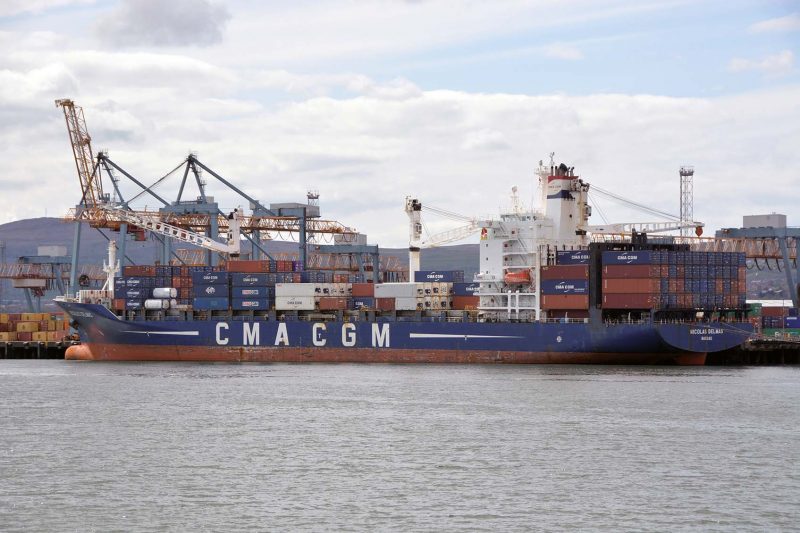 Pilotage is compulsory with the pilot boats operating from the Milewater Basin next to the Port Operations Centre on West Twin Island. Belfast Harbour Commissioners had their large pilot vessel Edith Williames 206/00 for forty years, but today orange pilot launches are used. Vessels are met one mile south east of Carrickfergus harbour at light buoy No. 1, and at least one hours notice is required stating ship's name, draft and destination. Lists of crew, passengers, stores, tobacco and spirits are required, together with health certificates, load line, safety equipment, tonnage, nationality and cargo documents. There are facilities in the port for the reception of 4,000 tonnes of oily ballast water, and oil bunkers from installations and provisions and water are available. Towage by powerful Svitzer tugs of up 3,000 bhp is available at all times of the day and night, and smaller towage and diving craft are provided by other local firms.
Oil Jetty number 1 (opened in 1923), number 2 (opened in 1962) and number 3 (opened in 1963) in the Musgrave Channel handle imports and exports of refined oil products for Texaco, Exxon, Conoco, Shell and Emo Oil, some destined for the airport behind the jetties, as well as chemicals and liquefied gas. Oil Berth 4 (opened in 1964) is the largest of the four oil berths, and is situated on the south side of the Victoria Channel and is mainly used for BP oil imports and exports. The four berths represent 95% of all oil cargoes handled in Northern Ireland. The Musgrave Scrap Metal berth is situated on the East Twin Island side of the Musgrave Channel.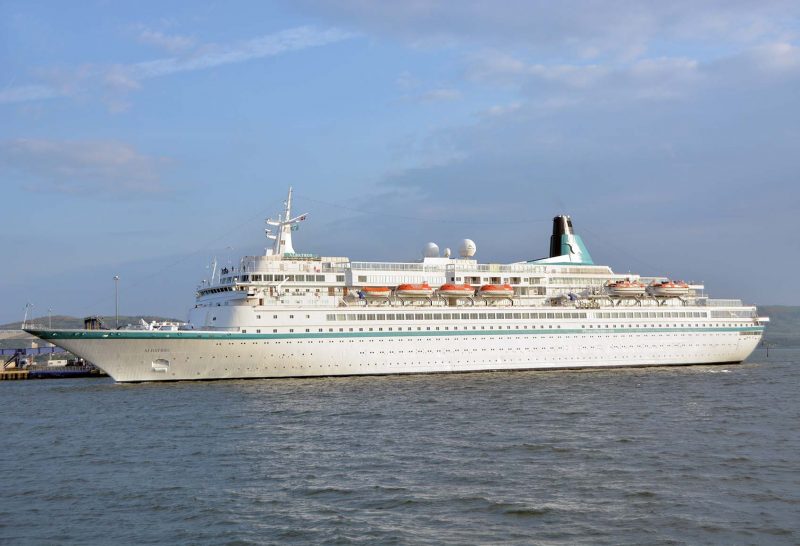 Victoria Terminal was opened on reclaimed land to the north east of Richardson Wharf after the Millennium, and now has four terminals, with Victoria Terminal 4 opened in 2007 and now used by the Stena Line passenger ro-ro service to Cairnryan and Victoria Terminal 2 by the Stena Line passenger ro-ro service to Birkenhead. Stena Line moved their services downriver from the Lagan river berth at Belfast Quay. Victoria Terminals 1 and 3 are used by container services to Heysham, Birkenhead and the Continent, and have featured vessels of Belfast Freight Ferries Ltd., Norse Merchant Ferries, Coastal Container Line and Clydeport Shipping Ltd. operating these services over the last decade.
The extended Stormont Wharf (deep water berth of 580 metres length and 10.2 metres alongside depth) was inaugurated on 30th June 2009 as a cruise berth by the cruise ship Grand Princess. The other cruise berth is the Pollock Dock with alongside depth of 8.2 metres for smaller vessels, with over 145,000 cruise passengers visiting during 2016, an increase of 26% over 2015. Cruise lines calling include P. & O. Cruises, Princess Cruises, Celebrity Cruises, Cunard Line, Silversea Cruises, Seabourn Cruise Line, Crystal Cruises, Sea Cloud Cruises, TUI Cruises, Plantours of Germany, Majestic Cruise Line, Fred. Olsen Cruises, Phoenix Reisen, Cruise and Maritime Voyages (CMV), Hamburg America Line, Azamara Cruises, Prestige Cruises including Regent Seven Seas, National Geographic Cruises and many more.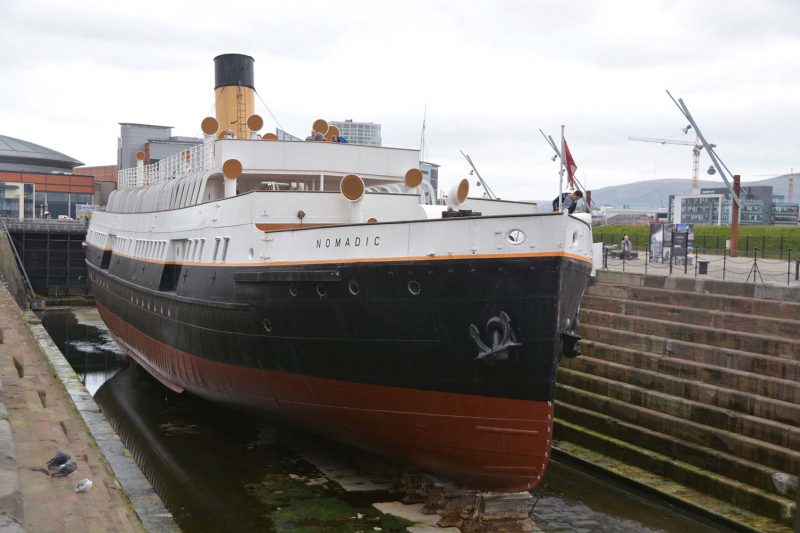 Belfast Harbour Commissioners own extensive property sites of 1,950 acres (790 hectares or one fifth of Belfast City), with 855 acres used for port operations, and one thousand acres for new projects such as the 'Titanic Quarter', which was built on the slipway that saw the construction of the great liner. There are nine galleries spread across six floors mirroring the height of the hull of Titanic. There are interactive exhibitions, an underwater cinema and gantry rides. This excellent feast of shipbuilding history with an emphasis on the men that built the ship takes three hours to fully explore and has been well constructed by Titanic Quarter Ltd. The White Star Line tender Nomadic 1,273/11 was built by Harland & Wolff Ltd. at the same time as Titanic for service at Cherbourg, and became a floating restaurant on the Seine at Paris in 1968. She has now been beautifully restored and returned to Belfast and is in permanent residence in the Hamilton Graving Dock. She offers a unique onboard time-travel experience and her funnel has been restored to the White Star Line colours of yellow with a black top. The Thompson Graving Dock and the Pump House can also be visited.
City Quays is an ambitious property development costing £250 million and includes offices for multinational companies, residential, warehousing, sports and entertainment arenas, supermarkets, leisure, hotel and retail outlets. Clients such as technology firm Cayan of Boston (Mass.) and legal firm Baker & McKenzie already enjoy modern offices. The Belfast Harbour Film Studios have cost £20 million, and the Odyssey Centre at Abercorn Basin is impressive, with all of these property projects being situated within the Belfast Harbour Estate. Vacant sites are available for new clients, and ninety acres of this land is reserved for nature conservation. The Commissioners are responsible for 26 kilometres of road network within their large estate area.
The York Dock Steel Store of 3,600 square metres, the Pollock Dock Paper Store of 11,600 square metres, and the Gotto Wharf Timber Store of 13,700 square metres handle around 600,000 tonnes of Scandinavian timber as well as breakbulk steel and cement cargoes. There are five thousand ships calling at the port each year, other imports and exports including coal, grain, fertilizers, animal feed, stones, aggregates and scrap metal. Coastal cargoes are handled at several wharves on both sides of West Twin Island. Stena Line operate passenger and freight ro-ro cargo services into the port from Cairnryan near Stranraer Harbour, and from Birkenhead, with good rail connections from Glasgow Central to Stranraer, and onward from Belfast to Londonderry and Dublin. P. & O. Irish Sea operate passenger and ro-ro services from Cairnryan to Larne, and used to operate from Troon to Larne, and there are summer seasonal services operating to Douglas on the Isle of Man by the Isle of Man Steam Packet Co. Ltd.
Traffic Figures For 2015
RO-RO Operations
1,367,000 passengers, 282,000 cars, 481,000 freight units of trailers and trucks, and 123,000 TEU of containers were handled. This would represent around three to four million tonnes of cargo, but accurate figures are not available as all containers were not required to be weighed until July 2016 before acceptance for shipment by sea.
Bulk Traffic
(Both Exports and Imports in Million Tonnes)
| | |
| --- | --- |
| Oil Products | 1.956 |
| Grain, animal feed | 1.970 |
| Coal | 2.171 |
| Fertilisers | 0.275 |
| Stones, aggregates | 1.534 |
| Scrap Metal | 0.360 |
| Timber | 0.102 |
| Woodchips | 0.050 |
| Steel, paper | 0.400 |
| Cement | 0.100 |
| Salt | 0.100 |
| Miscellaneous | 0.215 |
| BULK TOTAL | 9.233 |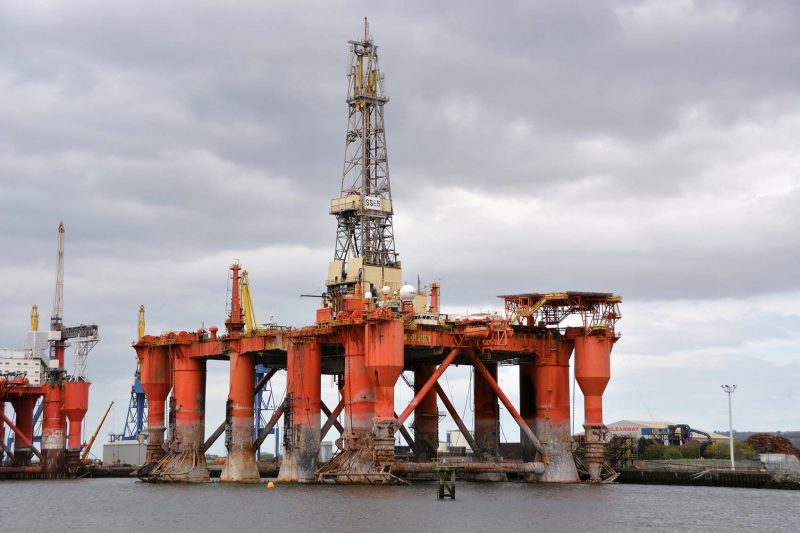 Belfast Harbour Commissioners turnover for 2015 was £54.3 million with profit before taxation in 2015 at £29.9 million, and after taxation it was £27.23 million. Infrastructure completed during the year totalled over £18 million, which was 18% higher than the previous year, with several new projects due to commence during 2016. The port invested in two new pilot boats, improved ro-ro facilities, and improved salt and fertilizer storage on quays at West Twin Island during 2015.
Postscript
Belfast Harbour has 70% of all trade into and out of Northern Ireland, and 40% of the trade to and from Eire, with thus a good proportion of the combined trade of Eire and Northern Ireland. Belfast Harbour Commissioners are very active in seeking new trades and opportunities for the port. This includes renewable energy in the form of offshore wind farms, wave and tidal energy projects. The Irish Sea D1 Offshore Wind Terminal operated by Dong Energy of Denmark, and the Duddon Sands Offshore Wind Farm operated by Scottish Power and Dong Energy 14 kilometres to the south of Walney Island near Barrow are two examples of Irish Sea renewable projects. Belfast Harbour is a busy port and one can see ships of many shipowners coming and going on a daily basis. The berths of the port have moved downstream and this process is likely to continue in the future.