The Ellerman Indian Passenger Liner with a Tragic Ending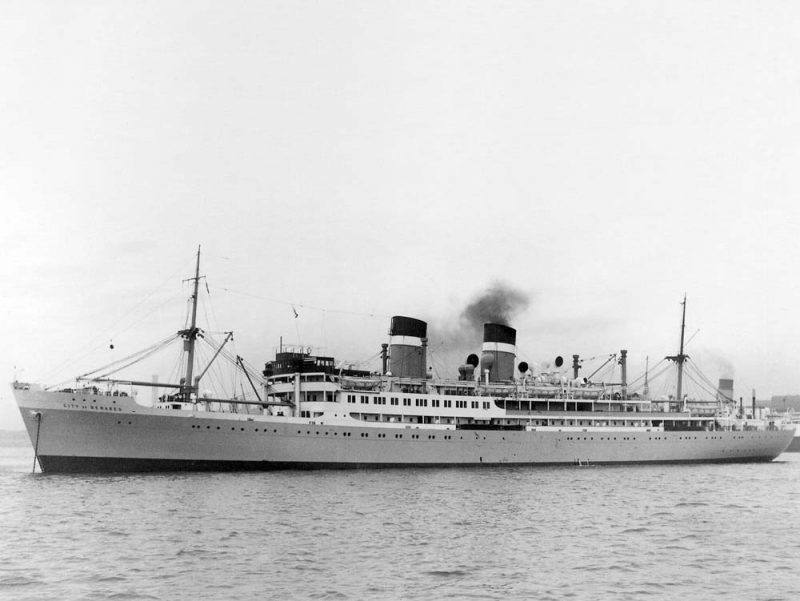 City of Benares of 1936 was the only twin funnelled passenger liner owned by Ellerman Line, and was acknowledged by most pundits as their most beautiful ship, and widely held to be among the loveliest of all twin funnelled passenger liners. She was designed for the Indian trade to Bombay of her owners with her aft funnel as a dummy, and had the accumulated experience of the Indian trade that began a century earlier with the City Line trading to the sub-continent since 1840. There were nine other passenger liners in the City Line fleet at this time, and a further pair in the Hall Line fleet trading to South Africa, all with accommodation for between one hundred and 350 passengers, usually in one class. These grey hulled ships were City of Baroda of 1918, City of Cairo of 1915, City of Canterbury of 1922, City of Exeter of 1914, City of Hongkong of 1924, City of London of 1907, City of Marseilles of 1913, the flush decked City of Nagpur of 1922, City of Paris of 1922, City of Simla of 1921, and City of Venice of 1924. The voyage to India took longer and was not as grand as those of P. & O., but this was compensated by a freer atmosphere, less class distinction, good food, and better open air promenading spaces. Ports of call were Marseille, Port Said and Bombay with occasional calls at Port Sudan, Colombo and Madras.

City of Benares was ordered from the Whiteinch yard of Barclay, Curle & Co. Ltd. on the Clyde, which had been controlled since 1912 by Swan, Hunter and Wigham Richardson Ltd. of Wallsend on Tyne, with joint design teams working on the many fine passenger liners built by both yards for many British and foreign liner companies, including Ellerman Lines. She was Yard number 656 and was launched on 5th August 1936 and named for the city of Benares in northern India, her funnels being added during the fitting out, and on her trials on 10th October she achieved a speed of 17.75 knots without unduly pressing the turbines. She was delivered to City Line on 15th October 1936 with a grey hull and white fo'castle, and left the Clyde for Liverpool the following day, and sailed on her maiden voyage from Liverpool to Bombay via Marseille, Suez and Karachi eight days later. The return voyage from Bombay to Liverpool began on 7th December 1936 with a full cargo of Indian produce, her deadweight tonnage being 9,756 tons.
Subscribe today to read the full article!
Simply click below to subscribe and not only read the full article instantly, but gain unparalleled access to the specialist magazine for shipping enthusiasts.