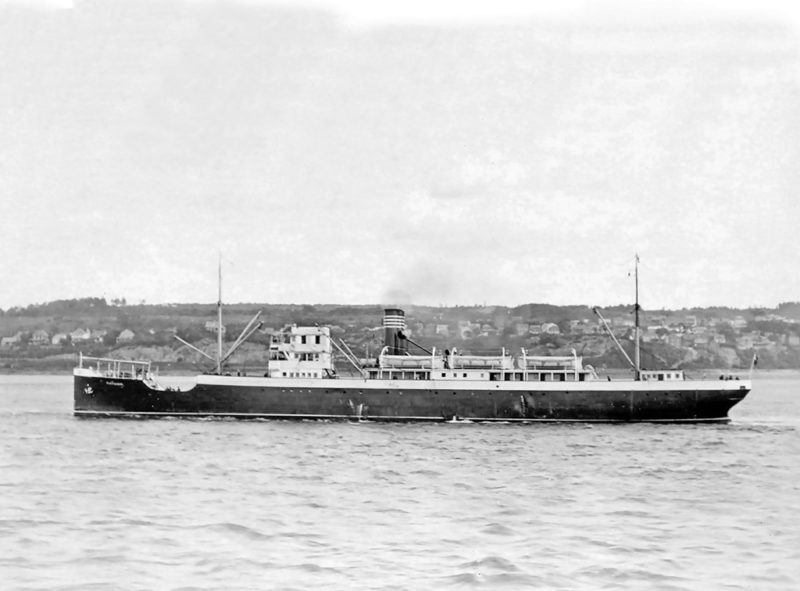 The Clarke family of four Toronto born brothers of Irish descent were running a prosperous publishing house in Toronto with contracts for several important British publishers e.g. Encyclopedia Britannica in the late 19th century. William, the eldest, James and George visited in their yacht an area to the west of Sept Iles at location 50°11′ North, 66°8′ West in 1899 as a site for building a pulp and paper mill for their Gulf Pulp & Paper Company, and thus to feed paper for their Toronto publishing house. The site was twenty kilometres west of the centre of Sept Iles and construction of the mill was underway in 1903 using workers from the Magdalen Islands in the Gulf of St. Lawrence. This was only the second pulp and paper mill in Quebec province, the first had been built at Chicoutimi in 1898, and the mill began exporting pulp in the Autumn of 1908 to England. A hydroelectric power station was also built in 1908 to provide power, and the new town of Clarke City had a population of 400 people in 1908.
William Clarke and his wife Mary Maguire Clarke plus their four sons and daughter moved house to Clarke City in 1905. Frank William Clarke was the eldest (born 16th June 1887), Walter Clarke (born 30th January 1889), Desmond Arthur (born 9th January 1892), Wilfrid (born 5th July 1896) were followed by a daughter Hilda born in 1900. Clarke City was later amalgamated into the city of Sept Iles in 1970 and is now a western suburb of the city. A preserved six wheel steam locomotive and tender belonging to the Gulf Pulp and Paper Company, the Clarke company, is kept in good condition today in Sept Iles.
The Clarke City pulp and paper mill greatly helped the World War I effort, with Walter and Frank wishing to stay with the Gulf Pulp & Paper Company after the war, while Desmond Clarke founded the Clarke Steamship Co. Ltd. in February 1921 one hundred years ago. The company signed a contract with the Dominion Goverment to provide subsidised passenger and cargo services to both shores of the St. Lawrence. The authorised capital of the shipping company was $1 million, and two steamers, each of around 1,000 grt were purchased in April 1921 for a North Shore passenger and cargo service from Quebec to the many small towns and trading posts on the St. Lawrence as far as Bradore Bay near Blanc Sablon on Belle Ile Strait. These were the clipper bowed North Shore of 880 grt, built on the Tyne by William Dobson as Queen Olga Constantine for a Russian company, and Gaspesia of 1,014 grt built at Rostock in 1909 with engines 'midships, two holds and two masts.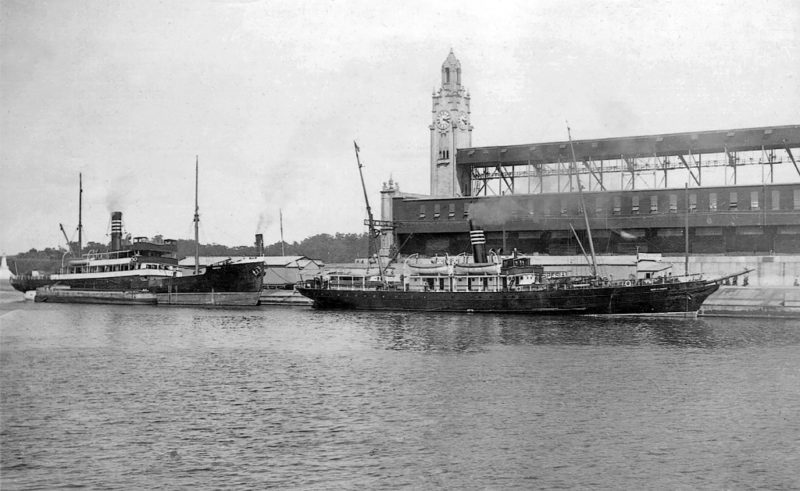 North Shore of 880 grt had arrived from North Shields as Novaia Zemlia at the end of April 1921, and was quickly renamed and sailed from Quebec and arrived at Havre-Saint-Pierre on the Pointe-aux-Esquimaux (Eskimo Point) peninsula on 7th May 1921 on the first voyage. The North Shore had accommodation for 100 passengers (50 First Class and 50 Third Class), and the Gaspesia had accommodation for 136 passengers, with 43 in berths. Havre-Saint-Pierre lies 120 miles East of Sept Iles, and quickly gained the Labrador Stores establishment at the head of the dock. The people are descended from Acadian families in the Magdalen Islands and speak an Acadian French dialect rather than Quebec French, the population being 3,500.
A South Shore cargo and passenger service from Quebec to Gaspe was begun at the same time by the purchased former coastal defence trawler Labrador of 317 grt and built by Davie Shipbuilding & Repairing at Lauzon opposite Quebec in 1918. The service was extended in 1922 to the Magdalen Islands and later to Charlottetown (Prince Edward Island) and Pictou (Nova Scotia). At the end of the Autumn 1923 season before the freeze up on the St. Lawrence, a trial service was made from the South Shore service to Port aux Basques on south west Newfoundland, with cargo then forwarded by the Newfoundland Railway Company to Corner Brook, where a large paper mill was being constructed on the west coast. The first paper was produced at the mill in 1925, by which time the South Shore service had become direct to Corner Brook and the other Bay of Islands ports of Curling and Humbermouth, and was then extended to Loch Lomond near Doyles. Labrador was sold in 1930 to the Canadian Government for use as a lighthouse tender.
Chartered ships on the North Shore Service included Aranmore of 1,170 grt built in 1890 by W. B. Thompson & Co., Dundee for the Clyde Shipping Co. Ltd. She became a Canadian Government lighthouse tender in 1914 and after being aground on the west coast during the winter of 1919/20, she was refloated and short term chartered in late 1921 by the Clarke Steamship Company to replace North Shore while she underwent repairs. Two 'Flower' class sloops built in 1917/18 were purchased by Cayzer, Irvine & Co. Ltd., Glasgow for bareboat charters to the Clarke Steamship Company as Nayarit and Colima in 1925. They were returned to their Clan Line owner a year later after their North Shore voyages. Nayarit returned to Clarke Steamship Company in 1929 when she was purchased outright and renamed North Voyageur and lasted until sold to Greek owners in 1937. She had accommodation for 80 passengers but this was reduced to 60 passengers during the Depression, when she was laid up for two years. North Shore ran aground on 12th August 1933 on Les Islets Caribou on the Calumet River while on a special voyage from Rimouski, and was refloated four days later but her damage was extensive and she was broken up at Sorel.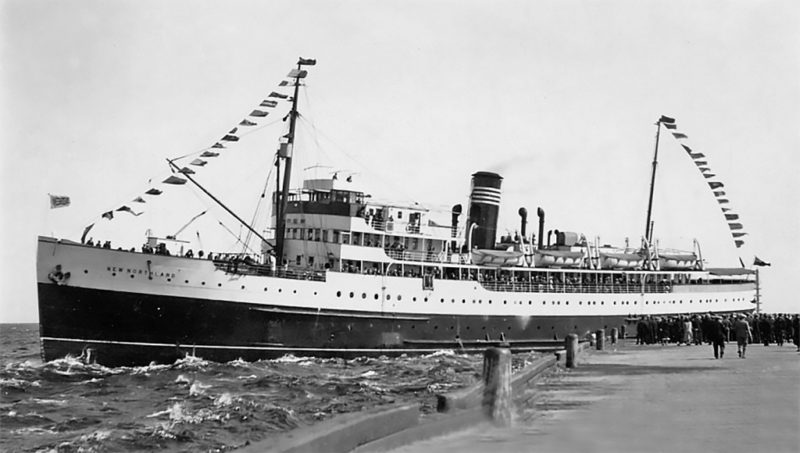 Subscribe today to read the full article!
Simply click below to subscribe and not only read the full article instantly, but gain unparalleled access to the specialist magazine for shipping enthusiasts.