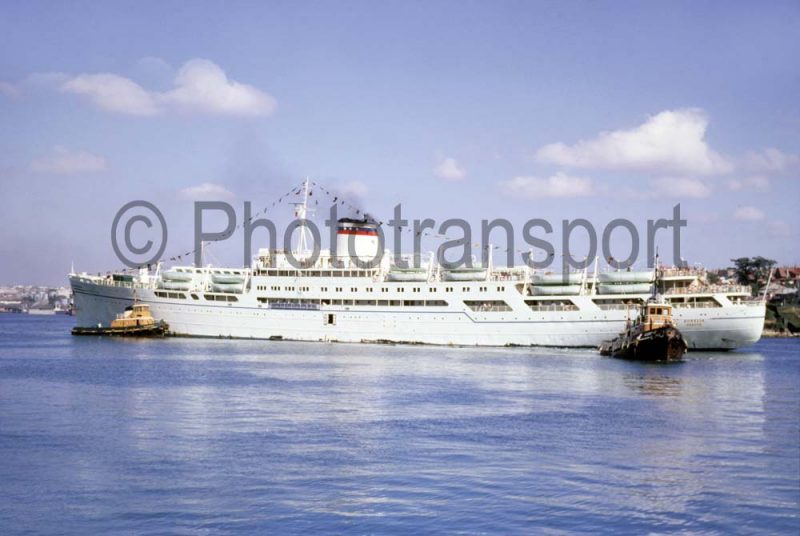 In the aftermath of World War II there was a further surge in emigration from Europe. Although the United States remained a key destination, the focus had shifted significantly to also include South America and the Antipodes. Established shipping lines found themselves in competition with new privateers, companies seeking a share of this expanding, lucrative market.
One such interloper was Cogedar Line (early adverts refer to Congar Line), an acronym formed from the Italian corporate name Compagnia Genovese d'Armamento. Although synonymous with their subsequent service to Australia, the company's origins were in the La Planta service to South America. Founded in 1946, Cogedar initially managed the steamships Philippa, Enterprise and Mary Louise before securing funds to purchase the 26 year old Capitaine Potie in May 1948, a vessel with an interesting and varied history.
Ordered by the American-Hawaii Steam Ship Company as the 7,899 ton Missourian, she had been launched on 14th December 1921, sliding down the ways at Merchant Shipbuilding Corporation yard at Chester Pennsylvania. Like the Danish motor ships of the era, Missourian's key distinction was not having a conventional funnel, exhausts were emitted from two short masts housed on the aft superstructure.
Completed the following year Missourian originally operated on the company's service from the US west coast to Europe, later switching to New York as her western terminus. With the advent of World War II, she was acquired by the British Government in 1940, renamed Empire Swan and managed by Runcunion Ltd. Two years later she was transferred to the Belgian Government in exile, becoming Belgian Freighter and managed by the Compagnie Maritime Belge SA, who subsequently purchased her. In 1946 the same owner renamed the ship Capitaine Potie, oscillating between the colonial link to central Africa and the growing South America trade.
In May 1948 Cogedar purchased the twenty six year old ship and named her Genova, sending their new acquisition to Monfalcone for rebuilding. When Genova emerged the following year the most obvious change was the installation of a conventional, if diminutive funnel, bearing the company's distinctive livery of a white background, broad blue and red bands embellished with three gold stars. The superstructure had been extended but the majority of work had involved converting her interiors to provide rudimentary accommodation for 860 third class passengers. Genova was a notoriously poor sea boat and the austere dormitory style sleeping quarters were transformed into cargo holds at Buenos Aires, before loading Argentine produce for the northbound voyage. Nevertheless she introduced the sound qualities for which the line became known, cleanliness, good food and a friendly, efficient atmosphere. Genova and her fleet mates were always regarded as happy ships.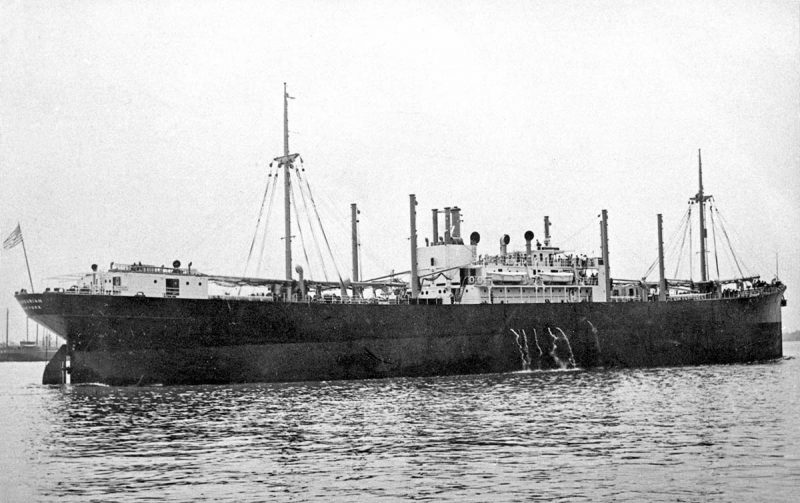 For the next five years Genova sailed to South America, steadily accumulating profits for her owners. By 1954 however there was increased competition on the La Plata service and as rivals introduced new tonnage Cogedar's board reconsidered its options. They decided to enter the Australia service which although dominated by incumbent Lloyd Triestino and P&O, needed greater capacity. Other new lines were emerging to meet demand, including fellow Italians Sitmar and Star Lauro, lured by the Australian Government's subsidised passage schemes.
Genova was sent once more to Monfalcone for further rebuilding and improvements. The superstructure was expanded again, with additional public rooms and facilities, including a swimming pool fitted. Perhaps the most important changes were effected in the engine room where new Sulzer diesels replaced the ship's original propulsion machinery.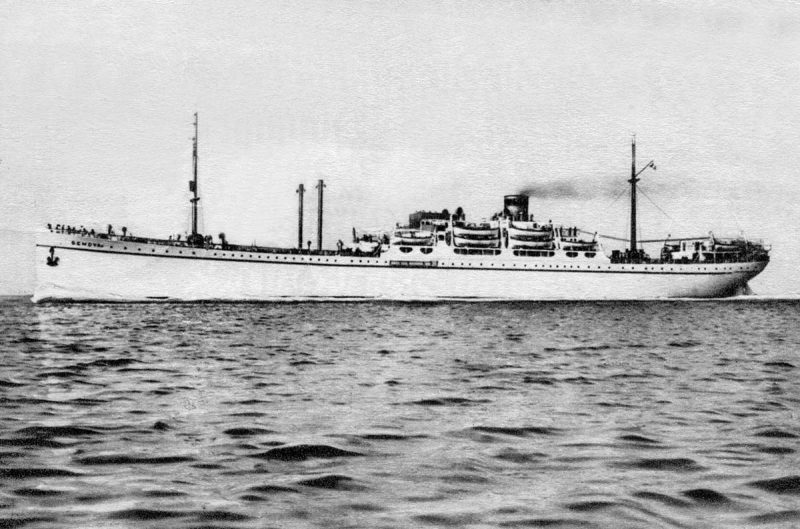 Whilst the erstwhile Genova, now renamed Flaminia, was still being transformed she was joined at Monfalcone by a new fleet mate. To provide a balanced service, due to the extra voyage duration, Cogedar needed a two ship operation. Their new acquisition was given the name Aurelia and like Flaminia was a vessel with a rich and colourful past. Launched on 15th December 1938 and completed just four months later, MS Huascaran was a 6,951 ton cargo liner completed for Hamburg-America Lines' service between Germany and the west coast of South America. With just 58 passengers accommodated in a central superstructure Huascaran was heavily reliant on her considerable cargo capacity, operating with her sister Orsona until the advent of war. Commandeered by the Kreigsmarine in 1940 she spent the conflict as a U-boat depot and repair ship, primarily stationed in Norway.
In April 1945 Huascaran was captured intact and taken to Liverpool. After an inspection and brief refit she sailed two months later for Montreal having been awarded by the reparations committee to the Canadian Government. With her passenger accommodation redundant Huascaran spent the next two years as a freighter in transatlantic service under the management of Park Steamship Company. On 2 September 1947 she was sold to Canadian Pacific and sent to Sorel, Quebec, for rebuilding as an emigrant carrier. Seventy four passengers were housed in the relative comfort of the superstructure cabins whilst 699 were crammed into the hull. On 8th February 1948 she set out from St Johns, New Brunswick on her maiden voyage to London Tilbury.
Rechristened Beaverbrae, CPs new acquisition sailed on this and all subsequent eastbound crossing as a freighter. At the eastern terminus, generally Bremerhaven, the holds were transformed into two dormitories, before taking on the 'human cargo' for the westbound voyage. For more than 6 years Beaverbrae maintained this year round service, ferrying thousands of Europeans to new lives in Canada, returning with timber, meats and other produce from the new world. Sailing from Bremerhaven on 28th July 1954 she undertook her last west-bound crossing, then having disembarked a final consignment of emigrants was laid up at St Johns.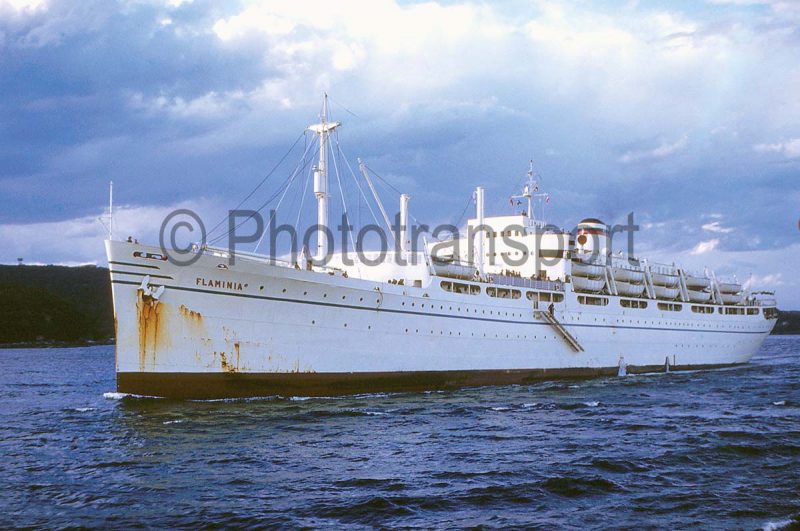 Three months later on 1st November 1954 Cogedar purchased Beaverbrae, renamed her Aurelia and sent her to Monfalcone for rebuilding. As Aurelia started her transformation, Flaminia was nearing completion. In April 1955 Flaminia sailed out of Trieste on an elongated maiden voyage to Cairns.
Just one month later with an extended superstructure, lido and outdoor swimming pool, Aurelia also cast off for Sydney. Air conditioned throughout and refitted in a fresh bright style, the 10,480 grt vessel could accommodate 1,124 passengers in 2 to 8 berth cabins.
The voyage from Europe to Australia was markedly different from the relatively short Atlantic crossings, with a month at sea. Although this allowed time to adapt to the climatic changes it also created a cultural limbo, a somewhat unreal environment between the homeland departed and the new life to be forged. Language and cultural classes were offered to help emigrants adapt to this newly 'Promised Land' but inevitably nothing could fully prepare them for the trials and opportunities ahead. Following those initial voyages from Trieste (due to the close proximity of Monfalcone on the Adriatic coast) Flaminia and Aurelia settled into a regular service offering round voyages from Genoa with calls at Naples, Messina, Malta, Piraeus, Port Said, Aden, Fremantle, Adelaide and Melbourne.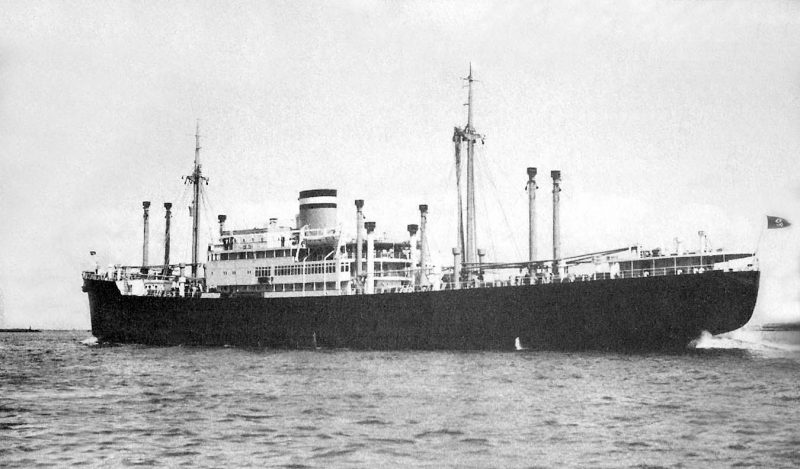 Cogedar retained a high level of popularity as the decade progressed, with increased profitability. Over the winter of 1958-59 Aurelia received a major refit and modifications. The sports deck was extended forward, creating a sheltered, glass enclosed solarium and children's swimming pool. The company also took the opportunity to replace the twenty year old diesel engines. At this time they also changed schedules by shifting its European operations north. The ageing Flaminia inaugurated the revised service with a sailing on 15th December 1958 departing from Bremerhaven, Rotterdam and Southampton.
Cogedar's sources of income diversified further at the start of the 1960s. Flaminia was periodically chartered to the Australian Government as a troop transport, whilst in mid-summer of 1960 her fleet mate Aurelia undertook a transatlantic crossing from Bremerhaven to New York on behalf of the Council of Student Travel, which subsequently became an annual fixture.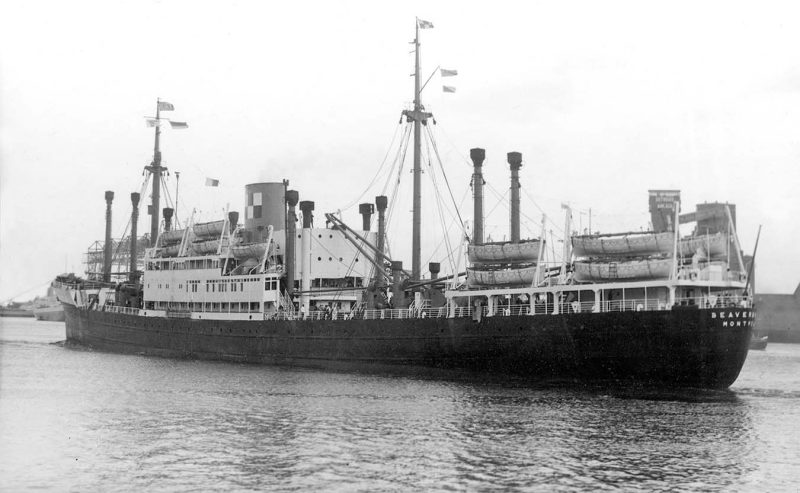 As the Aussie soldier's testimony bore witness, Flaminia was by now showing her 40 years of service. Although she was repaired after suffering a fire off the Italian coast, she only made one subsequent emigrant voyage, departing Fremantle for the last time on 22nd November 1961. She was chartered to the Israeli Zim Lines for intra-Mediterranean service between Marseille and Haifa. In 1963 Cogedar finally sold their veteran liner to Covena Spa who disposed of her the following year to Saudi Lines. Bearing yet another new name, King Abdeloziz, she entered the Jeddah pilgrim trade. After an extended period laid up in the Saudi port the former Flaminia finally succumbed to the cutters torch at Kaohsuing in 1970.
Flaminia's withdrawal was prompted by Cogedar's decision to buy a replacement. Their choice was the 14 year old Cunard cargo-liner Media, renowned as the first transatlantic liner to be fitted with fin stabilisers, an ideal candidate considering her notorious reputation as an extreme 'roller'. Media was purchased by Cogedar Line for £740,000 in July 1961 but continued in service until handed over at Liverpool on 12th October 1961.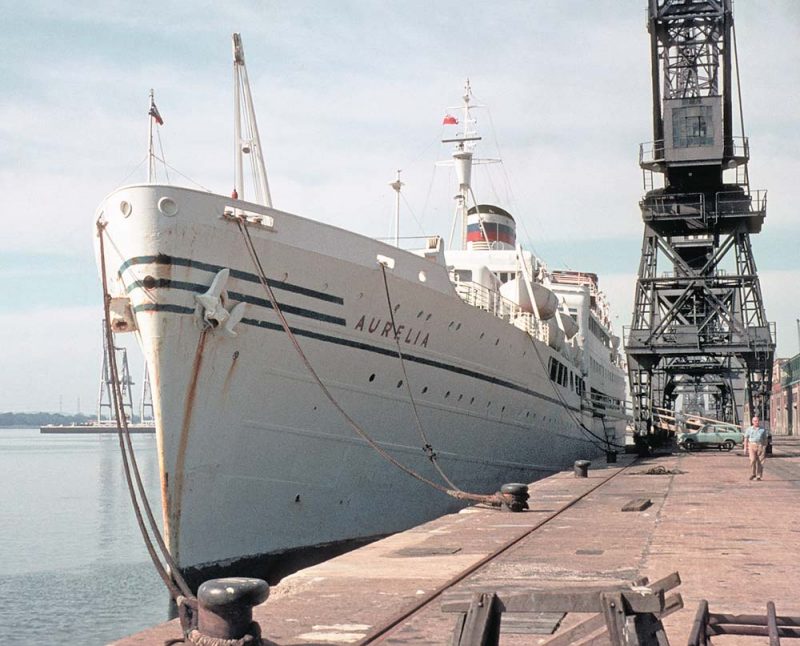 Media and her identical sister ship Parthia were Cunard's first new builds after the Second World War, they were also the company's only combination-liners. Originally conceived as 12 passenger freighters for the associated Brocklebank Line, at an early stage plans were revised and instead they emerged as parent company vessels. Media was launched at the famous at John Brown & Co. yard into the chill waters of the Clyde on 12th December 1946 having been named by Mrs Alfred Barnes, wife of the incumbent Minister of Transport. At 13.345 gross tons and 161.84 metres long she was designed to operate a protracted transatlantic schedule from Liverpool to New York, an intimate 'clubby' experience for 250 pampered First Class passengers.
Subscribe today to read the full article!
Simply click below to subscribe and not only read the full article instantly, but gain unparalleled access to the specialist magazine for shipping enthusiasts.