The Future for World Container Alliances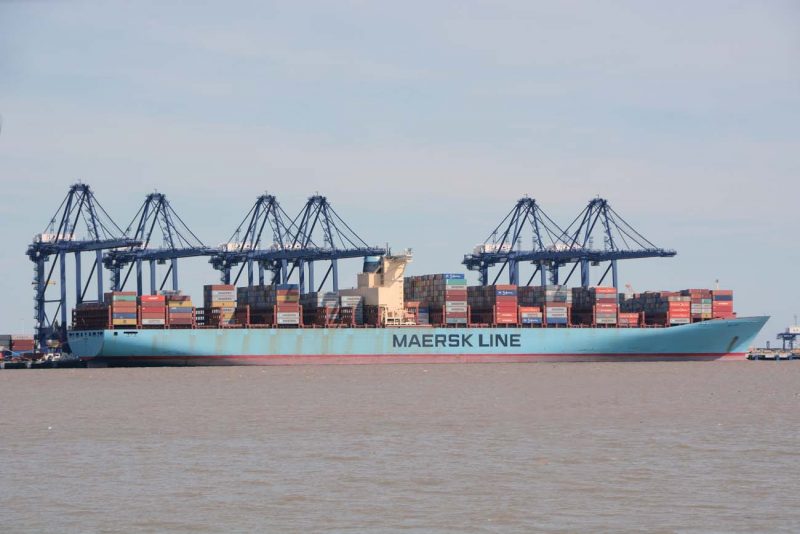 One third of the top twenty container lines of 2008 have vanished from the container sector in the last decade due to bankruptcy or purchase and merger with the larger container lines. Container fleet alliances have changed rapidly as owners strive to band together to secure their market share. Therewere in 2018 only 13 large scale container lines left in existence, with smaller rivals having been snapped up by the leading container lines. This process of consolidation will continue well into the future, with probably only six large scale container lines left to handle all of world containerised trade, as the giant leading lines flex their muscles and buy out their smaller competitors.
World Container Trade
The world container trade has grown during the last decade at a rate of around 4.5% per annum with a peak of 5.5%, but increased during 2017 at the rate of 6.6% on the Asia to Europe trade route, and at 5.3% during 2017 on the Trans Pacific trades. The total world container trade during 2014 was running at 127.6 million TEU, with China as the top exporter at 36.0 million TEU of this total, and the United States of America as the top importer at 19.6 million TEU of the total. However, the world container ship idle fleet in 2017 was still large at almost 8%. The totals for world seaborne trade that includes general and ro-ro cargo, project cargo, dry bulk, crude oil and refined oils and liquid natural gas grew at a rate of 4.2% during the decade.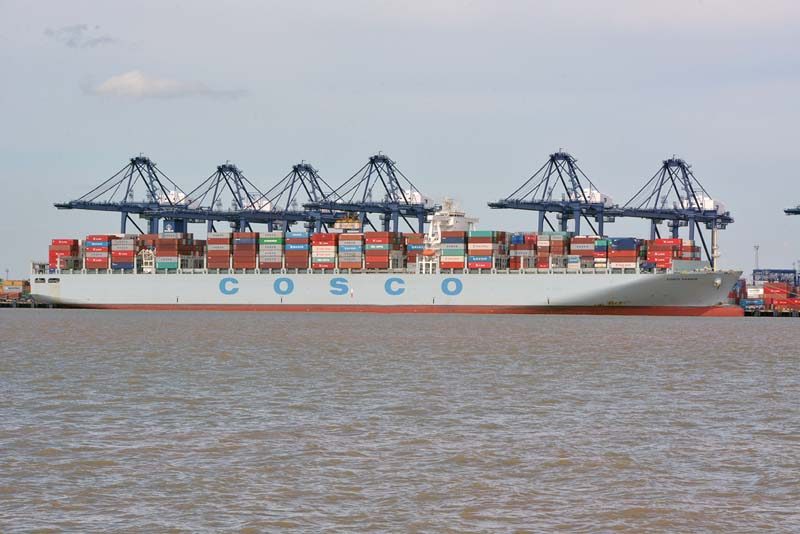 Container line alliances such as the original Trio and ScanDutch consortia to the Far East were superseded in 1991 by owners banding together in twos or threes, and then in groupings of five or six as the Grand Alliance and Global Alliance in 1995. The latter alliance was then renamed the New World Alliance, and was then merged with the Grand Alliance into the G6 Alliance with six member lines of APL, Hyundai, MOL, Hapag-Lloyd, NYK and OOCL. G6 container ships sailed eastbound from Gothenburg, Bremerhaven, and Rotterdam to Jeddah, Singapore and three ports in China including Shanghai. G6 container ships sailed westbound from three Chinese ports and Singapore to Jeddah, Tangier, Rotterdam, Bremerhaven and Gothenburg. The Green Alliance was formerly the KYHE Alliance with four member lines, and later became the CKYHE Alliance with five member lines. The liner trades were badly hit by the financial setback of November 2008 with many container ships laid up for over one year, and lines making big financial losses e.g. Maersk Line lost over one million dollars in 2011.
MISC of Malaysia exited the container industry in 2011 to move into the much more profitable and less competitive tanker industry, resigning at a stroke from the Grand Alliance in February 2011. It had switched from the Global Alliance at the end of 1997 of MISC, OOCL, APL, Nedlloyd and MOL to the Grand Alliance of MISC, NYK, P. & O., OOCL, NOL and Hapag-Lloyd, and saw no future for its very large fleet in the global container shipping industry.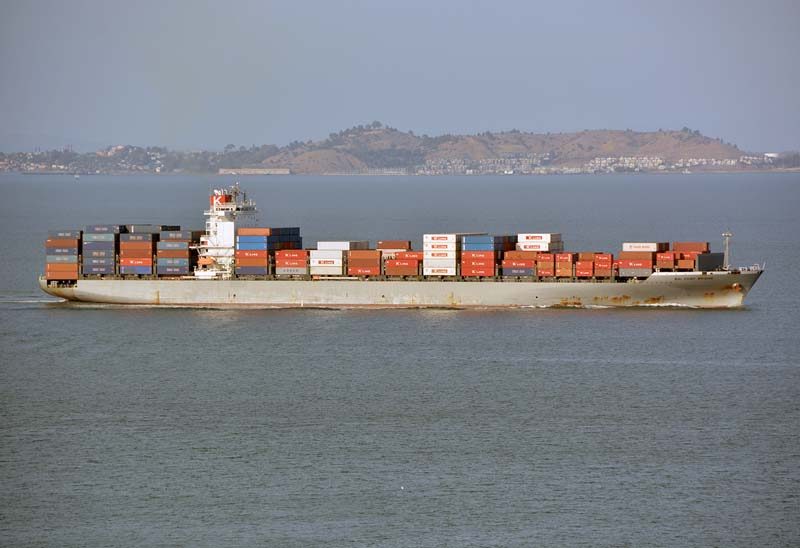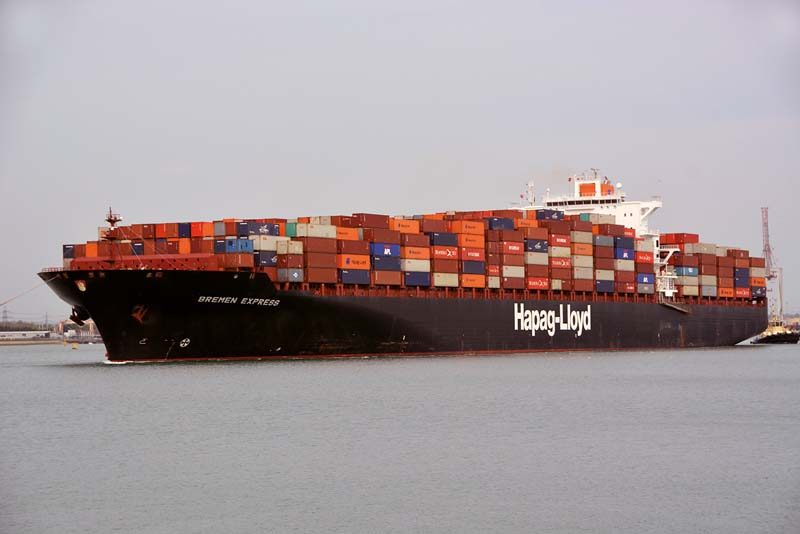 The leading container ship operator, Maersk Line, instituted the Daily Maersk service to the Far East in September 2011 with several severe rate cuts designed to badly hit competitors. These competitors included MSC and CMA CGM, which also made big freight rate cuts, with the result that all of the top three container lines made losses in 2011 compared to profits in 2010. In response to the Daily Maersk service, there have been a plethora of alliances and vessel sharing agreements such as P3, 2M, Ocean 3, Ocean Alliance, THE Alliance, and others as owners strive to form groupings to battle the top lines.
Three Japanese lines (NYK, MOL and 'K' Line) of the top twenty container lines of 2008 have merged together from 1st April 2018 to form ONE, with MOL and 'K' Line each having a 31% shareholding in the new company and NYK having a 38% holding. The estimated combined capital is around 300 billion yen and the total capacity is 1.48 million TEU, giving it a seven per cent global market share. ONE is now the sixth largest container line, slotting in behind the newly merged Hapag-Lloyd and United Arab Shipping Corporation (UASC), but ahead of Evergreen Line. Maersk Line continued to grow by taking over Hamburg Sud and its CCNI of Chile and Alianca of Brazil brands, with all of these measures being symptoms of an industry under severe pressure to consolidate and deliver bigger market shares and bigger profits. The changes in the top ten container line places between 2008 and 2018 are now given:-
Top Ten Container Lines
2008
| | | |
| --- | --- | --- |
| OPERATOR | MTEU | SHIPS |
| Maersk Line | 2.040 | 551 |
| MSC | 1.310 | 403 |
| CMA CGM | 0.940 | 389 |
| Evergreen | 0.635 | 182 |
| Hapag-Lloyd | 0.506 | 139 |
| COSCO | 0.457 | 150 |
| APL | 0.446 | 129 |
| CSCL | 0.425 | 134 |
| NYK | 0.413 | 120 |
| Hanjin/Senator | 0.379 | 92 |
2018
| | | |
| --- | --- | --- |
| OPERATOR | MTEU | SHIPS |
| Maersk Line | 4.01 | 741 |
| MSC | 3.10 | 490 |
| COSCO/CSCL/OOCL | 2.40 | 487 |
| CMA CGM | 2.17 | 447 |
| Hapag/UASC | 1.51 | 230 |
| ONE/NYK/MOL/K Line | 1.48 | 229 |
| Evergreen | 0.85 | 187 |
| Yang Ming | 0.59 | 98 |
| Hyundai | 0.47 | 110 |
| PIL | 0.3 | 112 |
The Failure Of The P3 Alliance
There was a big fall in the first quarter of 2012 in global container ship finance loans, with only fifteen deals worth five billion dollars concluded, compared to 110 deals worth 55 billion dollars concluded in the profitable first quarter of 2007. A year of planning in 2013 by the top three container lines (Maersk Line, MSC and CMA CGM) to form an alliance known as P3 with a pool of 252 container ships operating on all three main container routes of Europe to Asia, Trans Pacific, and Trans Atlantic, gained approval from European and American industry regulators. The pool did not cover all of the ships of the big three fleets, as the owned Maersk Line fleet was big at 260 ships with a large number of chartered vessels, with MSC owning 225 ships with a large number of chartered ships, and CMA CGM with 110 owned ships and many on charter. However, the Chinese regulatory authority, MOFCOM, then blocked this so called P3 Alliance on the grounds that the proposed alliance constituted a merger, and would lessen competition in the industry as well as raise prices of consumer goods. The interests of the smaller container lines in the Top Twenty table had thus been taken into account by this blocking move, and particularly the Chinese, Japanese, Taiwanese and Korean lines.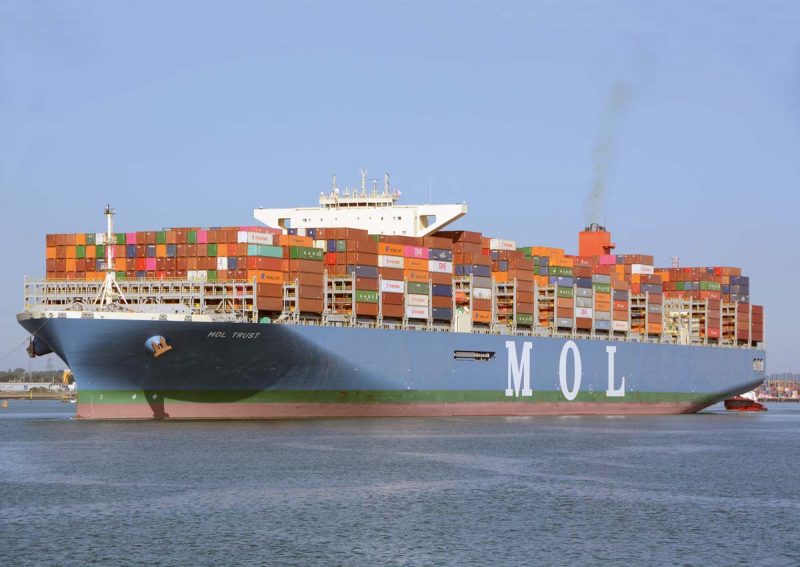 In response to the failure of the P3 alliance, Maersk Line announced on 10th July 2014 a more limited Vessel Sharing Agreement (VSA) with MSC to be known as 2M. Maersk Line had brought into service during July 2013 the first two units of its enormous 'Triple E' container ships of around 18,000 TEU capacity, ordered in 2011 at a cost of $190 million each, and needed to flex the muscles of its leading position. In December 2014, 2M released their full service rotation for the proposed alliance with 22 worldwide services due to be implemented in January 2015. However, 2M had to wait until October 2015 to obtain clearance from the American regulatory authorities for a pooled capacity of 2.1 million TEU on 22 worldwide services.
The smaller container lines were not slow in making other alliances to combat 2M, with the Ocean 3 Alliance formed by CMA CGM, China Shipping Container Line (CSCL) and United Arab Shipping Company (UASC). The G6 Alliance of APL, Hyundai, MOL, Hapag-Lloyd, NYK and OOCL temporarily suspended its Central China to Pacific West Coast ports of the U.S.A. and Canada in January 2015 while it chartered 18,000 TEU ships to reduce its unit costs to compete with 2M, as it had the smallest average size of container ships of all the alliances. Hapag-Lloyd had just taken over CSAV of Chile in November 2014 to give it the number four position in the world table with over two hundred container ships. The CKYH Alliance became the CKYHE Alliance of COSCO, 'K' Line, Yang Ming, Hanjin and Evergreen in March 2014 and also began to use the bigger 18,000 TEU class of vessels from April 2016.
There was thus a four way alliance battle during 2016 with the leading pair of Maersk Line and MSC and their 2M alliance up against the G6, Ocean 3 and CKYHE alliances. In January 2016, CMA CGM acquired NOL of Singapore for $2.4 billion and thus APL, removing APL from the G6 alliance and gained European regulatory approval. The big Chinese container lines of COSCO and CSCL combined together in March 2016 to form a joint operating group in a move that foretold future container shipping industry consolidation.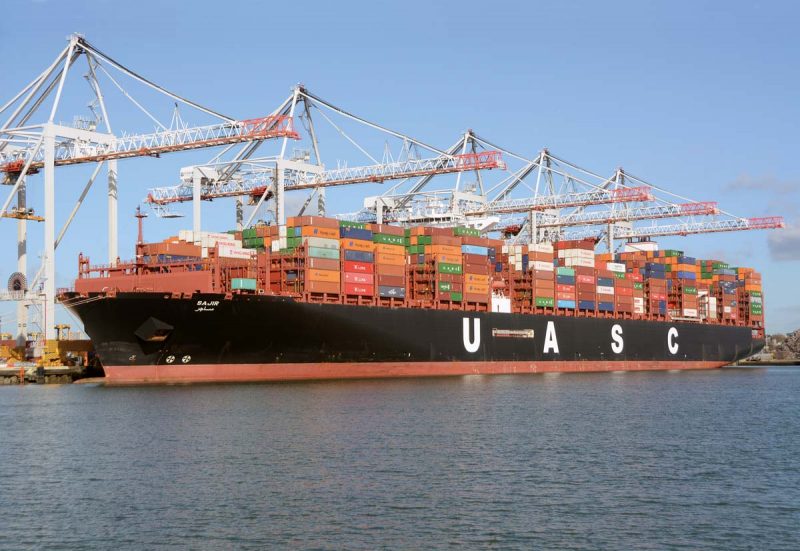 Bankruptcy Of Hanjin
Hanjin of Korea collapsed into bankruptcy in August 2016, and in fact had been in financial trouble since March 2014 when it was forced to sell its bulker and LNG tanker fleets. Hanjin began abandoning container ships at ports all around the world, with fifteen berthed in Singapore and sixteen berthed in Korean ports, and others at Vancouver, Prince Rupert (BC) and at the Caribbean and Pacific ends of the Panama Canal. A total of fifteen 'safe' ports were used at which containers could be unloaded, but ten percent of the insured cargo stranded at sea was unrecoverable, thus raising the very worst fears that shippers had always had since the container industry began of cargo being left at quays around the world and perishable cargoes rotting in the laid up ships due to legal difficulties of getting them unloaded after the bankruptcy. The Port of Singapore released three thousand loaded containers to shippers in September 2016, with the Korean ports releasing their locked up containers, but the last Hanjin vessels were not reactivated until they were sold off in February 2017.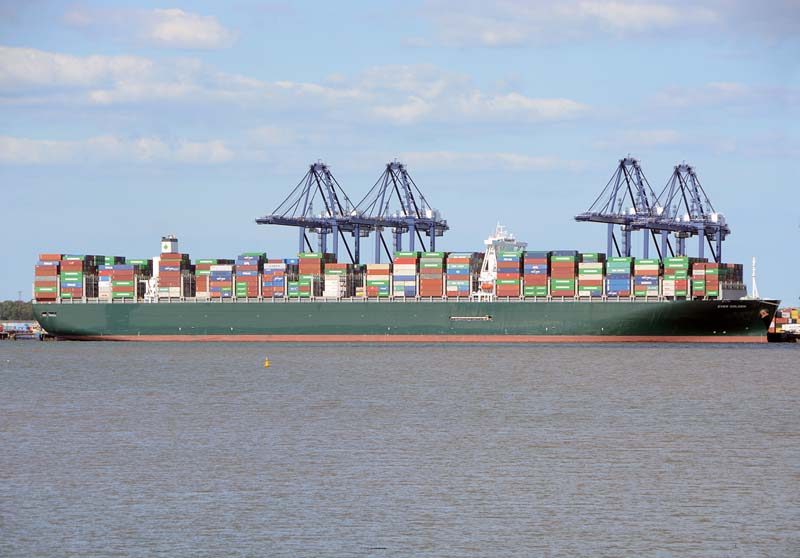 New Alliances In 2017
COSCO/CSCL of China and Evergreen Line of Taiwan left the CKYHE Alliance in March 2017, which was disbanded at this time. Evergreen had refrained from ordering large container ships in the ordering frenzy of 2006/07, but was one of the first lines to begin ordering again in 2011 when profitability returned to the industry, and had a fleet of thirty ships of 8,800 TEU capacity in April 2012, and confirmed an order for eight ships of 13,800 TEU capacity at that time. The four way alliance battle of 2016 turned into a three way alliance battle in 2017, with the following alliances:-
2M Alliance of Maersk Line and MSC, with also slot exchanges and a vessel sharing agreement with Hyundai Merchant Marine (HMM), with a Memorandum of Understanding (MOU) signed on 14th July 2016 to provide a 2M VSA for HMM when their current agreement with the G6 Alliance expired in 2017, allowing improved services on the Trans Pacific routes e.g. 22 container ships operating on the Asia to East Coast South America service. Hyundai had ordered ten large container ships to maintain its 2.2% share of the global container business, and at the end of 2017 also joined a co-operation body called the Korean Shipping Partnership (KSP) of fourteen Korean shipping lines to bolster South Korean shipping after the bankruptcy of Hanjin. The other South Korean shipping companies include Korea Marine Transport, Sinokor Merchant Marine, Heung-A Shipping, and the new SM Line with container ships of 4,860 TEU capacity, which began on trades serving Japan, China and South East Asia.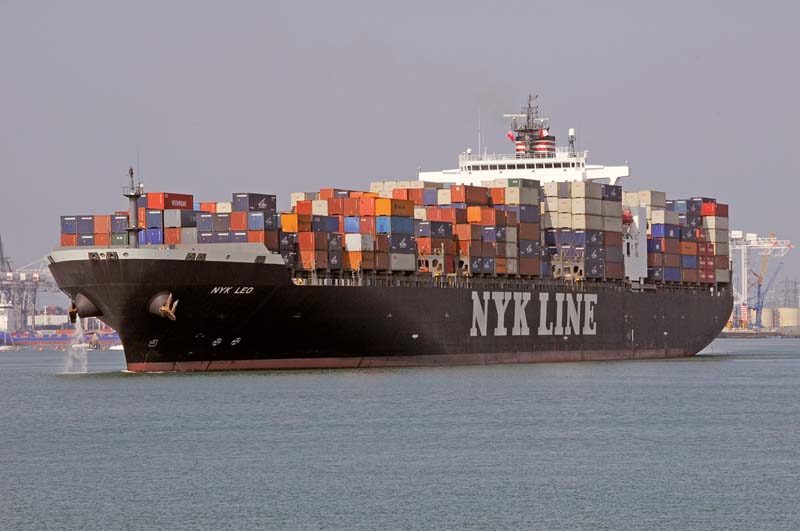 OCEAN Alliance began operating in April 2017 with 350 container ships operating on forty services worldwide owned by CMA CGM, the joint COSCO/CSCL fleet, Evergreen Line and OOCL. This new alliance began operating on worldwide services with four Top Ten container lines occupying the positions just below the top two of Maersk Line and MSC, and in an agreement covering an initial period of five years. The alliance immediately began deploying increased capacity on the Asia to U.S. Eastern Seaboard and U.S. Gulf services.
THE Alliance also began operating in April 2017 and was formed from the former members of the G6, Ocean 3 and CKYHE alliances, these being Hapag-Lloyd, 'K' Line, MOL, NYK, Yang Ming and Hyundai. Hanjin had originally been proposed as a member but had collapsed into bankruptcy and been replaced by the other Korean line of Hyundai. THE Alliance had 620 container ships at its disposal for all of the East to West trades of the world, with a 18% share of global container ship capacity and a 24% share of the Trans Pacific trades. THE Alliance also had operating agreements for an initial five year period.
Ocean Network Express (One)
Ocean Network Express (ONE) is a Japanese global transport company in international container shipping, with a fleet size of 1.48 million TEU. It is the sixth biggest container shipping group in the world today, and was formed on 7th July 2017 by the integration of NYK (38% stake), Mitsui OSK (MOL) (31% stake), and 'K' Line (31% stake), with a holding company in Japan and a business management company in Singapore. There are regional headquarters offices in Hong Kong, Singapore, the U.K. (London), U.S.A. (Richmond, VA), and Brazil (Sao Paulo). The company began trading on 1st April 2018, and combined together with other members to operate in THE Alliance. It can call on a massive fleet of 240 container ships, with 31 in the Super Extra Large Class of 20,000 TEU capacity, in a service network covering over 90 countries worldwide.
At the company launch, it was stated that ONE aimed to be a global company that happens to be Japanese, rather than a Japanese company that happens to be global. The headquarters was, for this reason, positioned outside Japan in Singapore. The three Japanese partners did not all grow from their beginnings in the same way, each focussed on different geographic and commercial areas. NYK began trading on 1st October 1885 as the Japan Mail Steamship Co. Ltd. as an amalgamation of various existing companies including Mitsubishi Mail Steamship Company. Mitsui OSK was an amalgamation of two companies joined together in 1964, the Mitsui Busen Kaisha founded in 1876 and the Osaka Shosen K. K. founded in 1884. 'K' Line was founded one hundred years ago in 1919 as Kawasaki Kisen Kaisha and merged in 1964 with Iino Kaisen Kaisha, formed in 1918.

ONE is not just the sum of three existing well established shipping companies, but is a new entity with a new mental approach to the problems of worldwide container ship operations. A vivid choice of colour for the new containers and the new container ships was chosen in the pink magenta colour of the cherry blossom tree that is the symbol of Spring in Japan. Three new large container ships of 14,000 TEU capacity have entered service with ONE since April 2018 in ONE Aquila ordered by and owned by NYK and chartered to ONE, ONE Minato ordered by 'K' Line and launched as Minato Bridge and chartered to ONE, and ONE Stork ordered by and owned by NYK and chartered to ONE. They are operating to North American Eastern Seaboard ports from China, Hong Kong and Singapore, and were built by the JMU Kure yard and the Imabari Hiroshima yard on dimensions of length 364.0 metres, moulded beam of 51.0 metres and a loaded draft of 12.5 metres.
In addition, four existing MOL container ships of 8,500 TEU capacity have been repainted from blue hull colours to magenta hull colours with ONE in large white block letters, and magenta funnel colours with a central white band, and also with ONE in large letters on the stern above their names and IMO numbers. These are ONE Commitment (ex MOL Commitment), ONE Competence (ex MOL Competence), ONE Continuity (ex MOL Continuity) and ONE Cosmos (ex MOL Cosmos). The quartet was built between 2008 and 2013 and operate on THE Alliance services from China and Japan to the U.S.A. and Canada. The intended plan is to eventually repaint and rebrand all 240 container ships of the three partners in magenta colour. New ultra large container ships of 20,000 TEU capacity are under construction and will join ONE in due course.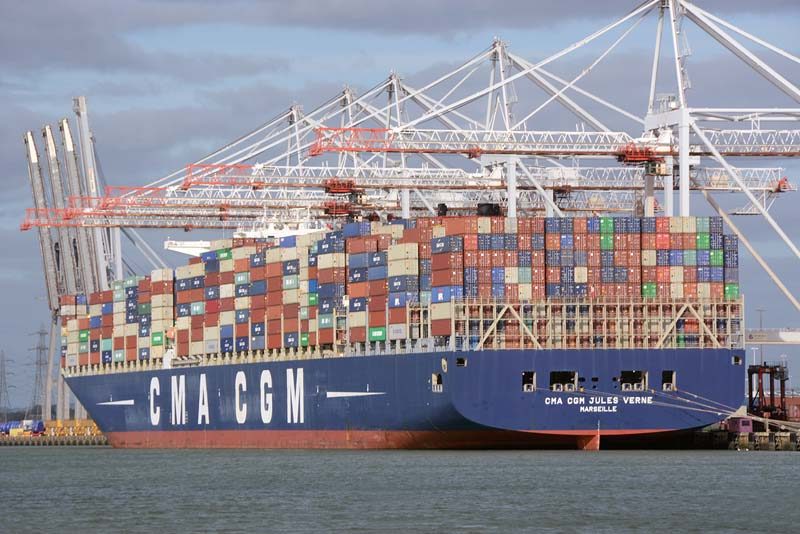 Increasing Sizes of Giant Container Ships
The capacity of the largest container ships in the world has rocketed during the last thirty years from 4,400 TEU in 1988 to 8,200 TEU in 1997, and 14,770 TEU in 2006, and 18,270 TEU in 2013, and currently to 21,140 TEU in 2018. There will be around one hundred giant container ships in the world in service by the end of 2018 in the range from 17,800 TEU to 21,140 TEU capacity. The effect on the 20 container ports in the world that can handle these leviathans will be most dramatic, with larger container gantry cranes needed, larger storage yards, and faster inland distribution. There are 20 ports in the world that handle calls of these giant ships, that last from 30 to 48 hours, in Gdansk, Gothenburg, Aarhus, Wilhelmshaven, Bremerhaven, Hamburg, Antwerp, Rotterdam, Felixstowe, Singapore, Shanghai, Yantian, Dalian, Xingang, Qingdao, Ningbo, Kwangyang, Xiamen, Busan, and Tanjung Pelepas. The American ports of Miami, Long Beach and Los Angeles are striving hard with harbour enlargements in order to join this select group of world ports by 2020.
The economies of scale that these giant ships produce on the unit cost of shipping a container from Europe to the Far East or from China to American and Canadian West Coast ports will stop at some point in the future. However, there are already finished design plans for giant container ships of 24,000 TEU at shipyards in the Far East, but these ships will be less cost efficient as the terminal costs go up to unacceptable levels to berth, unload and load these giants, and the cost savings of investing gigantic sums of money in them disappear. The giants already operating in 2018 with the Top Ten lines include:-
MAERSK LINE have twenty 'Triple E' class giants in service of 18,340 TEU capacity, with a further dozen twin skeg second generation 'Triple E' class of 19,630 TEU to 21,140 TEU capacity ordered in November 2015 and now in service or about to be delivered including Madrid Maersk, Munich Maersk and Moscow Maersk of 20,568 TEU capacity. The first generation 'Triple E' class are Maersk McKinney Moller, Madison Maersk, Magelby Maersk, Majestic Maersk, Marchen Maersk, Maren Maersk, Marete Maersk, Margrethe Maersk, Maribo Maersk, Marie Maersk, Marit Maersk, Marstal Maersk, Mary Maersk, Mathilde Maersk, Matz Maersk, Mayview Maersk, Mette Maersk, Morgens Maersk, Morten Maersk, and Munkebo Maersk. The dimensions of both the first and second generation 'Triple E' class are the same at a length of 400.0 metres and moulded beam of 58.6 metres.
MSC LINES have some of the largest container ships in the world in their fleet, with twenty giants of 395 metres in length, moulded beam of 59 metres, loaded draft of 16.0 metres, crew of 35, service speed of 22.8 knots and a capacity of between 19,224 TEU and 19,462 TEU. These vessels cost $140 million each and are named MSC Anna, MSC Clara, MSC Diana, MSC Ditta, MSC Eloane, MSC Erica, MSC Ingy, MSC Jade, MSC Leanne, MSC Maya, MSC Mirja, MSC Mirjam, MSC Oliver, MSC Oscar, MSC Reef, MSC Rifaya, MSC Sveva, MSC Tina, MSC Viviana and MSC Zoe.
CMA CGM of France had fifteen giant container ships delivered between 2015 and 2017 of 17,722 TEU to 20,000 TEU capacity. These include CMA CGM Alexander von Humboldt, CMA CGM Benjamin Franklin, CMA CGM Bougainville, CMA CGM Georg Foster, CMA CGM Kerguelen, CMA CGM Marco Polo and others. The company also has nine giant container ships of 22,000 TEU capacity on order at shipyards in Shanghai run by the State owned China State Shipbuilding Corporation.
COSCO/CSCL have twenty giant container ships in service of between 18,982 TEU and 20,000 TEU capacity in 2018 and built in Chinese yards. These include Cosco Achievement, Cosco Creation, Cosco Endeavour, Cosco Explorer, Cosco Grand, Cosco Happiness, Cosco Legend, Cosco Luck, Cosco Magnificence, Cosco Valiance, Cosco Wisdom, Cosco Shipping Taurus, CSCL Globe, CSCL Arctic Ocean, CSCL Atlantic Ocean, CSCL Indian Ocean and CSCL Pacific Ocean with four were delivered during 2018.
UASC was taken over by Hapag-Lloyd in May 2017 to create a giant fleet of 230 ships of 1.51 million TEU capacity and a combined turnover of $12 billion. The biggest six UASC ships of 19,870 TEU capacity were delivered in 2016 as Al Dahna, Al Muraykh, Al Nefud, Al Zunara, Barzan and Tihama, to give an average size of the combined fleet of 6,840 TEU capacity.
MOL of Japan have four of six 'T' class giant container ships of 21,100 TEU capacity in service in 2018, completed by Samsung in Korea in 2017/18 as MOL Tribute, MOL Triumph, MOL Trust, and MOL Tradition, with two further 'T' class to be completed. The speeds of these giant ships are 24 knots, but this figure may not be needed throughout their career, due to slow steaming during periods of very low freight rates, or by supercharging the diesel engines of existing vessels to increase their speed.
OOCL of Hong Kong had their giant container ships OOCL Hong Kong, OOCL Germany, OOCL Japan, OOCL Indonesia, OOCL Scandinavia and one other vessel of 21,143 TEU capacity delivered in 2017/18 by the Samsung Heavy Industries yard in South Korea as the ships of an ultra large class of six. There was speculation during early 2017 that OOCL might possibly be included in the Chinese consolidation of COSCO and CSCL, and in July 2017 it was confirmed that the China Cosco Shipping Group had agreed to acquire for $6.3 billion in cash up to 100% of the equity of Orient Overseas (International) Ltd., the holding parent company of OOCL owned by the Tung family. This takeover boosted the Chinese group capacity to 2.4 million TEU, and thus surpassed its Ocean Alliance partner of CMA CGM to become the third largest carrier in the world. However, the OOCL brand remains as a readily visible brand on the trade lanes of the world, even though it posted a net loss of more than $1 billion in 2016 and has had only one profitable year in the last decade. OOCL Hong Kong, OOCL Germany and OOCL Japan of 21,143 TEU are now operating alongside the COSCO Group five ex CSCL units of 18,900 TEU capacity.
EVERGREEN LINE of Taiwan chartered eleven giant container ships of 18,000 TEU from Shoei Kaisan Kaisha of Japan, entering service on the Far East to Europe service as they are to be delivered during 2018/19. Smaller Evergreen container ships operate on the Far East Africa Express (FAX) service.
Future Container Lines Consolidation
The big increases in freight rates during 2017 on the Asia to Europe main container trade bode well for the future consolidation of the container shipping industry. Rates in May 2016 were $655, but had increased substantially to $1,618 by August 2017, and most container lines were profitable, with Maersk Line showing an 8.4% increase in turnover for the second quarter of 2017 to $10 billion. Ninety percent of all worldwide container traffic is carried by the three major Alliances of the 2M Alliance, the Ocean Alliance, and THE Alliance. The global container shipping industry will grow at a steady rate to the year 2020 and beyond. China holds the key to this expansion as it has the largest market for container shipping owing to its rising large scale industries and its stranglehold over the large container terminals and its improvements in port infrastructure.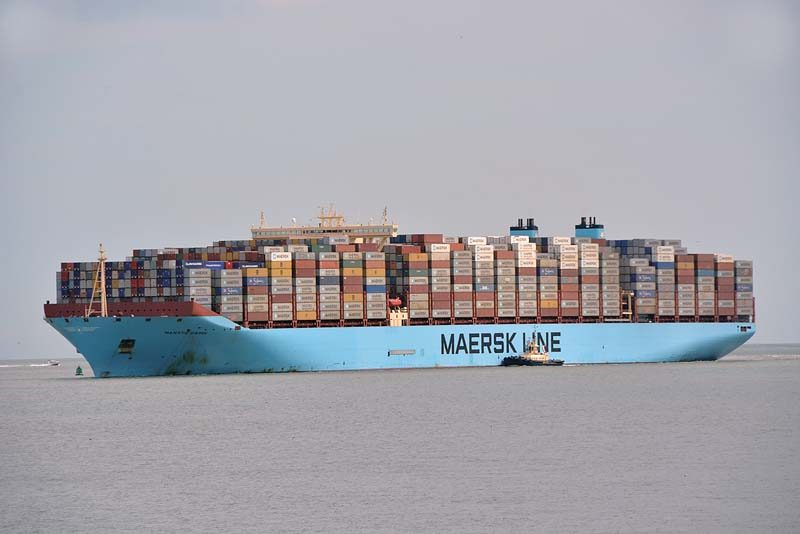 This will probably mean that future container lines consolidation will be driven by China, and not by European container lines. The Chinese grouping of COSCO/CSCL/ OOCL will probably not stop growing until it is the biggest in the world, outstripping even Maersk Line. In order to do this, the Chinese giant 'crocodile' would have to snap up both Evergreen Line and Yang Ming of Taiwan, and is already a partner with Evergreen in the Ocean Alliance. The Chinese State owned giant is already buying shares in the French Line CMA CGM, and if the French allow it to acquire a sizeable minority interest, it would also acquire a majority holding in Terminal Link, the terminal operator owned 51% by CMA CGM and 49% by China Merchants Holdings, also a Chinese State owned company. This grouping would produce a giant Chinese container shipping operator of COSCO/CSCL/OOCL and a giant terminal operator with COSCO Ports that would eclipse Maersk Line and its ports operator of APM Terminals.
Giant container ships of 20,000 TEU to 22,000 TEU capacity need to have at least 90% loadings to be profitable, and these are only found on the three giant trade lanes of the Far East to Europe, the Trans Pacific and the Trans Atlantic routes. Two of these major trade lanes emanate from China, and it is from China that the big European container lines will find massive competition in the years and decades ahead.
The cut-throat nature of the world container shipping industry surprises many people, as does what these giant ships carry in their containers. The answer is just about everything including ceramics, glass, toys, televisions, DVDs and CDs, pencils, pens, clothing, computers, paper, wood, forestry products, rolls of steel, wind turbine parts, furniture, footwear, garments, drugs, explosives, weapons, private and personal effects, rare and precious stones, bagged cocoa, coffee and tea, fruit e.g. apples and pears, reefer cargo e.g. meat, fruit and fish, cars, motorcycles, automotive parts, chemicals including dangerous goods e.g. fireworks, ammonium nitrate, sodium hypochlorite (bleach), minerals, mining machinery, plastics and rubber products, electrical and electronic goods, waste paper (for recycling), the list is endless! Commodity codes are necessary on the electronic manifest for each container to specify what goods are being carried.
The people most affected by this massive consolidation of the container shipping industry are of course shippers and freight forwarders. In the past, shippers have treated container shipping as merely a tiny commodity cost, as little as 0.01% of the goods value for shipping Chinese goods to their European markets. However, they failed to understand that every container line had a different history and mode of operation, and in the quality of the transit in terms of continued and long lasting shipping relationships. The boot is now on the other foot, with only as little as six massive large scale container lines predicted in the future, and the annual evaluation of big shipping contracts will now have to have built in safeguards for their supply chains, as well as obtaining insurance contracts, bonding and other financial safeguards. Shippers and freight forwarders will have a lot less carriers to choose from in the future, as little as six, and it is up to them to have a much more responsible and professional attitude to shipping, rather than that hitherto.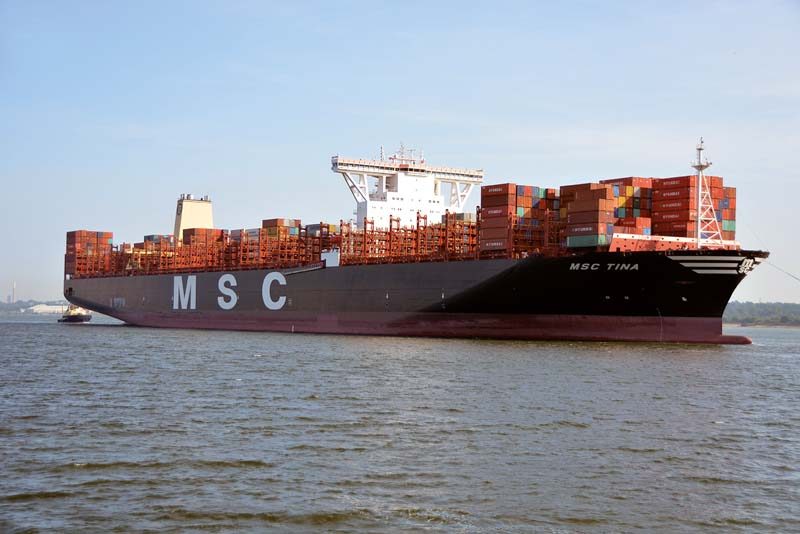 Container Ship Losses
The high temperatures encountered in the Indian Ocean and Red Sea on the main Asia to Europe trade lane have caused several giant container ships to be lost when internal hold and container temperatures exceed working limits. However, it was the cooler mid Atlantic that claimed MSC Flaminia on 14th July 2012 while on a voyage from Charleston (SC) to Antwerp. The vessel burned at sea for over six weeks and three seafarers lost their lives. The vessel suffered massive structural damage with over 70 percent of her cargo destroyed and the ship was declared a constructive total loss. It was two months later that the wreck was finally towed into Wilhelmshaven on 10th September 2012 for the unloading of the remaining 30 percent of the cargo. Ship surveyors eventually came to a decision that the ship might be totally rebuilt, and she was towed to Roumania for rebuilding and a year later the rebuilt vessel re-entered service.
A seriously mis-declared container on a 9,000 TEU container ship recently caused a fire alarm in hold nine with billowing smoke coming from the hatch. Speed was reduced and course altered to direct the smoke away from the deck area. A two man team equipped with breathing apparatus entered the hold but could not locate the source of the fire and withdrew after twenty minutes. A second team wearing breathing apparatus had more success and identified a container on fire three or four levels down on her starboard side. There was no knowledge of the contents of the container or the extent of the severity of the fire, but it was decided to deploy the ship's CO2 extinguishing system. The container was then 'spiked' and water was injected and soon after the fire was under control.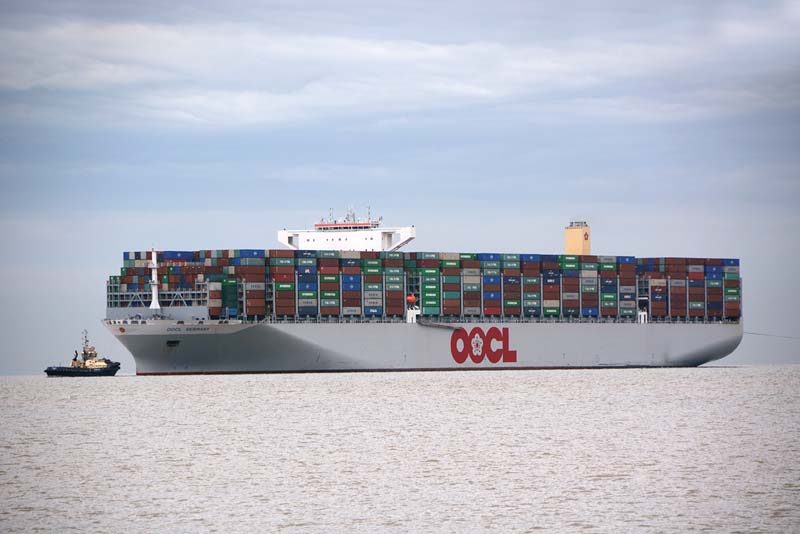 However, on the second day more smoke and steam was seen coming out of hold eight, and fire fighting teams entered the hold, and it was decided to cut holes in two adjacent containers and flood them with water. The ship had only one special spike nozzle that already been used, and thus the crew inserted standard fire nozzles into the two containers. On the third day of the incident, when the vessel was making her way to a port of refuge, more smoke was seen coming out of hold eight, and fire fighting teams again entered the hold and found smouldering charcoal everywhere. The ventilation and power supply to hold eight was cut off, and fire fighting teams equipped with water hoses were able to extinguish the blaze after ninety minutes. On the fourth day of the incident, a salvage team came on board and was immediately put in charge of fire fighting efforts. Once berthed in port, the still smouldering charcoal was discharged, these containers in the two holds should have been declared as dangerous cargo, but were not. Mis-declared containers continue to be a serious risk worldwide.
Two recent fires in port have caused massive damage and loss of life, the first was caused by welding operations on 13th May 2016 on Maersk Karachi berthed at Bremerhaven. More than seventy fire fighters fought to control the blaze and water monitors were needed to flood the hold to extinguish the fire. The loss of life occurred a week later when damaged containers were being removed from this hold and a crane boom collapsed and crashed on to the deck of the vessel, followed by the gondola with the crane driver inside, who was killed. A fire broke out in the German port of Hamburg on 1st September 2016 on CCNI Arauco again during welding operations and this time three hundred fire fighters tried to bring the blaze under control. The hold was sealed and flooded with CO2 but this was unsuccessful. Water was then used to flood the hold but was stopped when the ship began to show stability problems with a list. The fire was eventually brought under control with the use of foam.
The International Union of Marine Insurance (IUMI) called for a re-evaluation of fire fighting equipment used on container ships after the container ship Wan Hai 307 suffered a big blaze in Hong Kong at the end of September 2016. The ship's crew were unable to extinguish the blaze, and a fleet of salvage tugs eventually put the fire out. This also applies to crew fighting fires at sea, as below deck fires cannot be fought with water, and so CO2 is used instead to displace the oxygen and extinguish the fire. However, if a fire is burning within a container, the box will protect it from the CO2 and so this method of fire fighting is rarely successfully used. The container ships are not equipped with sufficient monitors and quantity of foam, and so cannot cool the containers and put out the fires. The IUMI is seriously concerned that seafarers are being asked to tackle onboard fires with inadequate equipment worldwide.
The loss of container ships due to serious stack collapses with seriously overloaded containers is another problem. Many containers are loaded well above the thirty tonne limit by unscrupulous shippers and freight forwarders without any regard for the safety of seafarers. Today, every major container port has weighbridges to weigh every container arriving by land (road or rail) and overweight containers are immediately sent back to their source for re-stuffing at their expense.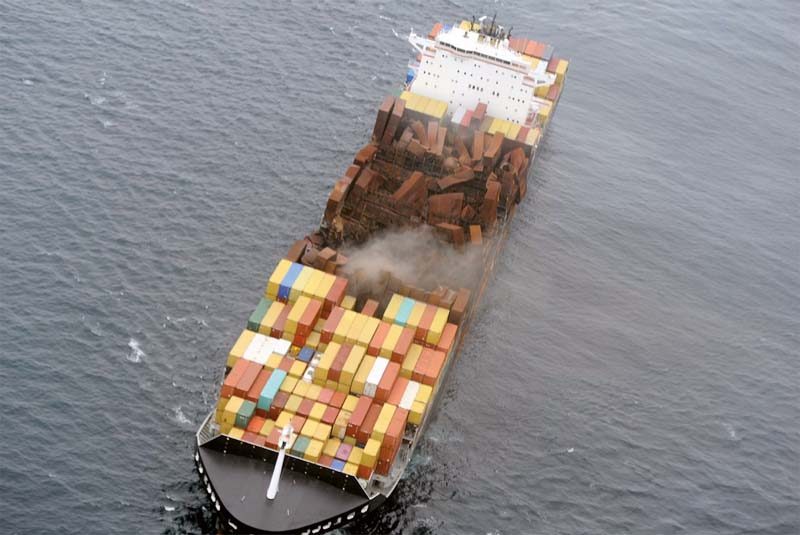 Container Ship Documentation
An A4 document is required by law to be raised for every container carried by sea, and is usually created electronically for web based cargo systems. An 'Authorisation for Electronic Message Submission of Cargo Manifest' is typed in showing the details of the contents, loading sequence of ports, point of origin and point of destination for every container carried by sea. A good quality marine cargo electronic documentation system will then cope with all matters relating to the cargo manifests, bills of lading, carrier and shipper profiles, invoices, vessel disbursement account, and container storage, and will produce comprehensive reports and integrate with Customs and Excise and with other computer systems.
The container industry and the general cargo movement uses many abbreviations in the manifests and bills of lading. Some of these are self explanatory, but they have been formally documented in the latest 2010 version of 'Incoterms' or International Commercial Terms by the International Chamber of Commerce (ICC). There are eleven terms that can be used on any form of transportation, land, air or sea, but only six of these terms are applicable to sea or water transportation, and are explained here:-
EXW (Ex Works) places the onus on the buyer to carry out the whole shipping process. The seller just makes the goods available at the factory or warehouse at the agreed date. If the seller physically loads the goods it is at the other party's risk, unless specific wording is added to the contract to vary this term.
CFR (Cost and Freight) under this arrangement (previously known as C&F) the seller must pay the costs and freight to get the goods to their final destination port, at which point delivery is achieved, although it is not the seller's responsibility to clear them through Customs. Actual risk passes to the buyer once the goods are loaded onto the ship, however the insurance for the goods is the responsibility of the buyer.
CIF (Cost, Insurance and Freight) is a very common form of cargo documentation and is identical to CFR except the only difference is that the seller also pays the insurance on the goods.
FCA (Free Carrier) is where the seller hands over the goods, cleared for export, to the first carrier with whom he has made the arrangements, even if that carrier has been chosen by the buyer. The buyer normally pays for carriage to the port of import, and risk passes to him when the goods are handed over to the first carrier, even though 'delivery' may not take place until the destination. The buyer also pays for the insurance.
FOB (Free on Board) is only used for water or sea transport and is often misused. It is not used on container or multi modal systems of transportation, and FCA is used instead of FOB in the container documentation. In FOB, the seller clears the goods for export, and loads the goods onto the vessel or at the port that has been nominated by the buyer. The cost and risk are divided when the goods are actually on board, but delivery occurs as soon as the goods are loaded on board.
FAS (Free Alongside Ship) applies only to bulk, heavy or project cargoes and not to containerised cargo. The seller or freight forwarder clears the goods for export, and the freight forwarder puts the goods alongside the ship. This is the point of delivery, and thereafter it is the responsibility of the buyer's freight forwarder to pay for transport and insurance at the buyer's risk and cost.
Maersk Line and IBM are co-operating in a joint venture to improve and establish new technology to reduce the 20% cost of producing container trade electronic documentation of the total physical transportation costs. This will allow permitted parties to share all of the transactions that take place within a network in these real time systems. Mistakes in mis-declared and overloaded containers will be much easier to notice and be able to be quickly corrected.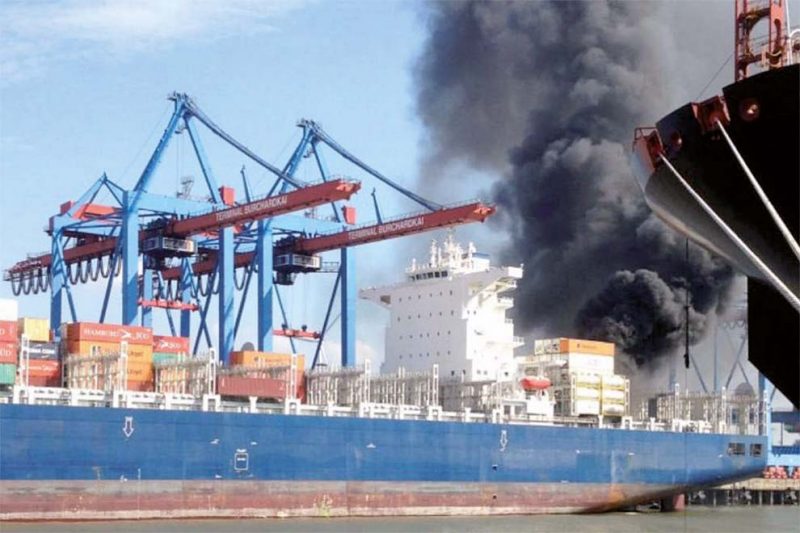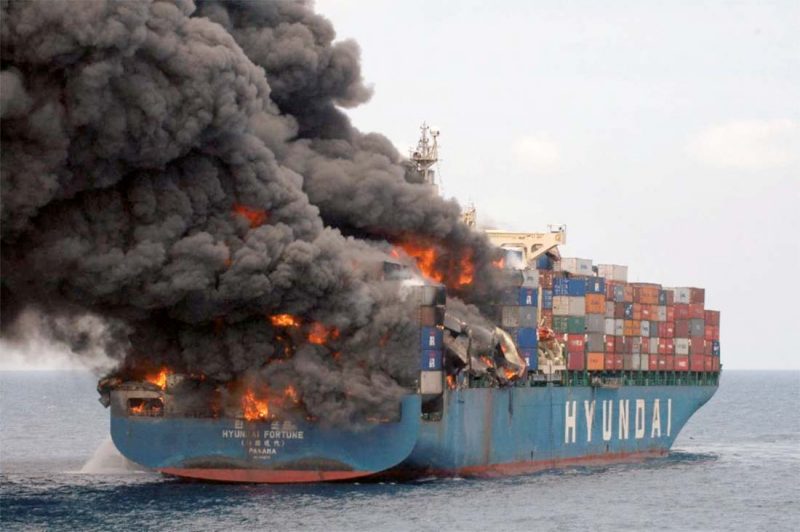 Postscript
Dangerous cargo such as explosives and high risk chemicals are today always carried above decks on top of the fo'c'stle and forward hold areas, so that the cooling affects of the wind caused by the forward motion of the ship can help to prevent fires breaking out. The sight of severely listing container ships limping into port with serious stability problems due to seriously overloaded containers placed at the top of stacks and the inevitable entire stack collapses over the affected areas will hopefully become less common. Container ships will never be safe working environments, but the constant checking of lashings, several times per day, on every container and stack above deck are really necessary. Training of container ship crews is absolutely essential, but there is a limit to what they can achieve when fires break out in the holds. Electrical power failure causing a complete loss of steering, or main engines failure, or navigational errors, often results in collisions, strandings or damage to the vessel and its cargo of containers.
The ongoing consolidation of seaborne worldwide container fleets into probably around six major groupings of considerable size at some point in the future will help this process of making container ships safer, derived from the positive scale benefits that company size can give in order to get a grip on health and safety, together with better training of what can go wrong and how to correct it. All parties to the container ship industry, particularly shippers and freight forwarders and the crews of the ships, must maintain a constant vigil on safe working practices in order to achieve this.
There is a lot of work to be done to make land based people aware of this, as they tend to completely ignore the dangers of mis-declared containers or overloaded containers that they have caused as not part of their remit. The perils of the sea that seafarers face on a daily basis are enough without the incompetence of seriously dangerous cargoes that they are entrusted with to deliver to their destination. The SOLAS regulations for container ships need urgent updating for measures of extinguishing fires, which will involve much greater co-operation and dialogue between the IMO, registration class society, shipbuilders and the giant container lines.