Streamlined South American Saint Line Cargo-Liners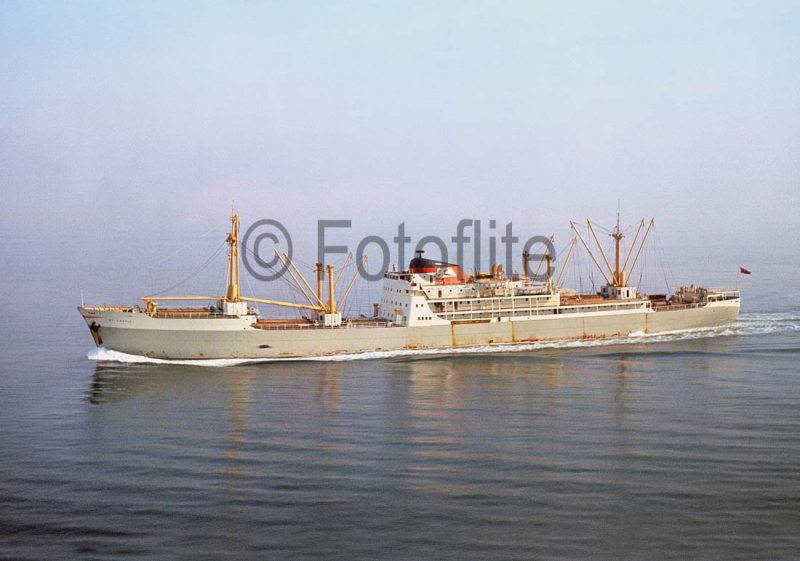 The red streamlined funnels of this pair of cargo-liners with a black top bearing a white central houseflag with a red diagonal cross and a badge of a yellow, red and white rose were a welcome bright sight in the austerity year of 1948 of post-war Britain. The South American Saint Line of Cardiff was owned by the Street family and had previously been formed in 1926 as the Barry Shipping Company with old steam tramps engaged on long voyages of worldwide tramping as well as coal exports to Buenos Aires returning with grain. Their trade was initially coal out to Canada from South Wales, then ballast to the Plate to load grain for the homeward voyage to the U.K. Passengers began to be carried in May 1939 to South America, and shortly afterwards the company name was restyled as the South American Saint Line.
Design and Specification
This Cardiff fleet had lost eleven tramps in World War II, and this pair with a streamlined superstructure and funnel were part of a major post-war building effort. The pair would operate as cargo-liners with luxury accommodation for a dozen passengers on a regular run from London, Antwerp, Bremen, Hamburg calling at Lisbon and Las Palmas de Gran Canaria to Rio de Janeiro, Santos, Montevideo, Buenos Aires, returning to the Thames with grain via Las Palmas de Gran Canaria for bunkers.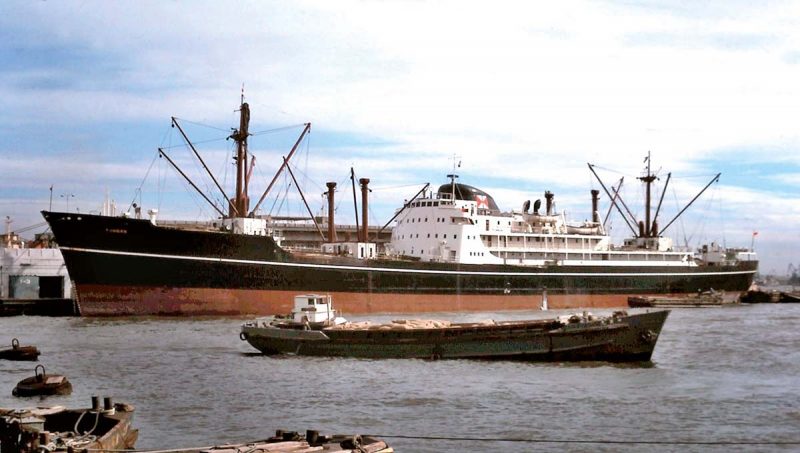 An order for two vastly improved and streamlined five hold motor tramps with very good crew and passenger accommodation was given in December 1945 to the North Sands yard of Joseph L. Thompson and Sone Ltd. in Sunderland. The company Marine Superintendent, John Church, had won the Watts Prize from the Institute of Naval Architects for a paper he had written for the necessity of improved crew accommodation in British tramps. Great strides had been made in the design of hull and engine power but virtually no consideration had been given to the comfort of the crew, who in a poor ship would leave after a voyage or two and seek better accommodation with liner companies. The profits and efficiency of tramp fleets was thus compromised by the continual loss and changing of disgruntled crew members.
The design of this pair of ships was a joint collaboration between the naval architects employed by R. Cyril Thompson, Managing Director of Joseph L. Thompson and Sons Ltd. and John Church. The provision of superior accommodation for the 54 crew members, including six cadets, as well as for the dozen passengers was on a scale that was only ever seen elsewhere in the revolutionary tramps of Watts, Watts, with very comfortable Main Lounges for Passengers, Sun Lounges for Passengers, Dining Room with carver armchairs and well laid out tables for four and six passengers and all decorated with fresh flowers. The Dining Room was on the Upper Deck across the full width of the ship and had seating for 38 people, to include all of the passengers, Master, navigating and engineer officers, and cadets at a single sitting. There were spare seats for wives and other visitors signed on as 'supernumeraries'. The double staterooms for passengers and roomy officer and crew accommodation were a very great credit to the South American Saint Line managed by the Street family and backed by the finance of Lord Howard de Walden.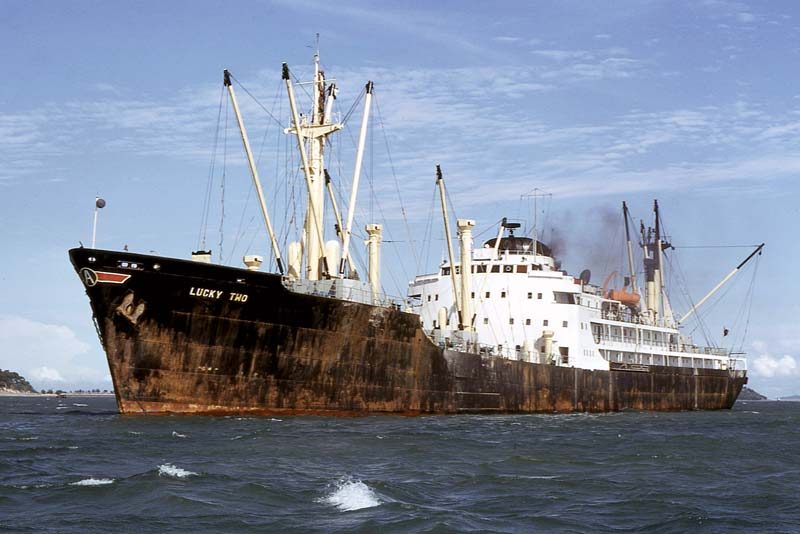 This pair of cargo-liners were of length between perpendiculars of 437.5 feet, overall length of 472.5 feet, moulded beam of 59.3 feet, and moulded depth to Upper Deck of 39.5 feet. A service speed of fifteen knots was provided by a five cylinder Doxford opposed piston oil engine of 5,300 bhp with the cylinders having a bore of 670 mm and combined stroke of 2,320 mm. The hull had two complete steel decks with a third deck for the upper 'tween decks of numbers 1 and 2 holds, subdivided by seven bulkheads into the following compartments :-
Aft Peak of length 19.0 feet
No. 5 Hold and deep tanks of length 64.0 feet
No. 4 Hold of length 80.0 feet
Machinery spaces of length 62.6 feet
No. 3 Hold and deep tanks of length 67.6 feet
No. 2 Hold of length 66.6 feet
No. 1 Hold of length 56.3 feet
Fore Peak of length 24.3 feet
Whereas a comparable cargo-liner of 1948 engaged on liner charters might have had one or two deep tanks for carrying latex, edible and vegetable oils, St. Essylt and St. Thomas were fitted with seven deep tanks to port and starboard of the lower parts of numbers 3 and 5 holds, and were capable of carrying 1,500 tonnes of liquid cargo, or alternatively water ballast of 2,700 tonnes when travelling 'light ship'. Gross tonnage worked out at 6,855 and they carried a deadweight of 9,640 on a loaded draft of 26.8 feet. The upper 'tween decks were subdivided into five sections by transverse bulkheads, in which tonnage openings were arranged. They had cruiser sterns with non balanced rudders, with the rudder frame and stern frame manufactured by the Sunderland Forge and Engineering Co. Ltd.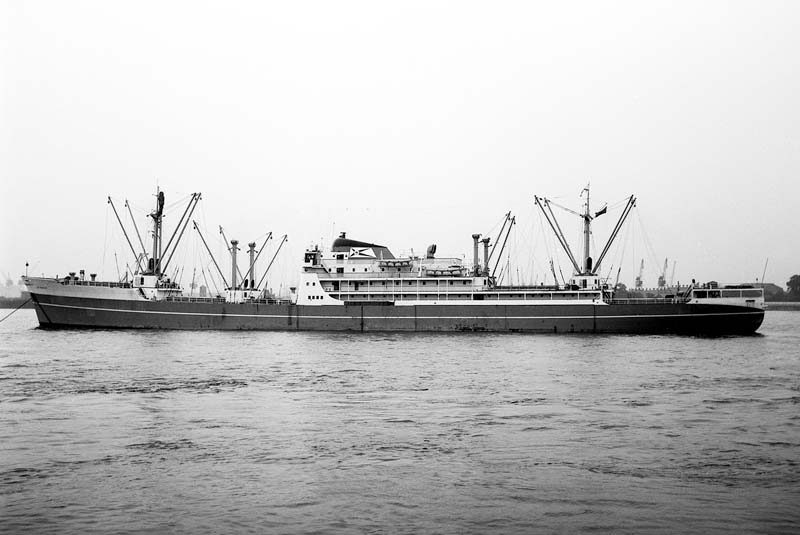 The collision bulkhead extended upwards to the upper 'tween decks, and the very long fo'c'stle was an important feature of the design and held the paint and lamp stores. This extended as a side to side erection to the mid-way point between numbers 1 and 2 hatchways, while the central portion was stopped only one frame from the forward end of number 2 hatchway. The cellular double bottom extended from the collision bulkhead to within a few frame spaces of aft peak, and was subdivided into seven sections. Number 4 cellular double bottom space was reserved for feed water for the auxiliary boilers, while all of the rest of the double bottom spaces carried either fuel oil or water ballast. The cargo capacities of the holds, special cargo spaces and deep tanks, as well as the non cargo spaces, were as follows:-
| | |
| --- | --- |
| Compartment | Grain (Cubic Feet) |
| Number 1 Hold | 38,323 |
| Number 2 Hold | 70,427 |
| Number 3 Hold | 62,744 |
| Number 4 Hold | 113,604 |
| Number 5 Hold | 40,766 |
| Lower 'tween decks | 61,973 |
| Upper 'tween decks | 154,667 |
| Deep tanks, special cargo spaces | 90,358 |
| TOTAL CARGO SPACES | 632,862 |
| | |
| --- | --- |
| Fo'c'stle | 3,175 |
| Fore Peak | 3,684 |
| Paint Room | 1,020 |
| Lamp room | 484 |
| Carpenter Shop | 1,020 |
| Electrician store | 1,122 |
| Engineer Workshop | 1,963 |
| Cabin store | 3,326 |
| Lock-up store | 1,863 |
| Bonded stores | 205 |
| Beer store | 355 |
| Flour store | 951 |
| Baggage Room | 550 |
| Meat Room | 1,221 |
| Vegetable Room | 773 |
| Fish Room | 242 |
| Dairy Room | 262 |
| Food Handling Room | 475 |
| TOTAL NON CARGO SPACES | 22,691 |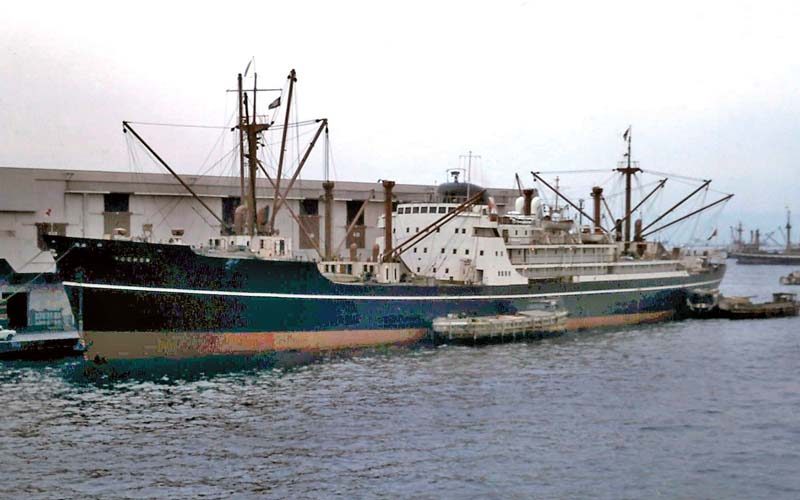 The 'midships structure comprised three decks in descending order as the Boat Deck, Bridge Deck and Upper Deck, with the Upper Deck housing the crew in individual cabins, and the ship's hospital and crew mess rooms, while the forward section of this deck was the spacious passenger Dining Room seating 38 people. Although hardly visible externally from a distance, the Upper Deck was actually composed of two houses with a gap made by an athwartships alleyway above the forward part of number four hold. There was a small deckhouse aft, and winch motor houses at each of the two masts and at the forward pair of derricks to complete a pleasing profile.
On Upper Deck, the galley was aft of the Dining Room to starboard, and the catering staff messroom to port. The cooks, stewards and seamen were housed to port, and the bosun, carpenter, donkeyman, lamp trimmer and motormen to starboard. The ship's hospital and crew common room were further aft on the starboard side. The full length Second Deck in the hull housed the bakery, butchers shop, flour, linen, meat, vegetable, fish stores, and the dairy and bonded beer stores. The domestic refrigerating machinery, domestic fresh water, settling tanks, and engineer's workshop were to starboard, and the laundry, drying room, packing room and electrical stores were to port. This excluded unauthorised persons from entry to these spaces in the days before high security and locked rooms. The aft part of these store and utility rooms comprised the special cargo stores, motormen's changing room and crew's changing room. There were electrical and motormen's shops above the steering gear in the poop deck aft.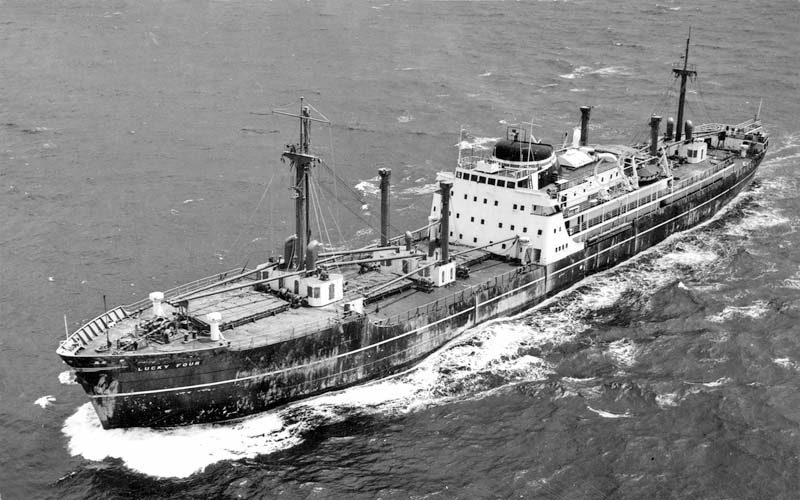 The Bridge Deck had the cabins for the navigating officers, engineer officers, cadets, wireless operator and chief steward, together with the passenger Main Lounge forward and the Officers Smoking Room aft. The Boat Deck contained the Master's dayroom and bedroom forward and was flanked on either side by two double berth passenger staterooms with adjoining private bathrooms, with access stairs and linen cupboards behind, and the eight single berth staterooms again with adjoining private bathrooms, and moving aft the passenger Verandah Sun Lounge was in a central position aft.
The Chief Steward, other Officers and cadets were housed to starboard on Bridge Deck, with the cadets having a study, and the electricians and engineers to port. The Bridge Deck was sheathed in hardwood around number four hatchway, which as with all of the hatches had dimensions of 35 feet by 18 feet. The mainmast was stepped to the rear of this deck with four three tonne electric winches nearby. There was a small wooden decked docking bridge aft of number 5 hatch, complete with a steering pedestal and compass.
There were three lifeboats of dimensions 25.0 feet by 7.9 feet by 3.2 feet, and one motor lifeboat of dimensions 26.0 feet by 8.0 feet by 3.3 feet. There were steel bulwarks on the edge of the forward side of the Boat Deck and open teak top rails along the deck to port and starboard. The Navigating Bridge was above the forward part of the Boat Deck and comprised wheelhouse, chartroom, wireless room, pilot cabin and battery room, with engine ventilators behind the funnel with the deck sheathed in hardwood. There were steel bulwarks on the edge of the forward side of the Navigating Bridge and open teak top rails along part of the deck to port and starboard. The Navigating Bridge had the latest equipment with the radar scanner unusually mounted on the forward highest point of the elliptical funnel. Two main stairways served these three decks, that on the port side was for the use of the passengers, while that on the starboard side was principally for the use of the officers.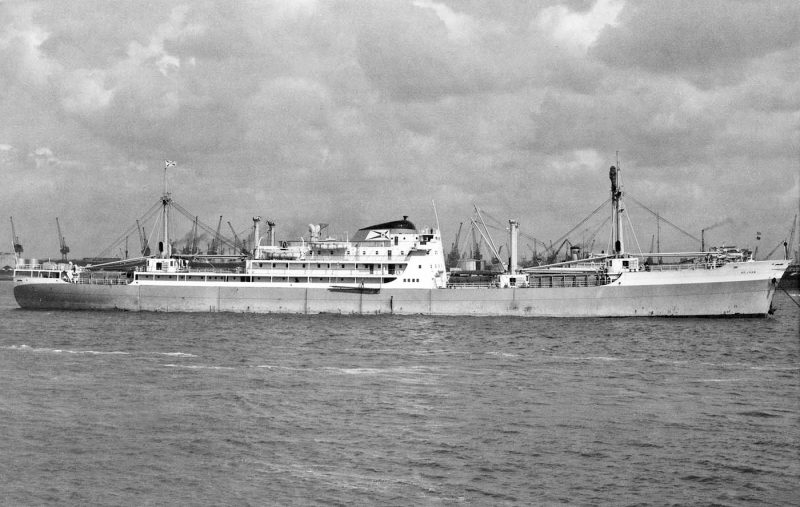 Passenger Public Rooms and Staterooms
These were tastefully decorated to schemes worked up by Lady Howard de Walden in consultation with interior designers George Parnall and Co. Ltd. of London and the shipbuilder.
The Dining Room was decorated in cream Lanide, a washable material, with fittings and furniture in ash burr and sycamore. The room was entered by double swing glass panelled doors from a transverse passage near the stair access, with four sideboards veneered in ash burr standing on a brown carpet. The carver armchairs were upholstered in natural hide at one table for six diners and eight tables for four diners. The lighting was provided on the front of the room, formed by the inner sloping curve of the bridge superstructure, by uplighters on silver candle brackets, and by ceiling lights and corner lights throughout the rest of the room. Blue curtains could be drawn to give a cosy, intimate feeling for evening diners.
The Main Lounge on the forward end was formed by the inner sloping curve of the superstructure, and was decorated in the 'Adam' style with light grey enamelled hardwood with gilded touches, and grey mural panels. The window cases were also of hardwood, with sliding blinds of grey Lanide. A cocktail bar was at the rear end of the room, with the top of the bar covered by grey Lanide under toughened plate glass, and with edges of sycamore. The large mirror behind the bar had ormolu gilt metal trim, which was repeated on the glazed entrance doors. The 'Adam' style marble fireplace had an ormolu gilt metal grate and an electric glowing fire. The mirror above the fireplace was surmounted by an electric clock, and the carver armchairs, easy chairs and sofas were covered in light coloured fabric.
The Verandah Sun Lounge had one dozen light cane chairs with loose cushions and furniture in a room at the aft end of Boat Deck with access at the curved rear end to the open deck for fresh air and light. Flowers were provided on the three tables surrounded by predominantly pale cream decorated walls and cupboards with green highlights. Two jardinieres were placed in the aft part of this gorgeous room, with wall lighting by uplighters on silver candle brackets as well as flush panelled ceiling lighting. The deck covering was of a gunmetal colour, and the approach to the room was by way of corridors along the Boat Deck decorated in veneered ash with handrails of polished hardwood.
The Staterooms were decorated in a similar fashion to the public rooms with beige coloured Lanide trimmed with birch, and the vertically sliding windows were finished in moulded birch trim with curtains in one of three colours of blue, green or rose colour. The alleyway side of the doors were veneered in white Indian mahogany, while the inside of the doors were veneered in figured sycamore and birch. The bed ends were trimmed in birch and there was a built-in wardrobe veneered in sycamore and with drawers, cupboard and hinged writing table. The carpets were of a fawn colour, and the lighting was by circular fittings in the panelled ceilings. A silver bronze reading lamp was provided at the head of the bed, and there was a private bathroom with a bath, shower, washbasin, toilet, iron and ironing board, and was reached by a communicating door carrying a full length mirror.
Master and Crew Accommodation
Master's Suite of Rooms consisted of a large dayroom, bedroom and bathroom at the forward end of Boat Deck. Access to the suite was via a stairway lobby, with also easy access to the navigating bridge via an internal stairway, which was also available for use by the senior navigating officers. The well furnished dayroom was panelled in Indian white mahogany relieved by ivory sycamore trimmings. The fireplace was surrounded by figured sycamore, with a mantelpiece surmounted by a mirror and a clock. The room was furnished with a hide covered desk with drawers, bookcase and filing cabinet all in Indian white sycamore veneer, and a sofa and five carver armchairs, all upholstered in blue fabric. The panelled ceiling was fitted with circular electric light fittings, as well as uplighters with silver wall brackets. Fawn carpets and buff coloured curtains completed this well appointed room. The Master's bedroom matched his dayroom, and was finished in Indian white mahogany and sycamore, with connecting doors in Indian white mahogany veneers. The lighting was similar to the good system in use in the passenger staterooms, with a fully carpeted floor and blue fabric covered chairs. The bathroom had walls with solid birch trimmings and a floor laid with non-slip material.
Senior Officers Cabins
The Chief Officer had a private office to deal with the large amount of paperwork, as well as a bedroom on the starboard side of the front of Bridge Deck, while the Chief Engineer had the same type of cabin on the port side, with the passenger Lounge in between. Their cabins were panelled in Indian white mahogany and were fully carpeted, with a standard comparable to the accommodation of the passengers.
Officers Cabins
The Bridge Deck had navigating officer and cadet cabins on the starboard side, with those for the engineer officers on the port side. These cabins were also furnished to a very high standard comparable to passenger cabins. The Officers Smoking Room was at the after end of Bridge Deck with a red brick fireplace and a raised hearth, and was panelled in light oak. The six cadets were housed in two berth cabins with a separate study on the starboard side of Bridge Deck.
Crew Accommodation
A separate outside cabin with a porthole was provided for every crew member in a system that was unequalled anywhere else in the British Merchant Navy except in Watts, Watts tramps and liner companies. The beds of the cabins had Dunlop mattresses and soft pillows, a chest of drawers with pull out writing slope, a mirror, a locker for clothing, a tubular steel chair with armrests upholstered in green Vynide, an electric heater and a reading lamp. The doors were flush fitting and well painted, and the crew messrooms were furnished with fabric covered benches as subdivisions of the room and had the same tubular steel chairs as in their cabins, for relaxation during off duty periods.
All of the passenger and crew accommodation was heated and ventilated mechanically by the punkah louvre system installed by Thermotank Ltd. of Glasgow. The air in the Dining Room, for example, was changed twenty times per hour, with a constant seventy degrees Fahrenheit maintained, while the outside temperature was thirty degrees Fahrenheit. The many rectangular windows in the superstructure were supplied by Stone and Company of London, the sanitary equipment was by Shanks and Company of Barrhead, while the interior deck coverings and underlays were supplied by Rowan and Boden Ltd. of Glasgow. The Lanide coverings were supplied by Storeys of Lancaster, while the Vynide washable coverings were supplied by the ICI Division at Hyde in Cheshire.
Careers of St. Essylt and St. Thomas
St. Essylt (Yard 653) was launched on 15th September 1947 by Lady Howard de Walden, the owners launch party also included Richard ('Dick') George Meredith Street, Lord Howard de Walden, Mrs. Margaret Lena Street, Miss Marjorie Street, David Lindsay Street, and Vice Admiral Carpenter V.C. and his wife. She was completed on 16th June 1948 at a cost of £640,000 and sailed from the Wear for Antwerp and Cardiff to load cargo, and then sailed on her maiden voyage from Cardiff on 25th June 1948. St. Thomas, her exact sister (Yard 654), was launched on 25th March 1948 by Mrs. Margaret Lena Street for the Shakespear Shipping Co. Ltd. and completed in late November 1948 at a cost of £680,000, sailing from Cardiff on her maiden voyage on 14th December 1948 under the command of Capt. S. Diggins, who had stood by the building of both ships at Sunderland.
The South American Saint Line service to South America was operated outside the big British and German South American conference of Royal Mail Line, Blue Star Line, Lamport and Holt, Booth Line, Houlder Line and Furness, Withy & Co. Ltd., and Hamburg South America Line as a non-conference joint service with Van Uden Brothers of Rotterdam. The Van Uden brothers have been shipowners in the Port of Rotterdam for 110 years with the first deep sea services to Charleston and Savannah. Van Uden Shipping was formed as a separate subsidiary in 1980, and they have operated five services in their long history from Rotterdam and Northern European ports:-
Mediterranean service to Valencia, Alexandria, Beirut, Tripoli (Lebanon), Latakia, Mersin, Piraeus, Limassol and Benghazi.
South American service to Rio de Janeiro, Montevideo and Buenos Aires
Middle East service to Sohar, Jebel Ali, Abu Dhabi, Doha, Bahrain, Damman, Kuwait, Mumbai and Chennai.
East and South African service to Port Sudan, Djibouti, Mombasa, Dar-es-Salaam, Nacala, Maputo and Durban.
West African service to Casablanca, Nouakchott, Dakar, Banjul (Gambia), Conakry, Freetown, Abidjan, Tema, Lome, Cotonou, Lagos, Douala, Libreville, Pointe Noire, Walvis Bay and Luanda.
Van Uden have always used a nomenclature of Rotterdam docks and waterways for their ships e.g. Coolhaven, Delfshaven, Eemhaven, Jobshaven, Keilehaven, Koningshaven, Lekhaven, Leuvehaven, Maashaven, Merwehaven, Nassauhaven, Nieuwehaven, Parkhaven, Rijnhaven, Schiehaven, Veerhaven, Waalhaven and Yselhaven. St. Essylt and St. Thomas in 1948 relaunched the South American Saint Line passenger service that had started in May 1939 but had been stopped due to World War II. They operated on the joint service alongside the standard war built Delfshaven (ex Empire Hazlitt) of 10,000 dwt and Maashaven of 9,430 dwt completed in 1948 by Rotterdam Dry Dock Company, and subsequently with Lekhaven of 9,586 dwt completed in 1952 by the De Noord yard in Alblasserdam, and Parkhaven of 9,500 dwt in 1956 also from the De Noord yard plus a smaller sister named Bonita. This group of five deep-sea vessels from 'Haven Line' also had good accommodation for a dozen passengers.

The return voyages of St. Essylt and St. Thomas to South America took just under three months, with St. Essylt sailing again from London and Cardiff in early September 1948, late November 1948 and mid February 1949. Gradually the calls at Cardiff had to be dropped due to lack of outward cargo, with the bulk of the cargo coming from the Van Uden contacts on the Continent, with even cork loaded outward from Lisbon. Passengers were always embarked at Dover outward. The agents for the joint South American Saint Line and Van Uden service to South America were as follows:-
Cardiff – South American Saint Line
London – South American Saint Line
Hull – William Brown Atkinson & Co. Ltd.
Glasgow – Andrew Crawford & Co. Ltd.
Liverpool – Canada Steamship Lines Ltd.
Rotterdam – Van Uden Brothers
Antwerp – Agence Maritime de Keys Thornton
Hamburg – Brown, Jenkinson & Co. Ltd.
Zurich – Weltifurrer International Transport
Rio de Janeiro – Wilson, Sons & Co. Ltd.
Montevideo – Wilson, Sons & Co. Ltd.
Buenos Aires – Chadwick Weir & Cia (Argentina) Ltd.
St. Essylt and St. Thomas were joined on the South American service in February 1954 by an almost exact sister named St. John (Yard 678), launched on 22nd September 1953 at the North Sands yard of Joseph L. Thompson & Sons Ltd. She had the same hull dimensions and was in every way a sister, except that the upper and lower 'tween decks were extended to number three hold, and she had derrick topping winches fitted.
The cargo handling gear was the same as the earlier pair, consisting of four ten tonne derricks and ten five tonne derricks on two masts and two sets of kingposts and operated by fourteen winches, all operated from inside mast houses to give all weather working. St. John could operate as an open shelterdecker of 9,600 dwt or as a closed shelterdecker of 11,140 dwt.
A similar ship to the same basic streamlined design was launched at the North Sands yard on 17th January 1961 as St. Rosario (Yard 705). She had an overall length of 472.5 feet, moulded beam of 62.6 feet and a loaded draft of 28.3 feet, with gross tonnage of 9,183 and a deadweight tonnage of 11,463. She had a service speed of fifteen knots from a four cylinder Doxford opposed piston oil engine of 5,320 bhp with a bore of 670 mm and a combined stroke of 2,100 mm. She was thus three feet wider in the beam than St. Essylt, St. Thomas and St. John giving an increased cargo carrying capacity, but she was more expensive to build at just over one million pounds.
She had longitudinal framing from the keel to the Upper Deck and her hull was fully electrically welded. Cost savings were made by leaving out the upper 'tween decks and the non essential derrick topping winches fitted to St. John. The navigating bridge had the latest radar, direction finders, electric signalling devices and gyrocompass as well as a Decca Navigator.
St. Thomas had suffered a very damaged bow in a collision with the American war built 'C2' type vessel War Hawk in the river Scheldt on Wednesday 28th April 1954. The bow of the American ship was deeply embedded in a 'V' gash into the port side of the bow and fo'c'stle of St. Thomas. Repairs were made afloat at Antwerp as the damage extended below the waterline, and with the cargo discharged from the forward holds, the 'V' gash was successfully plated over without the necessity of dry docking the ship. No casualties were reported, and St. Thomas had been cleared to be repaired afloat at Antwerp under the supervision of Marine Superintendent Capt. William Rees of Cardiff. The damage repair bills to both St. Thomas and War Hawk were paid two thirds by the P. & I. insurers of War Hawk and one third by the P. & I. insurers of the South American Saint Line. St. Thomas had also previously partly stove in her bows in a collision with a quay wall at Liverpool.
South American Saint Line Finale
The cargo-liner fleet of the South American Saint Line in 1959 consisted of seven vessels in St. Essylt, St. Thomas, St. John, and the war built St. Arvans, St. Helena, St. Margaret, and St. Merriel of 10,000 dwt, operating on a joint service to South American ports with five cargo-liners of Van Uden Brothers of Rotterdam. The combined fleet operated a sailing with general cargo outwards every week or ten days returning with grain from the Plate. St. Margaret was sold in 1960 and replaced by the new streamlined St. Rosario in June 1961. However, Richard Street had died on 6th January 1961 at the tragic early age of sixty years, and the major financier of the company, Lord Howard de Walden, decided to wind up the company and sell off the vessels, as he felt that 'Dick' Street was almost unreplaceable in his detailed involvement with the company.
Accordingly, the Cardiff and London offices of the company were closed in March 1961 and their staffs made redundant. Initially, the management of the fleet moved from Leadenhall Street to the offices of R. Nerdrum of Nerdrum Shipping Ltd. of Lloyd's Chambers, Crutched Friars in London, who managed two British registered sister vessels of 16,580 dwt named Lewis R. Sanderson and William M. Currie and built by the Nordseewerke yard in Emden in 1955/56.
Later in the year on 1st November 1961, it was announced that management of the South American Saint Line fleet was to be given to the British and Commonwealth Shipping Group of Clan Line and Union-Castle Line, and the fleet was registered under King Line Ltd. with the accounts handled by the British and Commonwealth Shipping Group accounting department.
The three remaining war built vessels of St. Helena, St. Arvans and St. Merriel were sold for breaking up or for further trading in 1962/63, with the very fine cargo-liner St. Rosario sold later in October 1963 to Chapman and Willan Ltd. of Newcastle for £525,000 and registered under the Somerston Shipping Co. Ltd. She traded with a Geordie crew under the name of Hermiston for seven years, and they enjoyed a fine spell of worldwide tramping. Charters in the phosphate and nitrate trades gave her good sailing in the blue seas and under the blue skies of the Pacific to Australian ports, while homeward sugar charters from Queensland and Port Louis in Mauritius were made to change crews. She had been handed over at Bremen on 21st October, 1963 to replace the last of the war built steamers in the Newcastle fleet.
She was badly damaged in a collision on 14th April, 1967 off the Tail of the Bank in the Clyde with the tanker Oceanic Unity of 19,000 dwt when arriving with a sugar cargo from Queensland. The tanker was on her way in the opposite direction to Londonderry after discharging part of her cargo at the Admiralty oil fuel depot at Old Kilpatrick. The bows of Hermiston were completely stove in, while Oceanic Unity was damaged on the starboard side, but neither vessel was damaged below the waterline. The tanker had Chinese officers and crew and was owned by Oceanic Petroleum Carriers Inc. of Liberia and was able to continue her voyage. Hermiston discharged at the sugar berth in James Watt Dock before being repaired in the Garvel dry-dock at Greenock, where she had previously been stemmed for voyage repairs.
St. Rosario was sold again in 1970 to Greek owners under the name of Hermione, and she sailed from Iskenderun on 13th August 1978 for Libyan ports. She became Maria Sofia in 1980, and arrived at Basrah on 24th August 1980, but within a few weeks had been bombed by aircraft during the Iran/Iraq War and was declared a war loss at the end of September 1980 and was abandoned to insurers in 1981.
This left the three sisters of St. Essylt, St. Thomas and St. John in the South American Saint Line fleet at the end of 1963 to mostly trade in the worldwide tramp trades until all three were sold off in 1965, and the South American Saint Line was closed down.
St. Essylt and St. Thomas were sold to the China Navigation Co. Ltd. of John Swire and Sons Ltd. for operation in the Far East as Yunnan and Yochow respectively, while St. John was sold to Greek owners and renamed Valmas and continued tramping e.g. she passed through the Suez Canal southwards on 10th October 1978 from Iskenderun to Bombay until she arrived at Visakhapatnam in India for breaking up on 22nd January 1979.
St. Essylt arrived one day later at Kaohsiung for breaking up as Lucky Two, one of her last voyages being from Bangkok on 24th October 1978 to Bombay, while St. Thomas had already arrived in late June 1978 for breaking up at Whampoa in China as Lucky Four. St. Essylt and St. Thomas had thus given thirty years of service, and their sister St. John some twenty five years of service, and were thus a very great testimony to the strength of their construction on Wearside.
The goodwill and the South American conference rights of the company were purchased in 1965 by Ore Carriers Ltd., half owned by Houlder Brothers and the British Steel Corporation. Management continued by Houlder Brothers, with two vessels in their fleet transferred in 1966 to the company by renaming the cargo-liner Thorpe Grange of 12,050 dwt as St. Merriel and the ore carrier Joya McCance of 16,830 dwt as St. Margaret. St. Merriel had been built in 1954 by Bartram of Sunderland, and regained her original name of Thorpe Grange during 1971/72, but was sold as St. Merriel in 1973 to Singapore owners. The ore carrier St. Margaret had been built in 1960 by Gray of West Hartlepool, and was sold in 1976 to Panamanian owners. The name of Joya McCance was reused in the Houlder Line fleet by a much larger tanker of 42,910 dwt in 1967 that had been built in 1964 at Kristiansand as Beauval for Biorn Biornstad of Oslo. This Joya McCance was not without her problems in service, but served Houlder for ten years until she arrived at Kaohsiung for breaking up on 7th January, 1977.
Postscript
Richard Street had begun the rebuilding of the post-war fleet with an order for the first pair of post-war high class cargo-liners, which were completed as St. Essylt and St. Thomas in 1948, and they served for fifteen years on the Plate trade plus two years tramping for the South American Saint Line. St. John was an identical high class cargo-liner completed in 1954 to St. Essylt and St. Thomas that served for nine years in the Plate trade plus two years tramping, whereas St. Rosario was completed in June, 1961 as a larger similar vessel, three feet wider in the beam, and served for two years and four months in the Plate trade.
Two very fine paintings had been commissioned by Richard Street on the completion of St. Essylt in June 1948. The first oil painting was by Allanson Hick (1898-1975), and the second by Terry F. J. Rogers (Born in 1922) and is now in the National Museum of Wales, Department of Industry.
The dark grey or light grey hulls of the South American Saint Line ships had a white line with green boot topping, and with their buff coloured kingposts and derricks and their deep red funnels with a black top they were always a joy to behold.
They were named after Welsh saints and were mostly seen at Cardiff, London, Hull and Continental ports, Lisbon and in the Canary Islands, and in South American ports. However, homeward cargoes of grain were unloaded either in one discharge or in several parcels at several other British and Continental ports.
The quartet of St. Essylt, St. Thomas, St. John and St. Rosario are chiefly remembered today for their very comfortable and roomy crew accommodation in single cabins, and were vast improvements over that of the old steam tramps of the inter-war years with continually wet decks in rough weather in the fo'c'stle and poop, and tiny bunks arranged in tiers around the inside of these cramped compartments.
These improvements were long overdue and easily paid for themselves handsomely in better crew attitudes and feeling of well-being and self-esteem, and they thus gave more efficient working and led to much increased profits in the long term.