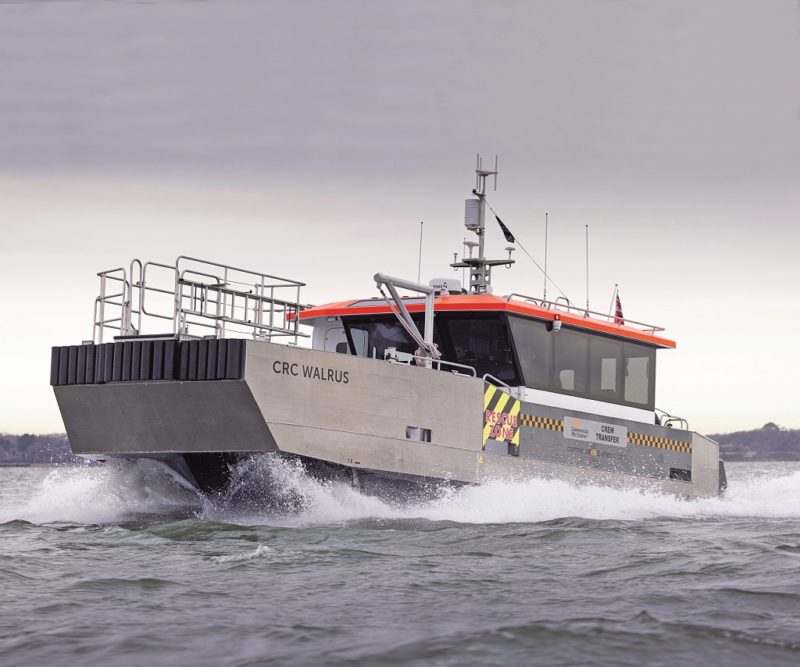 This issue, the subject of the Newbuild of the Month is probably the most unusual craft selected to date, and another fine example of something both designed and built in the UK. The offshore wind industry has generated a multitude of innovations and advances in vessel capabilities and design, whilst the location of windfarms has also pushed the operational envelope. This is especially true when the turbine pylons are built on sandbanks or shoals where access by sea is subject to the tidal range and movements. One such example is the Scroby Sands Wind Farm, which is situated off the coast of Norfolk, England, 2.5 kilometres from Great Yarmouth. The banks run 6.4 kilometres offshore, north to south from Caister towards Great Yarmouth. Scroby Sands are separated by channels from the adjacent Caister shoals, Cockle Shoals, Cross Sands, Corton and Holm Sands and consist of North Scroby, Middle Scroby and South Scroby. The 60 megawatt windfarm was commissioned in March 2004 by Powergen Renewables Offshore, a division of E.ON UK. Now the site is in the care of RWE Renewables GmBH and was one of the first of a group of projects to be built in the UK, and all in coastal locations with relatively shallow waters close to shore.
RWE is one of the world leaders in the design, build and operation of offshore windfarms, and has pioneered the development of the technology in the UK from its beginnings two decades ago. The company continues to drive innovation across its renewables fleet, from recyclable turbine blades and new monopile driving techniques to the development of green hydrogen, battery storage and solar power. The Scroby Sands site is a prehistoric sandbank and, because of natural changes in the marine environment, tidal action, and coastal erosion, this has risen in places since the turbines were put in place. The shifting sands effectively isolated four turbines from being accessed by service vessels.
BY LAND & SEA
So, how to tackle the hurdles provided by the dynamism of Mother Nature? The clear solution was a crew transfer vessel (CTV) with go anywhere capabilities, an amphibious crew transfer vessel (ACTV). Readers may have seen examples of the Sealegs RIBS that are equipped with retractable, motorised wheels and this format was selected as the basis for an all-new amphibious wind farm vessels. Lymington-based Commercial Rib Charters has a 7.70m long Sealegs RIB, the CRC Cygnet, one of only a handful of coded 7.7m versions in the UK, with capacity for 6 persons and a 200hp petrol outboard engine. The amphibious landing equipment is powered by an air-cooled inboard petrol Honda GX690 engine giving all-wheel drive to three all-terrain tyres on 12-inch rims. With a diff lock and hydraulic mechanical brakes, the Cygnet can traverse various surface types with ease including sand, mud, shingle and tarmac, giving 30 minutes of run time on land.
The craft has a top speed of 35 knots at sea and 4 knots on land. Commercial Rib Charter Ltd. is a trading division of Solent Rib Charters Ltd., which was established in 2001. The company has grown over the last 20 years to become Europe's largest commercial Rib charter operator, owning a fleet of nearly 40 boats, which includes a variety of catamarans and wheelhouse RIBS ranging from 5m to 20m long. Types include purpose-built shallow draft Crew Transfer RIBS, Surface Supply Dive Support Vessels, Survey Boats and a number of Guard Boats and Safety RIBS. In addition, CRC has a large fleet of 7.8m and 8.8m long open RIBS. CRC undertakes most of its business around the UK coast and there are very few areas in UK waters where they haven't operated. All CRC vessels can be mobilised by either sea or road transport. Deployments further afield have included Oman, Hong Kong and Singapore.
For the next chapter in CRC's capabilities, the company embarked upon a partnership with RWE to achieve an offshore wind revolution, with the innovative design and build of a world-first amphibious vessel that could reach offshore wind farms in shallow waters. Scroby Sands demanded a bespoke project, so an exceptional crew transfer vessel was developed via a joint effort and in record time. RWE's Operations team, its Technical Innovation team and CRC combined resources and naval architects Chartwell Marine were contracted to carry out the design to the specifications requested. Construction was awarded to the shipbuilder Diverse Marine in Cowes on the Isle of Wight. The latter facility evolved from South Boats I.o.W in July 2018 when the new company's Directors acquired the assets and equipment of their former employers, South Boats I.o.W., securing the employment of 20 staff on the site at Medina Yard, Cowes. The company purchased the freehold of the 12-acre Medina Yard & Medina Village waterfront site in October 2022 from the Peter Harrison Trust. Diverse Marine specialises in the construction of a varied fleet of workboats, primarily offshore wind crew transfer vessels but also search and rescue craft, crew boats for the HMS Prince of Wales aircraft carrier and a number of small workboats and RIBs. A notable delivery was the Seacat Columbia in 2022, the first of class BARTech30 for Seacat Services and a subject of the Newbuild of the Month series in December 2022.
Another part of the team effort, Chartwell Marine, is based in Hamble-le-Rice near Southampton and is a pioneer in next-generation vessel design. A reputed naval architect with an industry-leading track record designing award-winning high-speed vessels, the company supports ambitious boat builders and vessel operators around the world with specialist, independent design and consultancy services. Accolades include being awarded Business of the Year in the Maritime UK Solent awards 2022 as well as International Trade.

A WORLD FIRST
The construction contract for the fully sea-worthy vessel was signed in December 2021 and a name was chosen and announced as the CRC Walrus, a title in honour of R.J. Mitchell's classic 1930s Supermarine amphibious biplane. An inspired choice if ever there was one. The newbuild's keel was laid at Diverse Marine in Cowes as Yard No. DM-2346 in March 2022 with launch day following in October 2022. The vessel had gone from concept to delivery in around 18 months, being delivered to RWE in February 2023. Sea trials had taken the CRC Walrus to locations around the Solent such as Ryde Sands and Totland beach. RWE officially announced on 3rd March 2023 that their newbuild go-anywhere ACTV had been at work for around 4 weeks, with the sea trials being 100% successful.
An excellent start to a six-year contract with RWE Renewables GmBH. The hull of the CRC Walrus is aluminium, and the craft is 12.80m long with a 4.00m beam and a tonnage of 12,000kg. Due to the nature of the vessel, she has draught and air draught particulars for the sea and amphibious modes. The draught of the CRC Walrus with the wheels retracted is 1.20m and the air draught on water is 4.50m. With the wheels deployed, the draught on land is 1.40m and the air draught is 6.80m. The craft has two wheels at the front and one at the back and can transfer up to 10 windfarm technicians and two crewmembers to any of the turbines within the array, including on the raised sandbank.
The cargo deck is located forward of the cabin and has an area of 7.5m2. The cargo payload is 1,000kg. There are several stowage and mounting points for cargo along with inspection hatches for the amphibious gear, enabling maintenance to be carried out whilst afloat if required. A 2.8-metre sliding walkway is fitted to the bow as a unique solution to safely bridge the scour pools typically found around offshore installations, providing handrails and wide access. These pools are formed by the action of the current swirling around the bases of the pylons. The bow dimensions are 3m wide with a height from waterline of 1.80m. Removing the need for side decks on the CRC Walrus has provided a wide and spacious saloon for the crew and passengers with the additional benefit of still being a road transportable craft with a beam of just 4 metres.
With a network of trusted hauliers, the vessel can be mobilised quickly and affordably anywhere in Europe. The vessel features many of the elements typically found in CRC's fleet of catamarans and Cabin RIBs, such as MCA Category 2 coding, push-on bow fendering, suspension seating, chart plotters and radar, galley facilities including microwave and refrigerator, flushing toilet, and full safety equipment such as MOB recovery davit and a fall arrest system. The design capably combines the safety and comfort of a standard crew transfer vessel with the capabilities of amphibious open RIBs that are found on the market today. At sea, the CRC Walrus boasts plenty of power and torque provided by her twin OXE 300hp diesel outboards, combined with a bow thruster to provide excellent close quarter manoeuvrability. Powered by BMW, the OXE 300 is a BI-turbo configuration that provides its full 680Nm of torque at the crankshaft at 1,750rpm. The engine has a 3-litre displacement, each outboard weighs 395kg. The OXE 300 offers a leg length of 635mm or 838mm and dimensions are up to 1,150mm (length) x 2,293mm (height) x 700mm (width). With a high freeboard, the CRC Walrus is a strong seakeeping vessel capable of a cruising speed of 16 knots, a maximum speed of 24 knots and can transfer personnel in wave heights of up to 1.5m. A bollard pull of 3,000kg is also offered for small towing duties.
The CRC Walrus is equipped with a bespoke hydraulics system, which is operated by an air-cooled Kubota 37kW hydraulic power unit that provides all-wheel drive to the three wheels through a Hercules joystick control system mounted on the dashboard. Running 1,016mm x 381mm all-terrain tyres on 584mm rims, the vessel can smoothly travel at speeds of 2-4 knots on land on surfaces including compact sand, light shingle and dry mud thanks to a traction control system. Wheel position sensors, alarms and CCTV are also installed for the amphibious mode.
Designed to be operated by a two-person crew, the Walrus can transition smoothly from displacement (waterborne) to amphibious mode within minutes, all at the push of a button. With the air-cooled power unit and a 240v Whisper 4.4kVa generator, there is no loss of comfort or equipment when out of the water and run time on land is more than the 30 minutes typically found with smaller amphibious open RIBS.
RWE are hoping to trial the CRC Walrus on the London Array offshore wind farm at some point as they also have a small number of turbines located in very shallow areas that offer restricted access via traditional CTV. CRC has had some enquiries from other large marine clients requesting to charter the vessel for cable landings.