150 Years Of French Shipping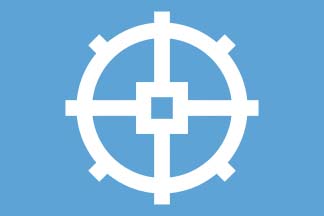 La Rochelle was one of the foremost ports of France during the 14th to 17th centuries, with salt, cognac and wine making the port very wealthy, and merchants building limestone houses that still predominate today in the old quarter of the port. It is known as La Ville Blanche (The White City) and is the capital of the Charente-Maritime region of France, with a hinterland of 25,800 square kilometres. It was also the home port of the large Delmas fleet. The Delmas brothers, Frank and Julien, set up a passenger service from La Rochelle to the Ile de Re and Ile d'Oleron in June 1867 using the very small passenger ferries Jean Guiton and Aufredi. The Alsace region of France was annexed by Germany shortly afterwards, and a third brother Emile (1834-1898), was forced to leave Mulhouse near Basel in the Haut-Rhine region in 1870 and join his brothers. In memory of the province he left behind, the brothers adopted a blue houseflag with the white water mill symbol of eight vanes of the coat of arms of the city of Mulhouse.
Delmas Freres et Compagnie then expanded into coal and iron ore shipments, with the first cargo ship of any size being Alsace-Lorraine of 832 grt completed in 1873. She struck rocks and sank off the Chausee de Sein on 18th April 1878, with the next two cargo ships also lost in Belfort 741/77, wrecked on Guernsey on 30th August 1886, and Le Creusot 811/78 wrecked at Bilbao on 25th November 1883. Le Creusot was named after the town in the Saone et Loire department of Bourgogne in Eastern France with many iron ore mines, and other Delmas ships were named after regions near La Rochelle e.g. Aunis, Saintonge, and Poitou. The early steamers traded with coal from South Wales ports to French ports returning with pit props and charcoal, or iron ore from Bilbao.
The brothers also set up manufacturing plants in the 1880s decade for compressing coal dust into industrial briquettes and pellets for use as fuel, and took over the management of five small steamers employed in that trade. New steamers of around 2,000 dwt to 2,500 dwt came from the North Sands yard of John Blumer at Sunderland in 1881/83 as Aquitaine, Biscaye, Guyenne, Saintonge and Vercingtroix. Second hand steamers were purchased from Newcastle upon Tyne, Glasgow and Liverpool shipowners e.g. Sestao renamed Aunis in 1879 but later wrecked on Antioch in Turkey on 13th August 1898.
A fleet of six steamers was maintained during the 1890s decade, with Dahra and Sahel purchased from De Freitas & Company of Hamburg in 1896, but sold on in 1901 and replaced that year by Dahra (2) of 3,000 dwt, the former Liverpool owned Casos, and Sahel (2) of 3,000 dwt, the former Foyle owned by the Mercantile Steamship Co. Ltd. of London. Baron Elibank 2,356/89 was purchased in 1899 from Hogarth of Glasgow and renamed Fort-Louis but was lost by collision on 28th May 1910.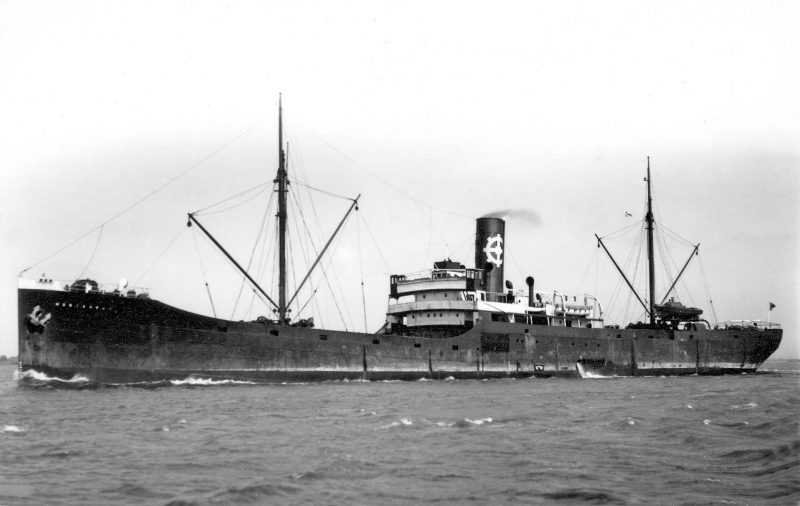 The important Algerian trade began in 1896, followed by that to Tunisia and Morocco, with Delmas shipping phosphates from Tunisia and ores and minerals from Algeria and Morocco to their processing plants at La Rochelle. The first steamer to be named after a member of the Delmas family was purchased in 1911 and renamed Frank Delmas of 2,365 grt, having been completed at the South Shields yard of John Readhead & Sons Ltd. in March 1904 as Tregarthen for Hain Line. Koordistan had been purchased from Strick Line in 1906 and renamed Maroc, and two former Newcastle upon Tyne steamers were purchased in 1912 and renamed as Corneille ex Newquay of J. & C. Forster, and La Fontaine ex Lady Tennant of Scott Brothers. Voltaire of 2,659 grt was also purchased in 1912 from a French owner, but had been completed in February 1896 by the Readhead yard as Birnam for Doughty & Company of West Hartlepool. These bigger steamers had 'midships bridge decks of length eighty feet, an overall length of just over 300 feet, beam of 44 feet, and depth of 22 feet, with triple expansion steam engines from North East Coast engineers giving service speeds of around ten knots.
A fleet of ten steamers of up to 4,500 dwt was owned on the outbreak of the Great War on 3rd August 1914 in Boileau, Corneille, Dahra (2), Frank Delmas, Gafsa, La Fontaine, Maroc, Moliere, Sahel (2) and Voltaire. Three quarters of the fleet was lost during the war to enemy action, including Boileau which went missing on a voyage from Swansea to St. Nazaire with coal on 10th November 1915. Dahra (2) was torpedoed and sunk off Arzew by U38 on 4th November, 1915, with three more ships lost in 1918 in Maroc in the English Channel on 14th April, and Voltaire off Cape Ortegal on 11th January. Leon had been purchased in 1917 from a French owner but was torpedoed and sunk by UC75 in the English Channel on 7th January 1918. Two small wooden American war standard vessels built at Oakland and San Pedro in California joined the fleet temporarily at the end of the war as Hadrumete and Utique.
Subscribe today to read the full article!
Simply click below to subscribe and not only read the full article instantly, but gain unparalleled access to the specialist magazine for shipping enthusiasts.