by Ian Sebire
It is one of the great paradoxes of maritime history that the supremacy of jet aircraft in the late 1950s ushered in a final era of 'Ships of State' on the North Atlantic.
Just like their predecessors in the 1930s, these vessels were designed to provide a physical manifestation of the nation, showcasing engineering and artistic talent. Furthermore, in contrast to today's cruise fleet, crews were drawn almost exclusively from the homeland, a seagoing microcosm of the countries they represented.
In this atmosphere of one-upmanship ZIM Lines, principal shipping company of the fledgling state of Israel, ordered a new national flagship.
ZIM Lines had been incorporated in 1945, in what was then British Administered Palestine. The company's first passenger ship was the 2,499grt SS Kedmah. Although diminutive in size this was a symbolically significant vessel and when she arrived in her homeland on 28th July 1947 a national holiday was declared. On 14th May1948 the State of Israel was formed and so Kedmah and her successors were involved in shuttling settlers and tourists between Marseilles, Genoa, Naples and Haifa.

This intra-Mediterranean service extended to New York on 4th April 1954 when Israel's first transatlantic liner, Jerusalem, cast off from Haifa, calling at Limassol, Malta, Cannes and Halifax en route. Jerusalem was originally Norwegian America Line's Bergensfjord of 1913. Having served the Norwegians for over 33 years and survived two World Wars she had inaugurated Home Lines service to South America in 1947, before being purchased by ZIM.
In 1955 and 1956 the company added a pair of elegant 9,855grt passenger-cargo vessels, which were named Israel and Zion. Renowned for their stylish, modern interiors, they were built at the Deutsche Werft shipyard at Hamburg and funded by German reparation payments. Primarily for intra-Mediterranean service, ZIM added two near sisters in 1957 and 1958. Named Jerusalem (the original liner having been re-named Alrya in 1957) and Theodore Herzl, their shallower 21ft draft was the main difference from the earlier twins and they therefore only occasionally made transatlantic crossings.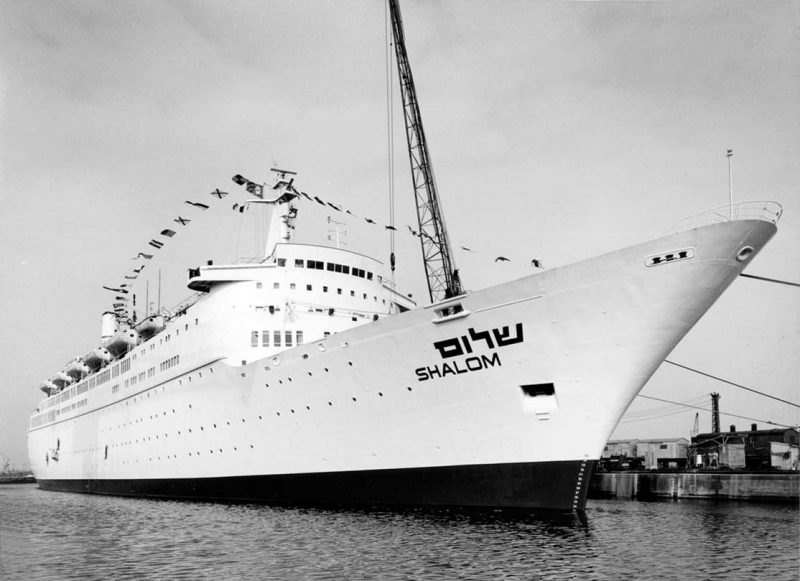 Subscribe today to read the full article!
Simply click below to subscribe and not only read the full article instantly, but gain unparalleled access to the specialist magazine for shipping enthusiasts.