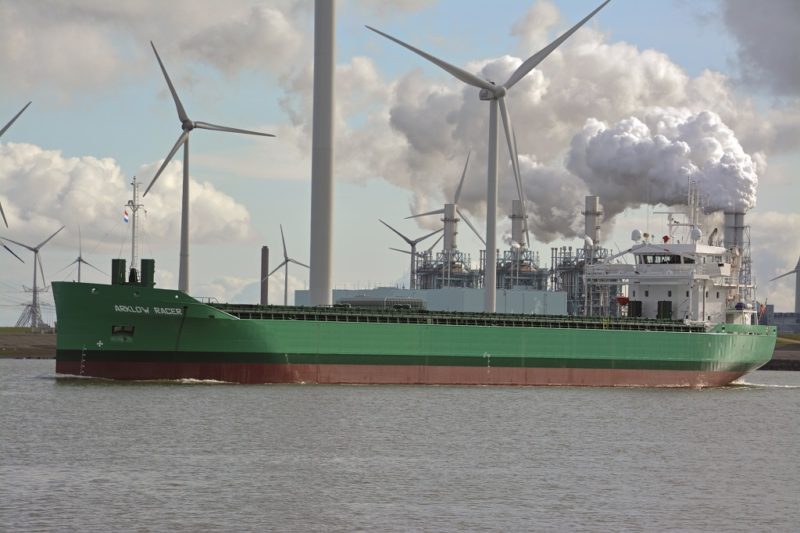 In early 2021 the Eco Trader 6800 emerged as part of the impressive range of dry bulk vessel designs offered by the Royal Bodewes Shipyard. As the name suggests, this class of vessel has a 6,800t deadweight (6,885dwt on the specifications). The overall length of these vessels is 104.93m with a waterline length of 102.98m, a moulded beam of 9.50m, a design draught of 6.60m and a gross tonnage of 4,267gt. The Eco Trader 6800 has two holds and an overall cargo capacity of 8,778m3 (310,000cft). Hold No. 1 is 30.75m long and 12.60m wide whilst Hold No.2 is 44.25m long and 12.60m wide. The free height in each hold is 9.29m. Hold No. 1 is located forward, occupying around 40% of the overall cargo space. A total of 12 pontoon-type hatch covers seal the hold whilst at sea and are removed/replaced using a 20t SWL capacity gantry crane that runs on rails up and down the weather deck and is stowed in front of the deckhouse when not in use. The cargo holds are designed for bulk cargoes, have two grain bulkheads and an A-60 engine room bulkhead is an optional extra, subject to the ship's main use. The tank top has a deck load of 15 tonnes/m3 with the cargo hatch cover deck load not supplied but this is usually around 1.6 tonnes/m² on such a ship. The superstructure, located aft, consists of 4 levels with the Tween Deck level offering crew cabins and facilities plus en-suite accommodation for two officers. At Main Deck level in the deckhouse is the mess room, office, galley and pantry plus utility areas. One level up is the en-suite accommodation and day rooms for the Chief Engineer and Captain. The upper-most level (besides Top Deck) is the wheelhouse on the Bridge Deck. The accommodation is modern, attractive and practical, with each crewmember having a private cabin with en-suite facilities and air-conditioning. The machinery space is located aft and houses the MaK 6M25C 4-stroke marine diesel engine (6 cylinders in-line) that is IMO II compliant and has an output of 1,768kW/2,370hp and 750rpm. The 6M25C power unit is 5,345mm long, 2,261mm wide and 3,766mm high. The dry weight is 51,808kg and the displacement is 123,000cm3 (123 litres). The stroke is 400mm and the bore is 255mm. The engine drives a single Berg Propulsion controllable pitch propeller via a Renk gearbox with a loaded trials speed of 11.6 knots being recorded. Steering is via a hydraulically powered Benes rudder and a 300kW transverse tunnel bow thruster is fitted. The ship also has two 150ekW auxiliary engines and a 65ekW emergency generator.
Sign-up today to read the full article!
Simply click below to sign-up and read the full article, as well as many others, instantly!