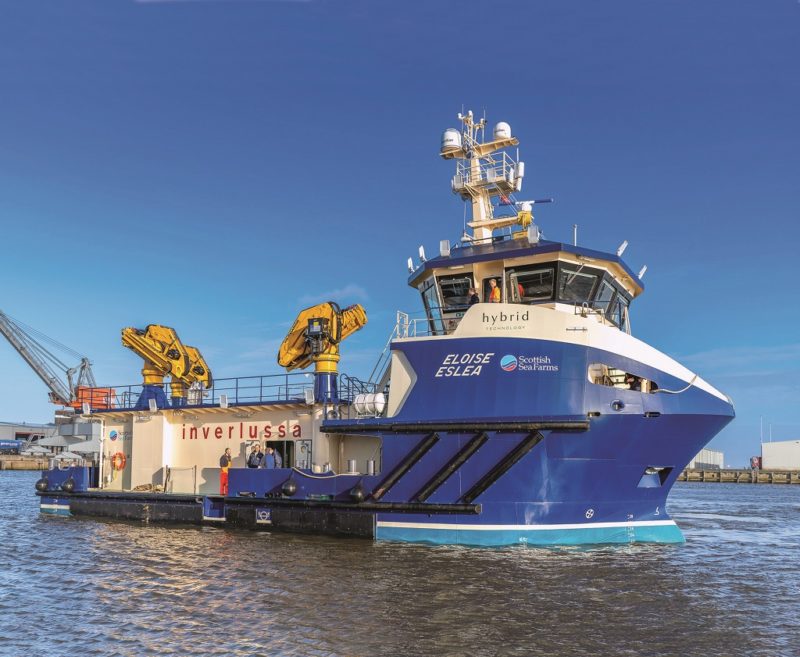 Inverlussa Marine Services announced on 25th February 2022 that, following the company placing an order at the end of 2021 for a 27m long and 13m beam aquaculture vessel (the contract being signed at the company offices in Craignure, Mull), an additional sister vessel had been ordered which would see the Inverlussa fleet reach 20 vessels in 2023. The first newbuild would be named Eloise Eslea (Yard No. NO22) and was scheduled for delivery in late September 2022, with the second vessel, the Isaac Eslea (known initially as Yard No. N023) being delivered in 2023. The company also expected to recruit an additional 12 crew/staff, taking the company's headcount to 115 local employees. The signing of these contracts marked the second and third vessels to be built for Inverlussa at Nauplius Workboats in The Netherlands. The first hybrid vessel was the 464gt/2021-built and 34m-long delousing vessel Camilla Eslea, which is on a long-term charter to Mowi Scotland. Since March 2020 Inverlussa has invested heavily in newly designed vessels, taking delivery of 6 new vessels, designed and built specifically for Scottish Aquaculture.
Inverlussa Marine Services (IMS) took delivery of their first vessel, the Kilean, in 1999. She was purpose built to service the company's mussel farm on Loch Spelve, Isle of Mull. The fleet time line has since evolved as follows, Margaret Sinclair (2006), Carol Anne (2010 – sold 2016), Helen Burnie (2012), Geraldine Mary (2013 – sold March 2020), Naomi Jennifer (2014), Helen Mary (2015 – Windfarm Support Vessel), Turnstone (2015), Grace Lamont, Havgull and Shjandur (2016), Northern Viking, Gina Mary and Kiera Fiona (2017), Helen Rice, Patricia Matheson and Havilah (2020), Kallista Helen, Camilla Eslea, Aqua Enterprise and Laurence Knight (2021), Geraldine Mary, Kathryn Matheson and Eloise Eslea (2022).
The company strategy has been to meet the requirements of the expanding aquaculture sector with major investment in new multi-purpose vessels. This has enabled IMS to secure long-term contracts while gaining an excellent reputation for safety and reliability. In 2015 IMS secured its first contract for wind farm support, employing the 153gt/2015-built Helen Mary, and continues to expand and develop into new markets while investing in the vessels, personnel and accreditations required to sustain that growth and maintain an excellent reputation. IMS currently service contracts, with Scottish Salmon Company, Scottish Sea Farms, MOWI and Cooke Aquaculture providing a variety of support services for their salmon farms around the Scottish mainland, Orkney and Shetland, including delicing treatments using peroxide and non-peroxide methods, complete mooring grid installations, net changing and barge towage.
The company has been responsible for delivering fish feed around the Sound of Mull area since 2006 with an increase in the feed being carried leading to the purchase of the Grace Lamont and the lease of the Havgull from LCL in Shetland, to carry out feed deliveries to sites in the northern mainland, Skye and the Western Isles. The purpose-built mooring vessels in the fleet are employed on full grid installations, barge installations, top side inspections and general site support work.
Building on Success
The latest newbuild contracts went to Nauplius Workboats after the positive experience with the construction of the 464gt/2021-built Camilla Eslea, which was delivered on budget and on time.
The previous Aquaculture newbuild had been the 176gt/2021-built Kallista Helen, a Macduff Ship Design vessel built by Ferguson's Marine Engineering, the first vessel of her type to be designed and built in Scotland. The Kallista Helen was also the 5th vessel to enter service for IMS from a Macduff Ship Design. Nauplius Workboats of Groningen has quite a history in the field of maritime vessels and, since the company began in 2006, Jaap van den Hul-Kuijten and Gerrit Knol have been combining their experience with their passion by designing, building and implementing all manner of working vessels for the commercial, industrial and farming sectors.
The company has an in-house designer, Argos Engineering, and can deliver turnkey vessels, undertake conversions or build-in components to existing systems aboard vessels. The Nauplius Workboats newbuilds Eloise Eslea and Isaac Eslea are of the Nauplius 2713 Utility Vessel design, 170gt and 27m long with a 13m beam, 3.5m hull depth and 2.7m draught. Both were designed with the latest technology, there was considerable focus on crew safety and comfort as well as low emissions and both newbuilds incorporate the latest fish welfare and high capacity delicing systems. The vessels have a diesel-electric propulsion system, thus ensuring optimum availability of power in every working condition, this also increases weather resilience. Furthermore, the inclusion of hybrid technology and cutting-edge battery technology enables the vessels to either use energy from the batteries, or store energy in the batteries when surplus energy is produced from the ship's generators. The reduced fuel consumption will in turn help drive down the operation costs for Clients.

These latest fleet members, along with the Camilla Eslea, are the first fish farm vessels in Scotland to use azimuth propulsion which enables the vessel to use full power in any direction allowing the ability to move in wind speeds which would normally not be possible with conventional vessels. Another major attribute is the Dynamic Positioning system allowing the vessels to remain stationary on any one position for long periods which is also a first within Scotland. IMS was the first service vessel company in Scotland to take delivery of a fully hybrid vessel in 2022 when the Laurence Knight was delivered from Moen Marin in Norway.
It should also be noted that Inverlussa Vessel Services is not new in using stored battery power to reduce fuel, noise and emissions. Existing vessels Margaret Sinclair, Naomi Jennifer and Grace Lamont operate on batteries overnight while the vessels are on standby, this ensures that all living accommodation is fully heated and comfortable without any generators or shore power required. The family-owned firm's continued investment in new vessels with a lower carbon footprint will enable Scottish Sea Farms' Shetland farming operations to operate even more sustainably, whatever the weather, and generate jobs and prosperity in the island communities.
Multi-Role Powerhouse
The 2713 Utility Vessel was designed as a modern, comfortable and sustainable aquaculture service craft. With a large deck area of 225sqm, the ship acts as a platform for a delousing system. The Eloise Eslea was launched on 8th October 2022, delivered on 2nd December 2022 and is a refined version of the Kallista Helen, with almost identical dimensions and offers the same capabilities. Primarily designed as a delousing vessel for the Aquaculture industry, the 2713 design is capable of operating a delousing system with a maximum throughput of 200 tonnes per hour.
After delivery, the Eloise Eslea went to Lerwick, Shetland, for the installation of Scale AQ's latest thermal delousing system, with the engineering works carried out by Ocean Kinetics, before commencing a service contract with Scotland's second biggest salmon producer, Scottish Sea Farms (SSF), in early 2023. Scale AQ is based in Trondheim, Norway, and supplied their first Thermolicer in 2014 following seven years of development. Since 2016, thermal delousing has been the most used delousing method in Norway and is currently employed by aquaculture operators in Chile, Canada, the Faroe Islands and the UK to help keep the lice situation at fish farms in check via a non-medicinal/chemical-free treatment. The lice have a low level of tolerance for sudden changes in temperature. This fact is exploited by the Thermolicer where the fish are bathed briefly in lukewarm water of 28-34 degrees. The lice die and fall off the fish, after which they are collected and destroyed.
In practice, the Thermolicer is a 22m long water trap where the fish are constantly moving in the tube. This ensures that the fish do not come into contact with any machinery or come to harm during the process. The fish are crowded and pumped into the machine where they pass through the processing loop in 25-30 seconds. The treatment water temperature is set depending on the ambient sea temperature. The treatment water is filtered, aerated, oxygenated and reused in the system. The system holds around 22,000 litres of seawater whilst in operation. The Thermolicer is supplied in a 7.5m/25ft container and the treatment tubes range 300-600mm in diameter.
The deck area above the Thermolicer unit can be used to convey equipment and is equipped with a trio of HS AK48 deck cranes that have a maximum outreach 20m and a working capacity of around 40 tonnes each. The Eloise Eslea has four deck levels from machinery space to wheelhouse with the accommodation situated in the forward mounted deckhouse. There are 6 twin berth cabins, all fitted with bunk beds, with these cabins being at Below Deck and Foc's'le Deck level. Main Deck level offers a changing/drying area, laundry facility, galley, messroom and lounge. The wheelhouse has all-round visibility. A trio of 6-cylinder Mitsubishi S6R2-T2MPTK main generators are installed for the diesel-electric propulsion with a 400kWh battery pack also available.
The 29.96 litre Mitsubishi S6R2-T2MPTK has a bore of 170mm, a 220mm stroke and measure 1,811mm (length), 1,108mm (width) and 1,694mm (height). These 2,960kg units are a 4-stroke, water-cooled diesel engine, with direct-injection, turbocharger, air-cooler and exhaust after-treatment by SCR. Propulsion is provided via two Veth L-Drive, VL-400si units, each with 1,130mm diameter propellers and an output of 468kW. Veth Propulsion's Veth Integrated L-drive was described as a revolutionary innovation that offers compact design, high efficiency, minimal noise production, low weight, outstanding manoeuvrability thanks to the 360-degree thrust, the electric drive motor is mounted within the vessel, not on the unit and there is optimal flow of water thanks to a Shark Tail on the counter-rotating propeller.
The L-drive also requires no gear transmission in the vessel and the motor is water cooled. The service speed is 9 knots and a 15t bollard pull is available for towing duties etc. Sister vessel Isaac Eslea was launched by Nauplius Workboats on 4th March 2023, becoming the 20th member of the Inverlussa Marine Services fleet.