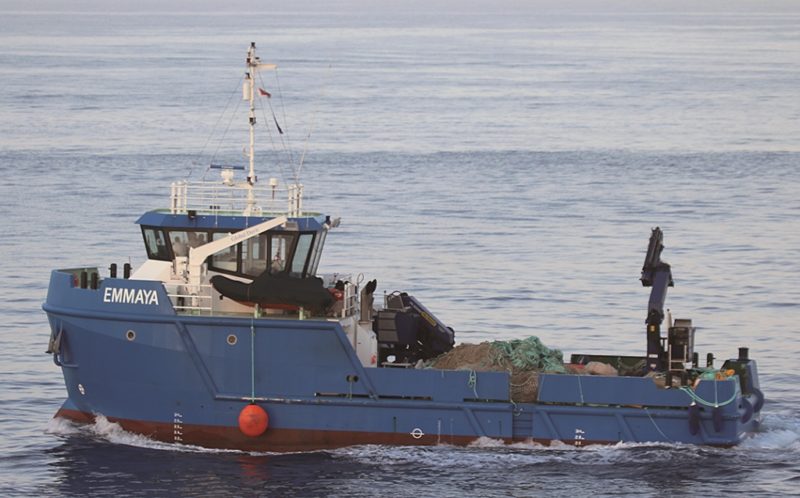 As the COVID-19 pandemic tightened its grip on the U.K, various industries were doing their very best to continue with day-to-day duties, orders, contracts etc under the restrictions, via new risk assessments (frequently updated), increased on and off-site hygiene and sanitation and enforced social-distancing across all working environments. On the South Coast, maritime-related activities during the pandemic included at Wight Shipyard in East Cowes, which was busy completing a four-vessel order for a tourist catamaran operator in Malta, whilst SMS at Hythe and Diverse Marine in Cowes were busy with their own newbuild orders for the fish farm and windfarm industries. This 2-in-1 feature highlights the latter two newbuilds that demonstrate just how productive shipbuilding still is along the South Coast, not forgetting elsewhere in the U.K of course, with other areas to be the subject of newbuild articles in the future.
Bluefin Farm Delivery Southampton Marine Services, or SMS-Group, are a UK based marine engineering services provider with a maintenance and construction facility at Hythe on Southampton Water. SMS has a fine pedigree as it unites the skills and passion of respected British luxury motor yacht specialist Shemara Refit LLP with the experience and dedication of well-known commercial shipping professionals Southampton Marine Services, Burgess Marine, Testbank Ship Repair and Small & Co with a 60-year history in the industry. The business trades from seven locations in the UK and, in addition to the provision of marine engineering services, diving and sub-surface engineering, and ship repair, the company also builds workboats and marine/civils structures such as pontoons, brows, gantries and link spans. The company has built boats for the aquaculture sector, ports and harbours, and for several marine civil engineering contractors. The company has also r built several Classic superyachts from the keel-up. At the beginning of September, the SMS Group announced that it was relocating the Southampton headquarters as part of a longer-term plan to ensure both sustainability and commercial longevity. The business has moved to Western Avenue, within ABP Southampton's footprint adjacent the King George V drydock. The SMS Group will invest in both the fabrication workshop and the new mechanical workshop plus the site will benefit from new signage and further investment in the offices. Whilst ship repair remains the focus of the business, SMS routinely builds bespoke floating structures for an ever-broadening customer base. The workboat offerings range from under 10m to circa 26m in length and are fully customisable. SMS-Group works with Walker Marine Design, a professional naval architecture and consultancy business based in Hamble-le-Rice near Southampton. The latter company specialises in the design of custom work boats and covers all technical and design aspects of naval architecture from concept design, hull design, stability assessments, draughting, steel and aluminium cutting file generation, and structural assessments. On 21st May SMS-Group announced the delivery of a 24m workboat newbuild for the aquaculture industry in Malta. The yard's previous such vessels include the 23m long Alyssa that was built for the Alness-based Leco Marine in Scotland during 2017 and carries out net cleaning and general fish farm work. Other craft delivered include the work barges Svitzer Leven, Svitzer Merlin, the Cowes-based Seaclear, and the 17.25m Ro-Ro ferry Cromarty Queen. The latest vessel, named Emmaya, is 24.45m long with a beam of 8.50m and a draught of 2.87m. She has been built to theMCA-MGN-280-Catergory 1 (150 nautical miles from a safe haven) workboat code. Her principle purpose is tuna harvesting and aquaculture/fish farm logistical and maintenance support for Fish and Fish Ltd. in Malta. The contract for the vessel was signed at Seawork 2018, the keel was laid on 1st December 2018, the vessel was launched on 18th August 2019 and delivery took place on 14th May 2020. A lengthy build programme was involved due to in-build enhancements. The 185.23gt Emmaya has a deadweightof144.749t and was shipped out of Southampton aboard the 5,460gt/2015-built heavy lift vessel Eemslift Hendrika. She arrived in Grand Harbour, Valletta, Malta, on 30th May 2020. The newbuild's first assignment was during Blue Fin Tuna Season when she departed Grand Harbour on 6th June bound for the fishing grounds. Based in Ghaxaq, Fish & Fish Ltd. has been involved in aquaculture for over 30 years and during the last 20 years has been supplying sustainable farmed Atlantic Bluefin tuna to Japanese and othermajor markets around the world. The Emmaya is usually based in Marsaxlokk Harbour. With her wheelhouse mounted forward in the bow one level above the main deck, the vessel offers a 100m2 work deck with a 100t deck-load. Two Palfinger PK32002M (CPO73) deck cranes are also fitted forward/aft in adjacent corners with a maximum outreach of 21.3m and a 30t lifting capacity. Each crane has a 1.01m footprint, is 2.53m wide and 2.35m high when folded/stowed and has a deadweight of 2,876kg. The maximum lift capacity is possible at a 8.10m outreach whilst the maximum outreach permits a 27.20tmaximum load. The machinery spaces are below decks with propulsion being provided by two Caterpillar Acert C18 600bhp/448kw/1800rpm diesel engines driving twin 4-blade 1.4m diameter fixed propellers viatwin ZF 560W inline gearboxes.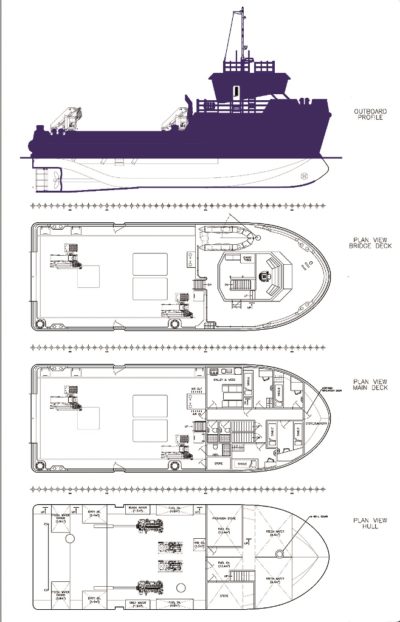 Each 18.1 litre C18 engine has a bore of 145mm, a 183mm stroke, a dry weight of 1,814kg and is around 1,854mm long, 1,198mm high and 1,134mm wide. The service speed is 9 knots and manoeuvring is assisted by a 64kW/1,800rpm Veth VT-50 bow thruster with a 450mm propeller. Beneath the wheelhouse is the galley and mess on the port side plus two single cabins. A further three cabins and wash facilities are located on the starboard side for the crew of5. Beneath the accommodation area in the bow are the fuel and water tanks plus the stores.
A New Farm Cat

A few miles away from Hythe and across the Solent, Seacat Services entered the offshore energy support vessel (OESV) industry in 2010 and by 2013 was launching its fifth multipurpose wind farm support vessel, the 24m long and 78gt Seacat Defender, in May 2013. Based in Cowes, I.o.Wight, the company has worked with wind farm operators, turbine manufacturers and other contractors across a range of activities relating to wind farm installation and operation and maintenance (O&M). The fleet of craft is capable of supporting a variety of activities through the construction phase of a wind farm, and also the ongoing O&M of these assets. The vessels carry personnel and their vital service equipment, but can also accept significant cargo payloads. This versatility allows them to conduct an array of tasks including supporting the cable-laying vessel, cable-termination teams, turbine technicians and diving teams. The fleet grew to 14 vessels and these actually reached maximum occupancy for periods of 2018, reflecting the growth of the offshore wind sector and the resulting increase in demand experienced by the vessel support market. On 9th April 2019 Seacat Services announced that it had placed a multi-million-pound order for a new next-generation Chartwell 24 Offshore Wind Catamaran. Named Seacat Weatherly, the OESV was designed by Southampton-based naval architect Chartwell Marine and was constructed by Isle of Wight firms Diverse Marine and Aluminium Marine Consultants (AMC) in Cowes, providing a boost to the renewable energy supply chain on the South Coast.
At the time of writing the fleet stood at 13 vessels with a 14th on the way (delivery expectedSeptember2020). To make way for the two Chartwell 24 newbuilds, the 24m/78gt and 2012-built Seacat Resolute and Seacat Vigilant were sold to CWind Taiwan, a joint venture between CWind and International Ocean Vessel Technical Consultant (IOVTEC). They were shipped out from the UK in June 2020 to work on a contract for Siemens Games a Renewable Energy (SGRE). The acquisition comes at a time of rapid expansion in the Taiwanese offshore wind sector, which in turn is driving demand for vessels proven to set the highest standards of safety and technical availability. The newbuild contract included an option for a further vessel, which was later taken up to become the Seacat Rainbow, delivered autumn 2020. Diverse Marine in Cowes handles the vessel construction and evolved from South Boats I.o.W in July 2018 when the new company's Directors acquired the assets and equipment of their former employers, South Boats I.o.W., securing the employment of 20 staff on the site at Medina Yard. The facility continues to build and maintain the Seacat Services fleet as well as offering vessel design, newbuild, refit and repair services. Delivery of the 111gt/2020-built Seacat Weatherly to Seacat Services on 23rd July 2020 was confirmed four days later and, once sea trials/training were complete, she headed straight onto her first charter contract at a major UK offshore wind project. In September she was based in Wick on the east coast of Scotland. The aluminium hulled craft was successfully handed over despite the challenges and pressures created by the Covid-19lockdown. The newbuild brought a number of key technical innovations to the market including advanced engine and hull design, a large foredeck and safety features such as step-free access, sliding handrails and unrestricted visibility from the wheelhouse. Another huge bonus was the fact that the vessel design offers high levels of operational familiarity for crews and technicians, meaning that the Seacat Weatherly fits seamlessly into the existing fleet and ensures effective management of spares and inventory.
The Seacat Weatherly has an overall length of 23.80m, a beam of 8.87m and a maximum draught of1.31 metres. The layout of the vessel is simple and functional, laid out over three decks. Located aft within each hull are the machinery spaces. The catamaran is fitted with two 1,080kW (1,450bhp) and 2,250rpmMTU 2000 M72 diesel engines. These 12-cylinder and 26.80 litre units have a 135mm bore, a 156mm stroke with dimensions of 3,240mm long, 1,360mm wide and 1,460mm high. Each engine has a dry weight of 3,680kg and is connected to a ZF 3050 gearbox. The latter consists of a 3-shaft, reverse reduction transmission with hydraulic clutch mounted on the input shaft and another one mounted on the reverse shaft. The input drive is located on the opposite side to the output drive. These are favoured for use with high performance applications in all types of fast craft, luxury motor yachts, patrol vessels and crew-boats. Propulsion is provided by a pair of Kongsberg Kamewa S56-3/CA waterjets. The craft is EPA Tier 4 and IMO Tier 3 compliant plus the design also allows for both diesel and hybrid propulsion options plus a four-engine option to create redundancy and limit maintenance downtime. Forward of the engine rooms are fuel and water tanks, void spaces plus the collision void in each bow section.
Some versions of the Chartwell 24 can include below-deck accommodation in the hulls. The hull and engine configuration have been designed to provide superior transit speed (29 knots) and manoeuvrability, alongside high bollard push and frictional holding force, both of which are critical attributes for vessels 'pushing on' to offshore wind turbines and other infrastructure. The main deck features one of the largest foredecks on the market, enhancing cargo-carrying capacity. Two 10ft containers can be carried with equipment able to be transported between fore and aft using a pallet truck. In the starboard bow is provision for the installation of a deck crane. The cargo deck is 60m2 with a deck load of1.75t/m2. The crew transfer zone in the bow is optimised for safety with designated walkways, handrails and safety sliding rails positioned for safe and repeated crew transfers. Aft of the working deck is the accommodation superstructure with seating for 24 technicians plus four crew members. The accommodation on these vessels can be configured for 12 or 24 or 28 person.
Beyond the seating area, moving aft, is a dedicated wet room with space for changing and the storing of Technician baggage plus a galley area for these personnel. Above the seating area is the wheelhouse, located in such a way that there is a clear view of the bow fender without obstruction whilst the vessel is carrying two containers. The Skipper is seated as far forward as possible to maximise the field of view over the foredeck and the configuration provides total control and complete visibility during complex logistical and crew transfer operations. A crew sofa and coffee table is located on the starboard side of the wheelhouse whilst a crew mess area for briefings, planning and dining is situated aft. The Chartwell 24 has been described as "hitting a sweet spot" in size and capability compared to many similar vessels currently operating in the offshore wind market. The latest design builds on lessons learnt supporting European projects throughout construction and operation, while also meeting new requirements emerging in markets such as the USA and Taiwan. Indeed a 19.80m long Right Whale Migration Path Compliant version of this pioneering Chartwell 24 OESV is available for overseas markets.