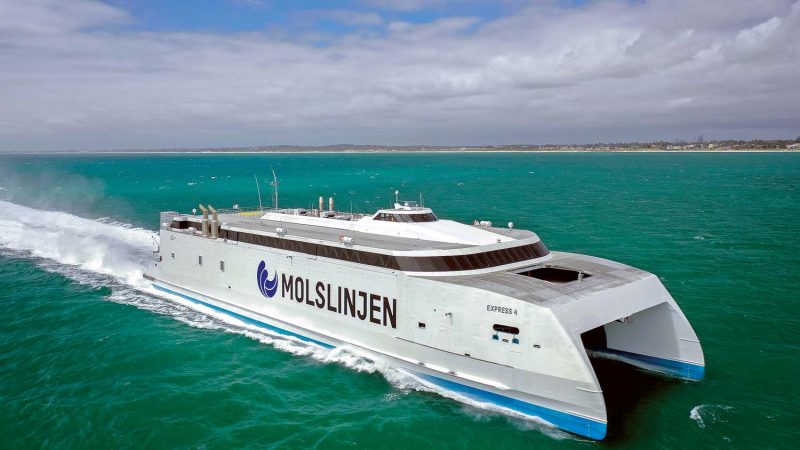 As a follow-on from the April issue's Newbuild of the Month feature about Incat's latest delivery, the 9,044gt/2019 built Saint John Paul II of Virtu Ferries, this month's subject was spawned from rival Australian fast ferry builder Austal. The company was founded on 8th August 1988 in Perth, Western Australia, so celebrated 30 years of business in 2018. The headquarters are now in Henderson, Western Australia. Austal set out with a vision to build high quality commercial vessels for the international market and, three decades later, continue to do just that. Today, Austal is a global shipbuilder and defence prime contractor. A recognised world leader in the design and construction of customised commercial and defence vessels, the company lists many of the world's leading ferry operators, navies and defence forces as valued clients. Austal has delivered and continues to construct more than 300 vessels for 100 operators in 54 countries around the world. An extensive product range includes passenger and vehicle-passenger ferries, patrol boats, high speed support vessels, surface combatants and revolutionary, multi-role vessels.

Austal established a shipyard in the USA in late 1999, and is now one of the largest employers in Mobile, Alabama, serving as the centre of manufacturing for the Littoral Combat Ship (LCS) and Expeditionary Fast Transport (EPF) programmes for the US Navy. In 2011, Austal acquired a major commercial shipbuilding facility at Balamban on the Island of Cebu in the Philippines to construct high speed passenger, vehicle-passenger ferries, offshore crew transfer and windfarm vessels for growing South East Asia markets and beyond. On 14th May 2018 Austal announced investment of up to $30 million for capacity expansion. This investment was focussed on the Company's commercial shipbuilding facilities in Western Australia and Asia. The Henderson yard received an upgrade to the facilities, including enhanced launch facilities to support large vessel construction and infrastructure upgrades to support improved efficiency across the operations. The Cebu, Philippines, facility received an $18 million investment to more than double the capacity of its existing shipyard with upgrades including a new 120m long and 42m wide assembly hall to enable larger craft to be built here. The work also involved additional assembly bays, material storage and accommodation facilities to allow the workload at the site to increase to more than twice its historic peak. A small commercial shipyard was also opened in Vung Tau, Vietnam, to provide additional high-quality aluminium construction support to Austal's commercial operations both for modules for larger ships (supporting Austal Philippines) and to build smaller high-speed aluminium vessels. Austal Vietnam operations are operating in a leased facility requiring only minimal capital investment. Austal's passenger catamarans and monohulls range in length from 24m to 56m (the 56m Halunderjet of FRS was a previous newbuild subject) and can be found at various locations around the world. The Auto-Express range of passenger and vehicle ferries range from 40m to 112m in length with the stabilised monohull varieties (described as trimarans) being 102m long (6,307gt/2010 built Condor Liberation) and 126.70m long (Fred. Olsen Express' 8,973gt/2005 built Benchijigua Express). At present, only two Austal vessels operate from U.K ports, the Condor Liberation and Irish Ferries' 8,403gt/2001 built Dublin Swift (built as the Westpac Express). The Austal website shows around 44 vehicle/passenger highspeed craft of which the latest is the subject of this article, the 11,345gt/2019 built Auto Express 109, Express 4.
Sign-up today to read the full article!
Simply click below to sign-up and read the full article, as well as many others, instantly!