A Handsome Emigrant Ship and Cruise Liner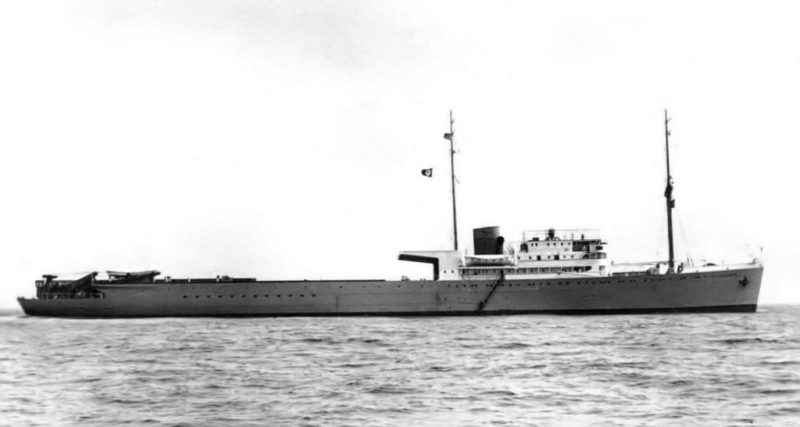 Societa Italiana Transporti Marittima S.p.A. (Sitmar Line) was founded at Genoa in 1938 by Russian emigrant Alexandre Vlasov as a tramp ship company owning two or three tramp ships that were all lost during World War II. In 1947, Vlasov purchased the 27 year old tanker Brezza of 7,366 grt and 10,300 dwt, and two standard 'Victory' types, Vassar Victory and Wooster Victory, the latter arriving in Genoa in 1950, to restart shipowning. Brezza had been built in 1920 by the Baltimore Dry Dock and Shipbuilding Company as Betterton for Associated Oil of San Francisco with triple expansion steam engines built at Hamilton (Ontario), but she was soon sold on for trad­ing on charter to the oil majors. Vlasov did not enter the North Atlantic passenger trades to Central America until 1953, but concen­trated instead on the booming emigrant trade to Australia and New Zealand, with refugees from the turmoil of World War II seeking new lives thousands of miles away from war-torn Europe. The emigrant ships were chartered to the IRO (International Refugee Organisation) run by the United Nations.
The British India Line passenger liner Kenya, built in 1930 by Alexander Stephen & Sons on the Clyde, then laid up on Holy Loch after war service as a landing ship, was pur­chased in 1949 and towed to Genoa in 1951 for conversion into an emigrant ship carrying 596 Cabin Class and 944 Emigrant Class pas­sengers in dormitories in the holds. She was renamed Castel Felice and made her maiden voyage from Genoa on 6th October 1952 to Melbourne and Sydney. However, after a single round voyage to Australia she was transferred to a new service between Genoa and the Caribbean. She was employed on this service and another to the River Plate until October 1954, when she made her first sailing from Bremerhaven to Australian ports with emigrants on 6th October 1954, and her first sailing from Southampton to Australian ports with emigrants on 6th April 1958. She had accommodation for 28 First Class passengers and 1,173 Emigrant Class passengers and continued in service to Australian ports until sold for breaking up in 1970.
A standard 'C3' type that had been laid down as Rio de la Plata for the famous Moore-McCormack Lines service to South America, but completed instead as the Attack Escort Carrier Charger, was purchased in 1949 and converted into an emigrant carrier, renamed as Fairsea. She entered service in 1950 from Bremerhaven to Fremantle, Melbourne and Sydney, and from Southampton on 6th December 1955 to the same Australian ports under the assisted pas­sage scheme known as 'Ten Pound Poms'. She was extensively refitted at Trieste in 1958 and continued in the emigrant trades until 1969 when she was disabled by an engine room fire and was broken up at La Spezia later in the same year. She had also made occasional voyages in summer months on the Central American emigrant trade, as she was fully air-conditioned and after an extensive refit at Trieste she had modern one class accommodation for 1,460 passengers.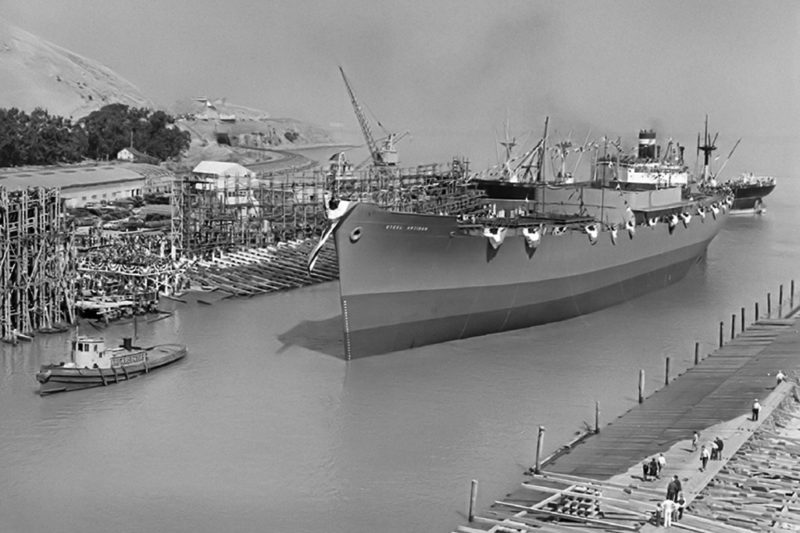 Vassar Victory and Wooster Victory after conversion into emigrant carriers as Castel Bianco and Castel Verde, a task made easier as they had both been troopships at the end of the war, were transferred to the Central American service in 1953 with austere accom­modation for 480 Third Class and 400 Steerage Class in the holds, but after four years Vlasov withdrew them and sold them to Trasatlantica of Spain to become Begona and Montserrat in 1957, and well known for their many voyages from Southampton to the Caribbean until the early 1970s when they were broken up.
 THE HANDSOME FAIRSKY
She was actually the second ship of this name in the Sitmar Line fleet, the first had been built as the seaplane carrier Friesenland of 3,828 grt for Lufthansa in a scheme where urgent mail was sent off by her aircraft, lifted into the sea when she neared the American coast on her way to New York. She was cap­tured by British forces in 1945 and purchased by Vlasov in 1949 and converted into a reefer ship with limited passenger accommodation. She was laid up in 1967 and sold a year later for further reefer service as Argentina Reefer until broken up at Faslane in 1969.
Fairsky (2) was originally laid down on 17th April 1941 as a 'C3' cargo type named Steel Artisan by the Western Pipe and Steel Company at San Francisco for the Isthmian Lines Steamship Company, and was launched in late September 1941. However, before completion she was requisitioned for conver­sion into an aircraft carrier named USS Barnes for the U.S. Navy. She was then quickly selected to be transferred under the 'Lend-Lease' scheme to the Royal Navy and renamed as the lead ship of the eight ship 'Attacker Class' as HMS Attacker. In total by the end of the war, 38 escort carriers had been transferred to the Royal Navy that had been built in the United States.
HMS Attacker was equipped with 24 air­craft in the long hangar deck under the flight deck, and for defence she was equipped with two guns of four inch calibre in single mounts, eight Bofors guns of 40 mm calibre in twin mounts, and 21 Oerlikon guns of 20 mm calibre in single or twin mounts. She was commissioned on 30th September 1942, and took part in the long North Atlantic battle against the U-boat during 1942-1944, the Salerno landings in 1943, South of France in 1944, Aegean Sea in 1944, and in the Pacific theatre of war until she was decommissioned on 5th January 1946 at Norfolk (Va) Navy Yard. She had a complement of 646 men, who did not sleep in hammocks as in other Royal Navy ships of this time, but on bunk beds in three tiers, with 18 beds to a cabin. They had separate galleys and messes, and meals were served in a modern cafeteria off a central dining area.
In her convoy protection role, HMS Attacker carried Fairey Swordfish biplanes that could be armed with torpedoes, bombs, depth charges and rocket projectiles, and later with American Grumman Avenger aircraft. North Atlantic patrols lasted for two to three hours, with one aircraft working the sea area ahead of the convoy, and another aircraft worked the sea area aft of the convoy, both using radar and visual observation. She also had a secondary role in refuelling the convoy escorts. In her attack role with other carriers and warships, she carried fighter aircraft such as the Sea Hurricane, Supermarine Seafire, American Grumman Wildcat, or Vought F4U Corsairs. The flight deck measured 450 feet by 120 feet, while the hangar below was 260 feet by 62 feet, while her original overall length as a 'C3' type was 492.0 feet with a moulded beam of 70.0 feet and a loaded draft of 25.7 feet. The Navigating Bridge and Flight Control structure was on the starboard side, and there were two aircraft lifts with dimensions of 42 feet by 34 feet. She was powered by twin Foster Wheeler boilers raising steam at 285 psi to twin General Electric steam turbines developing a total of 8,500 shp giving her a cruising speed of 17.0 knots, while flat out they provided 17.5 to 18.0 knots. She was a single screw ship with steam powered deck auxiliaries, and displaced 11,600 tonnes with a full load of armaments, aircraft, stores, equipment and fuel oil.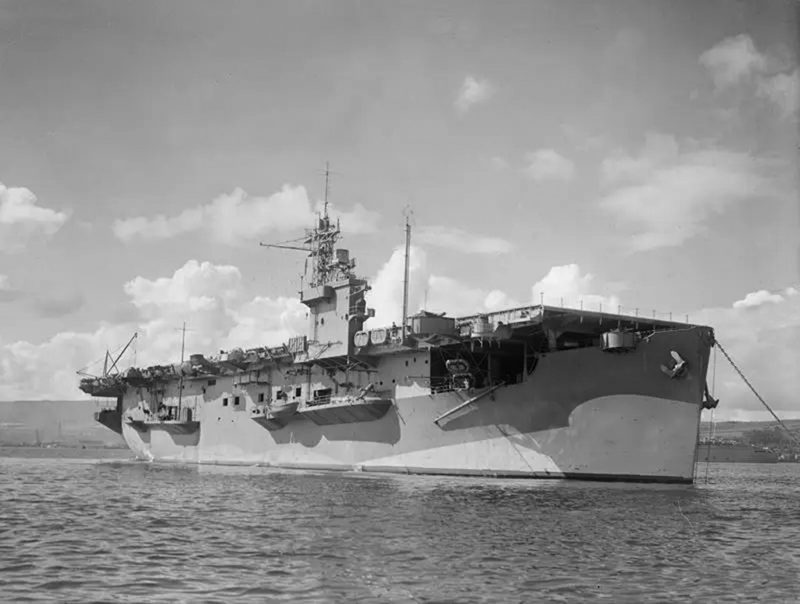 She was sold out of lay-up on 28th October 1948 to National Bulk Carriers headed by Daniel Ludwig, who removed her flight deck and wartime guns and fittings with the intention of converting her to a cargo ship, but work was stopped in 1950 when she was sold again to the Navcot Corporation, a sub­sidiary of Sitmar Line. She was renamed Castelforte and registered under the Panamanian flag for conversion to a reefer ship, but the plans were changed again at the Newport News Shipbuilding and Drydock Company for her to be laid up for four years.
She was renamed during lay-up as Castel Forte, in line with other Sitmar Line migrant carriers with double word names in 1954. She returned to the same shipyard in February 1957 to be fitted with a raked new bow that slightly increased her overall length, with many air conditioning air compressors installed for cooling air for both the passen­gers and her crew, and her propulsion plant was overhauled. She sailed on 28th January 1958 from Newport News to Genoa under the command of Capt. Jorge Petrescu with a crew of 43 and berthed at the fitting out berth at the yard of Marriotti to be transformed externally and internally into a beautiful modern passen­ger liner. Externally, she had curved forward parts of the superstructure on each deck, a modern funnel of Italian design, and a tall tri­pod radar mast atop the bridge. Three noted interior designers were employed in Herr Stormer from Bremen and two Italian interior designers. She was given six decks for pas­sengers in Sun Deck, Boat Deck, Promenade Deck, 'A' Deck, 'B' Deck, 'C' Deck, while Navigating Bridge Deck had the wheelhouse, chartroom, and Master's and officers accom­modation, and 'D' deck was a forward half accommodation deck only for the crew. The wheelhouse was equipped with direction finders, electric signalling device, gyro com­pass, radar and radio telephone.
These five passenger decks were as follows:-
SUN DECK
A forward observation lounge was followed by the small Venus Lounge to port and the Minerva Lounge to starboard, followed by outside cabins to port and starboard and inside cabins in the centre of the deck until the Verandah Bar was reached at the rear of the deck. This small venue had seating for only 26 persons, three of them on bar stools, with the bar on the starboard side. As in the Lido Lounge one deck down, there were floor to celing windows along the aft part, and the room was especially colourful with blue seats and grey and yellow lampshades as contrasts.
Sun Deck had eight staterooms with private facilities, the only cabins to have these facil­ities on the entire ship. Four outside De Luxe Staterooms and one inside De Luxe Stateroom had spacious bathrooms with a full length bath and an overhead shower, washbasin and toilet. They each had a sofa that turned into a bed to sleep two more guests, and these state­rooms were sold for three to six persons. In addition, two of these cabins had intercon­necting bathrooms between them, this bath­room had only a shower and a toilet while washbasins were located in each stateroom. When one occupier of a stateroom was in this bathroom, they just locked the inside doors to the other stateroom and a red sign would show up in that stateroom. Three further state­rooms had their own bathrooms consisting of a shower and a toilet to give a total of eight staterooms with private facilities.
BOAT DECK
There were seven large lifeboats on each side, making a total of fourteen boats, two with engines, and all with very distinctive dark green covers on top. Boat Deck was the deck for all of the Main Lounges in the ship, for­ward was the Grand Social Hall where the ship's band of four musicians would play at most times on a special stage in the evenings for dancing in the front section of this room. A well-stocked bar was centred at the rear of this grand room. A multitude of round tables each with four comfortable easy chairs was provided, while other tables were located in front of curved long settees. There were two small doors to port and starboard to give access to an open forward area for deck tennis and other games.
Walking out aft from the Grand Social Hall, one came to the Lobby followed by the Reading and Writing Room to port and the Children's Playroom to starboard. The next room was one of the most popular rooms on the ship, the Bavarian Beer Hall, featuring much timber effects and a 'U' shaped bar. The final venue aft was the Lido Lounge and Bar that had eleven vertical floor to ceiling glass windows overlooking the ship's swimming pool and her aft decks. This bar was centrally placed aft with again a multitude of tables with four easy chairs.
PROMENADE DECK
This deck offered three main Dining Rooms named 'A', 'B' and 'C', with 'C' forward of 'B' and the larger 'A' Dining Room far aft at the rear of the deck. A huge galley in two port and starboard sections separated 'A' Dining Room from 'B' and 'C' Dining Rooms, and provided meals for two sittings in each of the three Dining Rooms. This was a most unusual dining and serving arrangement !
'A' DECK
The heart of the ship was the large and shapely full deck wide Foyer and Entrance Hall 'midships with four curved corners. Located forward of the foyer on both port and starboard sides were offices for the purser's staff and the main Purser's Office in the middle of the foyer. Just aft of the large foyer were the Shop on the port side, and the Ladies Beauty and Hairdressing Salon and the Gentleman's Barber on the starboard side.
'B' DECK
This deck had two secondary Entrance Halls 'midships and aft on the starboard side, while further aft was the Luggage Room that was opened to passengers at various times. On the port side aft was the Doctor's Surgery, Waiting room, Isolation Ward and Hospital.
'C' DECK
This deck had passenger accommodation for­ward and aft of the engine room spaces, and there were six lifts including two 'midships and four aft that operated between 'C' Deck and Sun Deck, stopping at all intermediate decks.
Castel Forte wasin dry-dock for one week in May 1958 to remove all of her old signage on her passenger decks, as well as the name of Castel Forte from her hull to substitute instead the name of Fairsky of the Fairline Shipping Corporation, a subsidiary of the Sitmar Line. She then ran her sea trials to give a satisfac­tory flat-out top speed of 17.5 knots to 18.0 knots for a four to five week passage to Australian ports for her 1,461 one class pas­sengers and migrants. The passengers were allocated either one of 192 two berth cabins, or one of 261 four berth cabins. She was equipped with four small electric cranes to service the forward and aft holds with passen­ger luggage and cargo. She made her maiden voyage as Fairsky on 26th June 1958 from Southampton carrying 1,430 passengers and 'Ten Pound Poms' assisted migrants, calling at Le Havre and Port Said, Suez Canal, Aden, Colombo to Fremantle, where she arrived on 21st July 1958, and Melbourne on 27th July with an arrival at Sydney on 29th July 1958 and a final arrival at Brisbane on 1st August 1958 at the Hamilton Wharves.
In October 1958, Fairsky, Fairsea and Castel Felice were fully employed on the lucrative assisted passage scheme to Australian ports either from Southampton or Bremerhaven via the Suez Canal to Fremantle and the full range of Australian big ports. The Commonwealth Government of Australia then gave nationwide publicity to their own assisted passage scheme as the number of assisted passage migrants continued to rise between 1957 and 1964. The following details of numbers of assisted passage arrivals in Australia (numbers of migrants from the United Kingdom in brackets) are taken from the January 1965 issue of the Quarterly Statistical Bulletin of the Department of Immigration of Australia.
1957-1958       54,659 (31,027)
1958-1959       58,020 (29,885)
1959-1960       69,317 (33,897)
1960-1961       66,996 (34,700)
1961-1962       42,062 (27,070)
1962-1963       57,159 (41,700)

1963-1964       71,052 (54,630)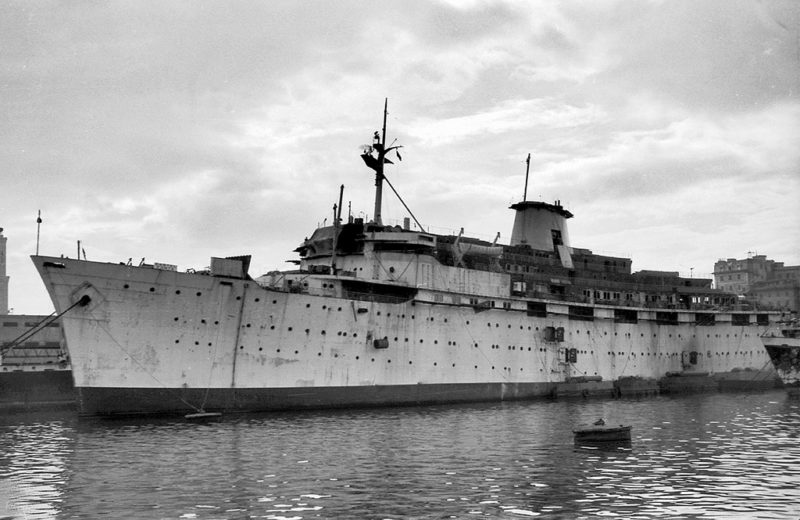 Successive Australian Governments offered incentives to overcome the reluctance of British migrants to settle in faraway Australia, with Canada being only one quarter of the distance from British shores. The incentives ranged from free land, then land on long lease at peppercorn rents, to free and then heavily subsidised voyage rates. These did not end until 1981 when the successor to the famous 'Ten Pound Poms' scheme was finally aban­doned. There was also a lot of pro-British propaganda, e.g. 'A British People in a British Land' said the caption to an Australia House brochure of the early 1960s.
In December 1961, Fairsky made her first arrival with emigrants at Auckland in New Zealand. She made her first cruise out of Sydney in 1962 to South Pacific island ports, and was joined by her larger emigrant fleet mate Fairstar, the former Bibby Line troop­ship Oxfordshire of 1956 from the Fairfield yard on the Clyde, which had only served as a troopship for six years. She was sent to the Wilton shipyard at Schiedam for conversion into an emigrant ship, including the fitting of air conditioning, which took until May 1964. Bibby Line wanted to charter the ship to Vlasov for six years, but the difficulty in writ­ing a charter party to cover a very fast turn­round at Southampton and a crew to consist of British, Italian and Indians and with their own requirements, it was found to be a lot easier to sell the ship to the Fairline Shipping Corporation.
Castel Felice also operated cruises from this time of 22 days duration from Sydney into the South Pacific islands of Fiji, Samoa and other Polynesian islands. Fairsky also continued with her assisted passage voyages, an example was her sailing from Southampton on 27th September 1963 from Southampton to Melbourne via the Suez Canal, Aden and Colombo. Fairsky, Fairstar and Castel Felice continued in the Australian trade from the mid 1960s, working outwards from Southampton with migrants and homewards with normal fare paying passengers, usually returning across the South Pacific to Papeete and the Panama Canal and then to Curacao, Lisbon and Southampton. In 1966, Fairsky was trans­ferred from the registry in Panama to that in Monrovia in Liberia, both 'flags of convenience'.
Fairsky completed on average five round voyages to Australia and New Zealand per year, allowing two weeks for annual dry-docking and maintenance, sailing around 58,000 miles each year.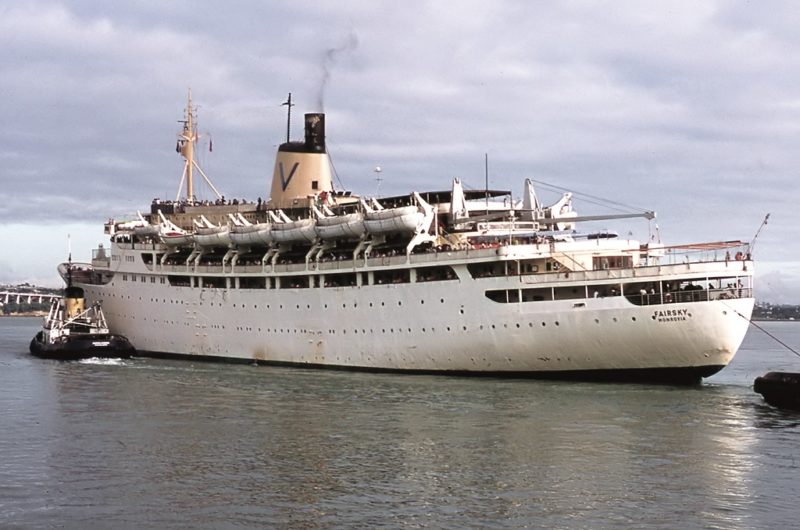 The closure of the Suez Canal from 5th June 1967 after an Arab attack on Israel began the Six Day War, and caused the loss of access by shipping to the Suez Canal for seven long years until June 1975. Tankers increased in size to megasizes of 300,000 dwt to offset the fuel costs of the longer route from the Persian Gulf to Europe and the Gulf of Mexico via the Cape of Good Hope. Fairsky had her itinerary changed during those years of 1967 to 1974 to Australia as Southampton, Lisbon, Casablanca, Tenerife, Cape Town, Durban, Fremantle, Adelaide, Melbourne, Sydney, Brisbane, Auckland, Wellington and return by the Pacific islands of Fiji at Suva, Rarotonga, Pago Pago, Papeete, Acapulco, Balboa and the Panama Canal, Curacao and the Azores back to either Southampton or Rotterdam. Fairsky suffered an engine breakdown in November 1969 at Cape Town on a voyage from Southampton, and the problems required a stay of several days with passengers enjoying day trips from Cape Town. Fairsky then crossed the Indian Ocean at slow speed as her engines had not been fully repaired, and arrived at Fremantle twelve days late. She was fully repaired at Fremantle, while passengers for the other Australian ports crossed the continent by train. She sailed from Brisbane on 12th March 1970 for a return passage across the South Pacific calling at Tahiti and through the Panama Canal to Curacao, the Azores and home to Southampton.
The period in which I became most fam­iliar with passenger shipping at Southampton was the six years from the start of 1970 until towards the end of 1975. I was working on defence contracts at Bracknell and came down to Southampton on almost every weekend staying until late on Sunday. The great liners of Cunard Line, French Line, P. & O., Union-Castle Line, Hapag-Lloyd and several other Continental lines were lovely to see in their variety of styles of design. Trips on harbour cruises and on the little 'Hotspur' ferries to Hythe became enduring memories, as was the sight of the former Cunarders Carinthia and Sylvania, built by the John Brown yard on the Clyde during 1955/57, laid up at berth 101 Western Docks near the Mayflower Park since 1968. They had been purchased by Sitmar Line in 1968 in anticipation of increased pas­senger and migrant traffic to Australia, how­ever Sitmar lost the lucrative migrant contract to Chandris of Greece in 1970, who used the former Matson Line Britanis and Ellinis, and the Australis, the latter being the former America built in 1940 for United States Lines.
Carinthia had the name Fairland and her sister Sylvania had the name Fairwind, with both being sent to Italy during 1970/71 to be converted into luxury cruise ships, with Fairland renamed as Fairsea in 1970. This pair then became very successful cruising on the American market, with Fairwind sailing from Fort Lauderdale to Caribbean and Mexican ports, and Fairsea from Los Angeles to Acapulco in winter and from San Francisco to Alaskan ports in summer. I remember also seeing Fairsky laid up at Southampton from February 1972 until she came out of lay-up on 8th November 1973, sailing with passengers for Australian ports. She had continued during 1970/72 with passengers to Australia after the loss of the migrant trade, and she made a final call at Southampton on 2nd June 1974, having also called at Rotterdam on 29th May 1974, sailing with passengers for Australia. In November 1974, she took the alternative route outbound from Rotterdam and Southampton with calls at Funchal and Curacao before pas­sing through the Panama Canal for another call at Papeete on the island of Tahiti, where passengers could again go ashore.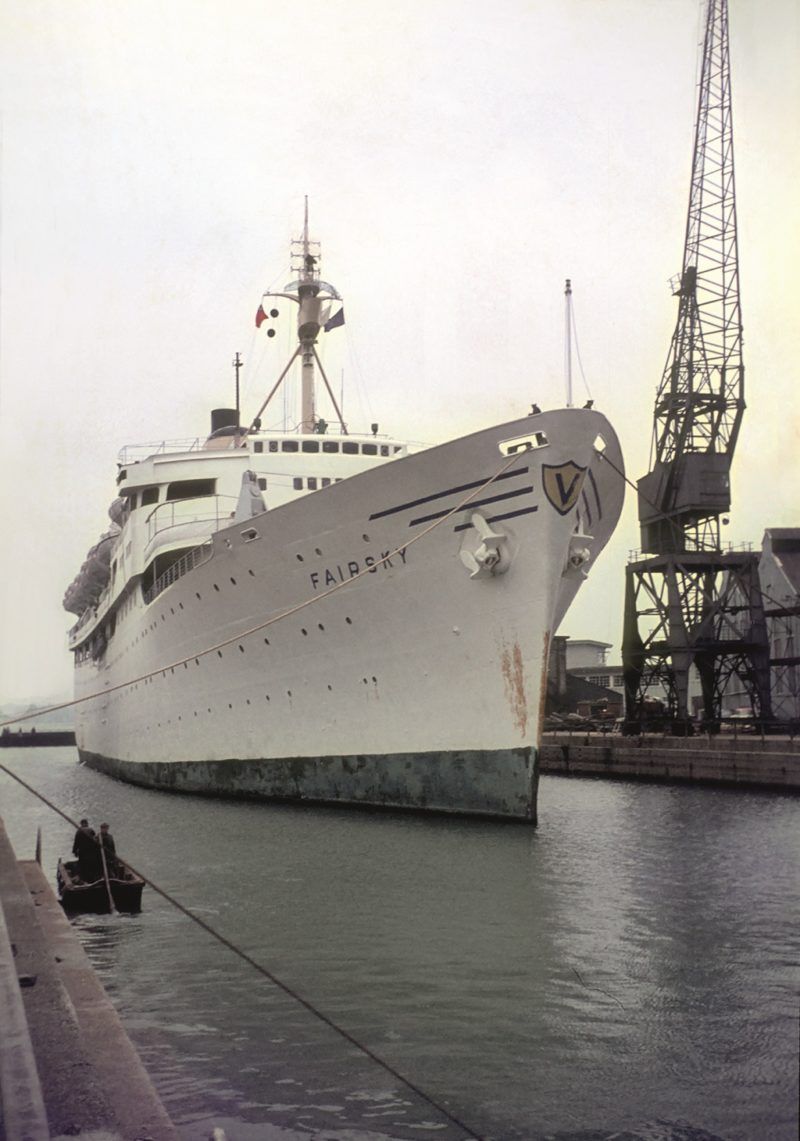 Fairsky was then converted into a full time cruise ship, with the starboard side of the forward Dining Room 'C' converted into a large cinema with much comfortable seating and the showing of the latest movies from Holywood as well as travelogues. She made Sydney her new home port, as she was already well-known there, and cruised to Noumea, Fiji, Tonga and other Polynesian ports. She enjoyed more success, with her ship's band playing continually as she departed Sydney under the Sydney Harbour Bridge until well after she left Sydney Heads.
Fairsky sailed from Sydney in early June 1977 and from Darwin on 12th June 1977 for a cruise to Singapore and Djakarta on Java. After passengers had enjoyed the port of Tanjong Priok, several miles from Djakarta, she sailed from that port on 23rd June 1977 but grounded on the recently sunken wreck of the combi ship Klingi outside the harbour, causing a hole underwater on her bow. She was down several feet by the bow, and her Master decided to beach her on a nearby sandbank to prevent her from sinking. All pas­sengers were ordered to assemble on the Sun Deck with lifejackets ready, and were then evacuated to shore hotels using the ship's life­boats and Indonesian shore tenders, and were repatriated to Australia by air. The hole in her bow was filled with concrete and she pro­ceeded to Singapore under her own power for a dry-docking. A better temporary patch was placed over the hole in the bow, but Sitmar Line decided not to repair her permanently, and instead put her on the sale market.
Breaking her up for scrap was her most likely option, but at the last moment while awaiting demolition at Hong Kong, having been sold to Fuji Marden & Company, she was purchased by the Peninsula Tourist Shipping Corporation of Manila in the Philippines for conversion into a floating hotel and casino ship. She was towed from Hong Kong on 23rd May 1978 by the Singapore tug Salvaliant to the port of Mariveles, home of the Bataan Shipyard and Engineering Company, and was renamed Philippine Tourist. However, as she was near­ing completion with bright red and yellow hull bands and her all white superstructure topped by a white funnel with two red and yellow bands, and her decks containing refur­bished hotel rooms and casinos, she was destroyed by fire on 3rd November 1979. The gutted wreck was reduced by fire into a tragic sight, and it was sold back to Fuji Marden & Company, and towed back under the name of Fair Sky to Hong Kong and broken up during 1980.
Sitmar Line commissioned a much larger and more luxurious cruise liner in 1984, when Fairsky (4) of 46,087 gt with accommodation for 1,350 passengers was completed at Toulon for the American cruise market to bring fleet strength back up to four cruise ships, the others being Fairsea, Fairwind and Fairstar. Sitmar Cruises was purchased by P. & O. in July 1988, and temporarily boosted the P. & O. Cruises and subsidiary Princess Cruises by three ageing cruise ships of thirty year vintage and one new one, Fairsky (4), renamed Sky Princess.
The veterans were quickly sold off, with the main reason for the purchase being to gain ownership of three new megacruise ships ordered by Sitmar Cruises and under con­struction at French and Italian yards as Star Princess, Crown Princess and Regal Princess, and later completed between 1989 and 1992. The combined P. & O. Cruises and Princess Cruises had thus been given a much-needed boost to seven new cruise ships in 1995 when a new Oriana was completed.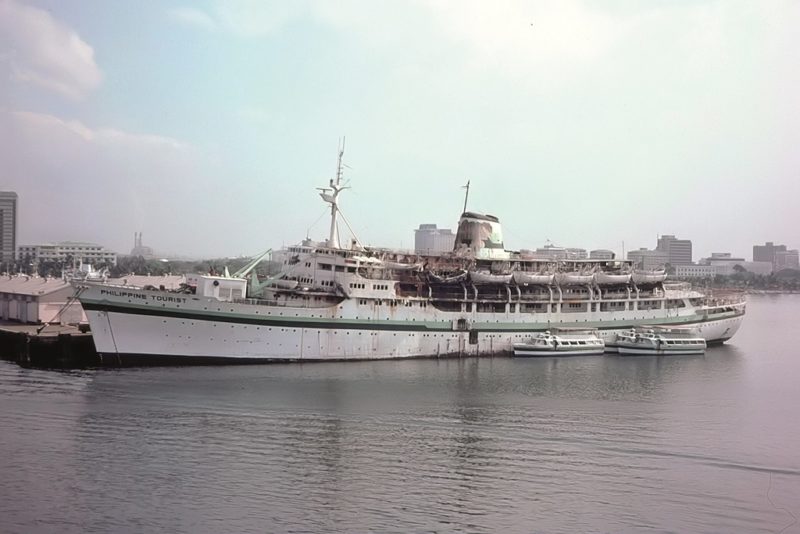 LIFE AT SEA ONBOARD FAIRSKY
The long passages to Australia took four to five weeks to reach their destination ports, and Sitmar Line was well aware that they could be very tedious to most passengers if they had not solved this basic need for exer­cise and to provide activities for passengers. All of the five passenger decks had teak clad open spaces at the rear of the deck together with a deep swimming pool on Boat Deck. Courts were marked out for deck tennis, quoits and table tennis, and the Purser assisted passengers in forming a Sports Committee for the arranging of deck games tournaments.
The crew provided entertainment for passen­gers, details of which were widely displayed on notice boards throughout the ship on the Daily Activities List. Dinner dances and var­iety shows were also staged, with one of the guest groups singing onboard being 'The Seekers' on their way to the U.K. to begin a career which would make them very popular in the U.K. for much of the 1960s. The obli­gatory mock ceremony of crossing the Equator with King Neptune, one of the Italian crew, in attendance was popular, whether or not passengers had crossed the Equator line before. The ship's band played requests that could be heard in all three of the Dining Rooms in the hour before dinner, and also on Gala Nights, Fancy Dress Parties, and the Captain's Welcome and Farewell nights.
Children had their own meal sittings at lunch and tea times free from the shackles of their parents, as well as cartoon films with occasional academic lessons particularly on the geography of their chosen destination country of Australia. At the end of each voyage, each child received a free of charge quality toy from Sitmar Line. When sailing eastbound via the Suez Canal, Fairsky would be stationary for a short time at Port Said while waiting to join a southbound convoy, and was then surrounded on port and star­board by many 'bumboats' selling cheap trin­kets and hastily developed and colour tinted photographs of the ship, as the photographers only had reels of black and white film. A stop was always made at Aden, where passengers could go ashore and stretch their legs for the first time since sailing. Arab dealers would have plenty of cheap consumer goods and locally made rag dolls for sale. The more intrepid migrants took taxi rides into the interior desert areas, where the villages were full of adults and children mobbing the path of the taxi and begging for food or money or both.
When sailing westbound from the U.K. to Australia or New Zealand, the stopping ports for refuelling Fairsky were much more colourful and exciting at Tenerife, Curacao or Papeete on Tahiti in the South Pacific. Tenerife has jagged hills behind the port, but is renowned for its lush gardens and verdant farm fields growing bananas and other fruits. Santa Cruz de Tenerife, the capital, has the oil berth in the northern part of the harbour, just a few miles south of San Andres with the fabu­lous Las Teresitas sandy beach and swimming lagoon.
Curaçao has the 548 feet long Queen Emma Pontoon pedestrian hinged bridge, which opens by use of two diesel engines connected to propellers to fold neatly into one side of the busy shipping channel at Willemstad, the capital, the two halves of the city being called the Punda side and the Otrabanda side. The idea of this bridge in 1888 was that of the enterprising American, Leonard B. Smith, the same man who brought electricity and ice to the island. Cars were originally allowed to cross, but motorised traf­fic was stopped in 1974 and now uses the high, arched Queen Juliana Bridge with a 160 feet high span. Curacao has the most Dutch ambience of all six Dutch Caribbean islands with pastel coloured houses, placid canals, green gabled plantation houses, and wind­mills, as if part of Amsterdam had been trans­ported to the Caribbean.
All manner of ships passed through the Queen Emma pontoon bridge to call into St. Anna Bay and the Shell refinery and depot for fuel oil and diesel oil bunkers, with the cruise passengers of Fairsky eager to taste the Dutch cuisine including Rijsttafel, a rice dish gar­landed with spices from the Dutch East Indies.
Papeete harbour on Tahiti is very busy and French in character, with the Tahitian way of life showing the early French explorers and missionaries that life can be as simple as an empty beach, a cool breeze, and a beautiful woman. The cruise anchorage seven miles away in fabulous Moorea Island is heavenly and set in a lovely fjord like inlet with high, jagged volcanic mountains all around.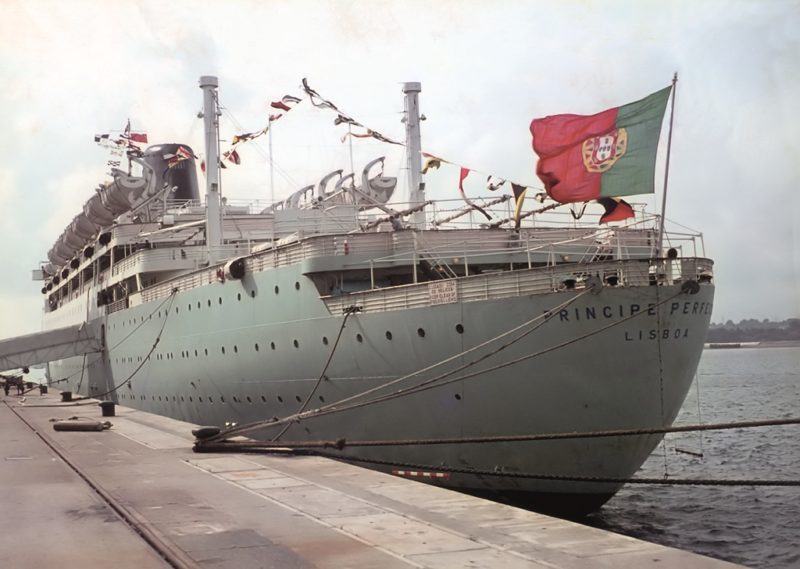 SUMMARY
Alexandre Vlasov had died in 1961 and his son Boris became Managing Director of Sitmar Line. Boris Vlasov had put Sitmar Cruises up for sale in 1984, having been recently upgraded from Sitmar Line to give its passenger department an uplift in status. Fairstar of 1956 continued to sail on cruises for P. & O. Cruises (Australia) from Sydney under their separate management office in that port. The sale of Sitmar Cruises in 1988 for £125 million to P. & O. Cruises and Princess Cruises saw the end of the beautiful yellow funnels of the Sitmar Line fleet with a central blue 'V' for Vlasov, as well as the blue house­flag with a white 'V'.
The lovely Fairsky (2) had been replaced by Fairsky (3), the Tyne-built streamlined Portuguese liner Principe Perfeito, built in 1960 by the Neptune yard of Swan, Hunter & Wigham Richardson Ltd. for Companhia Nacional de Navegacao for service to Angola and Mozambique. She carried 1,200 passen­gers and this twin screw turbine propelled liner could easily make over twenty knots without overtaxing her power plant. After pur­chase in 1979, Boris Vlasov intended to rebuild her as a cruise liner, but she lan­guished and was laid-up in 1980 as Vera, and was then sold to John D. Latsis and renamed Marianna IX for use as an accommodation ship until she was broken up at Alang in India in 2001.
The handsome Fairsky (2) was the best looking of the many emigrant ship conver­sions from standard 'C3' type hulls built dur­ing the war in the U.S.A. She had a long career of almost forty years. She served as an aircraft carrier, and for seventeen years from 1958 to 1975 as an emigrant ship with some cruising, and then as a full time cruise ship from 1975. She could have lasted longer but for a tragic fire in the south of the Philippines when her conversion to a hotel and casino ship had almost been completed.