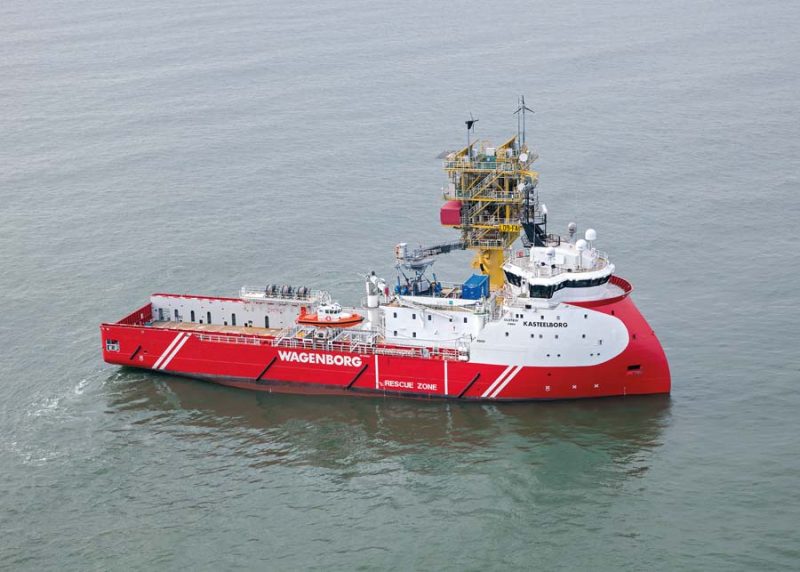 The versatility and adaptability of modern day working vessels will guarantee many a longer active career when demands change in an industry sector for which a ship was primarily built. This feature highlights one such change of career when a modern PSV was converted into a "W2W ERRV," so a rebuild rather than a newbuild. Back in February 2015 Wagenborg Offshore christened the unique 3,696gt/2015 built 'Walk-to-Work' vessel Kroonborg in the port of Delfzijl, The Netherlands. This new concept known as a Service Operating Vessel (SOV) was designed and built to be deployed for a specific Client, Nederlandse Aardolie Maatschappij (NAM), to assist in offshore maintenance activities to unmanned platforms and gas production wells in the Southern North Sea over the coming 10 years. Due to a combination of functions and new techniques the Kroonborg was unique to the industry. The vessel was built for Royal Wagenborg by the Royal Niestern Sander shipyard at Delfzijl, The Netherlands. The 80m long and DP2 equipped ship offers a workshop, storage, accommodation and means of transport for 60 people, including two crews of 20 technicians. These crews work two consecutive weeks on multiple platforms with a motion compensated offshore access system allowing technicians to literally walk to work. Other "Walk to Work" equipped vessels have entered the industry since the Kroonborg and the need for a second such vessel was identified by Royal Wagenborg's Offshore subdivision in 2017.

Wagenborg Offshore is an international offshore specialist with many years of maritime experience and internationally acquired knowledge in the area of oil and gas related transport disciplines. The company is also a specialist in shallow water projects and has been operating in the Caspian Sea for many years with vessels that were built for the special conditions in that area. The sphere of operations includes Anchor Handing Services, Ice Management Services, Seismic & Ice Survey Services, Offshore & Supply Services, Towage and Accommodation Services. The Parent Company was founded by Egbert Wagenborg, born in 1866, and his interest in the maritime world began as a child and at the age of just 10. In 1898 Mr Wagenborg started out with a two ship fleet under the company name of E. Wagenborg scheepsbevrachter Delfzijl. By 1901 Egbert Wagenborg had a broad portfolio of activities and by 1921 had cargo and ferry services operating, and expanding. From 1925 the marine diesel engine arrived in the shipping industry with the company's first motor vessel, the Fivel, being purchased in 1927. In 1948 Wagenborg celebrated its 50th anniversary and from 1953 the naming policy of names ending in "borg" became the norm. The company's centenary year was 1998 and Wagenborg was awarded the designation "Royal."
From Queen to Castle
The Offshore Industry has endured a tough period with many vessels being laid up around the globe. Numerous elderly examples of these have gone for scrap and some have found a new career. The 6,233gt/2015 bulit Platform Support Vessel Vestland Cygnus was converted to a Special Purpose Ship with a 136 person capacity accommodation block just 6 months after delivery, and C-Beds converted the Seismic Survey Vessel Viking II (built in 1999 as the Veritas Viking II for Eidesvik) into an accommodation and Walk-to-Work vessel in 2016 with capacity for 125 people. The 8,395gt ship was renamed Wind Innovation. The Damen Group also identified the potential of converting idle Platform Support Vessels (PSVs) for new roles in alternative sectors such as aquaculture, shipping and defence. Uses include Container Feeder services, a Logistic Support Vessel, Accommodation Vessels or even a Live Fish Carrier. In 2017 Ulstein published conversion packages for their series of Platform Supply Vessels (PSVs) and one of the first examples to find a new lease of life was an Ulstein PX121 PSV. The hull of the Blue Queen was launched on 3rd November 2014 at the Crist S.A Shipyard in Gdansk, Poland, and towed to Ulstein Verft's facility in Norway for completion. Delivery took place on 24th February 2015 and the vessel was operated by Golden Energy Offshore Management AS. On 13th November 2017 Wagenborg Offshore was awarded a 6-year contract by Nederlandse Aardolie Maatschappij (NAM) and Shell UK Exploration & Production (Shell UK)) for the provision of a second walk-to-work vessel. NAM and Shell UK work together in a combined business unit on the gas production on the Southern North Sea. The Blue Queen was acquired by Wagenborg Offshore to service this contract with a view to convert her to a Walk-to-Work Emergency Response and Rescue Vessel (W2W ERRV). Such a conversion project enables a company to quickly respond to a business opportunity rather than embark upon a costly and time consuming newbuild process. The duties to fulfill are as a standby and support vessel for inspection and maintenance of the unmanned platforms in both Dutch and British waters. The PX121 has gained excellent feedback from the offshore industry due to a favourable combination of fuel-efficiency and load capacity and the vessel type is particularly suited for a conversion to other types of services and is equipped with a dynamic positioning system Class II and meets the requirements of DNV's Clean Design. The PX121 is of course of the X-BOW variety, a concept first unveiled to the shipping world in 2005. This bow form offers a gentle displacer, a tapered fore ship shape with a different volume distribution as well as sectional angles, resulting in a wave piercing effect at small wave heights, and also reduces pitching and bow impact loads in bigger seas. When comparing fore ship volumes with more conventional, bulbous bow shapes, the X-BOW has more displacement volume starting from the waterline. Instead of simply rising on the waves and then dropping with tremendous force, the X-BOW is able to absorb the force more consistently across its surface, enabling the ship to remain more stable during poor weather conditions, increasing comfort for passengers and crew alike and because it uses less fuel to get through the waves, it also helps to save energy. The X-BOW produces very little spray, so the deck remains dry behind, a benefit to the working environment at sea. The major benefits of the X-BOW include improved power efficiency, soft entry in waves, very low levels of noise and vibrations, reduced bow impact and slamming plus reduced wave-induced vibrations. It is worth noting here that in winter 2016-17 Wagenborg Offshore added a new accommodation unit to the 1,659gt/2012 built Serkeborg, increasing capacity from 12 to 24 people, including 11 crew members. The ship became a Diving Support Vessel, was renamed Redsborg and the conversion work was undertaken at the Royal Niestern Sander Shipyard, which included a DP2 system, a fire-fighting unit, a four point mooring system, a diving decompression chamber, a moon pool and a crane upgrade to a capacity of 25t at a 10m outreach.

Subscribe today to read the full article!
Simply click below to subscribe and not only read the full article instantly, but gain unparalleled access to the specialist magazine for shipping enthusiasts.