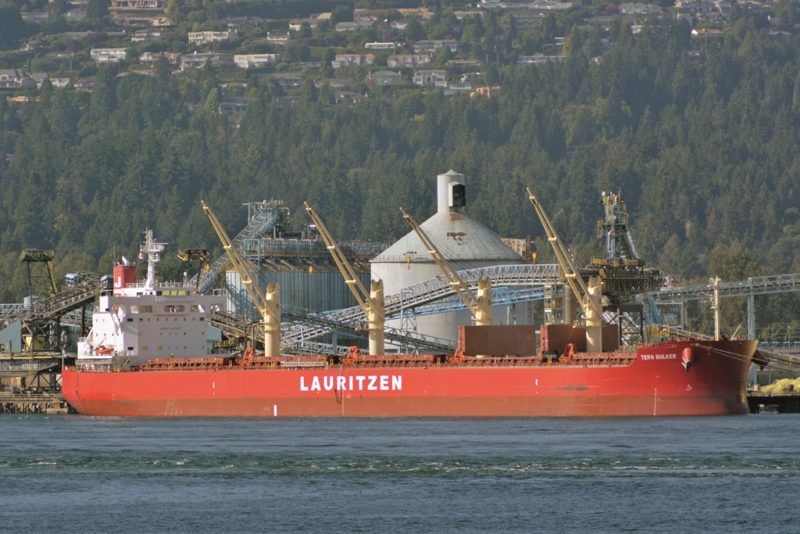 The tramp trades are notoriously cyclical in nature with famines, plagues, financial crises, recessions, depressions and many other reasons contributing to around only one good year of high freight rates in a cycle of seven to ten years. The dry bulk and wet tramp trades have to be weathered with poor freight rates for the remaining years of the cycle, waiting with an increased fleet to take advantage of a single year with very high freight rates to make high profits to see the fleet through the lean times. Liner shipping, ship agencies and shipbroking are far easier ways of making a living in the shipping sector than tramping.
Lauritzen of Copenhagen has a long history in shipping since 1884, with the coastal trades, Antarctic and Arctic expedition and supply trades, and particularly the reefer trades before they entered the bulk trades. The tramp tanker wet trades were entered in 1951, and the dry bulk trades were entered on 14th May 1973 with a single bulker taken over at Antwerp and renamed Silja Dan of 15,575 dwt that had been built five years earlier as Sylvia Cord for Concord Line of Copenhagen by the Osaka Zosensho yard in Japan. She had dimensions of overall length 145.0 metres and moulded beam of 22.0 metres with four holds served by a good array of derricks on three bipod masts that allowed her to trade for two years for Lauritzen with rapidly increasing bunker costs before her sale to Greek owners in November 1975.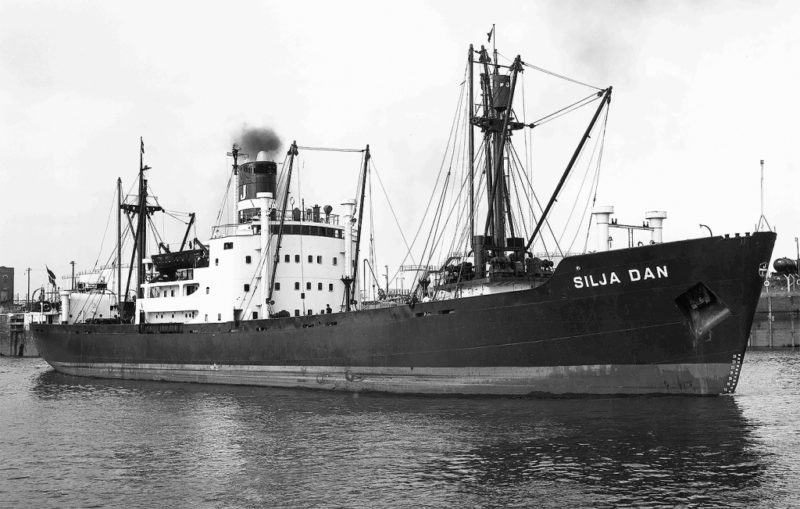 Lauritzen then moved up a few sizes in the dry bulk trades to Panamax size in 1977 with two bulkers named Irena Dan, completed by the Verolme Cork yard in Ireland as the largest ship ever built in that country, and traded for six years, and Jonna Dan, purchased second hand in 1980 and traded for six years. Jonna Dan had been built as Norse Falcon in 1975 for Norse Shipping, and then was sold a year later to a Singapore owner and renamed Silver Trident. Irena Dan traded mainly in the grain trades from New Orleans to Europort at Rotterdam for Lauritzen and was discharged by grain elevator in the Botlek, while Jonna Dan frequently loaded coal at Newport News for European ports such as Antwerp and Rotterdam. Jonna Dan was anchored in the Rio Grande in Brazil near the border with Uruguay in May 1984 working cargo through an elevator before she sailed for Hamburg to load yet another cargo. Irena Dan had a long career of 31 years under seven names until she was broken up in October 2008.
In 1983, Lauritzen took over the charter parties of the bankrupt Harald Bang & Company of Kristiansand in Norway that allowed them to trade an increasing number of Handysize bulkers in the global dry bulk markets. A fleet of mostly chartered Handysize bulkers numbered 22 ships in 1992 of up to 38,375 dwt and included two groups of sister bulkers, Bella Dan and Berta Dan of 30,900 dwt, and Celia Dan and Centa Dan of 17,832 dwt. Bella Dan and Berta Dan had been completed in 1981/82 as Nosira Madeleine and Nosira Sharon at Sunderland for Ted Arison of Miami as a bulker venture before his fledgling Carnival Cruise Line became more successful. They had six holds and hatches served by five cranes and were purchased in 1989 by Lauritzen and traded for four years. Nosira Lin, the third sister, was also purchased by Lauritzen and renamed Dan Bauta, but was immediately sold on to Norwegian America Line and renamed Kristianiafjord, and she arrived in the Tyne on 1st March 1992 for repairs and special survey. Celia Dan and Centa Dan were purchased in 1991 and were traded for two years, and had been completed in 1986 by the Osaka Zosensho yard as forestry bulk carriers Camara and Cinchona for a five year charter to the East Asiatic Company (EAC) of Copenhagen with vertical bulwark fittings to retain their timber deck cargoes. This quartet were trading as follows in February 1992:-
Bella Dan sailed from Chalkis in Greece and passed Gibraltar on 28th February 1992 for Port Harcourt in Nigeria.
Berta Dan sailed from Cadiz on 17th February 1992 and arrived at Port Kaiser in Jamaica 12 days later.
Centa Dan loaded bulk cargo at Antwerp and sailed on 7th February 1992 and passed through the busy Panama Canal to arrive at Manta in Ecuador eighteen days later.
Celia Dan sailed from Dakar in ballast on 6th February 1992 and arrived 21 days later to load a bulk cargo at New Orleans.
In 1997, Lauritzen Bulkers A/S was formed and was trading an increased fleet of mostly chartered bulkers from their Head Office in Copenhagen and branch offices in Melbourne, Sao Paulo, Tokyo, Long Beach, New York, Buenos Aires, Beijing, Hong Kong, Auckland, and Bilbao in Spain. There were also five owned Handysizes in Atlantic Bulker of 27,860 dwt built two years earlier, Viking Bulker of 27,934 dwt also built two years earlier, the purchased Caribbean Bulker of 27,888 dwt built in 1989, Aston Trader of 27,881 dwt built as Golden Trader in 1989 for Nippon Yushen Kaisha (N.Y.K.) of Japan, and Centa Dan of 17,832 dwt managed for new owners as Tropic Confidence after her sale by Lauritzen in 1993. The new suffix of 'Bulker' had replaced the previous suffix of 'Dan', but was to be used in the future for both owned and chartered Lauritzen bulkers.
In 2001, Lauritzen formed a bulker pool with Island View Shipping (IVS) of South Africa that had been acquired by the Grindrod Group in 1999. Fourteen bulkers with 'IVS' prefixes to their names of 32,000 dwt joined this bulk pool and served alongside the newly completed owned Amine Bulker, Sendai Bulker, Sofie Bulker and Tilda Bulker of 28,700 dwt, completed in Japan during the early 2000s by the Nippon Kaiji Kyokai yards and registered in Valletta, as well as the chartered Nordic Bulker of 28,458 dwt completed by the Imabari yard in 2002. The Panamax bulk sector was also entered again in 2001 after an absence of twenty years, with five Panamaxes of seven holds chartered between 2002 and 2005 from Japanese owners, and a further three chartered in 2006 to give a big fleet of bulkers.
A big fleet of 80 owned and chartered bulkers was being traded in 2006 with many having the 'Bulker' suffix to their names, and the order book for newbuildings numbered 4 Capesizes, 4 bulkers of 58,500 dwt and 4 of 31,900 dwt for delivery by 2011. The Handysize bulkers numbered 55 ships and the Lauritzen Bulker Division had generated 55% of the company revenue of $458 million in 2006. The severe downturn in freight rates in 2008/09 meant that Lauritzen had to sell 6 bulkers built in the 1990s, leaving Tilda Bulker of 28,480 dwt as the newest ship in the fleet, having been built in 2003.
The Capesize bulker market of 180,000 dwt was entered for the first time in September 2005 for trading on the 'spot' market, before this vessel was later taken on a three year charter to an international trading house. A second Capesize was purchased in July 2006 and chartered out to Italian clients, and a third Capesize was purchased two months later and chartered out for a long term of ten years. The Capesizes Corona Bulker, Gry Bulker, Camilla Bulker, Cassio-peia Bulker, Catharine Bulker, Christina Bulker, Churchill Bulker and a Capesize bulker named Christine had been completed by the Hyundai Heavy Industries yard at Ulsan in South Korea during 2009/11. Rail wagons began to be loaded on to Lauritzen Capesize bulkers in China at this time in 2011 for delivery in Australia, as a backhaul cargo for charters to mining companies shipping iron ore from Australia to China. Corona Bulker later discharged a cargo of 180,000 tonnes of iron ore in May 2014 at Redcar for the blast furnaces of the Teesside steel works.
Elvira Bulker of 31,858 dwt was completed in 2011 by the Hakodate Dock Company in Japan as a five hold bulker of grain capacity 40,452m2, and equipped with four cranes of 30 tonnes capacity on dimensions of overall length 175.53 metres, moulded beam of 29.4 metres with a loaded draft of 9.64 metres. She sailed on 22nd September 2011 from the Inland Sea of Japan on her maiden voyage to Longview on West Coast Washington State to load logs bound for China at her loaded service speed of 14.4 knots from her powerful Mitsubishi diesel engine. She has twenty sisters in service as Egret Bulker, Gannet Bulker, Grebe Bulker, Ibis Bulker, Petrel Bulker, Puffin Bulker, Roadrunner Bulker, Sandpiper Bulker, Ermis (Greek chartered), Geraldine Manx and Kaya Manx (both Isle of Man flag), Teal Bulker, Tern Bulker, Tess Bulker, Shanghai Bulker, Singapore Bulker, Tanager Bulker, Thunderbird Bulker, Toucan Bulker and Triton Bulker. Tess Bulker arrived in the Tyne with a cargo of biomass wood pellets in March 2017 under her charter name of Ever Alliance.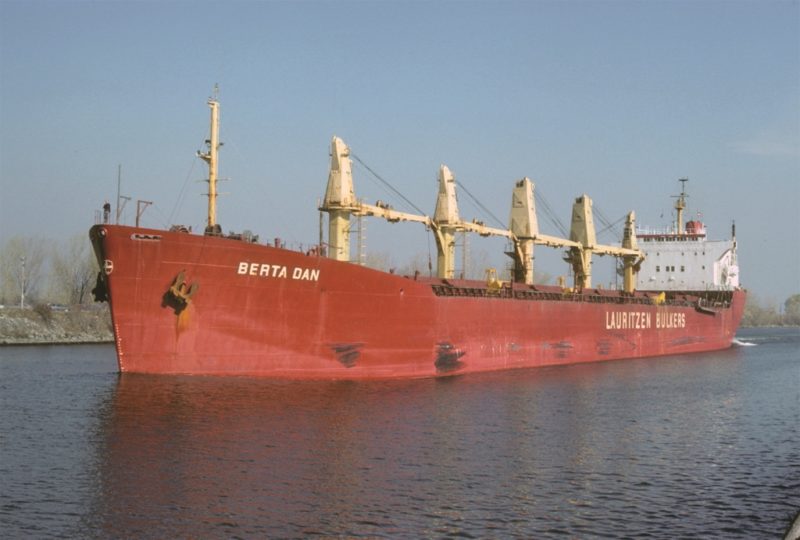 The Handymax chartered bulker Poseidon SW of 55,688 dwt arrived at the Thames sugar refinery at Silvertown of Tate & Lyle Ltd. with 42,000 tonnes of raw sugar on charter to the Mauritius Sugar Syndicate and had been loaded at Port Louis on Mauritius. This was the largest ever cargo of raw sugar to arrive at Silvertown on 3rd December 2009, with discharge taking only a few days. These five hold Handymaxes equipped with four cranes of 35 tonnes capacity numbered 55 owned and chartered bulkers in the big Lauritzen fleet in 2009.
Eva Bulker of 38,191 dwt and completed in 2012 by the Naikai Zosen Corporation in Japan loaded logs with her cranes directly from the water of the Inner Anchorage of Prince Rupert (BC) on her maiden voyage. Since 2012, Eva Bulker has carried over 1.1 million tonnes of logs on 34 Transpacific voyages to the Far East, and has three sisters in Anne Mette Bulker, Nicoline Bulker and Milau Bulker. Hedvig Bulker of 31,872 dwt was completed in 2011 by the Hakodate Dock yard in Japan, and arrived on 27th September 2016 at the Studstrup Power Station at Aarhus in Denmark with 26,000 tonnes of biomass wood pellets after an 18 day voyage from Panama City (Florida). Canadian Bulker of 39,540 dwt arrived in the Tyne with a full cargo of biomass wood pellets on 17th May 2020 and sailed after discharge of four days to Skagen in Jutland.
Lauritzen Bulkers had signed an eight year contract for the transportation of biomass wood pellets on 14th November 2014 with Green Circle Bio Energy of Panama City (Florida) in the U.S.A. for 600,000 tonnes of pellets from the U.S.A. to the U.K. and European ports. This contract was to run alongside a similar contract signed in 2012 with Green Circle Bio Energy for six years for a similar amount of cargo. Three Panamax bulkers of 75,800 dwt in Palma Bulker, Penda Bulker and Perla Bulker, and Supramaxes such as Italian Bulker of 63,500 dwt, Erietta (Greek chartered), Queen Sapphire (Greek chartered) and Tokyo Bulker of 61,400 dwt are of the ideal size for the biomass trade, for which Lauritzen has long term contracts running through to 2027 from U.S.A. ports to Europe.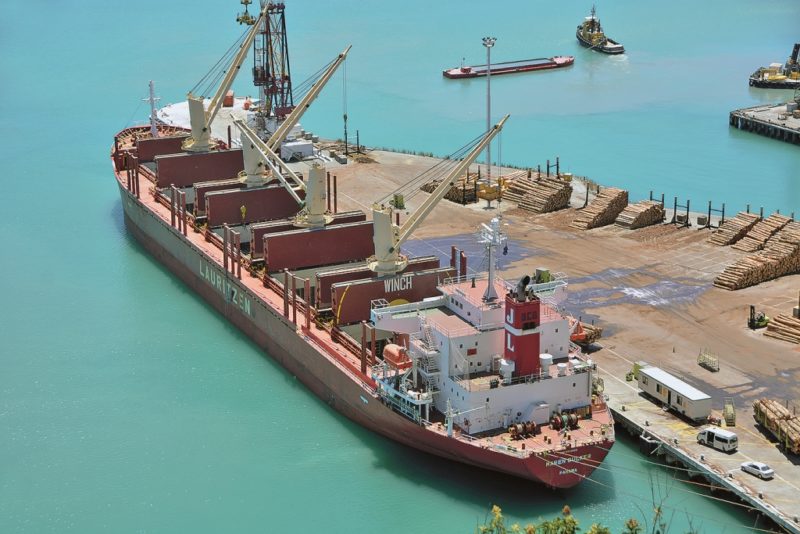 CHARTERED BULKERS
Many Lauritzen chartered bulkers have a suffix of 'Bulker', and thus it is very difficult to differentiate between owned and chartered bulkers e.g. Durban Bulker of 32,545 dwt was completed in 2005 for Hong Kong registration but was on charter from IVS Bulk and had 'LB/IVS' emblazoned on her funnel and both sides of her hull. Bianco Victoria Bulker of 32,178 dwt has been on charter from 2012 and has been used in the timber trades to Valencia, Las Palmas, Venice, Black Sea ports including Novorossiysk, Thessaloniki, Casablanca, Skikda in Algeria and Dunkirk. Chartered bulkers are Admiral Bulker, Alpha Bulker, Karine Bulker, Nona Bulker, Orchard Bulker, Pacific Bulker, Sentosa Bulker, Tenna Bulker, and other chartered vessels with a 'Bulker' suffix. Taizhou Pioneer was a smaller chartered Handysize bulker of 20,900 dwt completed in 2011, and she had four owned sisters in Emilie Bulker, Orchard Bulker, Signe Bulker and Sentosa Bulker.
Genco Shipping & Trading Ltd. of New York had five bulkers on charter to Lauritzen in 2012. The current chartered fleet has Apex Voyager of 35,000 dwt with a blue hull and grey cranes and a grey funnel instead of the red hull, red funnel and cream cranes of owned vessels, and also includes Ansac Pride, Yangtze Keeper, Trammo Laoura, Unison Star, CS Jaden, Bunun Fortune, Bunun Kalon, Se Cardi, Se Kelly, Uni Blossom, Unison Jasper, Daiwan Fortune, Captain D, Dory, and Lavieen Rose and many others.
The bulkers Bumbi, DHL Forester, Lauretta, Maritime Fidelity, Paola, Uni Challenge and Vigor SW have also been on charter to Lauritzen. A bulker completed as Irene Oldendorff of 32,730 dwt in 2003 for Reederei Oldendorff of Lubeck and taken on charter as Apex Bulker in 2009 was purchased and renamed Achilles Bulker in 2012.
The chartered fleet was reduced by fifteen Handysize units in June 2019 after a very weak market in the first quarter of 2019, with Handysize rates down by 30% from the previous first quarter of 2018. Seven Handysize owned bulkers were also sold during the second half of 2019. Biomass, grain, iron ore, coal, petroleum coke, alumina, bauxite, packaged timber, logs, fertiliser, scrap metal, direct reduced iron, mineral sand, oilcake, seedcake, ammonium nitrate, sulphur, saltpetre, salt, steel coils, cement, project cargo including wind turbine towers, blades and nacelles are some of the many types of cargoes carried by owned and chartered bulkers.
Graig Shipping of Cardiff had two Handysize bulkers of 34,827 dwt on charter to Lauritzen from completion in 2012 until they were sold in 2019 for $10.5 million each. Graig Cardiff and Graig Rotterdam were sold and replaced by four Diamond 2 Supramaxes of 63,200 dwt constructed in China in 2020/21. A third Handysize bulker, Graig Canada, was briefly on charter to Lauritzen from Graig Shipping, which has a long history in tramping going back to 1919. Hugh Williams, grandson of the founder Idwal Williams, took over the management company in 1993 with a new team based in Cardiff. A partnership with Clipper Elite Carriers of Denmark produced eight ice strengthened mini bulkers of 8,700 dwt equipped with two heavy lift cranes of 150 tonnes capacity and also able to carry 850 TEU of containers.
An order for 15 new bulkers of the 'Diamond 53' design of 53,000 dwt was then placed with a yard in Vietnam, with Graiglas completed for Graig in early 2008 and traded for a short time before being sold on.
Graig Cardiff and Graig Rotterdam have an overall length of 180.0 metres, moulded beam of 30.0 metres, moulded depth of 10.1 metres and a loaded draft of 6.2 metres, and were delivered in 2012 by the Jiangdong yard at Wuhu in China. They are of a standard 'Seahorse 35' design powered by a five cylinder STX-M.A.N.-B & W diesel engine of 10,475 bhp at 127 rpm to give a loaded service speed of 14 knots and a speed in ballast of 15 knots.
Graig Cardiff on delivery with a Chinese crew sailed north from Shanghai along the Chinese coast to Jinzhou to take on a cargo of bulk granular urea for discharge in Argentina. Four MacGregor deck cranes of 30 tonne capacity together with a set of four grabs, an economical fuel consumption of only 25.5 tonnes per day, and strong lashing points for securing cargo on the hatches are provided, and vertical bulwark fittings for retaining deck cargoes can also be fitted. Grain capacity of the five holds is 46,762m2, and bale capacity is 45,683m2.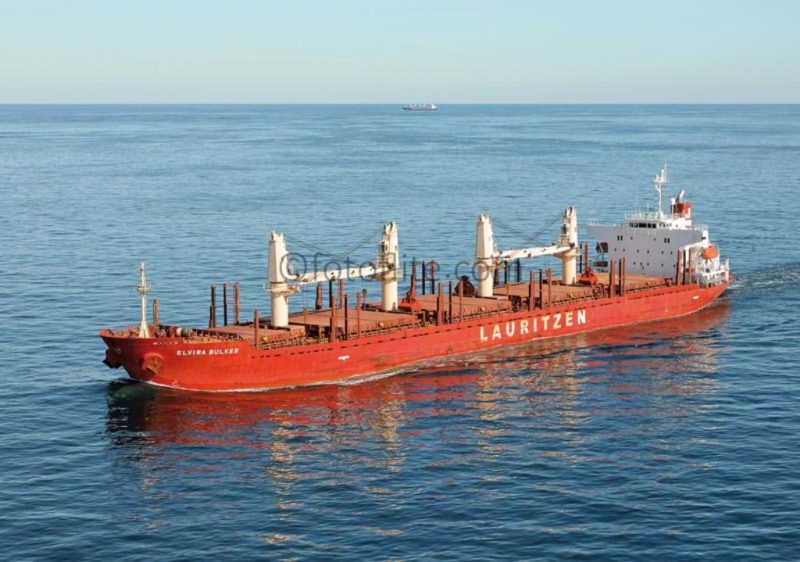 Graig Rotterdam was discharging a deck cargo of packaged timber at Alexandria on 18th December 2016 when the bosun, a Chinese national, fell overboard at 1109 hours into a barge alongside after the timber stack on which he was standing collapsed. First aid was provided by the ship's crew but the bosun unfortunately died later from his injuries. Poor stevedoring practices undoubtedly contributed to this accident, but the subsequent enquiry recommended that Graig Ship Management Ltd. ensure that a lifeline or other means of attaching a safety harness was always available when working on stacks of timber, and that the crew proactively engage with the stevedores to maintain a safe system of work during timber and similar deck cargo operations.
HANDYSIZE BULKER FREIGHT RATES AFTER COVID 19
The Lauritzen Bulkers fleet in June 2020 numbered over forty ships in the 31,800 dwt to 63,500 dwt range, with only three above 39,500 dwt and most in the 31,800 dwt to 39,000 dwt Handysize range. However, before the Corona Virus pandemic, the global dry bulk shipping market between 2020 and 2023, when Lauritzen will celebrate 50 years of operation in this market, was expected to grow by only 4% per annum. The effect of the pandemic has seriously affected all aspects of the shipping industry, lowering and in some cases wiping out almost all hopes of recovery in the cruise and ferry sectors until the end of 2020. The Capesize dry bulker freight rates had collapsed by 50% by the start of June 2020 due to global coal and iron ore exports recording their steepest decline in over four years.
The Handysize bulker markets did not have such a steep fall as the Capesize bulker market, but stringent port controls and a two week quarantine period in some ports for all seafarers arriving around the world, with also a prohibition on crew changes, was having a marked effect. It remains to be seen whether the biggest types of cargo carried by Lauritzen Bulkers in 2019 of grain (30%), coal (20%), fertilizers (17%), forestry products (17%), cement (4%), steel (4%), salt (3%), alumina (2%), ores (2%) and sugar (1%) will be the same in the full year of 2020.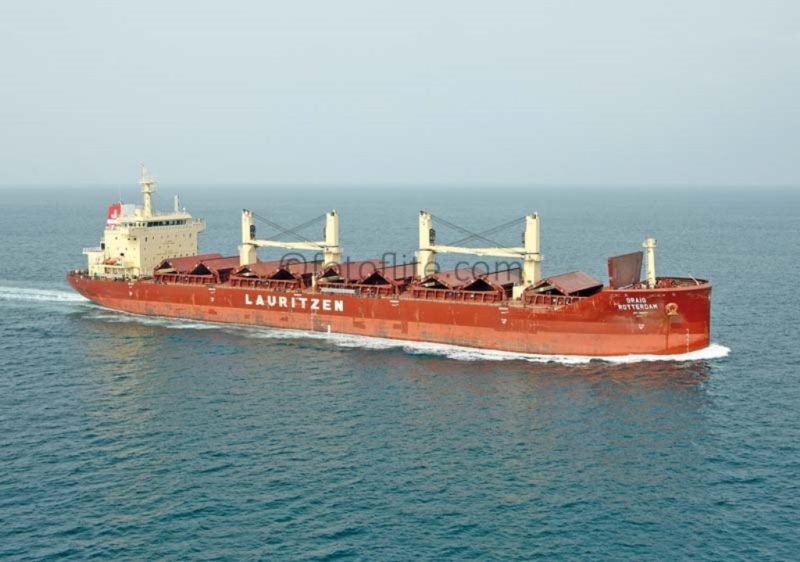 LAURITZEN TANKERS
Lauritzen entered the deep sea tanker market in 1951 with the delivery of three tankers of 16,000 dwt named Nerma Dan in 1951, Petra Dan in 1952 and Berta Dan in 1953, all from the Lindholmens yard in Gothenburg. Larger tankers followed in 1962 with Jetta Dan of 38,800 dwt, the sisters Selma Dan and Tanja Dan of 55,750 dwt in 1964, and the largest tanker Kinna Dan of 68,900 dwt completed in 1968. Selma Dan and Tanja Dan had dimensions of overall length of 753.4 feet and loaded draft of 40.4 feet with a service speed of 17 knots, and engine exhaust smoke led aft to the smaller of two funnels, the forward one being a dummy doubling up with the mainmast. Kinna Dan had dimensions of overall length 789.3 feet and loaded draft of 41.65 feet, and visited refineries all over the world including the Tranmere refinery on the Mersey, and others on the Elbe and St. Lawrence river.

Jetta Dan was sold in 1969 and renamed Vincenzia and was broken up in 1979, but the remaining tankers were on long term charters. However, the very sharp increase in crude oil prices by the OPEC producing countries in November 1973 seriously affected the demand for crude oil transportation, and all remaining Lauritzen deep sea tankers were sold off for further trading to Greek owners in 1976/77.
Kinna Dan became Halki, Selma Dan became Astoria and Tanja Dan became Samos Star. Selma Dan became a total wreck on 16th January 1983 when she caught fire off Karachi under the name of Assimi, while the other tankers were sold for breaking up within a few years. Two product tankers of 29,999 dwt were taken on charter from Mitsui in 1987/88 as Dan Freja and Dan Frigg after completion at the Shin Kurushima Dockyard at Onomichi in Japan.
A bridge 'midships engines aft ore carrier was purchased in 1973 for conversion into a drillship by the Hapag Lloyd Werft yard at Bremerhaven in 1974/75 and renamed as Danwood Ice. She had been built in 1958 by the Ateliers et Chantiers de France yard at Dunkirk as Jean Schneider for UIM of France to carry coal on long term charter from Hampton Roads, Newport News, Baltimore and Philadelphia to France, and later carried iron ore. This ended in November 1973 when she was purchased by Lauritzen, and after conversion she drilled for Lauritzen worldwide until 1990. She was then sold and has since taken the names of Deepsea Ice, Falcon Ice, and Frontier Ice for drilling in South East Asia, and today drills as Aban Ice for Aban Offshore of Chennai in water depths of up to 2,000 feet for the Oil & Natural Gas Corporation (ONGC) of India. She is by far the oldest drillship still in operation today after a career of 62 years.
Lauritzen entered the coastal tanker trades with the acquisition on 26th June 1989 of the coastal gas fleet of Kosan Tankers A/S of Copenhagen and 18 coastal gas tankers. Kosan Gas A/S had started butane shipments in 1953 with the very small coastal tanker Rasmus Kosan of 445 dwt completed at Marstrand.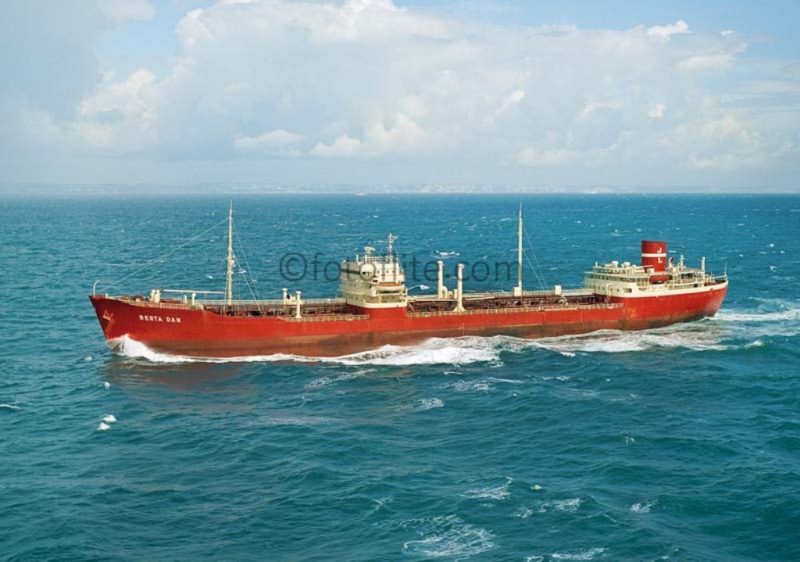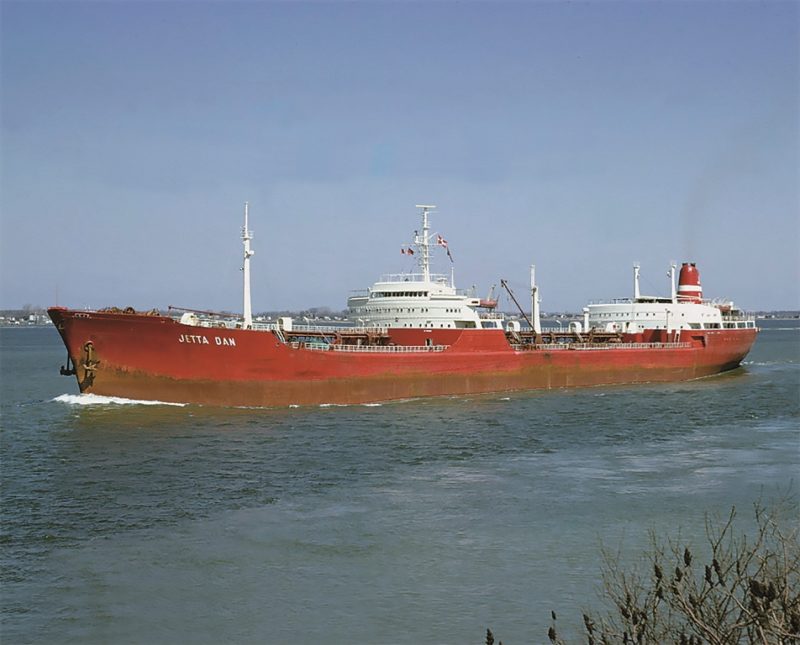 Twenty years later, Kosan Tankers A/S had a big fleet of two dozen butane and propane coastal gas tankers of up to 2,750 dwt, all with 'Tholstrup' suffixes to their names. The Kosan fleet became well known for deliveries of LPG to European ports from the big refineries at Teesside, Grangemouth, Milford Haven, Fawley, Shell Haven and Rotterdam.
Petrochemical gases such as ethylene and other gases began to be carried in two big gas tanks on each ship marked 'LPG Gases', with their uses widespread throughout the world in the manufacture of plastics of all types, tyres and automobile products. Special skills had to be developed in the pressurised and refrigerated types of equipment used to carry these completely invisible gases, however Lauritzen had much experience in the cooling of cargo in the reefer trades, and semi-refrigeration was to be used in the gas trades.
Lauritzen Kosan Tankers had a big fleet of 22 gas tankers in 1999, most having 'Kosan' suffixes to their names and in the size segment of 2,000 dwt to 6,000 dwt. The gas tanker fleet ten years later had reached thirty in number with a trio of sisters named Sophia Kosan, Stella Kosan and Stina Kosan of 9,108 m3 capacity, the largest in the fleet. Six gas tankers of 4,000 dwt were due for delivery during 2010/11, and the Gasnaval S. A. subsidiary in Spain was operating five gas tankers of around 4,000 dwt named Fernando Clariana, Becquer, Berceo, Cervantes and Gongora with black hulls and 'GASNAVAL' in white, and had been taken over by Lauritzen Kosan in the early 1990s.
Lauritzen re-entered the deep sea tanker market in 2004 with a fleet of ten managed tankers that accounted for only 6% of group revenue in 2006. Freja Atlantic, Freja Baltic, Freja Breeze, Freja Dania, Freja Fionia, Freja Hafnia, Freja Pacific, Freja Polaris, Freja Selandia and Freja Spring were chartered in from various owners and were in the size range of 45,000 dwt to 53,000 dwt. Orders were placed for eight chemical tankers of 50,500 dwt and two shuttle tankers of 69,000 dwt for delivery during 2010/11. The new Marinvest Tanker pool of May 2010 in Copenhagen had six tankers chartered in from Lauritzen, which also took an ownership stake in Hafnia Shipmanagement of Sweden.
A fleet of twenty deep sea product and chemical tankers was being traded in early 2014 of up to 53,000 dwt, with ten of this fleet transferred to Hafnia Shipmanagement in September 2014. The remaining chartered tankers such as Alam Budi, chartered in from MBC and the Kuok Group of Singapore, Belaia from Bernhard Schulte Shipmanag-ement, and Unique Explorer and Leopard of Hong Kong owners came off charter and went back to their owners at this time.
Lauritzen acquired their first shuttle tanker, Campos Transporter, in 1998 to serve the Campos Basin oilfields in offshore Brazil on a seven year contract. The company re-entered the shuttle tanker business in 2008 after the conversion of the managed tanker Freja Pacific, built in 1999 of 46,186 dwt, into a shuttle tanker, renamed Dan Eagle with a red hull, and she worked offshore at São Salvador da Bahia in Brazil on contract to Petrobras of Brazil and Transpetrol. She served on a ten year contract until she arrived at Aliaga in Turkey on 27th August 2019 for breaking up.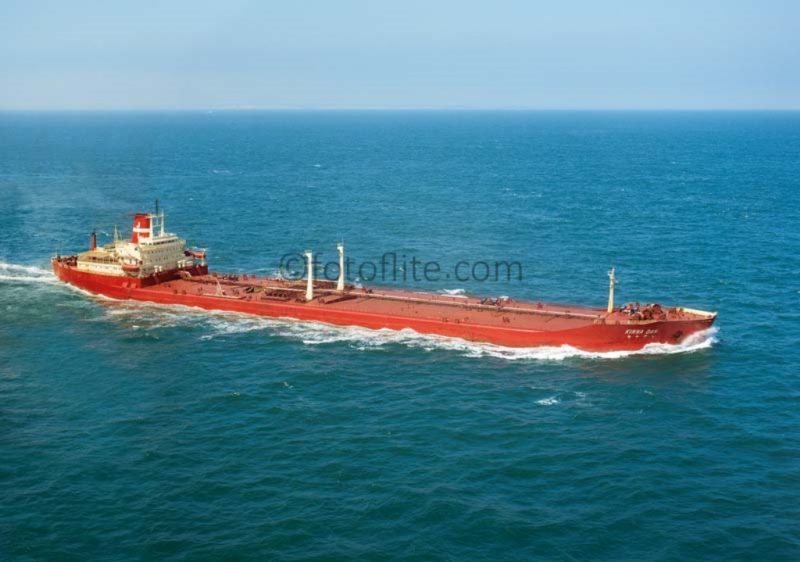 Two further offshore Brazil shuttle tankers were operated in the sisters Dan Cisne (Swan, the national bird of Denmark), and Dan Sabia (Thrush, the national bird of Brazil) of 59,335 dwt and completed in 2011/12. Dan Cisne completed her trials from the Cosco Nantong yard in China in September 2011 and then sailed to Brazil to begin shuttling between the Urugua and Tambau oilfields in the Santos Basin and ports such as Salvador and Rio de Janeiro. This pair of Dan Cisne and Dan Sabia have dimensions of overall length 206.0 metres and moulded beam of 32.0 metres, and have black hulls to load crude oil from FPSOs (Floating Production and Storage Offloading) such as FPSO Cidade de Anchieta of 272,000 dwt with storage capacity of 1.6 million barrels of oil in a water depth of 1,222 metres taking oil from 39 oil risers of flexible pipe to produce 100,000 barrels of oil per day. MODEC also own other FPSOs chartered to Petrobras of Brazil e.g. FPSO Cidade de Santos, FPSO Vitoria, FPSO Itajai, FPSO 43 and FPSO 48 from which the pair of Lauritzen shuttle tankers operate on long term charters.
Dan Swift of 16,825 grt and built in 1985 as the Danish ro-ro Mercandian Continent for Per Henriksen of Denmark, was converted in 2009 into a dynamic positioning Accommodation and Support Vessel (ASV) at the famous Blohm & Voss yard in Hamburg. She is a very sophisticated ship and outfitted to a very high standard with berths for 291 oil workers excluding crew and catering staff. She is designed to work adjacent to fixed structure rigs and platforms, FSOs and FPSOs, and semi-submersible ships working in offshore oilfields. She provides accommodation for oil workers during the hook-up and commissioning of oil production projects, and provides maintenance support, light construction work and crane operations. She is equipped with telescopic gangways to both port and starboard up forward to allow fast movement of workers, and a 100 tonne knuckle boom crane with active heave compensation for oil construction work. She has a red hull with 'Lauritzen' in white and two diagonal green stripes across her superstructure. She worked during 2018 in the Sabratha oil field in the Mediterranean from a base at Valletta.
The Lauritzen Kosan A/S gas tanker fleet in 2009 numbered 28 vessels in Alexandra Kosan, Anette Kosan, Bente Kosan, Brit Kosan, Charlotte Kosan, Ellen Kosan, Gitta Kosan, Greta Kosan, Helena Kosan, Isabelle Kosan, Leonora Kosan, Lizzie Kosan, Marianna Kosan, Sophia Kosan, Stella Kosan, Stina Kosan, Tanja Kosan, Telma Kosan, Tenna Kosan, Tess Kosan, Tilda Kosan and Victoria Kosan. Ocean Primero, Ocean Primus, Ocean Prism and Ocean Prize were on charter from Viken Shipping A/S of Norway, and Lady Mathilde and Lady Elena were on charter from Unigas Kosan A/S of Hong Kong, formed in 2002 as Exmar Kosan (a CMB subsidiary) until jointly owned by Lauritzen and Unigas in 2005.
Lauritzen Kosan celebrated 25 years of gas tanker operations in June 2014 extending as far as Shanghai in China. The yellow hulls and yellow funnels with a central blue band bearing a yellow diamond containing a blue 'K' of the Kosan fleet expanded three months later with a pair of ethylene carriers of 9,000 m3 capacity in Bow Guardian and Bow Gallant of Odfjell Gas of Norway and built in 2008. This pair were sisters of Stina Kosan, Stella Kosan and Sophia Kosan and quickly settled into Lauritzen Kosan ethylene gas operations. A new global strategy for Lauritzen Kosan gas operations was worked out in a Copenhagen group workshop that included Singapore, Shanghai and Manila based employees in October 2014.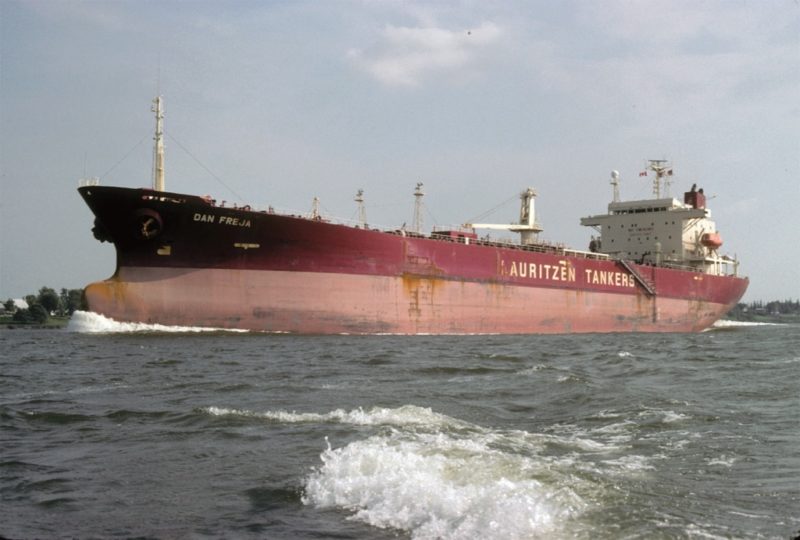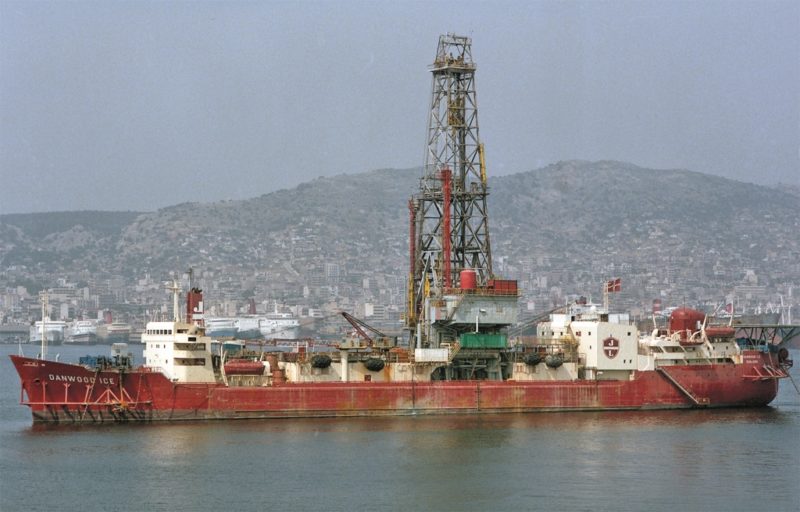 The 13,708gt drilling ship Danwood Ice was built in 1959 by A&C de France at Dunkirk as the ore carrier Jean Schneider for Union Industrielle et Maritime Soc Francaise d'Armement. She joined Lauritzen in 1973 and was converted into the drilling ship Danwood Ice. In 1990 she became Deepsea Ice of K/S Deepsea Drillships and in 1998 she joined R&B Falcon Corporation as Falcon Ice. In 2002 she moved to Aban Lloyd Chiles Offshore as Frontier Ice and in 2007 they renamed her Aban Ice. She is currently laid up.In early 2018, Helena Kosan and Linda Kosan were given red hulls and flagged back to Denmark with registration at Hellerup in the Danish International Register of Shipping (DIS). The Danish Government had given the impetus for the new register in April 2017 to increase the competitiveness of Danish shipowners.
Also, a year later on 1st March 2019, seven Teekay gas carriers joined the Lauritzen Kosan gas tanker pool in Camilla Spirit of 5,500m3 capacity, Pan Spirit and Cathinka Spirit of 5,800m3 capacity, Sonoma Spirit of 8,500m3 capacity, Napa Spirit of 10,200m3 capacity, and Vision Spirit and Unikum Spirit of 12,000m3 capacity. This brought the Lauritzen Kosan ethylene fleet size up to 21 carriers operating in European waters, with a further fifteen fully pressurised or semi-refrigerated gas carriers in the worldwide operational fleet, including four vessels registered in Malta in Scali Reali, Scali del Teatro, Scali Saniorenzo, and Scali del Pontino.
The three dozen Lauritzen Kosan gas carriers fleet have today been repainted with traditional red hulls instead of yellow hulls, and wear the traditional 'JL' red and white funnel colours instead of the yellow and blue of Kosan. The scope of gas operations is now very much worldwide in Brazil, Latin America, China and the Far East, with also gas transfer operations in quiet, deep water anchorages such as Scapa Flow to larger LPG ships including the Belgian owned Eeklo of 29,458 dwt built in 1995 on dimensions of overall length 179.0 metres and moulded beam of 27.0 metres.
The current Lauritzen Kosan owned fleet in June 2020 comprises Alexandra Kosan, Emily Kosan, Helena Kosan, Helle Kosan, Inge Kosan, Kamilla Kosan, Kathrine Kosan, Linda Kosan, Leonora Kosan, Isabella Kosan, Henrietta Kosan, Monica Kosan, Stella Kosan, Stina Kosan, Sophia Kosan, Tanja Kosan, Tess Kosan, Tilda Kosan, Tenna Kosan, Tracey Kosan, Victoria Kosan, Bow Gallant, Bow Guardian, Camilla Spirit, Pan Spirit, Cathinka Spirit, Sonoma Spirit, Napa Spirit, Vision Spirit, Unikum Spirit, Scali Reali, Scali del Teatro, Scali Saniorenzo, and Scali del Pontino as well as the chartered JBU Schelde and Eships Dana.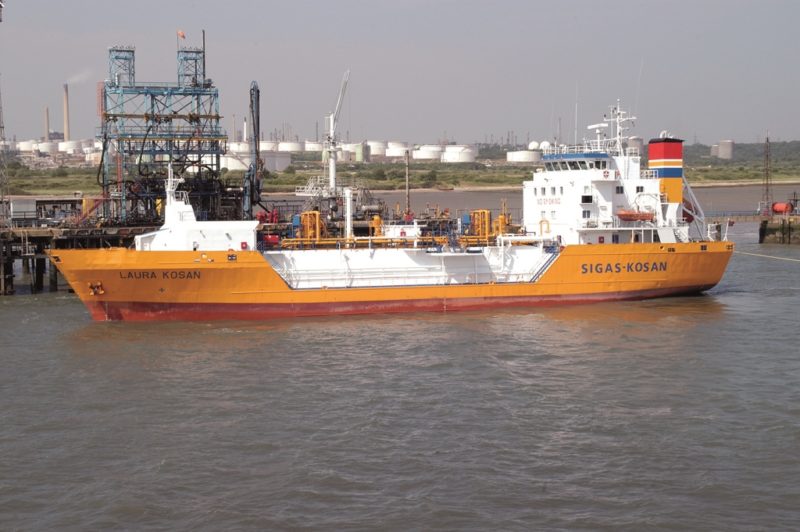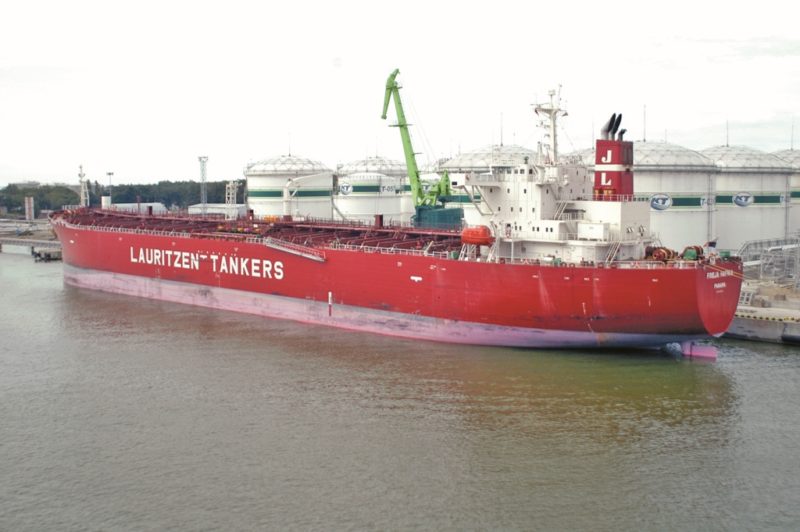 POSTSCRIPT
The Lauritzen bulker and tanker fleets outlined above do not include two interesting semi-submersible heavy lift ships, Dan Lifter and Dan Mover, of 22,268 dwt that were completed by the Mitsubishi Heavy Industries yard at Nagasaki in 1981/82. They had dimensions of overall length 175.0 metres and moulded beam of 35.0 metres, with bridge forward and a long open deck and two small funnels on posts to port and starboard of their sterns. Dan Lifter is remembered in the U.K. for bringing home the badly damaged tank landing ship Sir Tristram to the Tyne for rebuilding after the Falklands War. She had been commissioned at the Hebburn yard of Hawthorn, Leslie & Co. Ltd. on 14th September 1967, and sailed south with the Falklands Task Force in April 1982. She was lying at Fitzroy on San Carlos Water along with her sister Sir Galahad when they were both attacked by bombs from Skyhawk planes of the Argentinean Air Force. Sir Galahad suffered grievous damage with the loss of 60 R.F.A. and Army personnel on board, and was sunk as a war grave in memoriam of this terrible loss of life. Sir Tristram was also badly damaged in her aft accommodation by a number of bombs and abandoned, with two personnel killed, and was later towed to Port Stanley for use as an accommodation ship.
Sir Tristram was loaded on to Dan Lifter and sailed from Port Stanley on 16th May 1983 and arrived on Teesside on 13th June 1983 to be refloated in the deep water of the harbour, and then towed to Wallsend for a period of inspection of the severe damage aft. It was decided to rebuild her over a 14 month period to include a new goalpost mast on top of a new accommodation block, and she returned to service on 9th October 1985. Sir Tristram is still in use in 2020 at Portland Harbour for use as a training ship for the Special Boat Service (SBS) for ordnance, helicopter and diving operations.
This pair of Lauritzen semi-submersible heavy lift ships were sold in 1985 along with two oil rigs to raise money to offset an unfortunate failed cruise venture of DFDS, part of the Lauritzen Group, that involved persuading American tourists to take their cars on holiday from New York to Nassau. The huge financial losses incurred by this cruise venture had almost led to the demise of the entire Lauritzen Group. Today, the Lauritzen Group is powering ahead and has opened a new Branch Office in Dubai in 2019 to increase commercial market coverage for charters emanating from the Persian Gulf oil rich states.
The combined Lauritzen Bulkers and Lauritzen Kosan fleets comprise the two divisions of shipping operated by Lauritzen today, with the big combined total of 104 owned and chartered vessels during 2020. Lauritzen Bulkers is focussing on Handysize bulker low risk short term charter trading, while the LPG gas trades of Lauritzen Kosan remain largely stable.
I wish to send best wishes to everyone working at the Lauritzen Head Office known as 'The Cube' at Tuborg Havnevej in Hellerup near Copenhagen, and sincerely thank the excellent Group websites at www.lauritzenbulkers.com and www.j-l.com/ fleet-gas-carriers.