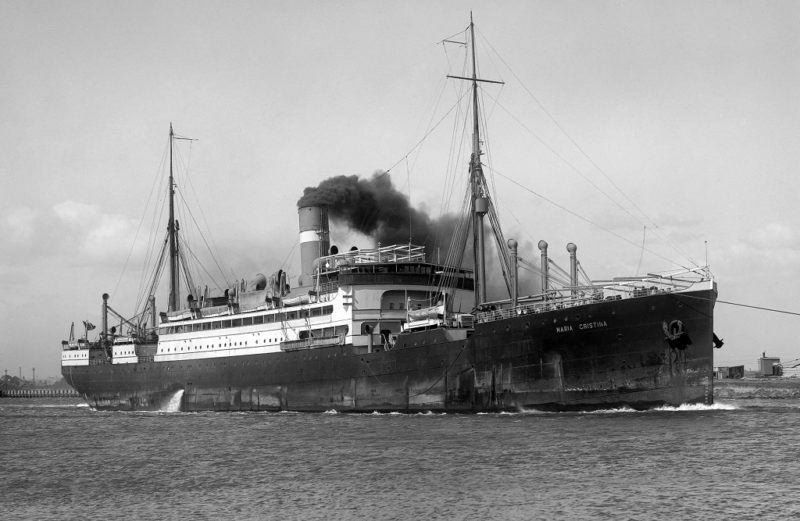 The formation of the Italian Line in January 1932 created one of the most enigmatic and beloved, if relatively short lived, shipping companies the world has seen. Nevertheless in the process it subsumed not just the ships but also the identities of a disparate and proud assortment of independent Italian shipping lines, amongst the most prominent of which was Lloyd Sabaudo.
Lloyd Sabaudo's origins can be formally traced to an agreement signed in Turin on 21st June 1906 between a pair of prominent Genoese businessmen, Alessandro Cerruti and Eduardo Canali. The new company, officially known as Lloyd Sabaudo Società Anonima di Navigazione, largely came about as a result of the Mediterranean Conference that year, in the wake of which Prince Line, a British operator for whom Cerruti acted as agent, pulled out of the Genoa to New York trade. Capitalised by Ligurian and Piedmontese shipping and financial interests Lloyd Sabaudo had two main areas of operation, shipping under the directorship of Cerutti and insurance, managed by Canali. Although it was registered in Turin (where the insurance services were based), Cerruti's shipping offices were located in Genoa, which also served as the port of registration for the company's vessels. For its first vessels Cerruti negotiated to take on the contracts for two transatlantic steamships which Prince Line held with the Sir James Lang and Sons shipyard on Wearside, whilst adding a third vessel to the order. Amongst the notable investors were members of the Italian monarchy, specifically Prince Tomaso of Savoy, Duke of Genoa and nephew of the King. The royal backing not only provided the company with significant financial and political clout but kept competitors, especially their most prominent competitor Navigazione Generale Italiana (N.G.I.), at arms length.
There could be little ambiguity regarding Lloyd Sabaudo's most illustrious sponsors when the company's first three liners entered service on the Genoa to New York run, between April and June 1907. Re d'Italia, Regina d'Italia and Principe di Piemonte were all 6,560 grt, twin screw emigrant carriers, offering rudimentary accommodation for 1,900 in steerage and more sophistication for the 63 in first and second class. The trio introduced Lloyd Sabaudo's distinctive and cheerful early funnel livery, a yellow base with a broad white band sandwiched between two thinner green bands. Two larger (7,914 grt) and faster (17 knots) sisters were also ordered at this time for a new South America service. All five ships would be delivered by British yards, the first three, as detailed above, from Sir James Lang and Sons of Sunderland and the latter pair from Barclay Curle & Co. of Glasgow.
The first of the South America ships, Tomaso di Savoia (the intended name Duca di Genova was 'stolen' by N.G.I.), entered service in November 1907, with her sister, Principe di Udine, following in March 1908. For the time they were rather distinctive looking vessels on account of their proportionally high superstructures, topped by a lofty, 'Mississipi steamboat' style wheelhouse. Once again emigrants formed the bulk of the passenger complement, with 1,200 lodged in third class dormitories but there was also space for 106 Second Class passengers towards the stern and 97 First Class in the central superstructure. First Class included six luxury cabins whilst facilities included a smoking room, a ladies lounge with views over the stern, a music room, winter garden and a lavish dining room. Starting a successful association several First Class public rooms were decorated by the famed Florentine fraternal designers, the Coppedè. The two ships sailed from Genoa to Buenos Aires, calling at Barcelona, Gibraltar, Rio de Janeiro and Santos.

Having invested so heavily in new tonnage and despite their illustrious benefactors the early years of operation were not easy for the fledgling company. In 1912 Lloyd Sabaudo posted a loss of over 1,000,000 lire and with its share capital tied up in mortgages for the ships there was a distinct possibility the company could fold. Competition on the Atlantic, both North and South, was fierce and the board knew it was imperative to build even larger and faster liners to maintain their market share. Indeed Lloyd Sabaudo ranked sixth and last in terms of passenger numbers amongst the Italian steamer lines operating on the service to the USA. When a further significant loss was posted the following year the entire board resigned.
A saviour arrived in the form of the Marquis Renzo Durand De La Penne, a forty year old former Lloyd Italiano Line captain who persuaded his friend, the wireless pioneer and fellow Marquis, Guglielmo Marconi, out of disgruntled exile in London and back to Italy as company Chairman. Further capital was engendered with the sale of Principe di Piemonte to the Uranium Steam Ship Navigation Co. in early 1914 (taking the name Principello) for operation by Canadian Northern Steamships Ltd. Perhaps most significantly for Lloyd Sabaudo's immediate fortunes Marconi co-opted Sir William Beardmore, owner of the eponymous Scottish ship, train and ultimately aircraft manufacturing business, to the board of directors.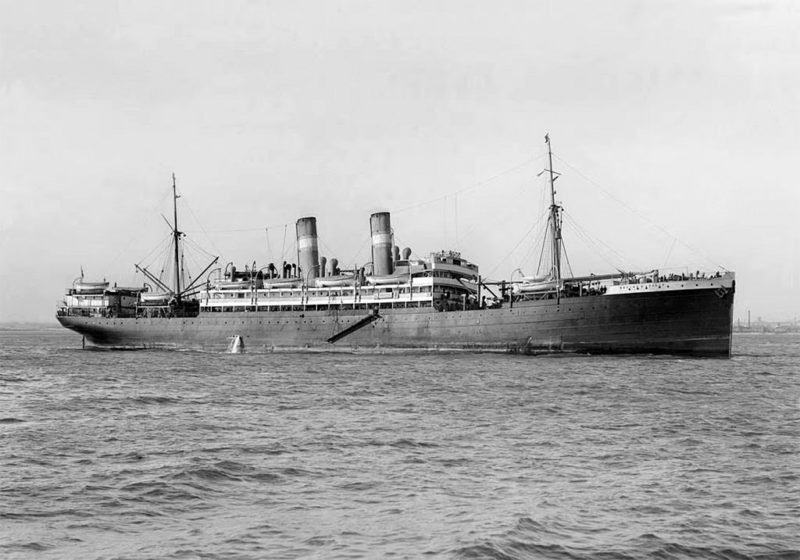 Sir William agreed to underwrite a new share issue of 3,720,000 lire allowing a contract to be signed on 26th March 1914 for his yard to start work on Lloyd Sabaudo's newly commissioned flagship, Conte Rosso. The main tangible alteration effected as part of the De la Penne 'takeover' was a change of funnel colours, blue bands now replaced the earlier green.
Subscribe today to read the full article!
Simply click below to subscribe and not only read the full article instantly, but gain unparalleled access to the specialist magazine for shipping enthusiasts.