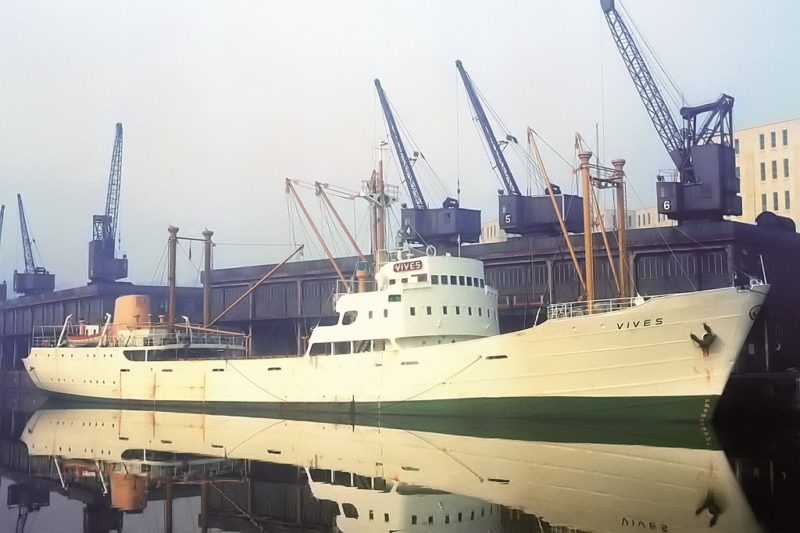 In the 1960s and early 1970s, jobs at sea for marine engineers were fairly easy to secure. The normal route was by applying directly to a shipping company or to see what was on offer at the local British Shipping Federation (BSF) pool. The pool was a useful refuge for registered seafarers in finding a ship at short notice. I visited the BSF at Prescott Street, London in August 1970 and was soon offered a position as fourth engineer on mv Vives, a MacAndrews Line ship, berthed in the West India Dock. When I arrived onboard I was directed to the aft accommodation which housed the engineers. I soon realised that I was in the right location by the oil-stained deck in the alleyway. It appeared that the engine-room staff had a marked aversion to removing their boots when leaving machinery spaces. I found the chief engineer, Mr Levy, a small bespectacled man from Glasgow who led me to the second engineer's cabin. He introduced me to the second engineer, Brindley Jones, who was a stocky Welshman from Montgomery-shire. After donning my boiler suit, I walked around the ship with Brindley, who preferred to be called Brin. He introduced me to the company's shore-side engineer, named Bruno, who was originally from Poland. His vocabulary was rather colourful, in that every other word was an expletive. He was at the time in his element removing some nuts from a cover using a spanner with the aid of a hammer. Nearby lay a large cold-chisel to supplement his efforts. The general state of the engine-room came as quite a revelation to me after previously sailing on two Ben Line ships where the machinery spaces had kept been spotlessly clean by a Chinese crew.
In the engine-room was the third engineer Brian O' Malley who was a motor mechanic by trade. He hailed from Plymouth and was there to accumulate some money quickly. As a consequence, he mainly stayed onboard. Later, I met the electrician, Bob Day, who had sailed for many years with Shaw Savill Line and whose last ship was the ss Ceramic. At 24 years old, it seemed I was by far the youngest member of the engineering staff, as all the others were aged around 40 or over with a wealth of sea-going experience. The engine-room was permanently manned by three donkeymen on continuous watches of four hours on and eight hours off.

The 1,216grt Vives, was one of three sister ships built for MacAndrews & Co. Ltd., London, and was completed by her builders Krogerwerft at Rendsburg in October 1955, the other two being Valdivia and Villegas. Propulsion was by twin, eight-cylinder, MWM diesel engines driving a single screw, which produced 2,000 bhp to give the ship a speed of around 14 knots. Their cargo capacity was around 1,600dwt with one hold forward of the bridge and one larger hold aft.
The ship had a complement of 25 men, comprising a captain, three deck officers, a radio officer, bosun, six deck ratings, a chief engineer, three watch-keeping engineers, an electrician, three donkey-greasers, a chief steward, a cook, two assistant stewards and two 16-year-old catering boys. Today, a vessel of a similar tonnage would have a Safe Manning Certificate with barely a third of this number.
Sign-up today to read the full article!
Simply click below to sign-up and read the full article, as well as many others, instantly!