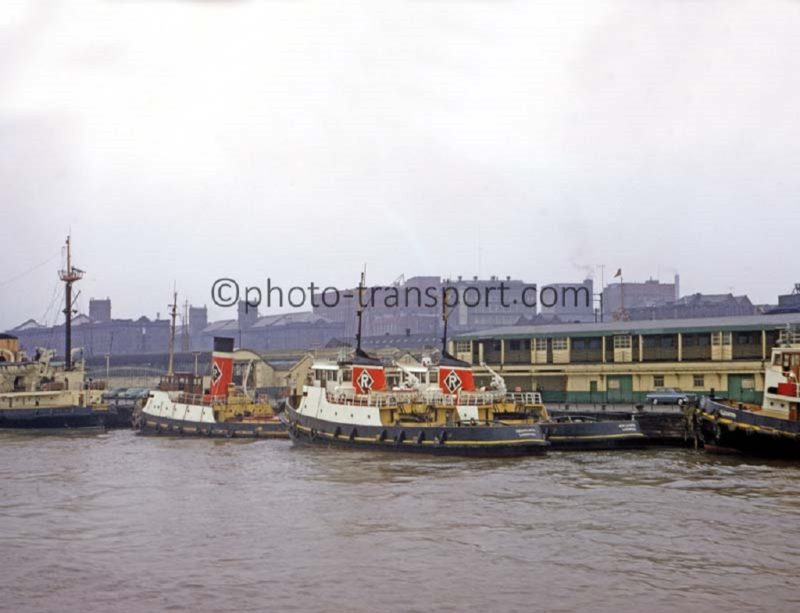 A fine fleet of Rea Towing tugs at Liverpool in 1970. From Left to right is the Salvage vessel Vigilant of Mersey Docks and Harbour Board, the Applegarth, the Cedargarth, the Maplegarth and the Kilgarth.
The 728grt Vigilant was built in 1953 by J.I. Thorneycroft at Southampton. In 1978 she was renamed Staunch for her final voyage to Garston where she arrived on 29th November to be broken up by Pemberton & Carlyon.

The 231grt Applegarth was built in 1951 by Alexander Hall at Aberdeen. In 1971 she was sold to Holyhead Towing and renamed Afon Cefni and in 1973 she became Achilles of Maritime Commercial Enterprises, Piraeus. In 1975 she was sold to Nicolas E. Vernicos Shipping Co., Piraeus and renamed Vernicos Christina then she was broken up at Perama during October 1980.
The 213grt Cedargarth was built in 1962 by Babcock Marine at Appledore. In 1993 she was sold to Somali owners and renamed Mikey Dev. She is still in service.
The 213grt Maplegarth was built in 1962 by Babcock Marine at Appledore. In 1990 she was sold to Seacore Ltd. of Honduras and renamed Seagarth then on 21st September 2009 she was wrecked on Grand Bahama.
the 208grt Kilgarth was built in 1958 by Yarwoods at Northwich as the Kilmore for Furness, Withy. She joined Rea Towing in 1969. In 1984 she was sold to Loucas Matsas and Sons of Piraeus and renamed Aghios Gerassimos and in 1999 they renamed her Hellas. In 2003 she moved to the North Korean owners as Weisshaupt and she is still in service.