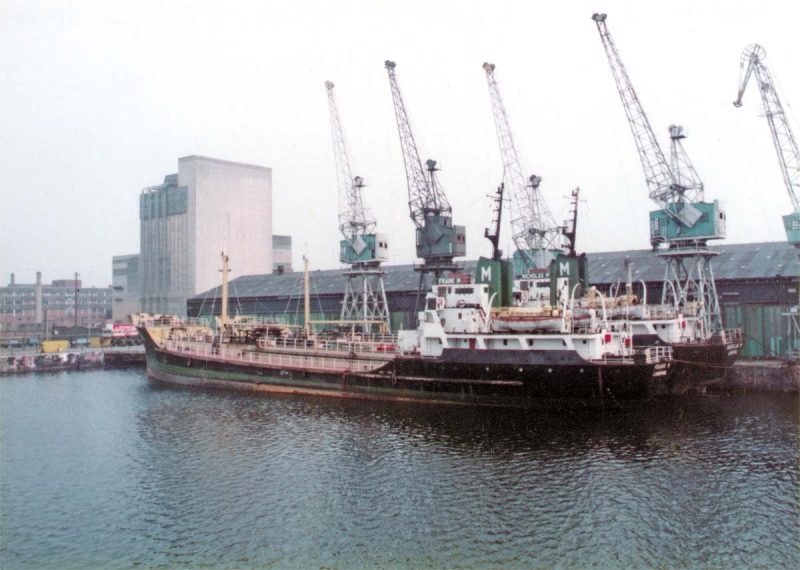 Metcalf Motor Coasters Ltd. began as part of C. Crawley Ltd. of Gravesend, which was founded in 1893 by Charles Crawley as Thames barge and small coaster owners. In 1905, the company was managed by Thomas J. Metcalf, who after World War I purchased five 'X' lighters which had been used in the Gallipoli campaign in 1915 as landing craft. In 1924, Thomas renamed these five 'X' craft as Daniel M, David M, Francis M and James M after family members, with the remaining 'X' craft becoming the water carrier Aqua 130/1915 for C. Crawley Ltd. Thomas J. Metcalf and his wife Mrs. Ellen Metcalf owned three vessels registered under C. Crawley Ltd. in Aqua, which was broken up in 1984 after a career of almost seventy years, Fountain built in 1915 and broken up in 1950, and Aquarium built in 1895 and broken up in 1966. The connection between C. Crawley Ltd. and Metcalf Motor Coasters continued into the post World War II years, and a total of over twenty barges and coasters were registered under C. Crawley Ltd.
The Metcalf Motor Coasters Ltd. fleet grew from five coasters in 1924, to twelve coasters on the outbreak of war in September 1939, to eighteen coasters in 1950, 22 coasters in 1958, and on takeover by Booker Line in 1972 and merger with S. William Coe & Company coaster fleet of Liverpool to a fleet of 26 coasters and deep-sea ships, and finally on takeover by James Fisher & Sons Ltd. in 1984 to a large fleet of 35 coasters and deep-sea ships including six managed ships used for the transport of irradiated nuclear fuel.
Thomas J. Metcalf lived at 'The Moorings' in Overcliffe near Gravesend when he first became a shipowner in 1924, but later moved his office to 370, Commercial Road in Stepney in East London. The 'X' craft were a large class of 250 landing craft that were ordered by the British Government initially for an aborted landing on the German Baltic coast, and then for the ill-fated landings at Gallipoli in Turkey. The shipyard of James Pollock & Sons Ltd. at Faversham acted as agents for the purchase of the gas engines from the Swedish Bolinders firm, but built none of the class. Four of the five 'X' craft that were purchased by Thomas J. Metcalf came from the Sunderland shipyards of Doxford, Thompson, Blumer and the Sunderland Shipbuilding Co. Ltd. with dimensions of length 105.7 feet by moulded beam of 21.1 feet, and depth of 7.1 feet. They were powered by four cylinder Bolinders gas engines, with Francis M differing in being twin screw, while Aqua came from the Selby yard of Cochrane & Sons and was powered by a two cylinder engine by the Campbell Gas Engines Co. Ltd.
Thomas J. Metcalf soon began to order larger engines aft coasters in the late 1920s in Holland with coastal tanker Frank M of 231 grt completed in October 1929 by J. Koster Hzn Scheepswerf 'Gideon' at Groningen on dimensions of 114.0 feet by 22.5 feet by 8.0 feet and fitted with a four cylinder Deutz diesel by Koln A.G. Ellen M of 264 grt in October 1930 and Thomas M of 310 grt in November 1931 followed from the same yard, and all with short quaterdecks. A much larger coaster building programme from the Dutch yards of Koster 'Gideon', J. Pattje of Waterhuizen and the Van Diepen Brothers of Waterhuizen produced David M 350/1933, John M 500/1937, Paul M 492/1937, Polly M 360/1937 and Ellen M 498/1938, in addition to the coastal tanker Eileen M 323/1938, and all fitted with four or six cylinder 4SCSA Humboldt Deutz Motoren diesel engines. The larger dry cargo coasters of John M, Paul M and Ellen M had dimensions of length 157.5 feet, moulded beam of 27.4 feet and depth of 9.8 feet, with a short fo'c'stle of length 18.0 feet, quarterdeck of length 54.0 feet and poop of length 37.0 feet.
The Burntisland yard on the Firth of Forth launched Charles M of 403 grt on 20th December 1934 and completed her in January 1935, and launched her sister Daniel M of 448 grt on 23rd January 1936 and completed her in February 1936 on dimensions of length 150.0 feet, moulded beam of 26.0 feet, and depth of 10.9 feet, and equipped with a six cylinder Humboldt Deutz diesel engine. The coastal tanker Lido of 160 grt, completed in August 1926, was purchased from the Union Lighterage Co. Ltd. of London in 1936, and renamed Ann M in 1940. She was a barge type with a short fo'c'stle and quarterdeck, and her middle longitudinal bulkhead was not considered oil tight.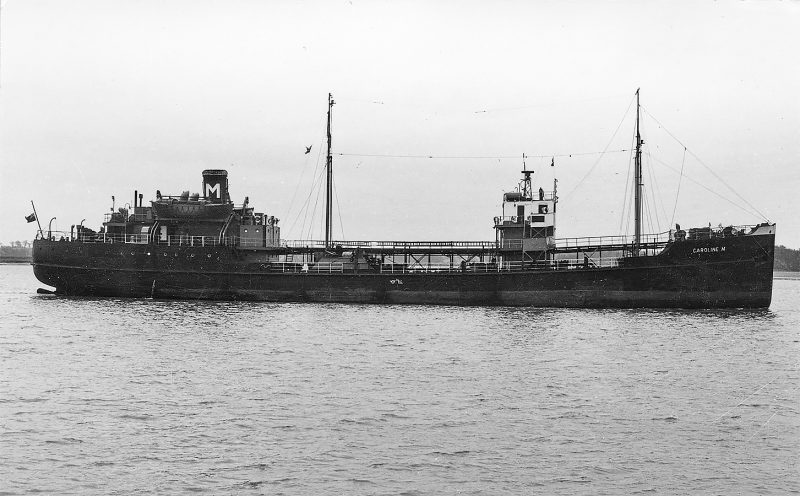 World War II
Metcalf Motor Casters Ltd. had a fleet of twelve motor coasters on the outbreak of war in September 1939, their previous coasting voyages in British and Irish waters, and in the waters between Brest and Hamburg, now changed by war. Ellen M sailed from Immingham on 1st February 1940 with a cargo of coal and was torpedoed off Lowestoft by U59 without warning at 2044 hours later that day. She was considered as being 'Lost Without Trace' by the Admiralty as no bodies or wreckage was ever recovered. The entire crew of seven plus two DEMS gunners were lost.
Thomas M became a war loss on 24th November 1940 when mined and sunk 1.5 miles off the entrance to Great Yarmouth harbour on a bearing of 135 degrees with the loss of two lives, the remaining seven crew being rescued. She was replaced in the fleet by the new coaster Empire Crag of 332 grt in 1941 from the yard of J. Pollock & Sons Ltd. of Faversham, powered by a six cylinder 2SCSA Crossley diesel engine made in Manchester. The motor coaster Benguela 534/1936 built by the Goole Shipbuilding & Repairing Co. Ltd. was purchased in 1943 to bring the Metcalf fleet back up to a strength of a dozen coasters, and was renamed Ellen (2) in 1946. The coastal tanker Empire Coast 320/1943 built by the Pimblott yard at Northwich and equipped with a five cylinder oil engine also joined the Metcalf fleet for management in 1943, and was sold for 'Esso' coastal duties in 1946 as Esso Ottawa.

The Thames spritsail barge Ardwina of 66 gross tons had been built back in 1909 by the yard of Orvis and Fuller of Ipswich, and was purchased by Thomas J. Metcalf in 1938. She was put to good use during the war in the loading and unloading of deep-sea ships in the Royal Docks in London and distributing hard won cargoes from the British Empire around the Thames and Medway estuaries. Ardwina continued her time honoured trade for Metcalf after the end of the war until her sale in 1951 to Daniels Brothers (Whitstable) Ltd., and is still afloat today and moored among many small craft at St. Katherine Dock.
Post-War Trading
The coastal fleet of Metcalf Motor Coasters was used in many trades in post-war years, including the bulk fertiliser trade northwards from Immingham to Perth for Fisons Ltd., the Thames to Norwich mills grain trade and the North East Coast trade from Blyth to Norwich with coal, the empty barrels trade from the Metcalf yard at Greenhithe to Lossiemouth near Elgin for the Speyside whisky trade, and the oil distribution trades from refineries. The fleet was bolstered by the addition between 1946 and 1949 of four dry cargo and three coastal tankers.
The coastal tankers were all German prizes, including the bridge 'midships engines aft twin masted Liselotte Essberger of 1,623 grt built in 1935 and requisitioned by the German Navy in 1940 and captured at Trondheim in May 1945 and renamed Empire Tegyika by the Ministry of War Transport. She was transferred to the Admiralty in 1947 and renamed Thornol and used for Royal Fleet Auxiliary duties but was not R.F.A. manned. She was purchased by Metcalf on 5th June 1948 and renamed Caroline M, receiving new oil engines in 1958, and gave eighteen years of service before her sale in 1966 to Greek Diamantis family owners to become Kyllini and served until scrapped at Salamis Island in December 1980 after a career of 45 years. Shortly before her sale she had collided on 4th March 1966 with the sand dredger Sand Star in Southampton Water, which sank with her crew rescued by Caroline M.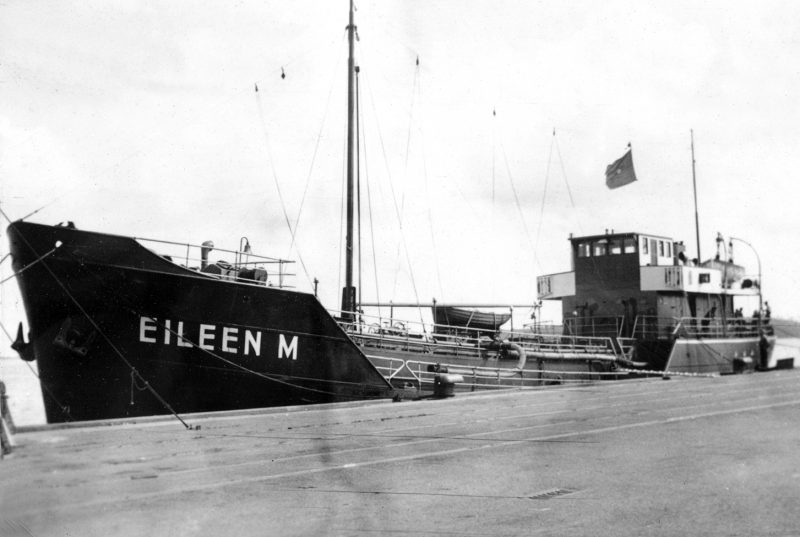 The coastal tanker Anthony M of 465 grt had been built in 1944 at Beidenfleth in Germany as Gohren for the German Navy and became Empire Tigity after capture as a prize. She joined Metcalf in 1947 and was given new oil engines in 1953, and served for 23 years until becoming the effluent tanker Kinder in 1970. She was scrapped at Garston in April 1983. The coastal tanker Peter M of 972 grt and 1,400 dwt with bridge 'midships and engines aft had been built as Algol in 1937 by the Deutsche Werft yard in Hamburg for Swedish owners and came into the Essberger fleet in 1941 for service with the German Navy. She was taken in prize at Arendal in Norway in May 1945 and renamed Empire Tigaven. She gave seventeen years of service to Metcalf from 1947 before her sale to Greek owners in 1964, and was broken up in March 1972 at Perama.
The dry cargo coaster Empire Bank of 402 grt and 480 dwt from the Henry Scarr yard at Hessle in 1941 was purchased in 1946 and renamed Rose-Julie M and gave twenty years of service until broken up at Queenborough in Kent in 1966. Jim M of 410 grt was laid down as Chant 34 at Goole in 1944 but completed as Empire Farnham, and purchased by Metcalf in 1946 and given a new oil engine in 1959 and served until scrapped at Grays in Essex in January 1965. Two American built engines 'midships USMC standard design N3-S-A1 or 'Jeep' types of 2,905 dwt were purchased in 1949 as Freeman Hatch and Waldo Hill, and were renamed Charles M (2) and Andrew M. This pair were steamers and part of three dozen 'Jeep' types delivered to the U.K. from across the Atlantic between December 1942 and May 1945, and were equipped with triple expansion engines built by manufacturers in the Great Lakes. Charles M (2) replaced the first motor coaster of that name that was sunk by collision on 31st March 1949 with the Dutch motor vessel Atlas off Dungeness, although taken in tow by the Dutch motor vessel Westereems, she sank the next day three nautical miles off Beachy Head.
The Metcalf fleet in 1950 consisted of eighteen dry cargo and coastal tankers in Andrew M built in 1943, Ann M built in 1926, Anthony M built in 1944, Charles M built in 1943, Caroline M built in 1935, Daniel M built in 1936, David M built in 1933, Eileen M built in 1938, Ellen M (2) built in 1936, Frank M built in 1929, Jim M built in 1944, John M built in 1937, Paul M built in 1937, Peter M built in 1937, Polly M built in 1937, Rose-Julie M built in 1941, Thomas M (2) the former Ngakoa purchased in 1946 and built in 1938, and the water carrier Aqua built in 1915.
The Metcalf fleet was expanded during the 1950s decade by one second-hand coaster, and seven newbuild coasters, with coasters also registered under two Glasgow based companies of Mac Shipping Co. Ltd. and Wimaisia Shipping Co. Ltd., both companies purchased in 1952. The second-hand vessel was Paul M (2) 479/38 built as Hawk for Jakob van der Laan of Groningen by the Van Diepen Brothers yard at Waterhuizen and used by the Kriegsmarine during the war as Sperrbrecher 146. She was purchased from Dutch owners as Hollendrecht and made her maiden voyage for Metcalf with empty barrels from Greenhithe to Lossiemouth in July 1952, followed by loading coal at Blyth. She served Metcalf for thirteen years until she arrived at Grays in Essex on 13th August 1965 for breaking up. The newbuild coasters were Lisbeth M 939/1953, Marian M 694/1955, Michael M 691/1955, Melissa M 1,089/1956, Christopher M 1,035/1956, Charles M (3) 403/1956, and Adrian M 967/1957.
Subscribe today to read the full article!
Simply click below to subscribe and not only read the full article instantly, but gain unparalleled access to the specialist magazine for shipping enthusiasts.