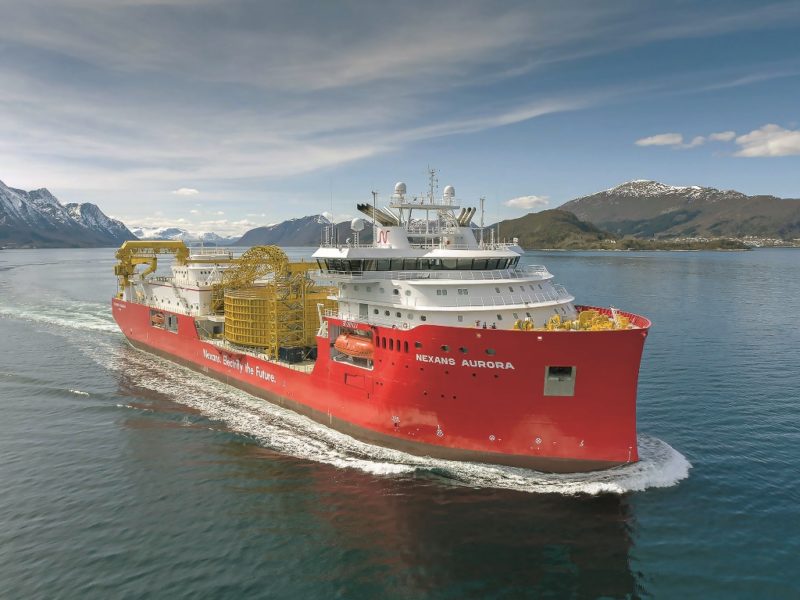 Nexans S.A. is a global name in the cable and optical fibre industry and has its headquarters in Paris, France. The company can trace its immediate roots back to 2000 when Alcatel Cables and Components become Nexans but the corporate family tree stretches back to 1897 and the foundation of La Société Française des Câbles Électriques, Système Berthoud, Borel et Cie. The company was acquired in 1912 by Alcatel and became Compagnie générale des câbles de Lyon in 1917. Câbles de Lyon became Alcatel Câbles in 1986 and, 10 years later, Alcatel Câbles merged with Alcatel. Nexans is active in four main business areas, construction (local infrastructure, smart cities / grids, e-mobility), high voltage and projects (offshore wind farms, subsea interconnections, land-based high voltage), data and telecoms (telecom networks, data transmission, FTTx, LAN cabling, hyperscale data centre solutions), industry and solutions (renewable energies, petroleum, railways and rolling stock, aeronautical and automation). The Nexans Group is the world's second largest manufacturer of cables after Prysmian S.p.A. Nexans Norway AS handles the supply of power, telecommunications, installations and heating cables in Norway, and is among the world's leading manufacturers of offshore control cables and high-voltage submarine cables. The company develops, manufactures and markets submarine, land and offshore cables for power and telecommunication transmission. Wholly owned subsidiary Nexans Skagerrak AS is engaged in the transportation, laying and installation of submarine power cables and owns the 10,147gt/1976-built cable laying vessel Nexans Skagerrak. Nexans Norway is based in Oslo with operational sites in Rognan, Halden and Langhus.
Nexans Norway celebrated its centenary in 2015. The need to modernise, keep pace with Customer demands and meet the challenges of an ever-changing industry saw Nexans AS sign a shipbuilding agreement on 8th June 2018 with Ulstein Verft for a large, DP3, cable laying vessel (CLV) to support markets such as the offshore wind industry.

The world renowned and ground-breaking Ulstein Group is based in Ulsteinvik, the commercial and administrative centre of the municipality of Ulstein in Møre og Romsdal county in Norway. The town is located on the west side of the island of Hareidlandet, approximately 23km southwest of the city of Ålesund. Perhaps it is no coincidence that Nexans AS should select their compatriot Shipbuilder, Ulstein, to build their new ship but the vessel design and construction group has been in operation for 104 years having been founded by Martin Ulstein in 1917. Nowadays the company is run by his grandchildren, with Tore Ulstein as Chairman of the Board, Gunvor Ulstein as Deputy Chairman and Cathrine Kristiseter Marti as CEO. The Ulstein shipyard has sold over 50 X-BOW® ships since the company started to develop Ulstein designs in 1999. These ships are of different types including PSVs, anchor handling tug supply vessels, seismic vessels and construction and well stimulation vessels. They work in all weathers and have been a resounding success. Bourbon Offshore Norway believed in the new bow concept from the outset when the initial drawings were released and worked closely with Ulstein on the development of the first ship. The prototype was created as an AX104 series anchor handling tug supply vessel (AHTS) launched in 2005. Delivered in 2006, the 4,311gt newbuild was christened Bourbon Orca and subsequently received a number of awards, including the Norwegian Design Council's design award, the Engineering Feat of the Year, and Offshore Support Journal's and Skipsrevyen's "Ship of the Year" Awards. Other vessels of the same design have since received similar distinctions. The benefits of the patented X-BOW® shape have been well documented, and include among other things, increased operating time, lower fuel consumption, smoother bow immergence, reduced operational disturbance and involuntary speed reduction, reduced emissions, better comfort and safer working operations. The Nexans AS order was a reminder that Ulstein still builds other hull forms. The ST-297 CLV, designed by Skipsteknisk, was one of the largest projects ever undertaken by the shipyard and it is not unusual in this day and age for a newbuild to be fabricated at one shipyard and then fitted out and completed at the primary contract yard. Ulstein Verft frequently employs this method and the hull of the Nexans CLV was built by the Crist Shipyard in Gdynia, Poland, before being towed to Norway. Crist began operations in 1990 and has gone from strength to strength. The company concentrates on steel constructions and ship-repairs and has seized upon the growing markets in wind farms and offshore industries. Complete build projects are also undertaken and product variants include vessels and barges for the installation of wind turbines, platform supply vessels (PSV), anchor handling tug supply vessels (AHTS), offshore construction vessels, fishing vessels, tugs, ferries, container vessels and research vessels. The Keel Laying ceremony took place on 24th April 2019, the grand blocks ceremony followed at CRIST, in the port of Gdynia, on 15th October 2019 and the completed hull arrived at Ulstein Verft under tow on 15th of June 2020. The hull, No. 314, was then towed into the dock hall to permit the next stages, including outfitting, electrical work, insulation and piping, to commence. Ulstein Verft also installed the main components such as the main generator sets, the power package, deck machinery, winches and topside equipment. The engines were installed in August 2021.
Subscribe today to read the full article!
Simply click below to subscribe and not only read the full article instantly, but gain unparalleled access to the specialist magazine for shipping enthusiasts.