Swansong of a Modern British Cruise Ship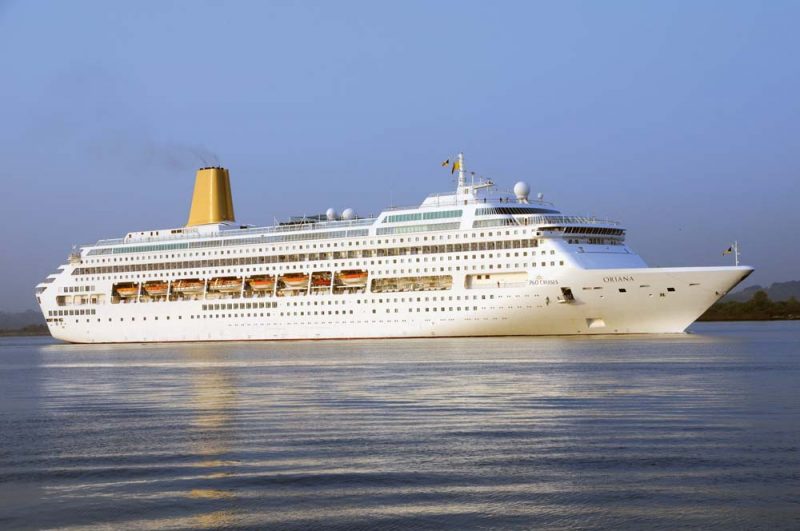 The announcement in July 2018 by P. & O. Cruises that their pivotal cruise ship Oriana, completed in Germany in 1995, would be retired in August 2019, as the company continued to modernise and expand it's U.K. cruise programme, brought an end to 24 years of valiant worldwide cruising by the vessel. She was transferred during the same month by Carnival Cruises, the American parent company of P. & O. Cruises, from the ownership of P. & O. Cruises to a Carnival company with a view to using her in the growing Chinese cruise market for cruising the South China Sea to ports in neighbouring countries. Oriana was the first British purpose built cruise ship, and she has very much served as a benchmark for all the larger cruise ships that have followed her.
Design of Oriana
Oriana was the most traditional of the fleet of large megacruise ships owned by P. & O. Cruises, and carried 1,828 passengers on several hundred long and short cruises after she was specifically designed and purpose built for the U. K. cruise market. Robert Tillberg of Sweden and John McNeece of the U.K. were the two main designers of Oriana, and had spent a considerable time onboard the P. & O. cruise ship Canberra, completed in 1961, investigating the needs of British passengers, so as to include as many as possible of the features of Canberra into the design of Oriana. These features included an engines aft design to allow more passenger space, reduced engine noise, and with the engine fumes dissipated to the wake of the vessel.
It is worthwhile, as the design concepts of Oriana of 1995 are in many respects the same as the design of Canberra of 1961, to look at the life of the designer of the earlier cruise ship, John West. He was born on 13th August 1927 in Hebburn on Tyne and won a scholarship to Jarrow Grammar School and then studied naval architecture at King's College in Newcastle. He joined P. & O. at the age of 25 years and two years later he became Assistant Manager in charge of technical and design work. He was promoted to be in overall charge of the design and supervision of newbuildings, with the order for the new cruise ship Canberra going to the Belfast yard of Harland and Wolff Ltd. The vessel was yard number 1621 and was launched on 16th March 1961 by Dame Patti Menzies, wife of the Australian High Commissioner in London. She cost a staggering £16 million in 1960 with the interiors of her public rooms designed by Sir Hugh Casson and hung with canvasses by a young artist named David Hockney. John West received many awards and medals for the design of Canberra and the many other ships he designed, and became a Visiting Professor to two English universities. He was a very committed Christian and lived long enough to see his beloved Canberra replaced by Oriana, and he died on 4th November 2003 at the age of 76 years.
Three interior designers for Oriana were engaged in Robert Tillberg of Sweden, John McNeece of London and Petter Yran. John McNeece and his team of designers gave the unique touches to rooms such as Anderson's Lounge, the Knightsbridge shops, Harlequins disco and nightclub, the Pacific Lounge, the photo gallery, casino and related public spaces, as well as the onboard information graphics. Oriana has ten decks for passengers, four decks in her hull and six superstructure decks, with the Promenade Deck given an extra wide wrap around walking space, with her sixteen lifeboats being placed inboard on 'D' deck. The cruiser stern was tiered above to overlook the aft deck, pool and children's play facilities. The elegant four deck high atrium and waterfall was topped by a dome of vibrant Tiffany glass, an Art Deco feature, and the central walkways leading to it gave good passenger flow. The base of the atrium consisted of a set of stairs flanked by two black painted elegant flower bouquet holders. The décor of her public walkways, shop fronts, and the corridors on each deck leading to the staterooms were restrained and conservative, and in no way 'glitzy'.
Oriana obtained the high speed of 26.2 knots on trials with her service speed of 24.0 knots giving her the ability of keeping to schedule on long distance voyages to Australia, the destination of many of P. & O. liners of the past. Oriana holds the 'Golden Cockerel' trophy for the fastest ship in the P. & O. fleet, previously held by the Barrow built fleetmate of Canberra, the Oriana of 1960 with her twin 'pepper pot' funnels and a speed over the measured mile on trials of a fast 30.64 knots. The award passed to Canberra on the retirement of the first Oriana in 1986. The 'Golden Cockerel' was handed over to the new Oriana from Canberra when both ships were anchored off Cannes and each ship sent boats over to perform the handover ceremony. Oriana of 1960 had a very successful maiden voyage out to Australia after sailing from Southampton on 3rd December 1960. She then moved to the Transpacific service from Sydney (NSW) to Auckland and then under the Lion's Gate Bridge at Vancouver before finishing at San Francisco.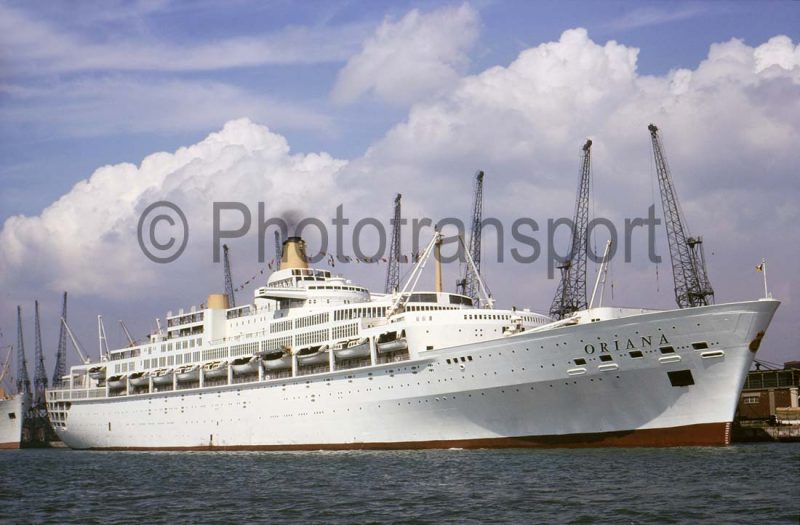 Oriana is powered by four M.A.N.-B & W L58/64 diesel engines of 47,750 kW combined capacity driving two controllable pitch propellers through two Renk-Tacke gearboxes. The gearboxes are coupled to engines via Vulkan-Rato couplings. The diesel engines comprise two nine cylinder centre engines and two six cylinder wing engines built at Augsburg with a total power of 54,040 bhp. This type of wing engine arrangement gives flexibility in the amount of power transferred through to the propellers, and thus control of fuel consumption. The propulsion system also integrates three bow thrusters, one stern thruster and two rudders. Oriana has very large stabilisers for the comfort of passengers, these covering a surface area of 21.5 square metres and reduce the rolling motion by 90% at a speed of nineteen knots. Two auxiliary steam boilers for heating and ancillary equipment use, four M.A.N.-B & W 6L40/54 generators to provide electrical power, and other pumps and equipment completed the engine room outfit, with compartments in the double bottom and alongside the engine room containing 2,400 tonnes of fuel oil bunkers.
P & O. would have wanted a British yard such as Harland and Wolff Ltd. of Belfast to build the ship, but fitting out such an important ship was problematic in a British yard, so the order went to the Meyer Werft yard at Papenburg in Lower Saxony in Germany. Construction in the large Building Hall was by a series of 500 tonne prefabricated sections, with her funnel and forward navigation mast fitted alongside the fitting out quay.
The single funnel was designed to look like the twin elegant funnels of Canberra, the basic design of both vessels being very similar with lifeboats being carried at the same deck level. She was laid down on 11th March 1993 and launched on 30th June 1994, making the slow two day passage down the river Ems to the sea when fitted out by March 1995. She was named by H. M. The Queen on 6th April 1995 at Ocean Dock in Southampton, and was towed stern first dressed overall with flags to the Western Docks two days later, passing Canberra, which was about to sail on a cruise and was also dressed overall with flags.
Oriana has an overall length of 853.02 feet (260.0 metres) with a moulded beam of 105.64 feet (32.2 metres) and a loaded draft of 25.92 feet (7.90 metres), and is equipped with forward and stern thrusters for manoeuvrability in port. Oriana was designed to have accommodation for 1,828 passengers on a cabin capacity basis of two passengers, with a total of 914 cabins (594 outside and 320 inside) with 112 single cabins, 118 balcony cabins on one deck, and eight cabins reserved for wheelchair passengers.
The Balcony Deck is on 'B' deck and comprises the most spacious and elegant Suites, Mini Suites and Deluxe Balcony staterooms sleeping up to four persons, with the other outside and inside staterooms normally for two person occupancy. The gross tonnage worked out at 69,153 with a net tonnage of 36,829, and she carries a crew of 794, with British officers and international stewards and dining staff. Oriana cost the expensive amount of over £200 million to build, and her name refers to Queen Elizabeth I, in the same way that Gloriana was used to refer to her in poetry.
Public Rooms of Oriana
The exemplary public rooms and facilities onboard comprise three outdoor swimming pools, the Oasis Health and Spa Club, a casino, three main Dining Room choices plus two speciality restaurants and two other dining options, and six entertainment choices, and other multi-purpose rooms. These are:-
Swimming and Health
Riviera Pool is situated forward on Lido Deck with the pool surrounded by a bandstand, two whirlpools, a bar and many sun loungers. A raised walkway above on Sun Deck extends around both sides of the ship for walking and jogging exercise.
Crystal Pool is further aft on Lido Deck, and at one end of the pool is a bronze sculpture by Andre Wallace of a man in a boat beside a reclining woman in another boat.
Terrace Pool is at the stern of the vessel on 'D' deck and has its own whirlpool. The open decks of Oriana feature a sports court, golf nets, shuffleboard and teak wooden promenades.
Oasis Health and Spa Club was originally run by Champneys and is located high on Lido Deck towards the bow of the vessel, offering massages, facials, and health and slimming treatment. The Spa also has a whirlpool, thermal chairs, steam rooms and saunas.
The Fitness Centre is within the Spa and runs exercise classes, personal training, with many exercise machines, free weights, treadmills, bicycle exercisers, and other equipment, with also an area for aerobics. The Salon is also in the Spa and offers hair styling, barber shop, make-up and manicures.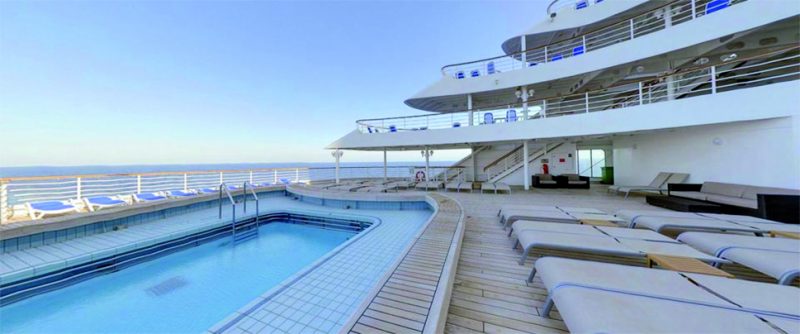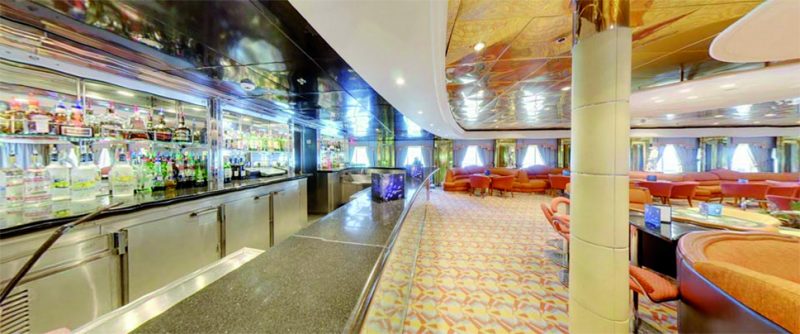 Entertainment
Theatre Royal with 664 seats is the largest entertainment venue with well known guest entertainers as well as productions by the ship's own entertainers. The theatre was designed by John Wyckham and is decorated in rich red plush seats, curtains and fittings to give the feel of a West End theatre with high technology audio and lighting equipment to give good acoustics plus a revolving stage and orchestra pit. The seats are individually air conditioned to give guests a memorable experience in a very beautiful theatre.
Chaplin's Cinema seats 189 and shows both classic and recent film releases, with the room also used for lectures and talks on Promenade Deck.
Harlequin's Disco and Nightclub seats 230 has a very large dance floor for both daytime ballroom dancing and a late night disco dancing on Promenade Deck.
Pacific Lounge seats 430 and is located at the aft end of the Promenade Deck, and in the evenings hosts cabaret with stand-up comedians, magicians, British singers and acts, and musical performances. There is a full service bar, and it is also used during the daytime for a range of classes and activities.

Curzon Room named after Lord Curzon of India fame hosted classical music concerts and sessions for 140 guests, but was replaced in the 2006 refit at Bremerhaven costing £12 million of the ship by the new Oriana Rhodes restaurant for 96 diners designed by chef Gary Rhodes, after the success of the Arcadian Rhodes restaurant on her fleetmate Arcadia.
Oriana was re-registered at Bermuda at the time of the refit so that weddings could be held by her Master at sea.
Monte Carlo Casino is an intimate club style casino offering roulette, card and other games, with the gaming tables hosted by professional croupiers, and the room is also surrounded by slot machines.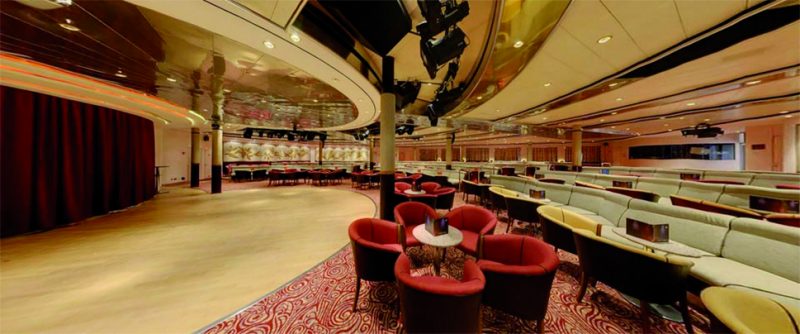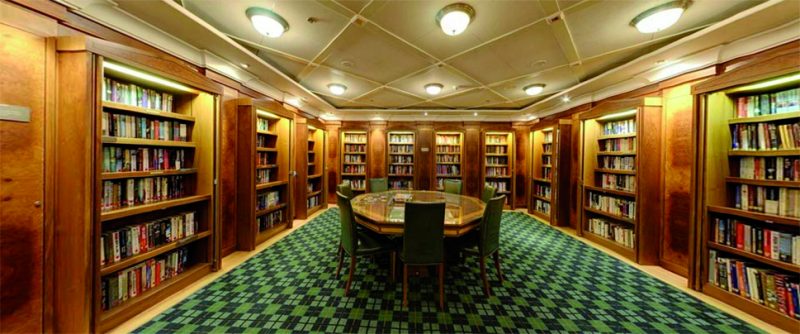 Dining
Peninsular Restaurant is 'midships on 'E' deck and, as with the very similar Oriental Restaurant aft on the same deck, seats are allocated according to cabin grade and chosen cabin. It seats 524 and offers open seating breakfast, lunch and dinner, the latter being limited to passengers who have opted for P. & O. Cruises flexible dining system who can arrive at any time. There are tables for two, four, six and eight, with excellent decorated treatment of the ceilings, chandeliers and décor with Art Deco touches.
Oriental Restaurant is the same size as the Peninsular Restaurant but seats 454 and has fabulous views over the stern and wake of the vessel, with windows on three sides, and is usually open only for dinner with passengers assigned to a specific table according to cabin grade and chosen cabin for either the first or second sitting. The menu includes signature dishes by Anton Mosimann for this excellent and much recommended dining experience.
Conservatory Buffet Café is a self service buffet restaurant with plenty of natural light through full length windows on each side, and offers good panoramic views over the sea. It is open throughout the day and well into the evening as the third major restaurant on the ship, serving continental breakfasts, afternoon luncheons and snacks, to themed evening buffet dinners. The beverage stands are also self service but this does not detract for many passengers who enjoy a more casual ambience. Al Fresco Dining space is located forward of the Riviera Pool and offers self service Mediterranean outdoor dishes on its full menu.
Tiffany Court offers light snacks and pastries and is located next to the Tiffany glass ceiling of the magnificent atrium.
Sindhu Indian Restaurant is a speciality restaurant that was introduced after the ship had been in service for a number of years at the request of passengers who wanted a wider choice of food. The Indian cuisine was developed in co-operation with celebrity chef Atul Kochhar and is located 'midships on 'D' deck near the atrium, with a cover charge payable on entering.
Beach House Buffet is another speciality restaurant in a section of the Conservatory Buffet Café for evening dining. This a very relaxed dining option offering a wide range of grilled meals and with panoramic views of the sea.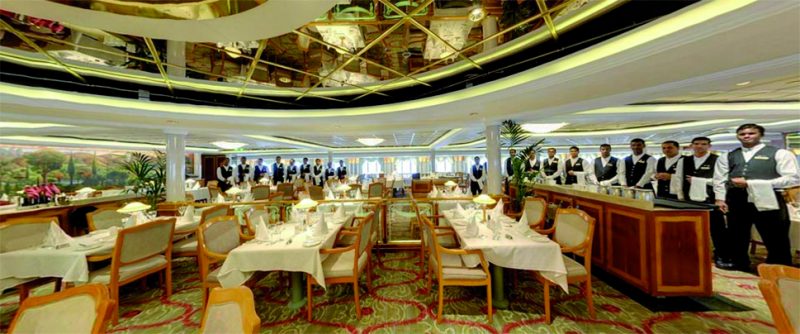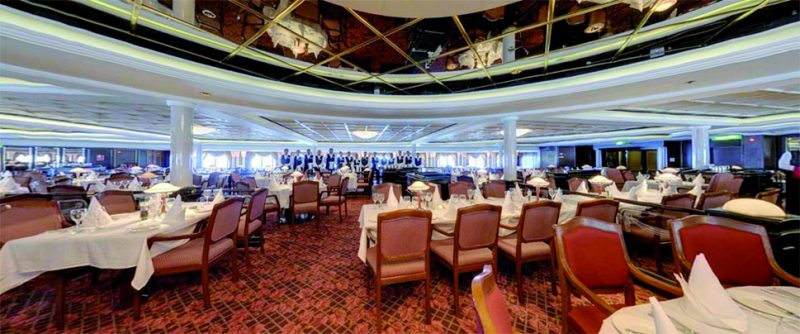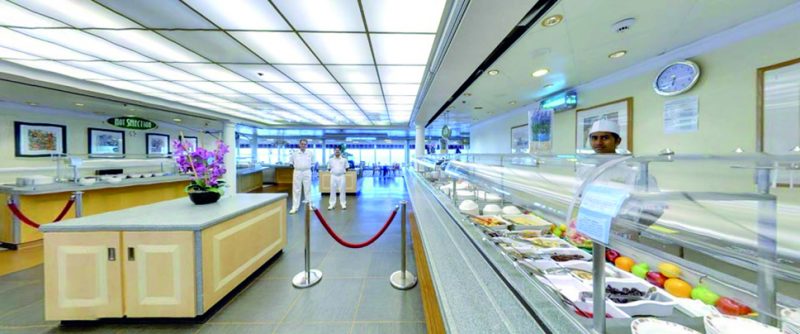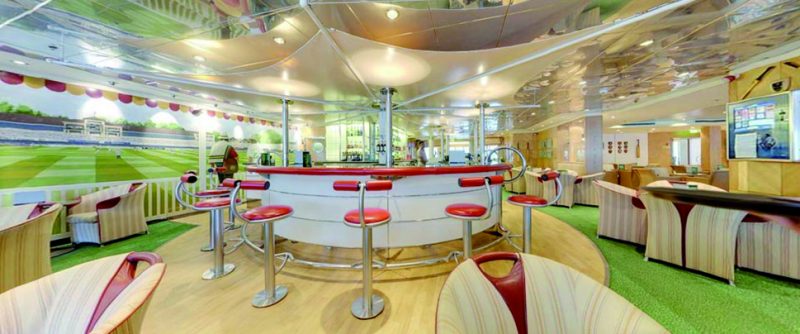 Shops, Children's Rooms And Library
Knightsbridge Shops are located in a curved area and row on Promenade Deck near the atrium, and offer everything from expensive, high end jewellery to more modest priced fragrances, fridge magnets, duty free liquor and tobacco. The Photo Gallery is nearby, as is the Plaque Room where many plaques and treasured mementos have been placed after being gifted by Ambassadors and leaders of the many countries that Oriana has visited during the last 24 years.
The Library is a beautiful light brown wood panelled room with ten bookcases filled with hardback books, two reading tables, comfortable armchairs, reading lamps and a lectern, and was designed by Viscount Linley. There are also the usual bridge, chess, and backgammon for serious players of these games, and the cyber study has fast wi-fi and Internet access with again beautiful wooden armchairs. This room is a joy for all serious readers to while away a few hours on a long day at sea with no port calls.
Children's Rooms include the Decibels teenage disco with very loud music, as well as indoor and outdoor facilities for the younger children. The rooms were refurbished during the 2006 refit, and then converted in 2011 to cabins during her transformation to an adult only cruise ship.
Multi-Purpose Rooms
Thackeray Writing Room is a traditional writing room lit by lamps on each table and with relaxing furniture and armchairs, and was also designed by Viscount Linley. The room is named in honour of author William Thackeray (1811-1863), a P. & O. passenger during the early days of the company in 1844 and who wrote many books and magazine articles.
Crichton's Room is used for card games, board games e.g. bridge, chess and backgammon tournaments, as well as evening quizzes and is named after the former P. & O. director Sir Andrew Crichton.
Medina Room is located next to the Crow's Nest bar on Sun Deck and is used for multi-purpose meetings and other uses.
Sign-up today to read the full article!
Simply click below to sign-up and read the full article, as well as many others, instantly!