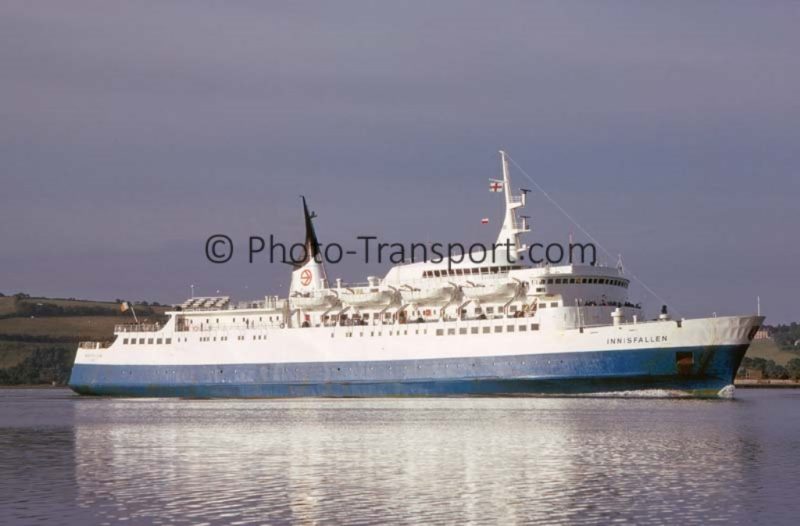 This article is a celebration of over two hundred years of passenger shipping to Éire, and deals with the many coastal passenger ships and passenger ferries that operated the links between Southern Ireland and England and France. Several other Irish shipping companies are mentioned other than the leading players of the British & Irish Steam Packet Company (B. + I.) from 1836 to 1995 and Irish Ferries Ltd. from 1995 to the present day. The passenger services from Southern Irish ports to Southern Welsh ports are included only for these two companies, as there were other companies including nationalised rail companies that were not Irish owned, nor is the Stena Line service from Rosslare to Cherbourg for the same reason.
A regular service had operated between Dublin and London for a decade or more years before the B. + I. was formed on the Eden Quay in Dublin in 1836.
The wooden paddle steamer Thames of 70 grt had first achieved an amazing voyage in 1815 from Dublin to London, with travellers arriving by sea at Dublin at this time disembarking on the South Wall at the Pigeon House Hotel, opened in 1793 near the Pigeon House Fort opened in 1814 for military use. The long main channel extended four miles eastward to end with the life saving beams of the Poolbeg Light House at the end of the South Wall and opened in 1768 using candle power, but changed to oil power in 1786.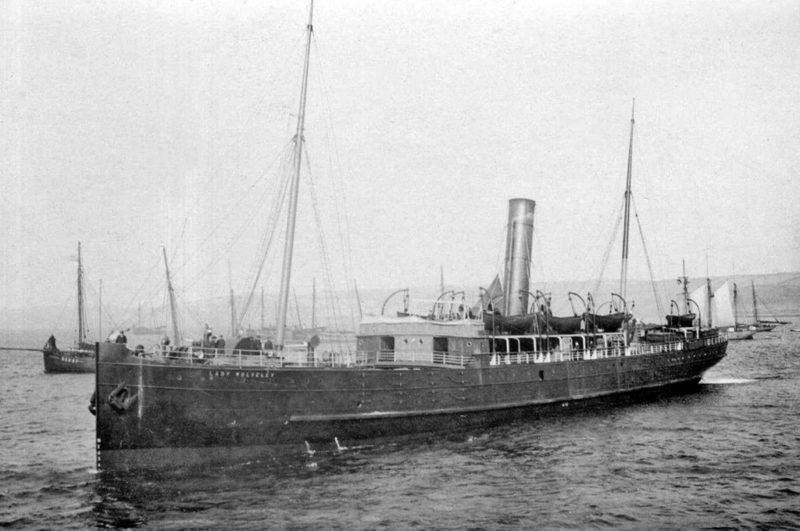 FORMATION OF B. + I.
B. + I. was formed on 27th July 1836 when a group of Dublin businessmen including Arthur Guinness of the Irish beer family, James Ferrier of the Transatlantic Steam Ship Company, Richard Williams and James Jameson met, with Articles of Association signed on 24th October 1836 for a company with a capital of £100,000 divided into £20 shares, with many of these owned by the Guinness family. The B. + I. worked closely with the City of Dublin Steam Packet Company, formed in 1823, for most of its existence to 1924, with one of their directors, Frank Carleton, also on the B. + I. Board. Three wooden paddle steamers formed the entire fleet at first, these being Devonshire, Shannon and City of Limerick, but a rapid increase in passenger numbers became apparent, and in 1842 the Duke of Cornwall was completed for the company. Two schooner rigged passenger screw steamers, Shamrock and Rose, marked another important milestone for the company in 1845.
B. + I. purchased its first iron screw steamer Foyle in 1850 and was one of the finest passenger vessels afloat at the time. The steamers Lady Eglinton and Nile were added during 1852/53 with two of these excellent ships chartered for the long voyage to the Black Sea and service in the Crimean War between 1853 and 1856. B. + I. took up residence on the North Wall in 1860, and ran a short lived service between Dublin and Waterford for the next three years. The shipyard of Walpole, Webb and Bewley built the larger passenger steamer Lady Wodehouse of 843 grt for the Dublin to London service, followed by the Countess of Dublin of 760 grt from the same yard in 1869, both giving long service until the mid 1890s.
B.+ I. increased its capital by £20,000 in 1878 and made the company into one of limited liability, having taken over the Waterford Steam Ship Company and its two steamers on the London service in 1870. An order with the A. & J. Inglis yard at Pointhouse on the Clyde was completed as Lady Olive of 1,013 grt in 1878 as the last iron hulled screw steamer for the company, and she gave 32 years of service to the company before being sold to Greek owners. The advantages of steel hulls and the triple expansion steam reciprocating engine were used to good effect on the Dublin to Falmouth, Torquay, Southampton, Portsmouth and London route in five prestigious and splendid passenger steamers completed between 1888 and 1911 as:-
Lady Martin of 1,356 grt from the Workman, Clark & Co. Ltd. yard in Belfast and launched in 1888

Lady Hudson-Kinahan of 1,368 grt from the Ailsa yard at Troon and launched in 1891
Lady Wolseley of 1,450 grt from the Naval Construction and Armaments Company at Barrow and launched in 1894
Lady Roberts of 1,462 grt from the Ailsa yard at Troon and launched in 1896
Lady Gwendoline of 2,163 grt from the yard of the Clyde Shipbuilding Co. Ltd. at Port Glasgow and launched on 13th May 1911.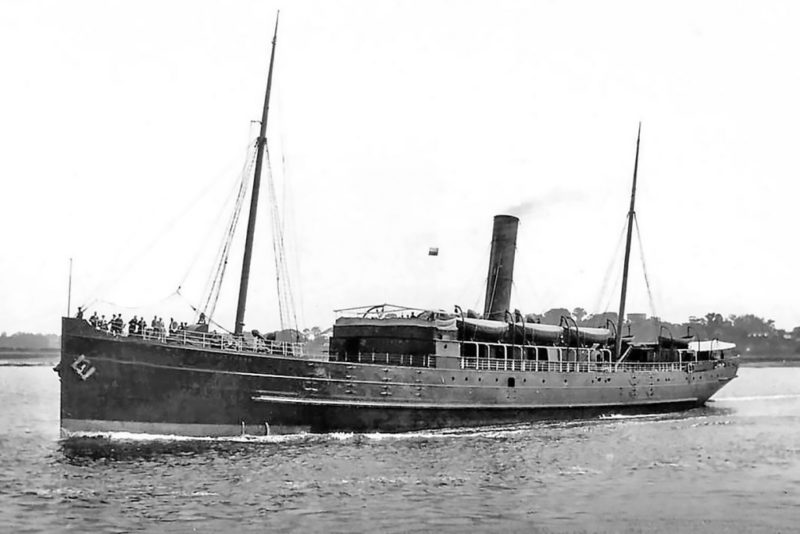 The overall dimensions of the first four were length of between 270.0 and 275.0 feet, moulded beam of 36.0 feet, and moulded depth of 16.5 feet, while Lady Gwendoline was larger at overall length of 300.2 feet, moulded beam of 39.7 feet, and moulded depth of 17.5 feet. Triple expansion steam reciprocating engines, mostly by the shipbuilders, gave a good turn of speed of 13 knots. They had excellent passenger accommodation for 100 passengers in First Class, 50 in Second Class on the upper decks as well as steerage accommodation down below, with well equipped staterooms with bathrooms, and saloons and smoking rooms. The accommodation was so grand that B. + I. offered weekend cruises on these passenger steamers from Dublin to Falmouth and Plymouth to enjoy the pleasures of these Cornish and Devonshire cities, with singing and entertainment laid on in the form of a grand piano played by a professional pianist. The spaciousness, comfort and speed of these B. + I. steamers made them firm favourites with the travelling public between Dublin and London.
The 'Lady' boats had such a good turn of speed and could show a 'clean pair of heels' to chasing U boats during World War I. Several passenger 'Lady' steamers were chased and attacked by gunfire but escaped due to their speed. Lady Roberts and Lady Hudson-Kinahan were sold in 1914 to Italian and Greek owners and renamed Sassari and Elsie respectively, with Lady Martin sold to Turkish buyers at the beginning of the war, but was seized at Glasgow before delivery following the Turkish entry into the war on the German side. She came back into the B. + I. fleet before being sold again to Cunningham, Shaw & Company and renamed as Purfleet Belle.
Lady Wolseley was chased and attacked by gunfire on 18th August 1915 by a U boat when 55 miles from the Longships Light House, but escaped due to her superior speed. She was sold later that year to the Limerick Steamship Co. Ltd. of Limerick and renamed Kinvarra, and then to Lord Armstrong of Newcastle and Rothbury in Northumberland, inventor of the marine steam turbine, and renamed River Tyne, but she foundered on 25th October 1916 when 30 miles off Oporto in Portugal. Lady Gwendoline was missed by a torpedo fired in the North Sea on 29th July 1918, having been requisitioned for Russian service to Archangel during 1917/18. She did not return to B. + I. service after the war, but was sold for further service with the Dundee, Perth & London Shipping Co. Ltd., C. T. Bowring, Furness Withy & Co. Ltd. and several other owners before finally being broken up in China in 1952.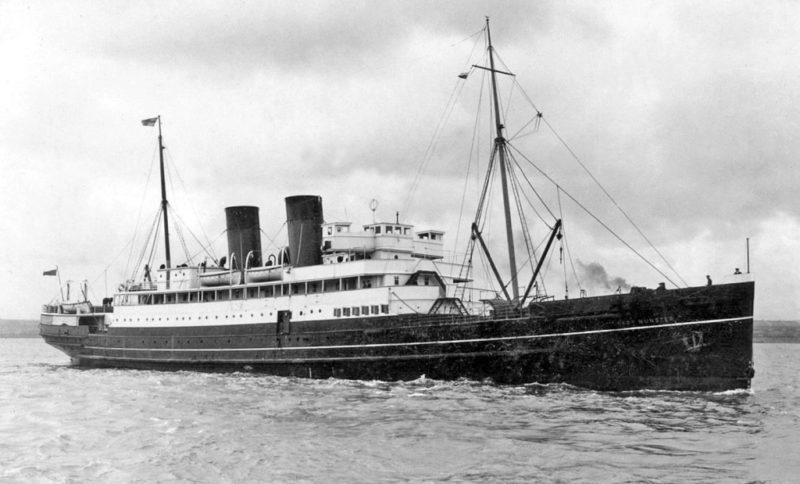 Sign-up today to read the full article!
Simply click below to sign-up and read the full article, as well as many others, instantly!