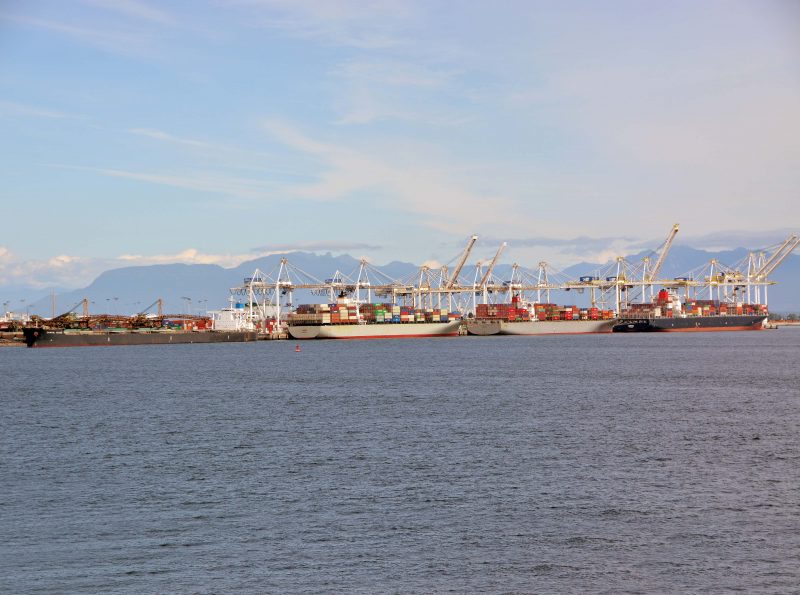 Deltaport in British Columbia is opposite the ferry terminal at Tsawwassen. It is one of Canada'a major container terminals and also handles bulk cargo. This is a view of the port on 23rd August 2017.
On the left is the 178,459dwt bulk carrier Zampa Blue of Tohmei Shipping. She was built in 2011 by Mitsui at Chiba.

On her right is the 66,332gt container ship Ikaria of International Maritime Enterprises. She was built in 2002 by the Koyo Dockyard at Mihara as the Long Beach Bridge. In 2010 she was briefly renamed Ikaria before becoming CCNI Antarctico. In 2012 she re-assumed the name Ikaria.
Further to the right is the 68,570gt Greenwich Bridge of K Line. She was built in 2006 by Hyundai at Ulsan.
On the extreme right is the 113,412gt container ship Athenian of Capital Ship Management Corporation. She was built in 2011 by Samsung at Koje as the Hanjin China. Following that company's demise she joined her current owners as Athenian in 2017.