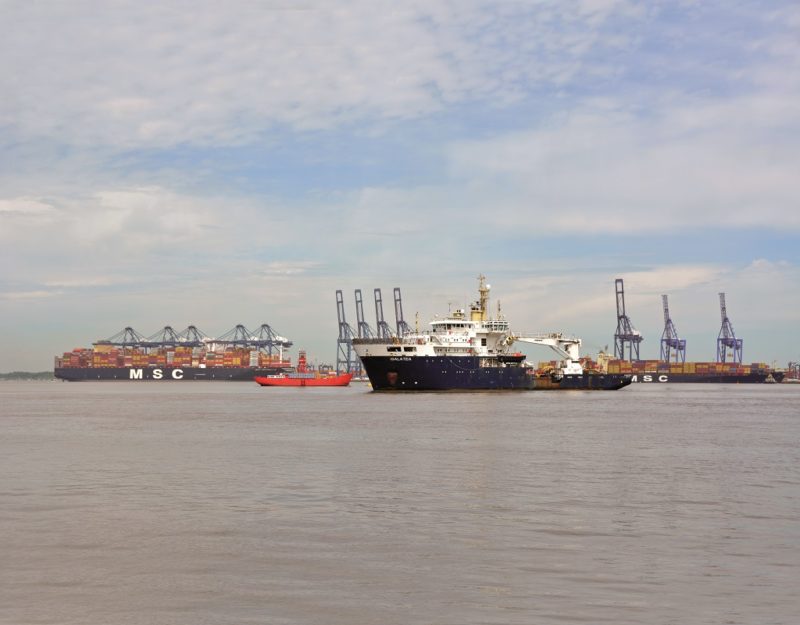 Harwich Haven at the confluence of the Rivers Orwell and Stour is always a busy place for shipping. On 17th May 2022 The Trinity House buoy and lighthouse tender Galatea is seen arriving at the Trinity House base in Harwich. She is seen passing the Sunk Inner Lightship which was also back at headquarters. In the background are two MSC container ships berthed at Felixstowe.
On the left is the 228,786gt MSC Michelle which was built in 2021 by Daewoo Shipbuilding & Engineering Co. at Okpo.

On the right is the 51,836gt MSC Shaula which was built in 1992 by Hyundai at Ulsan as the Hyundai Emperor. In 2006 she became APL Emperor while on charter to APL before returning to Hyundai in 2008. She joined MSC in 2011, initially as MSC Idil, then the following year she was renamed MSC Shaula.
The 3,672gt Galatea was built in 2007 by Remontowa at Gdansk.
The Sunk Inner Light Vessel is normally located just outside Harwich and is an important part of the Sunk Traffic Separation Scheme

Photo: Nigel Lawrence