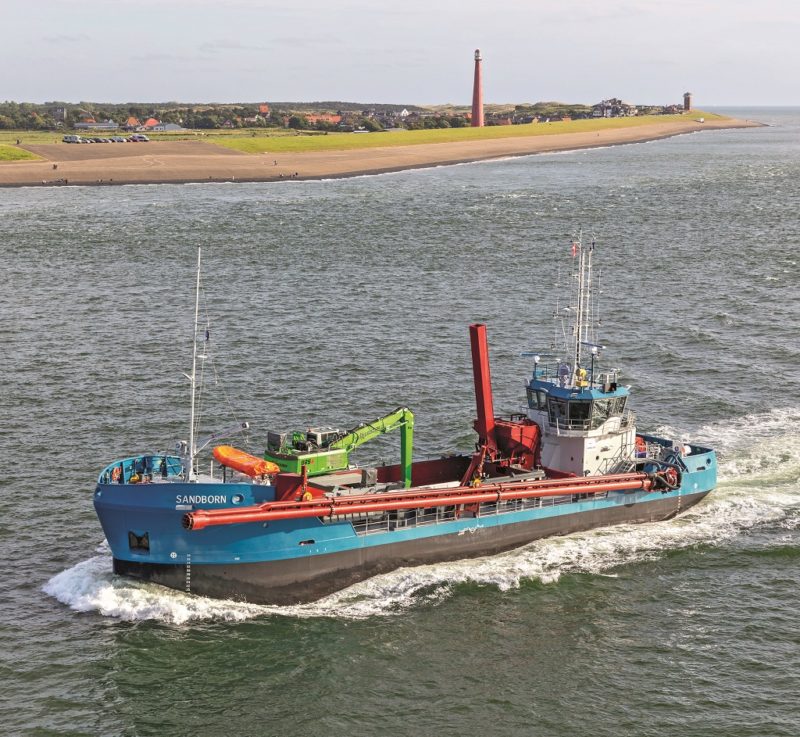 The focus of this month's newbuild feature comes from the plethora of vessels designed and built to undertake dredging tasks around our coastlines. The EuroHopper 400 is a coastal waters example of a Trailing Suction Hopper Dredger (TSHD) that was spawned by Neptune Marine, a company that can trace its routes back to 1972 when the yard opened in Aalst, The Netherlands, as a builder of luxury yachts. That activity was soon joined by the manufacture of workboats where the expertise gained thus far plus the culture of working to the highest standards reaped rewards. Such was the success of the workboat division that, in 2001, the two activities were separated into Neptune, focussing on workboats, and Elling Luxury Yachts. Over the years the company has expanded, gaining additional facilities in Hardinxveld and Groningen. In 2005, Neptune Marine started its marine services activities. By offering charter equipment, including pontoons and deck equipment, to operators and contractors, the company can deliver solutions for any kind of project. The scope of services has expanded over time in response to customer demand so the range of workboats has been supplemented by pontoons, high speed and offshore vessels of various types. In 2010 a successful repair, conversion and mobilisation service was added to the portfolio. The EuroHopper family also includes the EuroHopper 200 (200m3 capacity), EuroHopper 300 (300m3 capacity), EuroHopper 600 (600m3 capacity) plus the Clan Dredge, a 700m3 dredging crane vessel for harbours and waterways. The EuroHopper range is designed and built to work the toughest environments, undertaking maintenance dredging projects in ports and coastal areas, as well as sand and aggregates extraction, for land reclamation, construction and other purposes.

Records show that IHC Dredging of The Netherlands built the first trailing suction hopper dredger over a century ago, a unique type of ship. While slowly sailing, a TSHD trails a suction pipe off the side of the hull. At the entrance of a suction pipe is a draghead. This draghead collects the soil like the mouth of a vacuum cleaner. The slurry is pumped to the hopper (hold) and stored for transport. When full, the TSHD sets sail to the discharge location. TSHDs are allrounders by nature and are capable of handling many different dredging projects. They can be put to work anywhere in the world. Also, a TSHD is the only type of vessel that dredges while sailing, making it the dredger of choice for operations in waters where tides and swell occur, and where any interference with the movement of shipping is not possible. The EuroHopper 400 example that forms the subject of this article is the 467gt/2022-built Sandborn, which was ordered for Sibelco's operations in the port of Rønne, Denmark (Sibelco Nordic A/S). The site there is located off Norgesvej, is managed by around 20 people and has its own dredging operation. Here, the company produces classified material, supplying drained quartz, aggregates and sand to customers. The site has its own loading operation for working with ships under 6,000gt.
The year 2022 is Sibelco's 150th anniversary, the company being founded as Sablières et Carrières Réunies on 4th April 1872 (today known as SCR-Sibelco) in Belgium by industrialist Antoon Van Eetvelde and Crédit Général Liégois. The young company, with ambitions to mine quartz sand for industrial applications, grew quickly and was soon trading internationally. Export to the UK was established by 1880 and the first activities in Nivelstein (Germany) also began then. In 1935 SCR constructed its first plant for drying and grinding silica sand, including a unique hydro-classification system to divide mineral sludge into fine and coarse flows. By the end of the 1930s, SCR was producing six grades of sand. This technology later served as a model in Sibelco's expansion worldwide. In 1955, SCR set up a new plant in Dessel for drying and grinding a special type of quartz sand known as Sibelco (a name derived from Compagnie Belge des Silices). Sibelco also established its headquarters in Antwerp. The new plant in Dessel subsequently served as a prototype for other Sibelco facilities. An impressive series of expansions over the decades now makes Sibelco a global material solutions company, sourcing, transforming and delivering speciality industrial minerals with a strong focus on silica, clays, olivine, cullet (recycled glass) etc.

Born to Dredge
Subscribe today to read the full article!
Simply click below to subscribe and not only read the full article instantly, but gain unparalleled access to the specialist magazine for shipping enthusiasts.