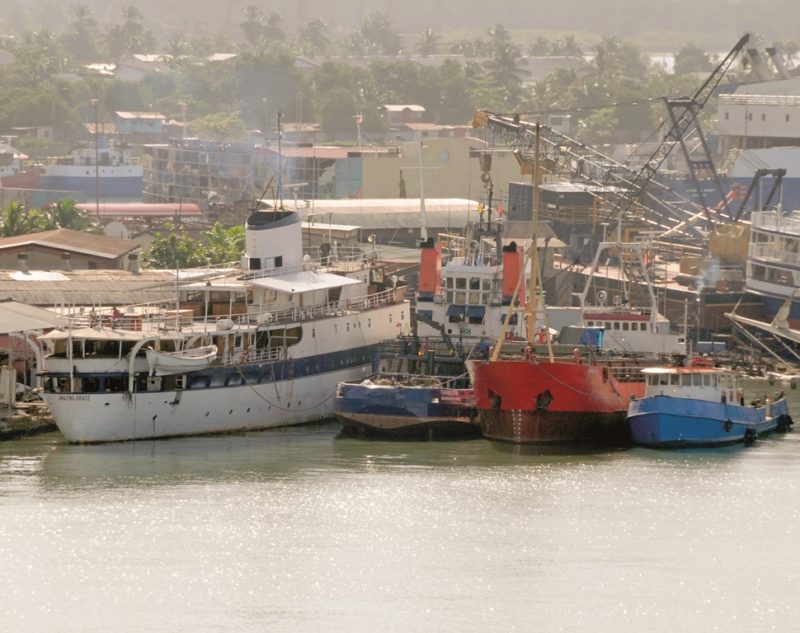 Vessels laid up at Port of Spain, Trinidad on 19th February 2009. From left to right are the 1,558gt Amazing Grace of Amazing Grace SA, the tug Thunderer of Coloured Fin Ltd., the 402gt coaster Edmell II of Mellanson EA and an unidentified local workboat.
The Amazing Grace was built in 1955 by Caledon Shipbuilding at Dundee as the Pharos for the Northern Lighthouse Board. In 1988 she was sold to Winjammer Cruises and renamed Orient Express and later that year she became Amazing Grace for Shower Holding Inc. later Amazing Grace SA. On 4th December 2010 she arrived at Aliaga to be broken up by Isiksan. See pages 48,49.

The Thunderer was built in 1977 by Jonker & Stans at Hendrik-Ido-Ambacht as the Groenland for Sleepdienst Mij "Groenland" BV. In 1990 she became Keverne, operating for J.P. Knight Ltd. of St. Vincent and in 1996 she was sold to Rolv Berg Drive A/S and renamed Drive Mar. She became Thunderer in 2004 and is still in service.
The Edmell II ws built in 1976 by Moen Slip at Kolvereid as the Kjonno. In 1978 she was renamemd Dragnes before joining Mellanson EA as Edmell II in 1985. In 2012 she became Stalion under the Guyana flag and has been laid up since 2013.
Photo: Nigel Lawrence