The Baltic Sea Subsidiary of Bank Line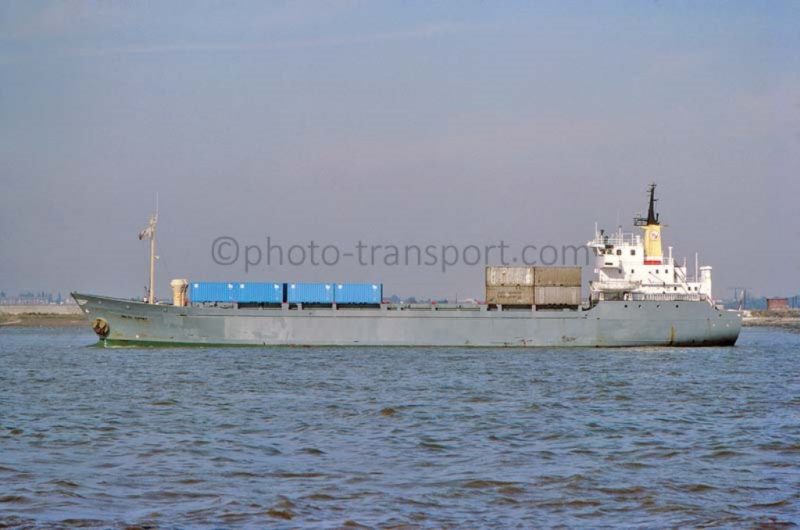 UBC was founded in London on 20th May 1919 at the special request of H. M. George V at the end of the Great War to resume a direct shipping connection between the U. K. and Poland, Lithuania, Latvia and Estonia. H. M. George V asked the Scottish shipowner and British Minister of Munitions, Andrew Weir (1865-1955) and later Lord Inverforth, to set up a new Baltic shipping line. UBC had a capital of £2 million in £1 shares held equally between Andrew Weir & Co. Ltd. and the East Asiatic Company (EAC) of Copenhagen, whose subsidiary the Russian East Asiatic Steamship Company of St. Petersburg had been active in the Baltic since 1899. The famous UBC red 'foul anchor' on its houseflag was taken from the East Asiatic Company houseflag.
Short term charters were taken in August 1919 with the EAC ships St. Croix, St. Thomas, Reval and Libau between London and Gdynia, Gdansk, Liepaja (Latvia), and the service was extended to Riga (Latvia) and Tallinn (Estonia) four months later. St. Thomas and St. Croix had operated a short lived service in 1917 between Denmark and the Virgin Islands in the Caribbean, which ended with the purchase of some of the Virgin Islands by the United States of America. On 30th June 1920, St. Thomas and St. Croix were purchased by UBC and renamed Baltannic and Baltriger, and could carry 1,500 tonnes of cargo and 130 passengers, mostly full with the westward flow of emigrants from Poland and the Baltic States, who disembarked at the East India Docks in London to trans-ship to liners bound for America. A small but increasing number of tourists embarked on the eastward voyage to see the Baltic countries as well as traversing the Kiel Canal in both directions. The steamer Libau was purchased by UBC on 25th July 1920 from the Russian East Asiatic Steamship Company to become Baltabor.
Hay's Wharf on the south side of the Pool of London, which was full of shipping on both sides of the Thames at this time, became the London berth of UBC in 1922. Klaipeda in Lithuania was added to the service in 1924 with two sailings per week except in the winter if the southern Baltic Sea was iced-up. The former Royal Mail Line Caribbean inter-island passenger ship Berbice was purchased in 1924 and renamed Baltara with accommodation for up to 150 passengers. The steamer Banka was transferred from the EAC to UBC in 1926 and renamed Baltrader.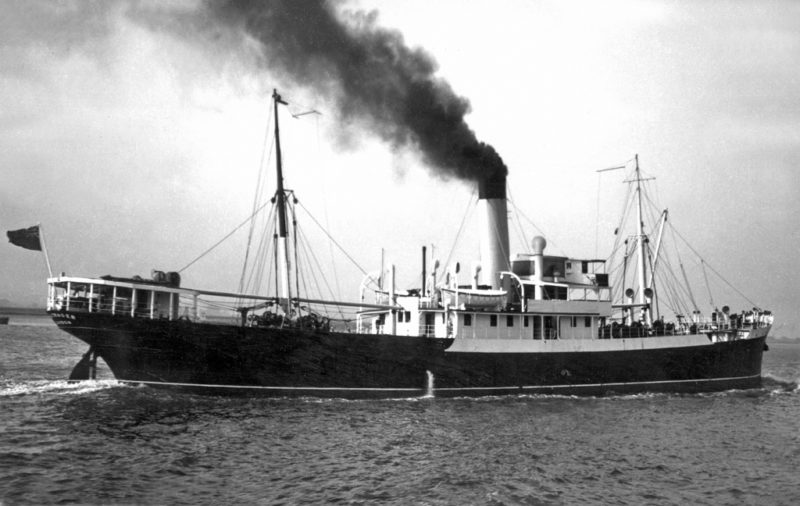 The Swedish Lloyd passenger and cargo ship Patricia, built back in 1901, was acquired in 1929 for the UBC passenger service from the Pool of London to Baltic ports, with accommodation for 18 First Class passengers, 60 in Second Class, and 372 in Third Class, and she ran as Baltavia for six years until sold for breaking up. National sentiment among the Baltic States, particularly in Lithuania, was high with independence from the Russian dominance of communism high on their agendas. In November 1930, UBC offered both Baltriger and Baltannic (2), purchased in 1925, to the Lithuanian Government in a deal worth $400,000 to establish a national Lithuanian fleet. This did not occur due the disastrous freight rates of the next five years, but trade deals were signed for the import of pork and meat from Lithuania. When freight rates returned to normal in 1937, the Anglo-Lithuanian Steamship Company with offices in Kaunas, the Anglo-Latvian Steamship Company with offices in Riga and Liepaja, and the Anglo-Estonian Steamship Company with offices in Tallinn were established as subsidiaries of UBC to help build trades with the Baltic States. These Baltic States finally became independent from Russia between 1991 and 1994 with the last Russian troops withdrawn from Lithuania in August 1994. The UBC fleet was employed in 1937 and 1938 on the following UBC routes:-
Baltrover ex Digby sailed from London to Gdynia and Danzig with passengers and cargo
Baltannic and Baltrader sailed between Hull and Liepaja with a call at Klaipeda on the return voyage
Baltavia and Baltallinn were employed on the Anglo-Estonian Steamship Company service between London and Tallinn with a call at Hull on the return voyage
Balteako and Baltabor were employed on the Anglo-Latvian Steamship Company service between London and Riga
Baltanglia and Baltonia were employed on the Anglo-Lithuanian Steamship Company service between London and Klaipeda on the 45 mile long coastline of that country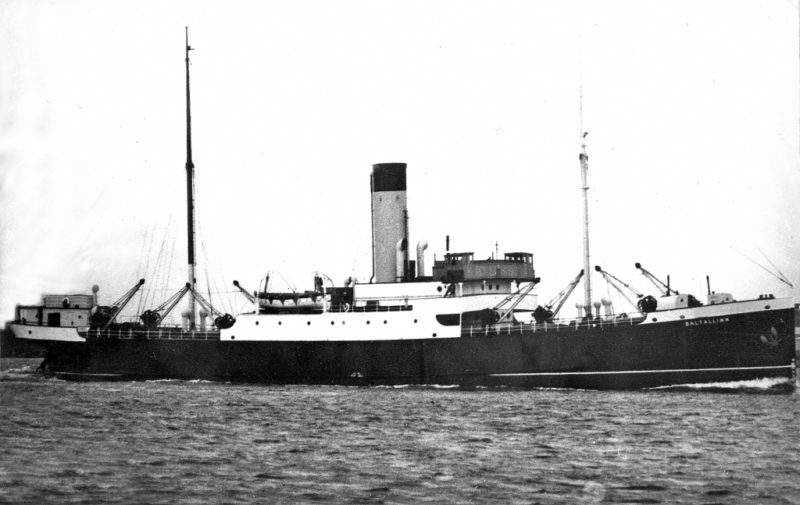 POLISH UNITED BALTIC CORPORATION (PUBC)
This was an agency for Polish shipping affairs and did not own any ships, with PUBC as one of the oldest private companies with participation of foreign capital in Poland when formed on 5th November 1930 in Gdynia. The founders of PUBC were Marek Myslakowski, with 52% of the shares, and a British agent representative from UBC and a Danish agent representative from EAC, each with 24% of the shares. The history of PUBC is closely linked to the development of British-Polish shipping and trade co-operation, dating back to 1919 when UBC started a regular service between Poland and the U. K., with an agreement signed with the Polish-British Shipping Partnership (Polbryt) to establish an agency in Gdynia. PUBC represented UBC in Poland on all of their activities and freight forwarding of cargo on the regular trade between Poland and the U.K., and acted as ship's agents in all Polish ports for UBC. The post World War II activities of PUBC are described later in the article.
UBC DURING THE DEPRESSION YEARS 1930-1935
Passenger ships and cargo ships made up a fleet of six ships in 1930, including the former Elder, Dempster passenger ship Akabo purchased in 1926 and renamed Baltonia, with her accommodation and lifeboat capacity updated to carry 150 passengers. Cargo ships with refrigerated capacity were either purchased or transferred from the EAC. Two ships had been wrecked in 1929, Baltara on 11th January off the eastern entrance to the Weichsee river whilst on a voyage from Liepaja (Latvia) to Gdynia, her 43 crew and 40 passengers being rescued. Baltabor stranded on Nargen Island on 26th December 1929 and became a total loss.
The decrease in tourist numbers during the Great Depression was matched by a higher number of emigrants moving westward from the Baltic States. A service from Riga in Latvia with butter shipments to Newcastle Quay on the Tyne and Hay's Wharf in the Pool of London was established, with westward bound emigrants disembarking at both ports en-route to America. Two refrigerated former WAR 'C' types were purchased from French owners and renamed Baltara and Baltraffic, and two Continental traders, Starling and Heron, were purchased from the General Steam Navigation Co. Ltd. and renamed Baltallinn and Balteako respectively. The long Newcastle Quay often had UBC Baltic traders loading and discharging.
Baltavia was sold in February 1935 for breaking up at Newport and replaced in the fleet as flagship by the much travelled, former Furness, Withy & Co. Ltd. passenger ship Digby, built at Hartlepool in 1913 for Transatlantic service from Liverpool and Red Cross Line service from New York to the St. Lawrence. She had served as HMS Digby during World War I, and been transferred within the Furness, Withy empire in 1925 for Caribbean services from Quebec and New York and renamed Dominica. She was renamed Baltrover for Polish services and had excellent accommodation for 195 passengers. During a busy emigration period from Gdynia she had made 70 calls at the Polish port between March 1936 and December 1938, transporting a total of 8,838 people from Gdynia to London.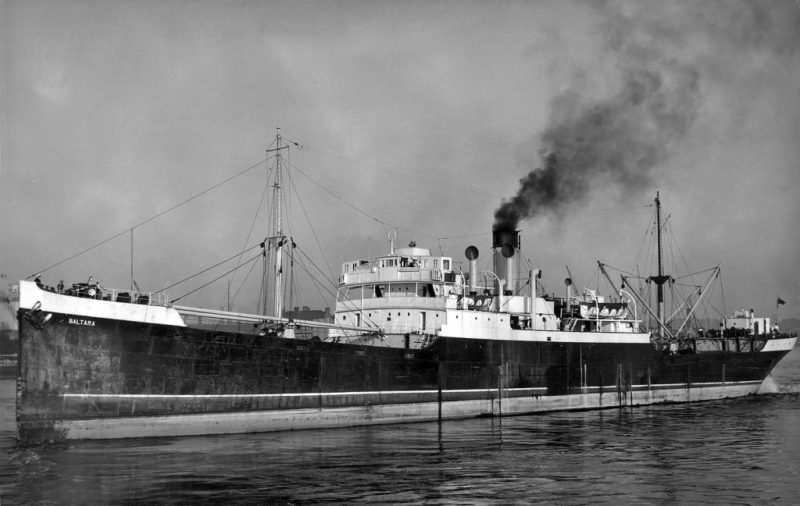 Two former Grace Line passenger ships were purchased during 1936/37 and transferred from the warmth of their Caribbean voyages to the freezing temperatures of an iced-up Baltic in winter. They were renamed Baltavia (2) and Baltabor (2) and their passenger accommodation was reduced from 120 to only a dozen. Baltabor (2) was wrecked on 12th February 1939 when 1.5 miles west north west of Liepaja in Lithuania. Two cargo ships were also purchased, the more interesting being the last coal fired forced ventilation fruit ship of Fred Olsen in Buena Vista, which was given oil firing and transferred from her Canaries service to the Baltic under the name of Baltonia (2).
WORLD WAR II
The UBC fleet on the outbreak of war on 3rd September 1939 was a dozen ships sailing to the Baltic, which was doubled in size to two dozen owned and managed ships after the fall of Denmark on 8th April 1940, when a dozen mostly funnelless motorships of the East Asiatic Company came under company management. Baltallinn was sunk by U-124 in convoy OG74 of 27 merchant ships from Liverpool and Glasgow to Gibraltar on 20th September 1941. She was torpedoed approximately 750 miles west of the Isles of Scilly, having loaded Government stores at Preston and Oban, and was hit on the port side in number one hold by one of a spread of three torpedoes, with eighteen brave men killed as she sank very quickly. More men lost their lives after the survivors were picked up by the convoy rescue ship, which was sunk by bombing, and a further four ships were lost before the convoy turned into the safety of Gibraltar harbour.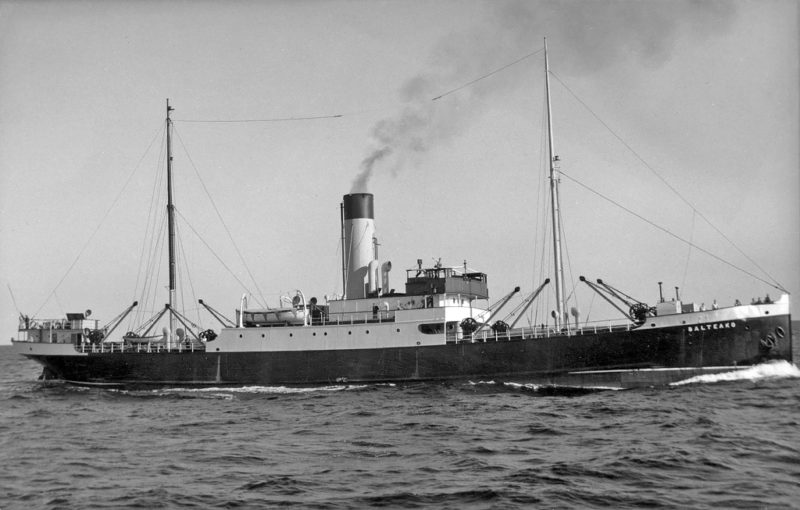 The funnelless EAC motorship Afrika of 8,763 grt and completed by the Burmeister & Wain yard at Copenhagen in 1920 was torpedoed and sunk to south east of Cape Farewell by U402 on 7th February 1943 while on a voyage from Halifax (NS) to Liverpool with steel, general and Government stores with the loss of 19 crew and four gunners. She was sunk at dawn when the U boat commander von Forstner lined up this valuable target in his periscope sights. Baltallinn and Afrika and eleven other ships formed the long list of UBC owned and managed ships sunk during the war as follows:-
Baltanglia mined and sunk off the Tyne on 23rd January 1940 while on a voyage from Hommelvik to the Tyne with general cargo.
Baltrader mined and sunk off Margate on 9th November 1940 while on a voyage from Seville to London with wine and general cargo.
Malaya torpedoed and sunk to east of Cape Farewell on 26th June 1941 by U-564 while on a voyage from Halifax (NS) to Cardiff with wheat, metals and explosives, 39 crew and four gunners were lost.
Peru torpedoed and sunk south west of Cape Palmas on 12th November 1941 by U126 in position 1°30′ North 13°20′ West while on a voyage from Calcutta and Table Bay to Freetown and the U.K. with groundnuts, pig iron and general, all crew saved.
Bintang bombed and sunk on 22nd February 1942 in the Eastern Mediterranean in position 31°50′ North, 26°00′ East while on a voyage from Alexandria to Tobruk with cased petrol, twelve crew lost.
Chile torpedoed and sunk on 7th June 1942 by the Italian submarine Leonardo da Vinci in position 4°17′ North, 13°48′ West while on a voyage from Calcutta and Table Bay to the Mersey with ground nuts, cotton seed and pig iron, five crew lost.
Danmark torpedoed on 30th July 1942 to south of the Cape Verde Islands by U-130 in position 7°00′ North, 24°19′ West while on a voyage from Durban and Cape Town to Trinidad, Halifax (NS) and the U.K., her crew was rescued and the casualty was sunk by gunfire.
Boringia had been seized at Marseille and operated by Messageries Maritimes, and was later seized at Singapore by the British authorities. She was torpedoed and sunk on 7th October 1942 200 miles SW of Simonstown by U-159 while on a voyage from Haifa and Cape Town to the U. K. with potash, cotton and gum with the loss of 28 crew and four gunners.
Siam torpedoed and sunk on 30th September 1942 SW of Monrovia by U-506 in position 3°25′ North, 15°46′ West while on a voyage from Alexandria and Table Bay to Freetown and the U.K. with cotton, grain, copper and general cargo, all crew saved.
Baltonia torpedoed and sunk in the Straits of Gibraltar on 7th February 1943 by U-118 while on a voyage from Seville and Gibraltar to Belfast Lough with oranges, 11 crew lost.
Amerika torpedoed and sunk in the North Atlantic on 21st April 1943 by U-306 while on a voyage from Halifax (NS) to Liverpool with general cargo, meat, metal, flour and 200 bags of mail with the loss of 42 crew, seven gunners and 37 passengers. She was on charter to Port Line at the time of her loss.
Panama was lost on 11th April 1945 when she capsized in the North Atlantic while on a voyage from Cardiff to Philadelphia due to her ballast shifting.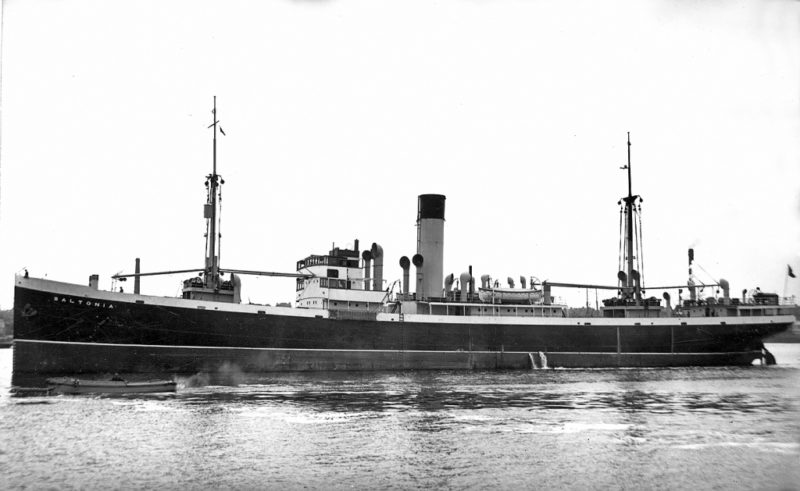 Baltic sailings were suspended on the outbreak of war, and the fleet was then dispersed on worldwide service. Baltavia (2) was converted into a naval storeship at Hebburn and saw service in the South Atlantic, East Africa and Ceylon. Baltannic (2) and Baltraffic were sent to New Zealand in 1940 for use as fridge freezer feeder cargo services into the main ports. Baltrover, the flagship and former passenger ship Digby, was employed on her original Transatlantic route as a passenger and cargo ship during the war. She was surveyed at West Hartlepool on 16th June 1947 for a freeboard computation during her sale to Hellenic Mediterranean Lines Ltd. of Piraeus and renamed as Ionia. In addition, the standard Canadian built cargo ship Fort St. Croix of 10,000 dwt was managed on bareboat charter and was present at the Normandy D-Day landings.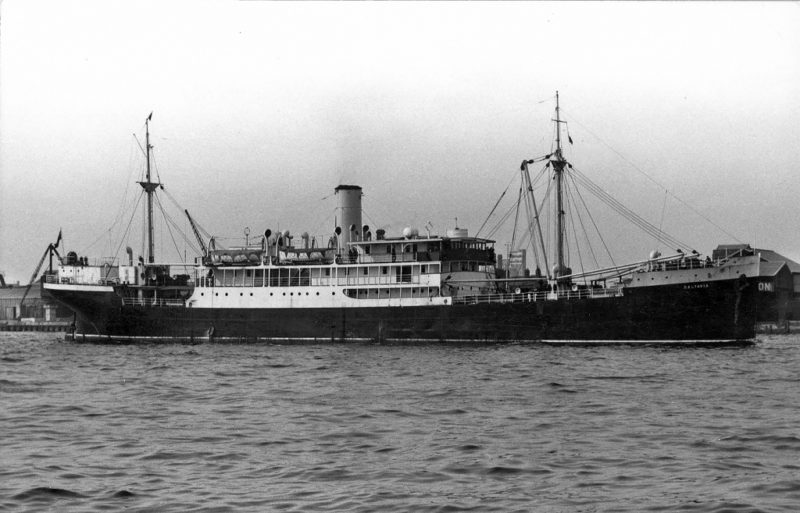 'POLANGLIA' JOINT POST-WAR SERVICE
The UBC houseflag of a red foul anchor with 'UBC' in red in the lower left corner was hoisted again in 1946 by the remaining fleet of Baltannic (2), Baltraffic, Baltara (2), Baltrover ex Digby, Baltavia (2) and Balteako. However, services could not be resumed to Lithuania, Latvia and Estonia as these countries had become Russian 'satellite' states served by their centralised fleet. Later in the 1990s, complete independence from Russian dominance was achieved after a very long struggle. Polish services were restarted, with the 'Polanglia' service from Hay's Wharf or Mark Brown's Wharf in the Pool of London run jointly with Polish Ocean Lines, sailings being taken alternately by British and Polish ships to Gydnia.
Gdynia-Gdansk form a north to south conurbation of nine miles in length separated by the resort of Sopot, all part of the same Trojmiastro (Tricity) conurbation. The long, sandy peninsula of Hel Nature Reserve protects the ports from northerly winds. Gdynia is a port city known for its modernist buildings including the Museum of the City of Gydnia, and Kosciuski Square with a distinctive fountain in its centre and which leads to the port. The port has a total of ten basins, with three basins facing the sea, each with country names e.g. Swedish, Danish, Dutch, French, Norway, India and British. The National Maritime Museum opened in 1958 and displays the three masted barque Dar Pomorza of 1909 and the World War II destroyer Blyskawica. The port is connected by ferries to Karlskrona in Sweden and Rostock in Germany.
The Polish United Baltic Corporation (PUBC) also resumed a re-activated agency service in all of the Polish ports in 1946. PUBC continued to act for Andrew Weir & Co. Ltd. (Bank Line), UBC, MacAndrews & Co. Ltd., whose shareholding had been taken over by UBC in 1935, but also for many other British and international shipping lines e.g. Ben Line, Blue Star Line, Bibby Line, Union-Castle Line, United States Lines, Sloman of Hamburg, Canadian Pacific Steamships, and later with containerised services for CMA-CGM of France and ANL of Australia. PUBC was the first ship agency in Poland to handle containers in 1965, on the joint 'Polanglia' UBC and Polish Ocean Lines service from Tilbury to Gdynia. UBC became the sole shareholder in PUBC in 1969, and a year later began to organise freight forwarding services on a local delivery basis. In 1972, all private shipping agencies were closed down by the Polish Government, but PUBC was allowed to represent its parent company. The extent of the joint 'Polanglia' UBC and Polish Ocean Lines services was increased by the joint initiative in ro-ro and container services.
In 1947, UBC had acquired from Germany three former 'Hansa' 'A' types to compensate for their heavy losses, renamed as Baltrader (later Baltic Pine), Baltonia (later Baltic Oak) and Baltanglia (later Baltic Fir). The sale of flagship Baltrover in June 1947 with her extensive passenger accommodation was the end of UBC passenger carrying, with only four to six or a dozen passengers carried in more spartan surroundings on UBC ships. The 'boilers on deck' type Norwegian steamer Marstenen was purchased in 1950 to begin a career of 18 years with UBC on its Polish services.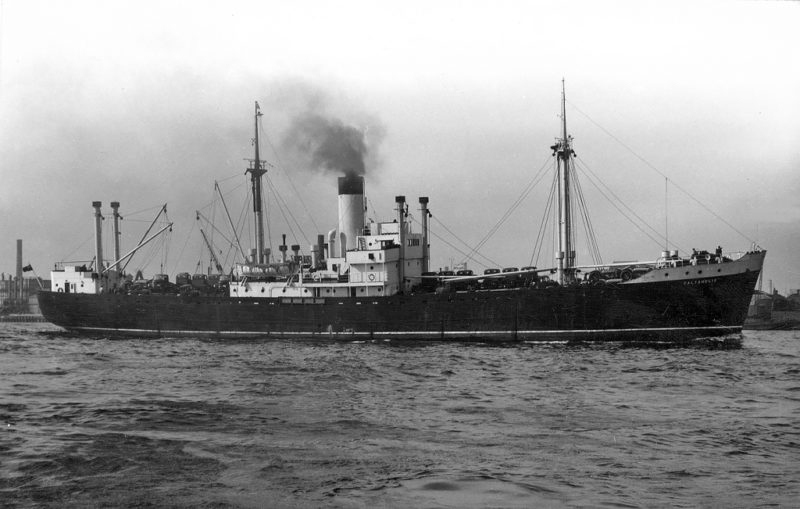 It was decided by the Head Office at Mincing Lane off Fenchurch Street in London of the United Baltic Corporation that the main fleet replacement programme for UBC and MacAndrews & Co. Ltd. would be with very similar engines 'midships types and engines aft types that could operate in both of the Baltic and Mediterranean trades if needed. The UBC directors in the 1950s numbered ten, with Lord Inverforth as Chairman, H. R. H. Prince Axel of Denmark as Vice Chairman, and included the Hon. Roy Weir and Hon. Vincent Weir. UBC Branch offices were in Brunsbuttel and Kiel on the Kiel Canal, and at Gdynia, with loading brokers used at Hull, Tyne and Grangemouth. Two office managers at the London Head Office were supported by three Marine Superintendents reporting directly to them.
The UBC houseflag of a red foul anchor was added to the funnels and bow crests of the first five new vessels of Baltic Exporter, Baltic Importer, Baltic Merchant, Baltic Trader and Baltic Express. The latter vessel was built in 1957 and was larger than the first quartet at 4,350 dwt, instead of 2,700 dwt of the first four completed during 1953/54. They could also be used on the joint United Sloman service to the Mediterranean run with Robert M. Sloman of Hamburg. Baltic Trader ran for some time on a service from Methil, Leith, Dundee, Tyne and Tees to Kotka, Helsinki and Turku. Baltic Merchant ran on the Leningrad service for the whole of her UBC career, with Hull as a port of call from 1959, while Baltic Express unfortunately lost two crew members in severe North Sea gale force weather on a return voyage from Finland to Methil. A large wave washed them from the lee of the fo'c'stle head along the deck to hit the front of the superstructure, both men dying of their injuries.
In October 1954, the first of four engines aft German built motorships entered service as Baltic Clipper, identical in most respects to a trio which entered MacAndrews & Co. Ltd. service at the same time as Valdivia, Villegas and Vives. Baltic Clipper and her sisters Baltic Comet, Baltic Arrow and Baltic Swift could carry 1,600 tonnes of cargo including some refrigerated cargo. Baltic Clipper and Baltic Comet were sold off in 1966 to the Shipping Corporation of Pakistan and renamed Makran and Pasni respectively. Due to the full reefer capability of Baltic Swift at 101,465 cubic feet, she made many deep sea voyages to Buenos Aires, New Orleans, New York, Casablanca, Colombo and Far Eastern ports including Hsinkiang in China. She was sold in 1973 to Reef Shipping Company in Norfolk Island and renamed Fijian Swift for Pacific trading and given a corn coloured hull, green boot topping, and a white funnel with a black top and a central 'R'. She was renamed Ha' Amotaha in 1976 for service between Tonga and New Zealand and was broken up at Auckland in March 1979. Baltic Arrow had the same dimensions of overall length 291.0 feet, moulded beam of 40.7 feet, moulded depth of 15.2 feet as Baltic Swift, and 1,679 dwt but was not fully refrigerated, with a good service speed of 14.5 knots from twin 8 cylinder four stroke Mannheim Motors of 2,000 bhp.
The first all aft motorship Baltic Jet of 1,965 dwt entered service in 1959, two similar ships of differing size followed during the next two years as Baltic Star and Baltic Sprite. Amber is a gorgeous orange to yellow fossilised tree resin substance and much appreciated for its colour and beauty.
Baltic amber is extracted at Gdansk from Holocene deposits, or from open cast mines in Russia. The so called 'black amber' is really only a form of black jet, found along the beaches of the south shore of the Baltic. Ponzano was transferred in 1960 from the Mediterranean fleet of MacAndrews & Co. Ltd. to the UBC Baltic services and renamed Baltic Spray.

The larger five hold Baltic Sun of 4,700 dwt was completed in 1962 by the Krogerwerft yard at Rendsburg on the Kiel Canal with a big reefer capacity of 138,900 cubic feet and accommodation for ten passengers. She had four holds forward of her superstructure and one aft, with a raised fo'c'stle and cargo handling gear on two masts and on a goalpost mast just aft of the superstructure. She came into the Tower Bridge Wharf of the Lower Pool of London with frozen port carcasses for UBC on most voyages, or to the Surrey Commercial Docks with timber cargoes. She had a service speed of 15.5 knots from twin ten cylinder four stroke diesel engines of 4,780 bhp at 300 rpm.
Two very similar engines aft types were delivered in 1965/66 by the Doxford yard at Pallion in Sunderland as Baltic Venture of 2,675 dwt and Baltic Vanguard of 3,100 dwt, each fitted with three deck cranes. Baltic Vanguard ran in 1975 with newsprint rolls from Finland via the Kiel Canal to the Thames, Felixstowe, Blyth, Tyne and Grangemouth. She was lengthened in 1976 and converted into a container ship for the Spanish and Italian trades of MacAndrews & Co. Ltd. under the name of Cortes, the great Spanish explorer.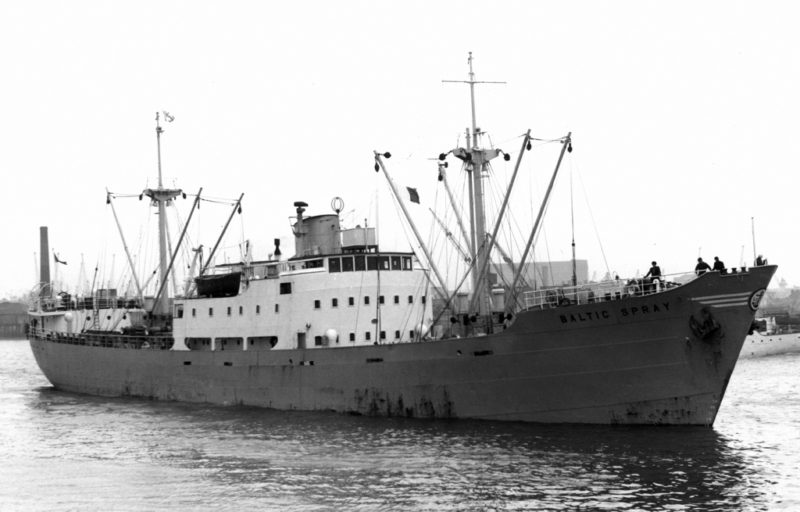 Two conventional engine aft ships were ordered from the Krogerwerft yard at Rendsburg in 1967, delivered as Baltic Viking of 2.040 dwt and the larger Baltic Valiant of 3,570 dwt, the latter being fitted with a stern door and ramp. This pair ended their UBC careers by being bareboat chartered for ten years from 1980 to C. A. Crosbie Shipping Ltd. of St. John's (NFL) with sub charter to Chimo Shipping Ltd. of Montreal for St. Lawrence trading as Arctic Viking and Lady Franklin. Baltic Vanguard was bareboat chartered to the same company for six years from 1978 as Lady M. A. Crosbie after her spell as Cortes ended that year.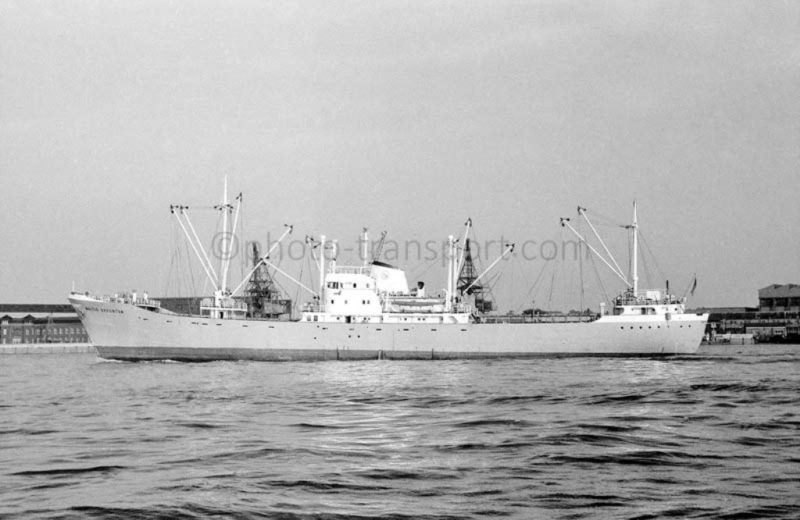 'FINANGLIA' JOINT POST-WAR SERVICE TO FINLAND
New services were inaugurated in 1946 to ports in South and West Finland such as Helsinki, Kotka, Turku, Hamina and Mantyluoto in co-operation with Finland Line (Finska Angfartygs A/B). The Finnish Board of Navigation determines the requirements for vessels to be allowed to enter the port during the severe winter, with icebreakers required to keep harbours open. Helsinki, the capital of Finland, is a combination of a city entrenched in the past and a bold modern centre. The downtown area of the capital was rebuilt in the neoclassical style to resemble St. Petersburg, mostly to the plans by the German architect Carl Engel. The Cathedral of Helsinki overlooks Senate Square, designed by Engel.
The Port of Helsinki is ice bound from January to April each year, with icebreakers leading ships into port, and which has five harbours geographically divided into West harbour (Lansisatama) for UBC and North Sea trades, South harbour, North harbour, and two oil terminals at Laajasalo and Herttoniemi.
The main approach channel is a 12 mile fairway from Helsinki lighthouse, with the pilot picked up at Harmaja Pilot Station, three miles from the harbour, and after passing the rugged 18th century sea fortress Suomenlinna on the starboard side, the ro-ro berth on the port side of the West harbour was reached. UBC ships loaded cellulose, packed and sawn timber, paper rolls and wooden products in this mile long inlet only 1.5 miles from Helsinki City Centre.
Hamina is on the Finnish south coast around 90 miles west of Leningrad, and approached via a 33 mile long buoyed and lighted fairway from Orrengrund light through an archipelago of islands to the harbour. Turku (Abo) harbour is on the banks of the Aura river and is approached by one of four fairways that lead from the sea to the harbour, while Kotka is approached via a 25 mile long fairway channel, entered at Tiiskeri and leading south of Orrengrund and through a maze of an archipelago of islands. Kemi and Oulu (Uleaborg) are in the northern section of the Gulf of Bothnia, with Oulu on the Oulu river 20 miles east of the island of Hailuoto.
The UBC fleet size in 1970 stood at fourteen ships, one less than the greatest fleet in its history in 1965, and able to load on the 'Finanglia' and 'Polanglia' general cargo and container cargo services to Finland and Poland. Two larger ro-ros were ordered in 1970 from the Rauma-Repola yard in Finland, later better known as the Aker Yards O/Y and the STX Finland O/Y yards. They had two decks with an intermediate mezzanine deck for light cargoes only, two stern doors and ramps, and storage capacity for 290 TEU of containers and a deadweight of 5,710 tonnes. The crew had dedicated accommodation, which was built to Scandinavian standards and more luxurious than British built ships.
This pair of ro-ros was completed as Baltic Enterprise (Yard number 209) in 1973 and her sister Baltic Progress (Yard number 210) in 1974, and they had three further sisters in the Finland Line fleet in Antares, Orion and Sirius. They had dimensions of overall length 137.52 metres, moulded beam of 22.4 metres and moulded depth of 16.6 metres, with a loaded draft of 6.6 metres, and were twin screw ships with a service speed of 17 knots from twin nine cylinder Stork Werkspoor oil engines of 7,700 kilowatts power. They carried a dozen berthed passengers, and one hundred trailers, for the weekly service from Hull or London to Finnish ports such as Helsinki, Hamina, Kotka, Hanko and Turku. Baltic Enterprise ran at first from Hull to Helsinki and Kotka, or Turku and Mantyluoto, returning with paper rolls and products. She operated out of Felixstowe in 1978, and also between Hull and Rotterdam in 1982.
The seven owned UBC vessels were trading to the following ports in October 1978:-
Baltic Enterprise  – London and Hull to Turku and Helsinki
Baltic Progress – London and Hull to Turku and Helsinki
Baltic Jet -Hull and Ipswich to Gdynia
Baltic Osprey – London to Leningrad
Baltic Valiant – Hull to Leningrad
Baltic Venture – Grangemouth to Helsinki
Baltic Viking – Limassol to Portsmouth with fruit
After ten years of service, Baltic Enterprise was sold in 1983 to Losinjska Plovidba of Yugoslavia for a London to Limassol and Israel service, and for a Mediterranean inter – port service that included Ploce, Dubrovnik and Split to Eastern and Western Mediterranean ports. She was renamed as Lipa by Losinjska Plovidba, and then operated for Valfracht of Malta under this name during 1997/99 on a Tilbury, Antwerp and Amsterdam service to most Mediterranean ports, and also between Rijeka and Gioia Tauro, with her last service between Marseille and Algiers. She was broken up in August 2008 at Alang in India after 35 years of service, her gross tonnage had risen to 12,159 after car decks were included in the computation of the total volume of ro-ros in 1982. Baltic Progress was sold in 1992 and then traded as Tyne Progress, Parkhaven, Veerhaven, Strofades II and San Diego until she arrived for breaking up at Chittagong in March 2008.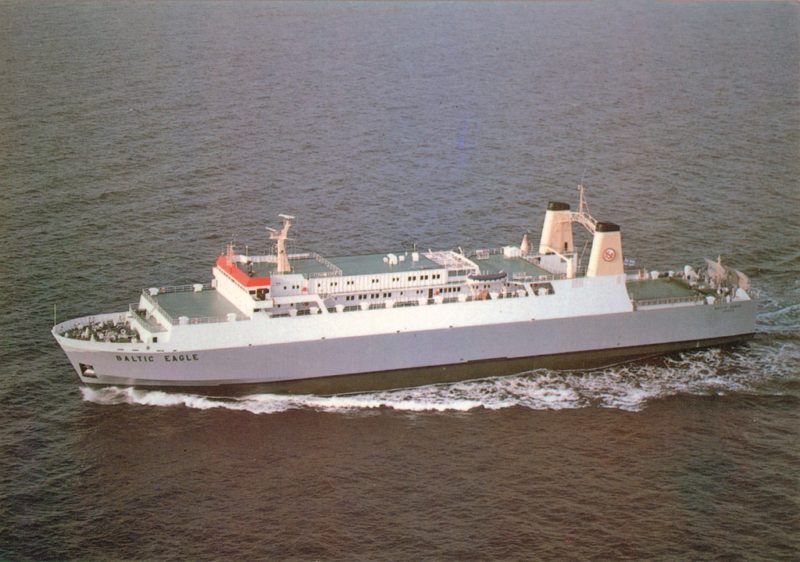 BALTIC EAGLE and BALTIC EIDER
In 1980, AWS purchased the 50% shareholding in UBC held by the EAC. Two exact sisters were completed in 1979 and 1980 for UBC and Polish Ocean Lines (POL) by the Rauma yard at Repola in Finland as Baltic Eagle and Inowroclaw. The latter was named after the city in central northern Poland famous for the Romanesque architecture of its churches and with a population of 73,500. The sisters had exactly the same overall length and loaded draft of 7.9 metres of the earlier Baltic Enterprise and Baltic Progress from the same yard, but were three metres wider in the beam. The lane metre length of the freight decks of the new sisters at 1,460 metres was slightly higher than a similar lane length of the earlier sisters with a clear height of 6.5 metres, and they had the same type of twin propellers and same type of nine cylinder Stork Werkspoor oil engines, but uprated at 13,000 bhp to give an extra knot of speed at 18 knots. They were ice classed 1A and had twin funnels joined by a latticework 'bridge', and twin stern doors and ramps and six passenger cabins for a dozen berthed passengers. Baltic Eagle was named by Lady Inverforth on 29th October 1979 at Purfleet on the Thames before the start of her maiden voyage to Gdynia. Inowroclaw operated on the same London to Gdynia service as Baltic Eagle for fifteen year, often calling at the Tees and Felixstowe as well as London.
The joint 'Polanglia' service from the U. K. to Poland continued after Polish Ocean Lines (POL) fragmented into three parts in 1995, serving different areas of the world from Poland. POL-Levant Shipping Lines served Eastern Mediterranean ports, POL-America Shipping Lines served the U.S. Gulf, Latin America and the Eastern and Western coasts of South America, while POL-Euroafrica Shipping Lines served the U. K. and Northern European ports on a direct service to West Africa. Inowroclaw was included in this third company, and thus ran to U. K., Continental and West African ports from Poland. Baltic Eagle gave 23 years of service to UBC on the 'Polanglia' service and latterly on the AWS Med Express service from Northern European ports such as Cuxhaven. She sailed from Kemi in Finland on 12th October 2000 for a Mediterranean voyage to Haifa and passed east of Gibraltar on 25th October. She was sold for $1.2 million in March 2002 and renamed Olympic Star, then five months later to the Seawheel Group as Seawheel Humber and finally in March 2008 she was renamed as Baltic Eager. She arrived at Mumbai on 11th June 2010 for breaking up, the same year as her sister Inowroclaw, which had kept her name throughout her career, arrived at Alang in India for breaking up.
A much larger ro-ro was then commissioned by UBC as Baltic Eider to be delivered in December 1989 from the Hyundai Heavy Industries yard at Ulsan with dimensions of overall length 157.67 metres, moulded beam of 25.3 metres, moulded depth of 17.3 metres and loaded draft of 8.5 metres. Baltic Eider had a freight deck lane metre length of 2,170 metres on two cargo decks for 200 trailers and also carrying 781 TEU of containers, some stowed on her weather deck. A small crew of 18 was only needed, with six berthed passengers and two banked lifeboats, with a small crane positioned between navigating bridge and funnel for stores deliveries.          The SOLAS requirements for the carriage of motor lorries with fuel in their tanks in enclosed spaces was not complied with, but the part higher tensile steel construction and only a single stern door and ramp made her a safer ship than some ro-ros, although 'safer' is used here with discretion as no ro-ro can be described as 'safe' in my opinion.
Baltic Eider was twin screw and powered by two Wartsila nine cylinder oil engines of a combined power of 11,075 bhp to give a service speed of 19 knots. She was Super Ice classed 1A with twin funnels and was the largest of five ro-ros operating in the 'Finanglia' service at the time of her maiden voyage in January 1990. A joint interest was taken in 1989 in the 'Finanglia' service jointly with Finn Carriers O/Y of Helsinki, instead of the Finland Steamship Co. Ltd. (Finland Line), for the service to Helsinki, Hamina, Kotka and Rauma. She was sold in 1998 to Harren & Partners of Germany and chartered back to UBC. She also helped out on the summer citrus fruit season from Southampton to the Lebanon, Israel and Cyprus on the AWS Med Express routes and varied itineraries, making a warmer voyage for her crew than the regular Felixstowe to Helsinki route.
Baltic Eider arrived on 21st December 2004 for the last time at Felixstowe with the General Manager of the Port of Felixstowe presenting Capt. Robert Raybould with a commemorative plaque and crystal glasses. She had made 500 calls at Felixstowe from Helsinki and Hamina with also a call at Amsterdam on her weekly service. The most successful year was 1992 when she kept strictly to her schedule to make an impressive 52 calls at the port. She had also been chartered in the Spring of 1991 to the Ministry of Defence for two voyages to the Persian Gulf with military tanks and vehicles.
After unloading and destoring, she had an interesting career after her sale in August 2005 to the Compagnie Morbihannaise of Nantes, known as 'MN' in France, to carry a large number of Ariane rockets, satellites and components from France to the launching site in Surinam, formerly French Guyana in South America. The name Ariane is taken from the French spelling of the mythological character Ariadne, with the former Baltic Eider employed for nine years carrying expendable launch vehicles for telecoms and space research for the European Space Agency (ESA). The first Ariane rocket launch had been on 14th June 1988 from Kourou Launch Site in French Guyana of the Ariane 1 type rocket, current launches in 2020 are of the Ariane 6 type rocket, with a total of 250 rockets so far launched with only one dozen failures to lift the payloads into space in 38 years. Baltic Eider was renamed MN Eider for this trade, and also sailed from Toulon for Djibouti on the Red Sea, where she arrived on 14th September 2011 to unload a large shipment of food for the starving peoples of the Horn of Africa. The World Food Programme (WFP) collected a large shipment of over 400 tonnes of food with the assistance of the Red Cross, enough to feed 22,860 people for one month with rice, flour, sugar and cooking oil. MN Eider with a blue hull and large white 'MN' letters on both sides of her hull, had been chartered by the French Army for the logistical needs of French units deployed overseas.
The former Baltic Eider was then sold in May 2014 to Eastern Shipping Lines of the Philippines and renamed as Supershuttle Roro 10 to run a regular service from Manila Bay to Cagayan de Oro City on the island of Cebu, a service she still operates today. On 13th January 2016 she ran aground in the waters off Ouano Wharf at Mandaue City on the island of Cebu while on a voyage to Cagayan de Oro City when she hit a shallow area of sand during low tide, refloating with little or no damage. She has a blue hull with twin white funnels each bearing three central red bands.
The U. K. to Leningrad service of UBC was operated by two small container ships from 1977, with Baltic Osprey operating from 1977 to 1988, and she was very similar to Baltic Sprite of 1960, having been purchased in 1977 for her 11 to 12 day frequency UBC service. She was one of a very few ships not purpose built for UBC. A new small container ship, Baltic Tern, was completed in October 1989 at Pusan in South Korea for UBC for the Felixstowe and Hull service to Leningrad carrying 357 TEU of containers. She operated on the route until 1992/93 when she was switched for ten years to the MacPak southern service to Spain, and even passed through Tower Bridge to the Pool of London on one special occasion. She was sold in 2003 to CMA CGM of France to operate with the same name from the Tees and Hull to the Baltic, carrying a red, white and blue funnel with 'CMA CGM' in red on a white band, and continued to sail on this route from the Tees to Gdynia for several years.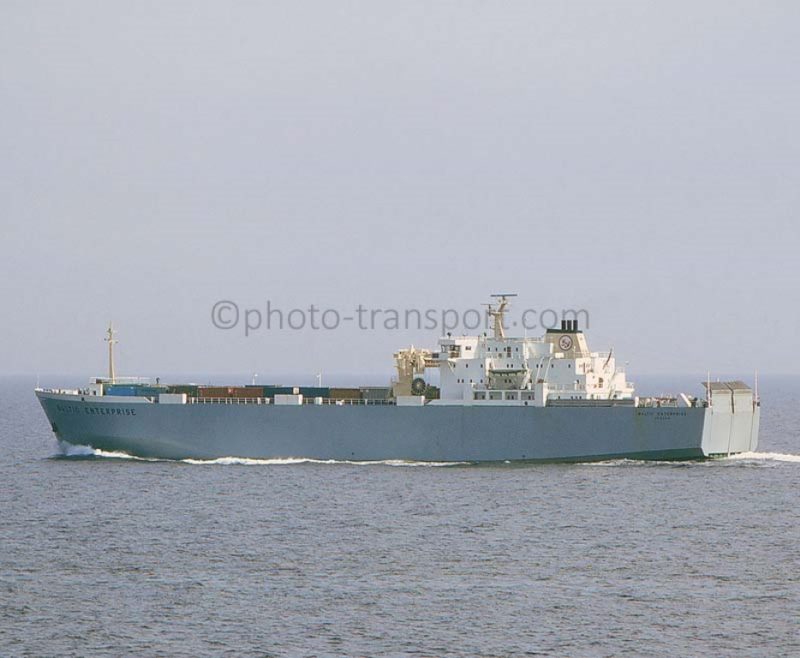 POSTSCRIPT
UBC ships were always very smart ships, with funnels of light cream with a black top between 1919 and 1939, then buff with a black top between 1946 and 1953, and finally buff with a thin black top and a gold edged white disc bearing a red foul anchor and 'UBC' in red in the bottom left corner between 1953 and 2005. Hulls were black with green or blue boot topping and a white dividing line between 1919 and 1953, and then light or medium grey with black boot topping from 1953 to 2005. Upperworks were white, masts were cream, and ventilators were cream with blue for the inside of the cowls. The fleet were regularly dry-docked on the Tyne to maintain a clean hull and paintwork.
The Kiel Canal is an inland waterway of length 53.2 miles connecting Holtenau on the Baltic Sea near Kiel with Brunsbuttel on the North Sea, and cutting the voyage by a fuel and time saving of 300 miles to and from London. The maximum dimensions of vessels using the Kiel Canal are overall length of 235.0 metres, moulded beam of 32.5 metres, air draft of 40.0 metres and water draft of 9.5 metres. Pilotage is compulsory, with small repairs able to be done at both entrances to the canal, with dry dock facilities at both Kiel and Rendsburg. UBC Gmbh was both a shipbroker and a collector of tolls on the canal, with offices at both Kiel and Brunsbuttel. The Kiel Canal is used by roughly the same number of ships as the Panama Canal and Suez Canal added together. The tolls charged cover Transit tolls, Pilotage tolls and Helmsman tolls, with the United Canal Agency (UCA) Gmbh formed on 12th January 1998 by UBC Gmbh, Andreas Hansen Gmbh, and Zerssen & Company Gmbh. It operates from offices in both ends of the canal at Kiel-Holtenau and Brunsbuttel and employs over 60 people from the previous companies. The canal launch boat Baltic Swift had been sold in 1997, and the UBC subsidiary of Baltic Marine Services continued to provide bunker services at Kiel.
UBC had sold off all of its ships by 2005, the money being used to pay off the last building costs of six ro-ros built for a Ministry of Defence contract in a consortium of which AWS was a member, with the ships being used for part of the year on commercial charters. UBC then continued to operate in the marine services sectors with accounts made up until the end of 2012. UBC was then liquidated and the last meeting for former shareholders and creditors was held in London in 2016.
In the 1950s and the very cold winter of 1963, the complete icing up of the Finnish ports such as Helsinki, Turku, Naantali and Xpila, and particularly around the hundreds of small islands that lead across to the Aland Islands, presented many problems for UBC ships. In the proximity to the islands the ice was thicker, and Finnish icebreakers would often have to free many ships from the ice in the group of islands of Alonsaari, Brando, Inio, Houtskar, Hyla, Hellso, Kuuva, Korpo, Kokar, Kumlinge, Mialis, and Ryma to name but a few. The gap of clear water left at the jetties of ports by departing ships was completely frozen over within minutes of the ship leaving the berth, and it was only with icebreaker assistance that any forward motion was made in temperatures below minus 10 degrees Centigrade. Ice often blocked the engine room intakes, and without cooling water, the ship and her crew were not going far, often taking four days to sail eighty miles, and then being handed over to Swedish icebreakers to break into the Baltic Sea and head south past the island of Gotland to warmer temperatures and the 'short cut' through the Kiel Canal to the North Sea.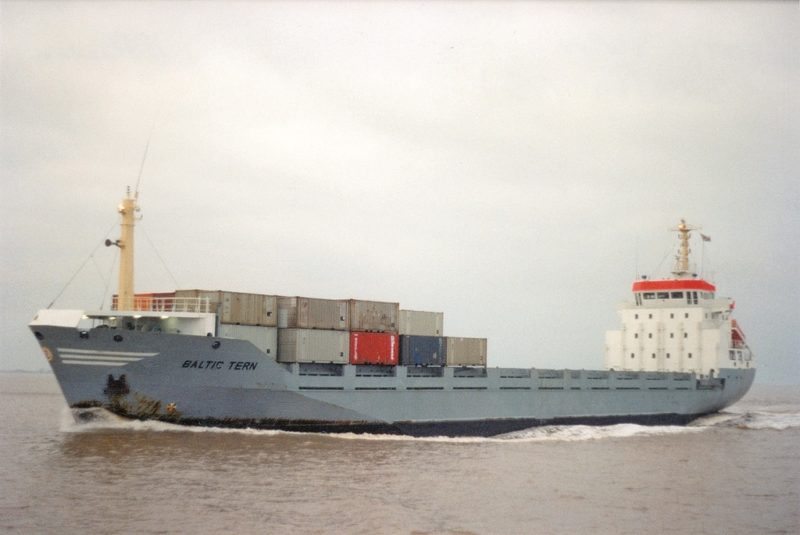 UBC vessels heading for the northern Finnish ports of Oulu and Kemi in the Gulf of Bothnia, were broken out of thick ice by Russian icebreakers rolling slowly to port and starboard using a transfer process of their ballast systems. They moved closely down one side of a long line of trapped ships in a convoy, and then turned on their axes and moved closely down the other side of the convoy. Hopefully, all of the trapped ships would then move forward and make some progress in the appalling conditions. More powerful ships would then break out of the line and proceed directly to a point behind the wake of the icebreaker, in temporarily free water to break out of their trapped positions. This was a lengthy process as the first attempt would not be the last attempt at breaking out of the stranglehold of the ice.

One avid reader of this magazine, who shall remain nameless, contacted me to say that he had enjoyed his eighteen years of seafaring with seven companies, but none so much as with UBC, describing his fellow seafarers as 'characters even to the point of eccentricity' due to the constant calls to duty on entering and leaving the many ports of call on their Baltic Sea runs. This may also have been due to the severity of the weather on these very cold, but interesting, voyages.