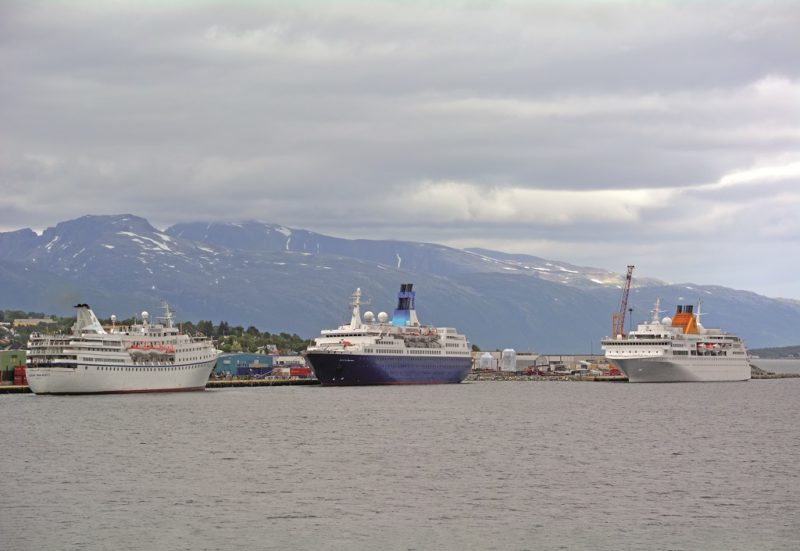 A busy day for cruise ships in Trondheim on 6th July 2013. From left to right are the Ocean Majesty of Apex Tour, the Quest for Adventure of Saga Ocean Cruises and the Costa Voyager of Costa Crociere.
The 10,417gt Ocean Majesty was built in 1966 by Union Naval de Levante at Valencia as the ferry Juan March for Cia Trasmediterranea. In 1985 she joined Sol Mediterranean Service of Cyprus and was renamed Sol Christiana and in 1986 she joined Opal Lines, also of Cyprus, and was renamed Kypros Star. In 1989 she was sold for conversion to a cruise ship and renamed Ocean Majesty for Majestic Cruises. In 1994 she was renamed Olympic, and then chartered to Epirotiki Lines who named her Homeric in the same year. In 1995 she became the Ocean Majesty again, and subsequently ran charters for Page & Moy and others. She is still in service as Ocean Majesty.

The 18,835gt Quest for Adventure was built in 1981 by Howaldtswerke-Deutsche Werft at Ross as the Astor for Hadag Cruises of Hamburg. In 1984 she joined Safmarine who planned to use her to re-establish UK-South Africa line voyages. She was found to be under-powered for this, and was sold in 1985 to Deutsche Seerederei who renamed her Arkona. In 2002 she was chartered to Transocean who renamed her Astoria. In 2010 she joined Saga initially as Saga Pearl II then from 2012 to 2013 as Quest for Adventure. She reverted to Saga Pearl II in 2013. In 2019 she was sold to Aqua Explorer Holdings, renamed Pearl lI, but was laid up near Piraeus and in 2022 she was to towed to Aliaga where she arrived on 25th July to be broken up.
The 24,391gt Costa Voyager was built in 2000 by Blohm & Voss at Steinwerder as the Olympic Voyager for Royal Olympic Lines. After Greece was awarded the 2004 Olympic Games they insisted on her not using the name 'Olympic' so she was renamed Olympia Voyager. After Royal Olympic Lines collapse in 2004 she was sold to Iberocruceros and renamed Voyager and following their closure in 2011 she joined Costa. In 2014 she was sold to Bohai Ferry Co. of China for $43.68 million and renamed Chinese Taishan. She still operates for them.
Photo: Thor Pederson