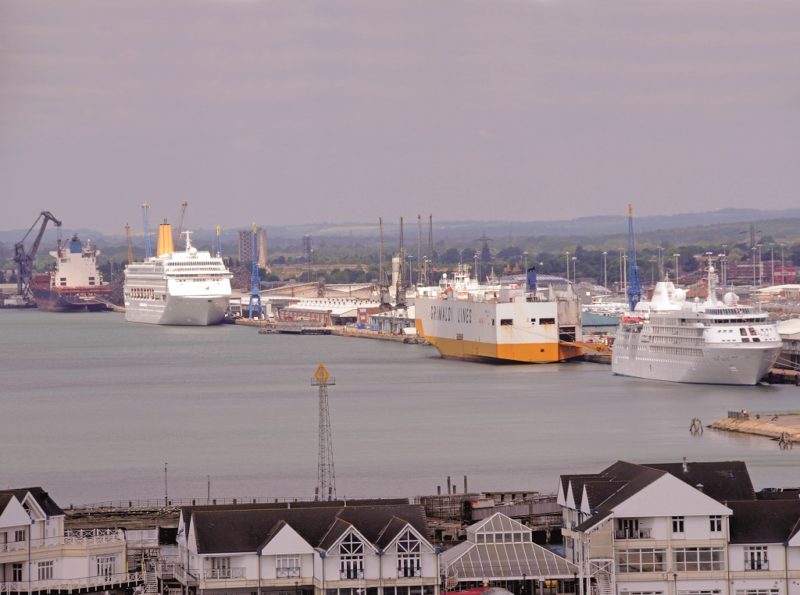 A busy day at Southampton on 9th May 2013. From left to right are the Qingdao Tower of Zodiac Maritime, the Oriana of P&O Cruises, the Grande Italia of Grimaldi and the Silver Cloud of Silversea Cruises.
The 39,941gt Qindao Tower was built in 2003 by Samsung at Koje as the Lykes Deliverer for Pacific Leasing Ltd., managed by Zodiac Maritime. Her name was changed to CP Deliverer in 2005 in common with the renaming of the Lykes-Canadian Pacific fleet. From 2006 to 2010 she was renamed Westfalia Express while on charter to Hapag-Lloyd. She was renamed Qingdao Tower in 2010.

The 69,153gt Oriana was built in 1995 by Jos. L. Meyer at Papenburg. In 2019 she was sold to Astro Ocean International Cruises of China and renamed Piano Land.
The 37,726gt vehicle carrier Grande Italia was built in 2001 by Uljanik at Pula.
The 16,927gt Silver Cloud was built in 1994 by Visentini at Porto Viro. In 2017 she was ice strengthened and converted into an expedition ship which raised her gross tonnage to 17,014.

Photo: Nigel Lawrence