Neil Thomson Semple, 1917 to 1932
One voyage on the Huronian and onboard the Adriatic
My next ship which I joined about September 1917 was another cargo boat and rather an interesting one in many ways. She was the Huronian of the Leyland Line, an old and famous Atlantic company, which had ties with the White Star Line. It was part of what was known as the International Mercantile Marine group founded some years earlier by the American banker James Pierpont Morgan, which included several British companies, the White Star, Leyland, American, Red Star and Atlantic Transport lines. All of those except the American Line flew the Red Ensign but were largely owned in New York. Although Morgan had a controlling financial interest in those companies, the British Government would not allow the manning and running of them to be transferred. During the twenties this combine more or less fell apart when the White Star was absorbed by the Cunard Line.
The Huronian was a big ship with four masts, quite a common rig for both passenger and cargo ships in those days. She was also a well found and well fed ship with a comfortable wireless room situated at the after end of the boat deck. The radio equipment was of the usual type for that era, a 1.5 kw rotary spark transmitter with a magnetic detector. An emergency transmitter was also provided which consisted of a 10-inch induction coil which ran off high capacity batteries giving 24 volts.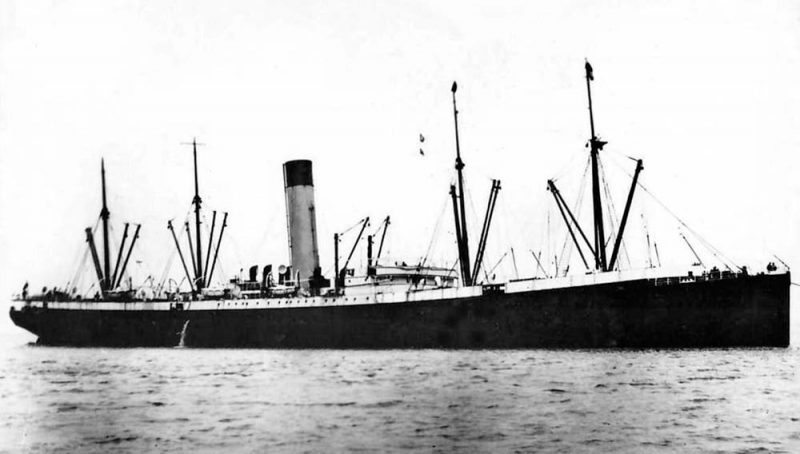 The Huronian left Liverpool around the end of Sept 1917 for the usual unknown destination via a convoy port which in this case turned out to be Lamlash in Arran. I had the extremely odd and exhilarating experience of opening the wireless room door at about 6am the next day to find our ship steaming up the Kilbrannan Sound. It was a fine day and there was High Ugadale, my home and birthplace just about two miles away on the port side. I imagined I could see my father and brothers working in the byres and stable while my mother would be getting the breakfast ready, but I could only sit there on the high door coaming and look and yearn, till we were far past lovely Saddell Bay. Finally we crossed over to round the north of Arran, past Lochranza and Corrie, and thence down past Brodick with its fine view of Goat Fell to Lamlash. The reason for this unusual use of Kilbrannan Sound by a big ship was some kind of submarine scare. Vessels in and out of the Clyde pass to the east of Arran practically all the time for the simple reason that it is the shortest route. Normally only the river steamers use Kilbrannan Sound, although there is plenty of good deep water there. It remains very vividly in my mind that the Grand Fleet held exercises in the Kilbrannan Sound around l910 and actually did gunnery practice for some weeks just off my home. We had a ringside seat so to speak of such battle wagons as the Iron Duke and Collingwood trying out their 17 inch main armament.
Our outward passage in convoy was fairly uneventful and we found ourselves bound for New Orleans which made an exciting change for me. This French city in the midst of the United States was going to provide me with new experiences, but sadly I remember very little about it. The city itself was approached from the riverside quay on the Mississippi by the bumpiest tramcar on the bumpiest dock road I have ever travelled. Strangely enough I remember the name of that street, Tchoupi-Toulas, (an Indian name) and then the fine main street itself, Canal Street, with its formidable array of department stores.
We returned to the UK by way of New York where we picked up a convoy and arrived back in the Mersey without mishap in mid-November 1917. Up to now I had led a charmed life and although I had now spent the first six months of my sea career largely in the danger zone during the worst period of the U-boat offensive, I had seen very little. Scares there had been of course, but I had not seen a torpedo fired in anger. Even the convoys my ships had been attached to had all come through unscathed, at least while I was around, and I honestly do not remember ever having given much serious thought to the subject.

The last year of the war found me on my greatest ship ever, the famous old White Star liner Adriatic. She was a beautiful ship and I loved every sleek line of her. The biggest of the 'big four' lovely sisters, Adriatic, Baltic, Cedric and Celtic in that order. She was 24,563 tons gross with two funnels and four masts and was over 700 feet long, and for a brief period after her building in 1907 she was the biggest ship in the world.
As I have already indicated, those big White Star liners were probably the most valuable ships in the Merchant Service at that time. Not only could they carry passengers or troops as required but they could also carry tremendous cargoes. The Adriatic was used for those purposes throughout the war, came through unscathed, and was fortunate enough never to get taken over by the dead hand of the Admiralty during the war. Unlike the Celtic she was saved the stint of being an auxiliary cruiser, and although she carried very many troops, she carried them as passengers and her accommodation was not interfered with in any way. Troops were catered for as passengers, officers 1st Class, NCOs 2nd Class and other ranks 3rd Class.
Large numbers of civilian passengers were also carried in the usual way and during 1918 I was privileged to meet or rub shoulders with many great names. It must be understood that the Wireless Operator in those days was not taken very seriously by his shipmates. He had been granted very grudgingly 'officer status' by the various shipping companies and a very odd privilege accrued in that the Marconi Company managed to arrange that we should dine in the lst Class saloon along with the passengers. This gave us an enormous advantage over all other departments because, in the main, only the most senior officers such as the Captain of course, the Doctor, the Purser, the Chief Officer and the Chief Engineer were allowed this privilege.
Among the many famous names I remember among the passengers we carried on the Adriatic, a few stand out. Captain Amunsden who beat Scott to the South Pole travelled from New York to Liverpool early in 1918. He was a big, fine looking man with a mass of white hair, very blue eyes and a formidable hooked nose. His ear-lobes were a deep blue and I remember thinking that those were probably frozen stiff for long periods in his life. The famous Sir F. E. Smith went with us to New York and made an after dinner speech one night extolling the role of the merchant seaman in war. He said that he had spoken to members of the crew who had been torpedoed as many as three or four times. He was a tall, rather thin man who became even more famous later as Lord Birkenhead and who was undoubtedly an outstanding barrister and Liberal Minister. My greatest favourites were a dear old couple retiring from Foreign Service in the Empire. Sir Bickham Scott had been Governor of Fiji and with Lady Scott was on his way to retirement at home. They were a most gracious and charming couple and they developed a rather embarrassing liking for my company. When I arrived in the saloon for breakfast each morning they insisted that I join them at their table and tell them all the war news I had received on our marvellous wireless set during the night. I got the impression that they both liked me very much, and I have often wondered whatever they saw in me, for I was pretty callow in those days and had not altogether lost the 'reek' of my highland home. Dressed in a pretty cheap reefer uniform, with unruly hair and not too clean finger nails I must have presented a very odd spectacle indeed. I never saw them again of course, but retain a very warm feeling for both of these wonderful and kindly people. I should think they were the best sort of colonial administrators, who were the backbone of the empire.
At this point I must introduce an American navy Signals Officer who was returning to his base at Arlington, Virginia, from a mission to Europe. He was a radio expert and spent all his spare time in the wireless room where he kept my senior and I very much enthralled with his stories about the marvellous equipment he worked with at the big wireless station at Arlington. At that time one of our jobs was to receive and publish on board news bulletins which were sent out daily from Poldhu in Cornwall and Arlington in the U. S. With the rather primitive receivers fitted on ships in those days, it was only possible to receive from Poldhu up to a point about mid-Atlantic and thereafter the bulletins from Arlington took over. Our American friend told us of a new thing that had been introduced into the receivers at Arlington called the 'de Forrest audion' and it was in fact the first three-electrode valve. We listened open-mouthed while he told us of standing in the great hall at Arlington and reading Poldhu's signals with the phones lying on the table! To us, used to agonising over trying to read almost inaudible signals through persistent static interference, this sounded like some kind of paradise. The outcome was that he presented my senior, Mr Thomas Murray, with an authorisation to purchase an audion from the Brooklyn Navy Yard when the ship reached New York. Murray and I both went, carrying with us all the money we could dig up, about ten dollars, and on arrival at the dockyard we were escorted from office to office by two stalwart marines carrying rifles with fixed bayonets. We finally emerged with the audion which cost us 5 dollars. I regret to say that during our experiments and attempts to get the thing to work, we accidentally got the 24 volt supply onto the filament of the valve, and that was that, bang went 5 dollars!

Subscribe today to read the full article!
Simply click below to subscribe and not only read the full article instantly, but gain unparalleled access to the specialist magazine for shipping enthusiasts.