William Alfred Souter at the age of 26 years in 1906 had formed the Sheaf Steam Shipping Co. Ltd. with a capital of £8,000, and ordered his first ship from the Blyth Drydocks and Shipbuilding Co. Ltd. He was the son of parents Charles William Souter (1856-1944) and Clara Wilkinson Souter (1859-1937). He could trace his shipmaster ancestors as far back as 1715, and being born and bred in Sheffield he named the company after the river Sheaf which runs through the city with seven hills. He had obtained his first job on Newcastle Quayside in 1896 as an apprentice with Jacques Hawkes-Smith & Co. He joined William Dickinson & Co. Ltd., shipowners, in 1899, before leaving in 1906 to set up his own shipowning company. Sheaf Field of 2,650 dwt was ready in 1906 at Blyth and was employed in the Baltic, Biscay and Mediterranean trades. He also operated five small steamers of up to 1,850 dwt on charter in the summer season between 1908 and 1912 from Morocco and Spain with barley.
The first four years of the company were not altogether successful, there was no dividend for shareholders in the first two years, with only 2.5% in the third year and 2% in the fourth year. However, an improvement in freight rates occurred which provided capital for expansion. In 1911, the Sheaf Arrow Steamship Co. Ltd. was formed to own the fast, self-trimming collier Sheaf Arrow of 3,120 dwt. She was of the 'Arch-Decker' design by naval architects and designers Ayre and Ballard, and was another non-conventional tramp ship design, including the 'Turret' tramp designed to lower the Suez Canal toll charges. The 'Arch' was both a longitudinal and transverse one with the bow and stern slightly lower than the middle of the ship. The extra strength given by this arch permitted longitudinal beams and hold pillars to be dispensed with to give an unobstructed space in the holds for the carriage of cargo.
Sir Amos Ayre (1885-1952), founder of the Burntisland Shipbuilding Company, and born at South Shields and served his apprenticeship with the Wood, Skinner & Co. Ltd. yard at Gateshead, and Maxwell Ballard (1876-1947), Managing Director of the Northumberland Shipbuilding Company at Howdon-on-Tyne devised a new patented system of tramp design giving a reduction in the weight of steel and outfitting material over a conventional 'three island' tramp steamer. A weight saving of 309 tons of steel and 49 tons of outfitting material gave a lower construction cost for a tramp of 4,898 dwt with a draft of 20.6 feet, as well as a saving in coal consumption due to the lower weight, over tramps built to a conventional single deck style with fo'c'stle, bridge and poop compared to an identical steamer of the same deadweight and draft of an 'Ayre-Ballard' design with only fo'c'stle and poop.
The 'Arch-Decker' Sheaf Arrow made good profits and was almost the last ship to leave Hamburg in August 1914 on the outbreak of war. She had arrived there with a full cargo of Tyne coal on 2nd August and the cargo was completely discharged on that day. Capt. T.B. Clarke sailed immediately and arrived back in the Tyne at 0600 hours on the 5th August
In October 1914, the company purchased the small Norwegian steamer Ella of 1,350 dwt, and in the following month a tramp from Needham Brothers of West Hartlepool which was renamed Sheaf Blade. The capital of the company was then raised to £60,000, and four second-hand tramps of around 5,000 dwt were purchased later in the war and renamed Sheaf Dart, Sheaf Brook, Sheaf Lance and Sheaf Spear. War losses during the war amounted to only the small steamer Ella on 5th December 1916 in the North Sea, and Sheaf Blade torpedoed and sunk 17 miles SSE of Cape Gata on the Mediterranean coast of Spain on 25th October 1917. The latter ship was on a voyage from Messina to Almeria in ballast, with two crew killed. The managed steamer Dronning Maud was torpedoed and sunk 65 miles from Cape Sigli in Algeria while on a voyage from Sunderland to Malta with coal, one crew was lost.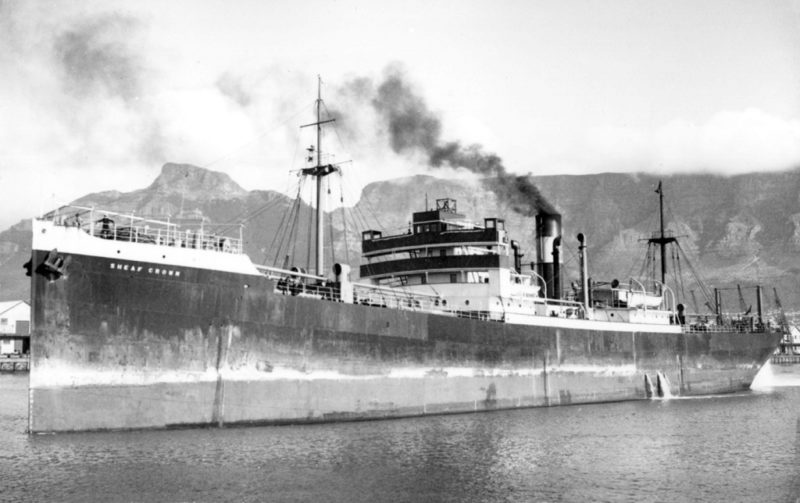 In February 1919, the capital of the company was again raised to £150,000 with the issue of 90,000 new shares at £1.25 each, with all of the shares being fully subscribed. This enabled William Souter to purchase in May 1919 the Andrew Weir tramp Gifford, which had been interned at Hamburg on the outbreak of war, and she was renamed Sheaf Mount. The registered office of the company at this time was at Akenside House on Akenside Hill in Newcastle, with Joseph R. Scott & Son of Milburn House as Superintendent Engineers.
In 1920, the capital of the company was raised again to £450,000 and the nominal capital to £300,000 by giving bonus shares on the basis of one for one. The fleet now comprised eight tramp steamers and colliers as follows:-
Sheaf Arrow of 3,140 dwt built in 1912 by Blyth Shipbuilding & DD Co.
Sheaf Dart of 5,000 dwt built in 1905 by Wm. Gray of West Hartlepool
Sheaf Don of 3,140 dwt built in 1917 by Blyth Shipbuilding & DD Co.
Sheaf Field of 2,600 dwt built in 1906 by Blyth Shipbuilding & DD Co.
Sheaf Lance of 5,050 dwt built in 1918 by Blyth Shipbuilding & DD Co.
Sheaf Mead of 7,590 dwt built in 1915 by Wm. Gray of West Hartlepool as Hawksker
Sheaf Mount of 9,350 dwt built in 1913 by Wm. Doxford of Sunderland
Sheaf Spear of 5,050 dwt built in 1919 by Blumer of Sunderland
However, the post war boom in freight rates soon ended and the company began to experience financial difficulties, making it necessary to half the capital by issuing 10 shilling shares. The management company of W.A. Souter & Company was made into one of limited liability in 1921 with a capital of £25,000, the first directors being William Alfred Souter, John Cowley Robson and A. H. Arnesen, shipping clerk.
Subscribe today to read the full article!
Simply click below to subscribe and not only read the full article instantly, but gain unparalleled access to the specialist magazine for shipping enthusiasts.