The Papenburg yard of Jos. L. Meyer was established on the river Ems in 1795, and the family owned yard have been building all types of ships for over two hundred years with the sixth generation of the family now in charge. Iron ships were built from 1872 and steel ships ten years later, and the first ro-ro ferry took to the water named Malmo in 1964. The first large cruise ship, Homeric of 42,000 grt, was spectacularly launched sideways on 28th September 1985, and when her fitting out was complete, she faced a two day slow tow through narrow locks to reach the sea at Emden. Currently, the yard are building 'mega' cruise ships, passenger and car ferries, ro-ros, gas tankers and livestock carriers.
Nine memorable sister ferries were built during 1970/75 at the Papenburg yard of Jos. L. Meyer, with six for Viking Line of Finland, and three for the Mexican Government. The original Viking Line of Mariehamn in the Aland Islands was set up in 1959, jointly by Gunnar Eklund and Henning Rundberg, both Finnish Master Mariners that had previously served together on the famous four masted barque Pamir. The Southampton to Channel Islands twin screw ferry Dinard of 2,291 grt, dating from 1924 and powered by four steam turbines when completed by the Denny yard at Dumbarton, was purchased for £30,000 and sent to Aalborg for conversion into a car ferry. She was fitted with a stern ramp and painted with a light blue hull and two yellow funnels with black tops, and renamed Viking with Henning Rundberg as manager. In June 1959, she began her daily summer route from Kapellskar in Sweden to Mariehamn and Parainen in Finland, with a twice daily service on Sundays from Kapellskar to Mariehamn.
Kapellskar is a tiny hamlet forty miles north east from Stockholm, whose sole raison d'etre for existence is the now large Viking Line ferry terminal, with a free connecting bus service from Kapellskar into the centre of Stockholm. Ferries have to reverse out of a narrow inlet when leaving for Finland, and a poignant memorial was later placed on a hillside above Kapellskar to commemorate the 852 lives that were lost in January 1994 in the dreadful Estonia ferry disaster in the middle of the Baltic. Estonia was completed at Papenburg in 1980 as Viking Sally of 15,566 grt for Viking Line, and had sailed from Tallinn on her last fateful voyage to Stockholm with five hundred returning Swedish shoppers and three hundred passengers of Estonian nationality, but a severe storm forced open her bow shield and only a handful of strong swimmers survived the freezing winter Baltic waves.
Mariehamn is a charming little town and home to Viking Line, reached by a two hour voyage from Kapellskar. The voyage time is three hours from Mariehamn to Naantali, which is also a small town with a connecting bus service to the larger city of Turku in Finland. It is very worthwhile staying overnight in Mariehamn and then continuing the next day to Naantali. Mariehamn was founded in 1861 by Tsar Alexander II as his summer retreat and was named after his wife Maria. Scenic roads and beautiful countryside takes one to Badhausberget with panoramic views over the whole archipelago. The former giant Wartsila yard at Turku is coincidentally now owned jointly by Jos. L. Meyer and the Finnish Government, this consortium having taken over the STX Finland owned yard on 4th August 2014.
A disagreement had arisen by 1962 between the partners Gunnar Eklund and Henning Rundberg as to the way forward. Henning Rundberg preferred tramp and tanker shipping to the new car ferry business, as he already owned the former Klaveness tramp Castleville of 9,000 dwt and built by the Framnaes yard at Sandefjord in 1945, as well as the tanker Linden of 15,680 dwt built by the Scotts yard at Greenock in 1951 as LInde. Gunnar Eklund then formed another ferry company, Alandsfarjan A/B, and purchased another elderly Channel Islands ferry, this time it was Brittany of 1,445 grt built by the Denny yard in 1933 for the Jersey to France service. She was purchased on 21st April 1963 and converted with a stern ramp and a new large saloon under the bridge of the width of the vessel for passengers from Mariehamn to Graddo near Turku in Finland and from Mariehamn to Herrang in Sweden. She was renamed Alandsfarjan and began her service on 20th June 1963 from Mariehamn to Graddo.

Steam turbine powered British passenger ferries such as Dinard and Brittany used shore cranes to lift a few cars on and off during the 1950s, and were of a simple design compared to the nine motor ferries that are the subject of this article. The pair had three decks, comprising the Promenade Deck with the First Class Lounge extending fore and aft and the mail room and baggage room aft, Main Deck had the First Class cabins and restaurant forward, with Second Class Lounge and the crew accommodated aft, while Lower Deck had the Second Class Saloons, not cabins, aft for their accommodation, with separate saloons for ladies and gentlemen. They usually had good service speeds of between fifteen and eighteen knots for their Channel services.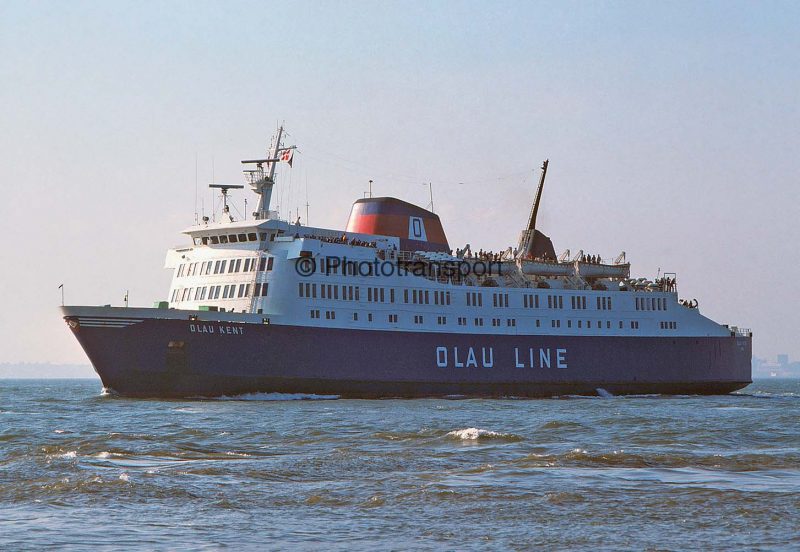 In 1966, Viking Line was reorganised as a marketing company by Alang shipowner Stig Lundquist for three ferry operators of Rederi A/B Sally (Algo Johansson), Rederi A/B Slite (Carl Bertil Myrsten) and S-F Line (Gunnar Eklund). The 'old' Viking Line was renamed Rederi A/B Sally, and Alandsfarjan A/B was renamed S-F Line, with Rederi A/B Slite also dating from 1959. The joint timetables and tickets were issued for these three separate companies of the consortium, and it was so successful that Viking Line had ordered six of the nine Papenburg sister ferries for delivery between 1970 and 1974, and owned ten large Baltic ferries in 1990.
These had included:-
Aurella (8,100 grt, 1,200 passengers), Kapella (3,159 grt, 1,200 passengers), Marella (3,930 grt, 1,200 passengers), Turella (10,604 grt, 1,700 passengers), Rosella (10,757 grt, 1,700 passengers), Mariella (37,800 grt, 2,500 passengers), Olympia (37,800 grt, 2,500 passengers, and sisters Viking Saga and Viking Sally (both 15,000 grt, 2,000 passengers).
The Mexican Government subsidiary of Transbordadores S.A. ordered three more sisters for delivery between 1973 and 1975 for services across the sea from Baja California to the mainland of Mexico. These were from Mazatlan to La Paz on the peninsula, and from Puerto Vallarta to Cabo San Lucas, and from Santa Rosalia to Guaymas. The trio were registered under Caminos y Puentes Federales de Ingresos y Servicios Conexos (Highways, Bridges and Connecting Services). They joined other similar ferries already in operation to Baja California in Akershus 5,117/65, La Paz 2,531/64, Presidente Diaz Ordaz 2,914/61, and Jasmine 1,966/74.
Subscribe today to read the full article!
Simply click below to subscribe and not only read the full article instantly, but gain unparalleled access to the specialist magazine for shipping enthusiasts.