City of Port Elizabeth, City of Exeter, City of York and City of Durban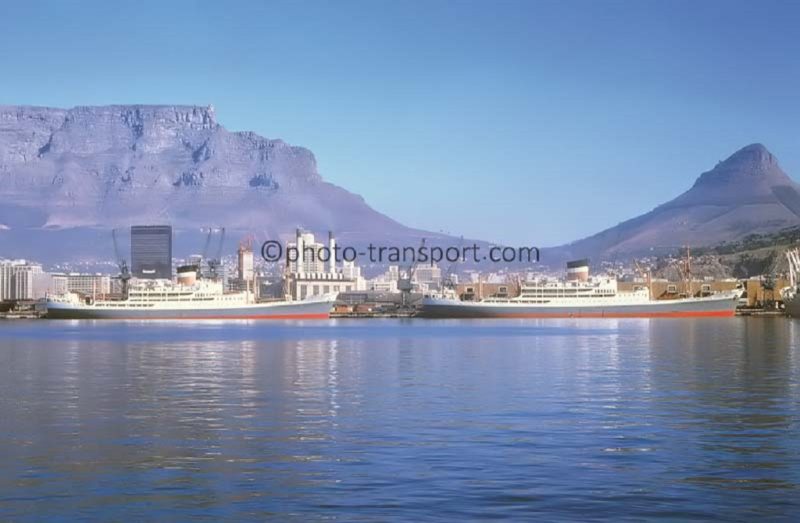 This quartet of big Ellerman passenger and cargo ships were very handsome liners and among my favourite ships of all time. They were completed at the Walker Naval Yard on the Tyne during 1952/54 as Yard numbers 120 to 123, and throughout almost twenty years of South African trading from London and Hull, one of the quartet returned every month to Newcastle Quay to discharge general cargo as well as lead and antimony ores from the bottom of the holds into barges alongside. The barges were then towed back down the Tyne to Howdon on the north bank to Cookson's Associated Lead Manufacturers Ltd. Vanadium ore was also discharged into railway wagons for transport to the Consett Steel Works. The annual dry-docking was also always done on the Tyne, and these handsome liners made a fine sight on a sunny day when leaving freshly painted from dry-dock.
The choice of names was interesting in that they were named after 'Cathedral Cities', two after English cathedral cities, and two after South African cathedral cities. The coats of arms of the cities of their names were proudly painted on the top of the bows of the quartet, the cities being:-
Port Elizabeth – the third largest port in South Africa and faces east across the wide 38 mile sweep of Algoa Bay. It was founded in 1799 as the British garrison of Fort Frederick, and thousands of British settlers arrived in 1820 to increase the tiny British population of Eastern Cape colony against threats from the Xhosa native tribes. Construction of the Anglican Cathedral of St. Mary the Virgin began in 1895 and was completed a few years later. The port city is known as 'The Windy City', and in 1933 the Charl Malan Passenger Terminal was opened (now known as Number 1 Quay), with cargo then consigned to Port Elizabeth and not to Algoa Bay as previously. This passenger terminal was used by the Ellerman quartet.
Durban – the busiest port in terms of tonnage in South Africa, and was founded in 1824 when 25 British men under Lt. F.G. Farewell arrived from Cape Colony on the north bank of the Bay of Natal. It was named as Durban in honour of Cape Colony Governor Benjamin d'Urban, and Zulu King Shaka granted a thirty mile parcel of land one hundred miles in depth in gratitude to the British party helping him to recover from a stab wound he had received in battle. The Bluff and the new harbour of Durban saw the arrival of the first large ships in 1904. Emmanuel Cathedral was opened in 1904, and became a centre of political strife in the 1980s during anti-apartheid demonstrations.
York – founded by the Romans as Eboracum in AD71, and the Ebor Handicap today has the richest purse money of all horseraces at the Knavesmire racecourse. York Minster is the largest Gothic Cathedral in Northern Europe and stands proudly at the centre of the city. It has a large central tower and two symmetrical towers at one end and has survived raging fires during its long history.
Exeter – the most south westerly Roman fortified town in Britain, and its magnificent cathedral was founded in the early 12th century and is another of the finest Gothic cathedrals anywhere in Britain. It became an Anglican Cathedral at the time of the 16th century Reformation. The Exeter Canal was completed in 1566 as one of the oldest artificial waterways in Britain, and it was last used commercially in 1972 but today the Exeter Canal Basin has laid up steam craft and is used for leisure activities.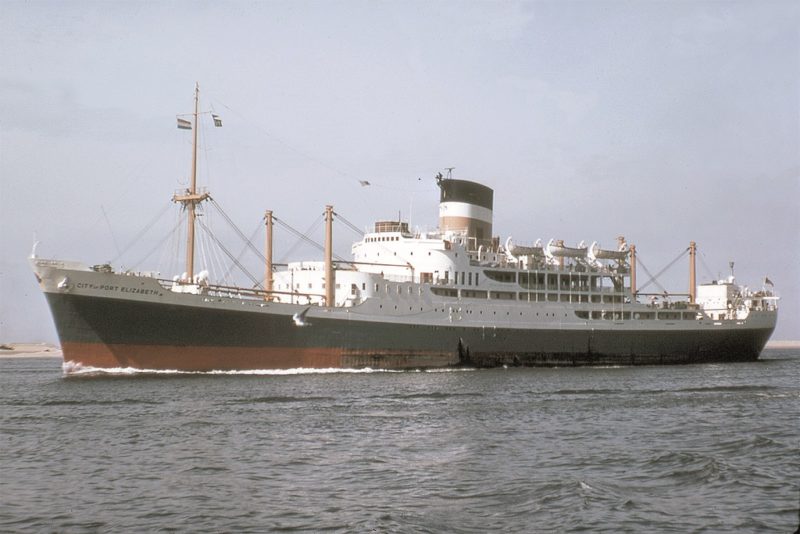 ELLERMAN and BUCKNALL LINE
Bucknall Brothers began shipping services to South and East Africa in 1880, and in 1892 they founded the British and Colonial Steam Navigation Co. Ltd. The history of 19th century South Africa was dominated as much by conflict between the Boers and the British, as between Black and White. During the Boer War of 1899 to 1902, the Bucknall Line service to the country was increased by thirteen purchased vessels and many chartered ships, but massive congestion in South African ports resulted in a trading loss of £0.25 million for 1901. The congestion was caused by the British Government giving preference to Government war supply ships, and the resultant legal claim by Bucknall against the Government failed due to the 'exigencies of war' clause in the charter parties. On 1st January 1914, the Ellerman and Bucknall Steamship Co. Ltd. was formed to integrate Bucknall into Ellerman, and the African names of their ships and their unique black funnel with a circlet of white diamonds and white mast colours had been replaced by Ellerman 'City' names and colours by 1935. A big fleet of one hundred and twenty ships was owned on the outbreak of World War II, of which no less than 58 vessels plus two managed vessels became war losses with a horrendous loss of life, and 153 Ellerman seafarers were decorated for bravery above and beyond the call of duty.
Sir John Reeves Ellerman was born in 1862 and became famous as much as a financier and shrewd businessman as a shipowner. Ellerman Lines Ltd. was incorporated on 22nd January 1902 and by the time of his death in 1933 he was the richest man in Britain, with an estate estimated to be the equivalent of two billion pounds in today's money. The Ellerman Hotel at Cape Town was the jewel in the crown of his hotel business, much frequented by the owner and his son of the same name. The passenger accommodation of the cargo-liner City of Johannesburg had been palatially fitted out to carry just Sir John and Lady Ellerman and a few close friends in a private yacht like atmosphere for a 'floating house party' all the way to Cape Town from London. Sir John sat on the General Committee of Lloyd's Register alongside other shipowners such as Lord Inchcape of P. & O., Lord Kylsant of Royal Mail Line, and shipbuilders such as William Pirrie, Gustav Wolff and Edward James Harland.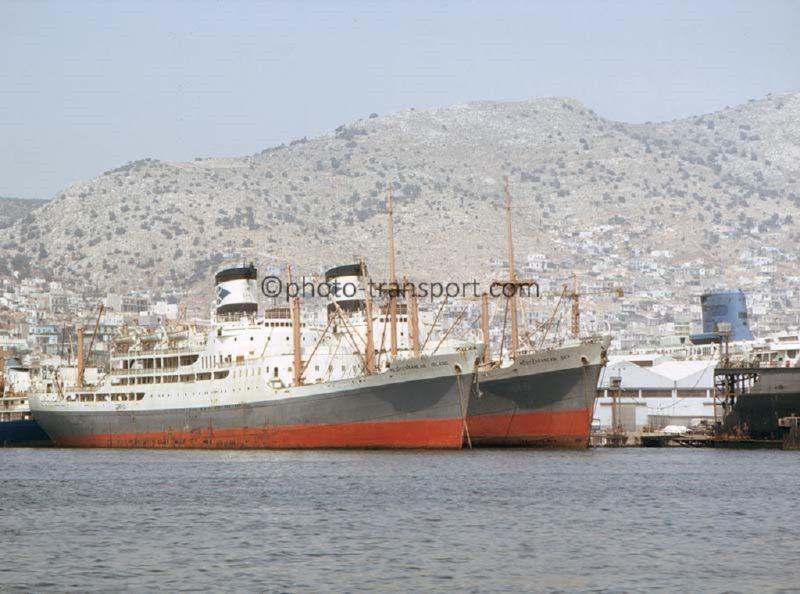 CITY of PORT ELIZABETH
Pre-war, Ellerman had only six passenger vessels with accommodation for over one hundred passengers, moreover they had served on all of the many routes of the Group. The twin screw motorship City of Port Elizabeth was launched as the first of the new quartet on 12th March, 1952 and was delivered to Ellerman and Bucknall Line on 10th December 1952 as the first post-war passenger ship for Ellerman and their first class of motorships. She had a beautiful raked and curved bow terminating in a gentle upward curve at the upper levels, and a neatly rounded cruiser stern. She had dimensions of length overall of 541 feet, beam of 71.2 feet, a depth of 36 feet and a draft of 28 feet. A raked fo'c'stle of length 46 feet, bridge deck of length 150 feet, and poop of 36 feet gave her a gross tonnage of 13,363 and a deadweight of 10,700 tonnes. A tall foremast, three pairs of king posts, six lifeboats and a tall, pleasing funnel completed her classic and interesting profile. She had five holds with a cubic feet capacity of 616,000 for general cargo with fourteen derricks of between 5 and 15 tonnes capacity and heavy lift derricks of 50 tonnes capacity on her foremast for cargo handling.
Her hull was welded to a large extent, particularly the shell plating, the butts and seams of the bottom shell, deck plating except the stringers, centre keel, longitudinal bottom girders, deck girders, main watertight bulkheads, boss framing and plating, shell butts and many other items. This gave an appreciable saving in weight over pre-war riveted Ellerman liners of the same size. One item that could not be made less weighty was the thick steel bullion room, next to the mail room, and used for the homeward shipment of South African gold bars to the Bank of England. The bullion room was fitted with a special strongroom door, which defied all potential thieves, either passengers or crew.
She was powered by twin six cylinder two stroke Doxford oil engines of 12,650 bhp at 115 rpm manufactured by the St. Peter's engine works of Hawthorn, Leslie & Co. Ltd. at Newcastle and moved the short distance to the Walker Naval Yard by barge. A maximum trials speed of 18.8 knots was obtained, and a service speed of seventeen knots was maintained on the fifteen day voyage to Cape Town. Watertight subdivision was effected by seven main transverse bulkheads, which extended to the upper deck. The degree of the subdivision was however greatly enhanced by the boundaries and divisions of the cargo oil tanks, deep fuel oil bunkers and fresh water tanks. The cellular double bottom was subdivided both transversely and longitudinally for 1,119 tonnes of fuel oil, 204 tonnes of diesel oil, 1,513 tonnes of fresh water and 1,091 tonnes of water ballast. The five holds had both upper and main 'tweendecks with large hatches so that wide export machinery could be accommodated. At the aft end of number four hold, special deep tanks were provided for the carriage of latex, cargo oil, dry cargo or water ballast.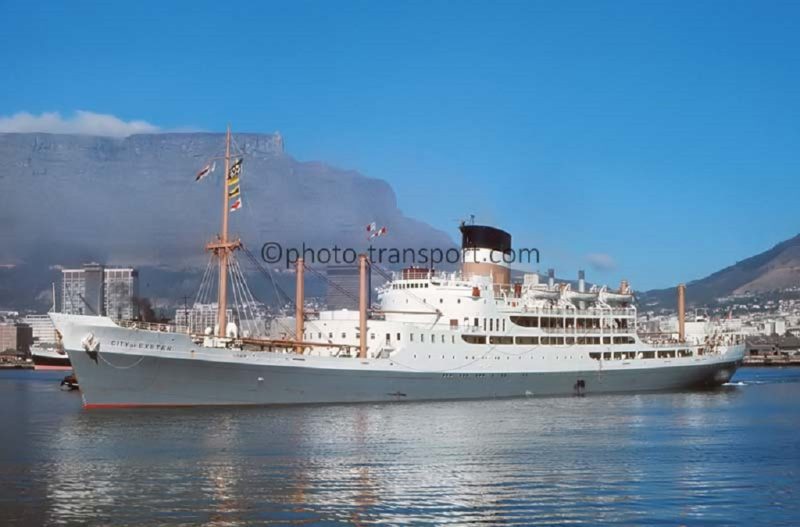 PASSENGER ACCOMMODATION
Excellent First Class accommodation was provided for 106 passengers on two decks – 'A' Deck and 'B' Deck with most of the public rooms on Promenade Deck above 'A' Deck except for the Restaurant, which was on the Second Deck (Upper 'tweendeck level) below 'B' Deck. A Third Deck (Main 'tweendeck level) below Second Deck had the insulated storerooms and workshops and was out of bounds to passengers. 'A' Deck had fourteen two berth and eight single berth staterooms with private bathrooms adjoining, as well as four sitting rooms, which were convertible into two berth staterooms, and 'B' Deck had nineteen two berth and three single berth staterooms. Fifteen of the two berth and six single berth cabins could be fitted with an extra Pullman berth, if required. All of the spacious staterooms were outside facing and fitted with large vertical sliding windows to allow extra light into the rooms. The Promenade Deck had a Drawing Room, a Foyer, a Smoking Room, a Writing Room and a Verandah café. All of these rooms were panelled in hardwoods such as ice birch, maple burr and polished santa vera, and fitted with comfortable armchairs and sofas.
Restaurant
A full width room sitting 104 persons and entered from the main stairway and panelled in cream vyanide with maroon banding. The windows and large elliptical sidelights were arranged in groups of three. Service doors led directly to the galley at each side, and recessed plinth sideboards and open shelved dumb waiters were arranged between the doors. Rectangular decorated mirrors complemented the room with tables arranged for groups of eight or four sitting on sycamore wood dining chairs upholstered in blue and natural hide with deep padded backs.
Drawing Room
A full width room on Promenade Deck with the forward end conforming to the wide sweep of the bridge front, with large, closely spaced windows on both sides and across the front of the room. The walls were painted cream while the ceiling was finished in flat white, with a Portland stone fireplace at the forward end and low bow fronted bookcases at each side of the fireplace and a large painting hung above. Queen Anne furniture in French walnut wood included tables, lounge chairs and upholstered settees.
Smoking Room
A full width room 'midships on Promenade Deck and entered from each side through double glass panelled swing doors set in alcoves and through single doors from passageways and the Verandah café aft. Jacobean style furniture consisted of armchairs, tapestry covered cushions, settees, easy chairs and tables. A parquetry wood floor, ceiling fans, and a sea painting above the fireplace set the tone of this elegant room.
Writing Room
A comfortable furnished writing room on the port side of Promenade Deck with walls of santa vera and sapele mahogany skirtings and architraves. Two built in bookcases with cupboards below had a large frameless mirror between the bookcases set with an electric clock with a satin-silver face. The writing tables and easy chairs were elegant and upholstered in olive green brocade.
Verandah Café
The most popular room with passengers on each ship of the quartet, and situated at the aft end of Promenade Deck. A long modern bar at one end of the room with a bar top of black plastic and a maple burr panelled front had bar stools for ten people and a central feature with a clock above. The tables and fabric covered and cane chairs were arranged around a large square dance floor.
Main Entrance
The full width passenger entrance was forward on 'B' Deck and at embarkation and disembarkation was a hive of activity around the purser's bureau. While waiting, passengers sat on comfortable French walnut easy chairs in groups arranged around coffee tables in walnut and birchwood, and a shop with a curved front and sycamore wood frames was adjoining for last minute purchases, together with the separate ladies and gentlemen hairdressers.
Children's Playroom
A large room with adjoining deck space was provided at the aft end of 'A' Deck equipped with circular slides, play tables, inlaid floor games, and colourful murals depicting nursery characters all around the walls, which were decorated in buff splash proof linette plastic. Parents of the children played deck games on the Sports Deck above Promenade Deck while their children were well looked after by trained staff.

Staterooms
'A' Deck staterooms had private bathrooms while those on 'B' Deck had shared facilities. All of these spacious rooms were decorated in pastel shades e.g. jade green, light blue or pink. The four bed sitting rooms had beds of a concealed type and when not in use appeared as figured sycamore cupboard doors. The staterooms on 'A' Deck had large, rectangular windows facing onto the promenade, while those on 'B' Deck had large elliptical sidelights. All of the rooms had pedestal dressing tables with linette plastic tops, and tallboys with built in wardrobes, as well as bedside cabinets and easy chairs. Directional ventilation louvres and rotating cooling fans were used in the tropics as the big drawback was that there was no air conditioning. The small portholes and bunk beds in some cabins were other disadvantages.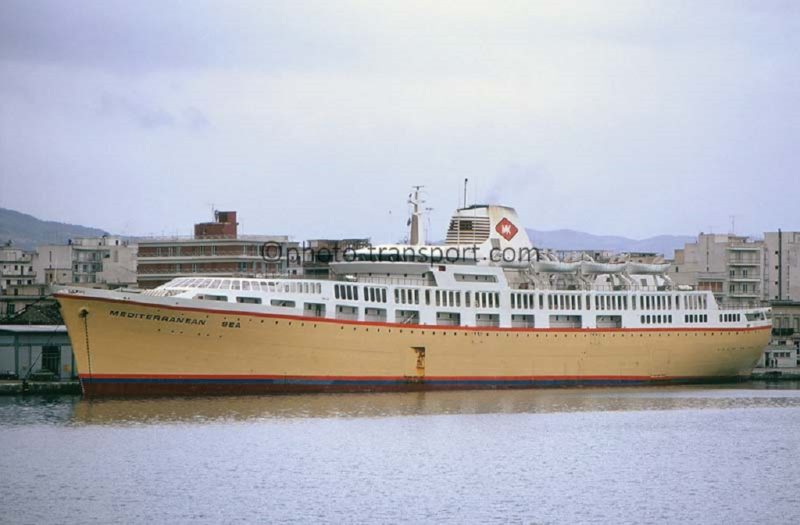 CREW ACCOMMODATION
The Captain's Suite of rooms was on the navigating bridge behind the chartroom and wheel house and consisted of a sitting room, bedroom and bathroom. The Deck Officers and Engineer Officers cabins were accommodated in a house at the forward end of Boat Deck and on 'B' Deck immediately abaft the passenger staterooms. Hot and cold running water was supplied to all crew accommodation, which had comfortable furnishings. A handsome Smoking Room in panelled oak with easy chairs was provided for the officers, while the petty officers, European stewards and cabin cleaners had single or double berth cabins on the Second Deck to port and starboard of the engine exhaust spaces and abaft the Main Restaurant and galley. The Indian stewards and firemen were berthed at the after end of this deck, with the remainder of the crew accommodated in the poop. Galley staff provided an efficient service to the Main Restaurant using electric heaters and grills, baking ovens, carving tables, hot presses, potato peelers and other modern food preparation equipment. The insulated food stores of 21,000 cubic feet capacity were directly below the galley on the Third Deck, with stores taken onboard through doors to port and starboard on each side of the vessel.
NAVIGATING and OTHER EQUIPMENT
Every modern aid to navigation of the highest efficiency and reliability was fitted on the Navigating Bridge including gyro compass, steering compasses, Marconi radio equipment of Radiolocator radar, Lodestone direction finder, Visagraph echo sounder and automatic alarm equipment for detecting collision situations and other safety issues. The ventilation and heating equipment was by Thermotank Ltd. of Glasgow for individual control of stateroom temperatures via louvres, while in the public rooms a punkah louvre system was provided at ceiling level. Cargo handling on the fourteen derricks was operated by fourteen electric winches supplied by Clarke, Chapman & Co. Ltd., and each winch had a central barrel and warping ends and were worm geared. In addition, the two winches located immediately forward of the mast had a spur geared auxiliary unit to enable the fifty tonne heavy lift derrick. The foremast was suitably stiffened and rigged as the heavy lift derrick was much used for the export of heavy equipment into numbers one and two holds or onto the deck at the sides of the hatches.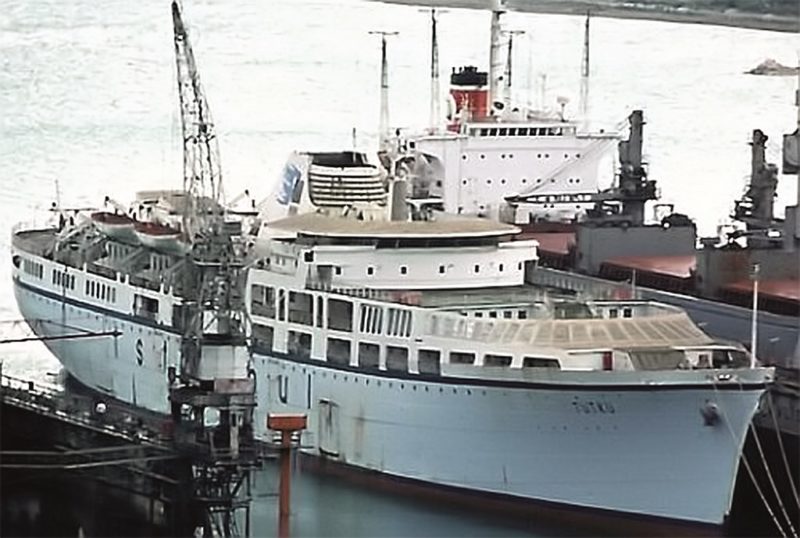 THE QUARTET IN SERVICE
The Ellerman Group had a large fleet of 94 passenger and cargo-liners in service on worldwide routes at the time of completion of the quartet. City of Port Elizabeth sailed on her maiden voyage in January 1953 from London to Las Palmas, Cape Town, Port Elizabeth, East London, Durban, Lourenco Marques and Beira. A monthly service was then maintained when her sisters entered service as City of Exeter in May 1953, City of York in November, 1953, and City of Durban in May 1954. Cargo was discharged in the Royal Albert Dock at a berth around half way down the dock, and the quartet then spent one month on the coast, sailing to Rotterdam, Antwerp, Hamburg, Hull, Tyne, Middlesbrough and back to London for more cargo. Passengers embarked at Tilbury and northbound passengers disembarked at Plymouth until 1963. The Ellerman passenger service to India had ended in 1947, and this South African service was the main Ellerman route with passengers in post-war years until air transport to East Africa took many passengers away. The South and East African route was served by the quartet under review plus six cargo ships with accommodation for a dozen passengers throughout the 1950s.
After changing into 'tropical whites' in Las Palmas de Gran Canaria, the Navigating Officer steered the Ellerman liner south through the usually rough seas to Cape Town. The settlement of Cape Town had come under the British as Cape Colony in 1795 after their defeat of the Dutch East India Company (VOC) at the Battle of Muizenberg, forcing the Dutch Boer settlers northwards on their Great Trek to new lands. Antonio de Saldanha of Portugal had been the first European to land at Table Bay in 1503, with the first settlers arriving on 6th April 1652 led by Jan Van Riebeeck of Holland. The Cape Town Railway and Dock Company was formed in 1860, with the Victoria and Alfred Basins, Duncan Dock and Ben Schoeman Dock then built, and a breakwater added to the north of the docks after numerous ships had become casualties in the frequent gales in Table Bay.
East London was a port of call for the quartet and had been founded in 1847 as a military camp on the banks of the Buffalo river. It was ambitiously named as London by the British Governor, and then renamed as East London as it is on the east bank of the river. This 'Wild Coast' of South Africa is noted for its many shipwrecks, including that of the cargo-liner City of Lincoln of 8,039 grt completed in 1938 by Cammell, Laird & Co. Ltd. She was on Ellerman & Bucknall Line service on 9th November 1946 on a voyage from Baltimore to Beira when she was wrecked near Cape Agulhas at Quion Point. She was salvaged six months later and towed by two tugs to Cape Town, and after unloading she was stripped of everything useful using her own gear at the Eastern Mole of Duncan Dock. On 8th May 1950, the remainder of her hull was towed out to sea and sunk by bombs and rockets of the South African Airforce.
In 1956, the Ellerman Group had the fifth largest British fleet by tonnage after the powerful P. & O., Furness, Withy & Co. Ltd., Cunard Line and the new British and Commonwealth Group. During that year, City of Exeter sailed from London on three voyages to the six ports in South and East Africa, and City of Durban also sailed from London on three voyages south that year, while City of Port Elizabeth and City of York each made four sailings from London southwards, both with one voyage starting in the northern winter month of January, with each round voyage south taking around three and one half months to complete. City of York suffered a bad fire in a hold in October 1959 at East London, and fire crews used six hundred tons of water to extinguish it.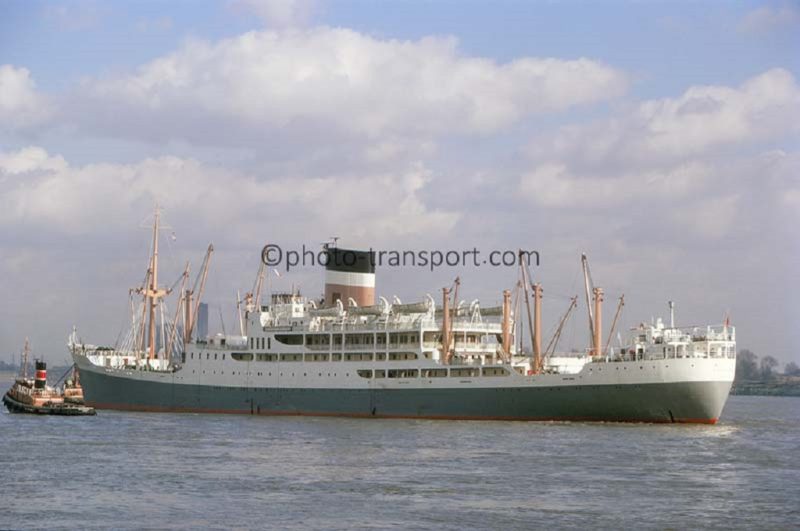 A major renewal of the passenger accommodation was undertaken in refits lasting seven weeks on the Tyne in 1966/67 on all four sisters in an effort to combat or at least delay the impact of air transport. Mini cruises were then offered around the Continental and East Coast ports from London in order to better utilize the passenger accommodation. All the passenger berths were fully booked on City of Port Elizabeth on one voyage in 1969 as the City of London Livery Club block booked her for a South and East African cruise. However, competition from Union-Castle Line and air transport was overwhelming, and City of York sailed from Cape Town on 11th June 1971 on her 59th northbound and the final Ellerman and Bucknall Line sailing. All four sisters were in lay up by July 1971 at Amsterdam pending their sale. The service had lasted eighty years and each of the handsome quartet had made a significant contribution to South and East Africa. However, frequent strikes by dockers in London Docks meant that the passenger accommodation had been unused for long periods towards the end of their successful careers.
The Beira terminus port of the Ellerman and Bucknall Line service was at the long passenger terminal of the Companhia de Mocambique facing the harbour on Rua Conselheiro Ennes. This terminal had a three storey centre section with two storey wings and rail access at the rear. Lourenco Marques and Beira were granted independence in 1975 from Portuguese East Africa as the major port cities of the new State of Mozambique. Lourenco Marques was renamed Maputo and is near the Delagoa Bay estuary on the north bank of the Espiritu Santo river. Beira was renamed Sofala after its province of that name, and had been established in 1890 by the Portuguese and was connected by railways to important mines in the interior of the country. Coal, lead, antimony, vanadium and gold ore were mined, with some of these ores loaded into the bottom of the holds of the Ellerman quartet along with cotton, sugar, chromite, sisal, copra, hardwoods of many types, cashew nuts, tea, cassava, coconuts, maize, rice, tobacco and rubber.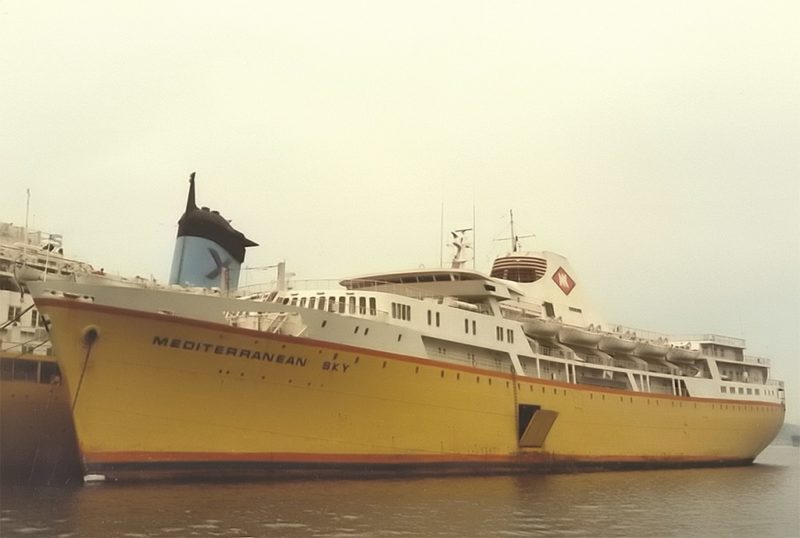 NEW GREEK CAREERS
On 10th September 1971, the four sisters were sold for a total of £2.8 million to Michail A. Karageorgis and his Karageorgis Lines for conversion into Greek ferries or possibly into cruise ships. The resulting major conversion for two of the quartet was to be brutal, with major external and internal ship surgery at Perama resulting in them becoming unrecognizable as former handsome Ellerman combination passenger and cargo liners. City of Exeter and City of York were converted as they lay side by side at Perama, and City of Exeter re-entered service in December 1972 as Mediterranean Sea with 246 cabins for 828 passengers on the Patras to Brindisi and Ancona routes. There were also side doors cut into both sides of the hull for the transport of four hundred cars in three garages on two lower decks in the former forward cargo holds. City of York followed into service in June 1974 as Mediterranean Sky on the longer route between Rhodes and Ancona. Work on the other two laid up members of the quartet was suspended due to indecision as to whether this pair should be instead converted into cruise ships. City of Port Elizabeth was renamed Mediterranean Sun but was laid up until she was towed away to Kaohsiung in May 1980 for scrapping, while City of Durban was renamed Mediterranean Dolphin but conversion to a cruise ship quickly fell through and she arrived at Kaohsiung for scrapping on 30th March 1974.
Conversion of all four of the quartet into big ferries of 16,533 grt had been over ambitious with two of the quartet already cut up for scrap. Mediterranean Sea, the former City of Exeter, and Mediterranean Sky, the former City of York, were initially given yellow hulls with a thin red band at the upper level, and a white replacement funnel bearing a central small red diamond. Later their hulls were painted white, and their classic Ellerman superstructures had been completely removed to weather deck level and replaced with a long aluminium structure three decks high over their entire length of the hull, and surmounted by a new bridge structure and navigating mast placed slightly further aft than their former positions. The two converted ferries were not identical, with Mediterranean Sky carrying 42 fewer passengers than Mediterranean Sea and there were internal differences, and a general description of the three passenger decks can only be given:-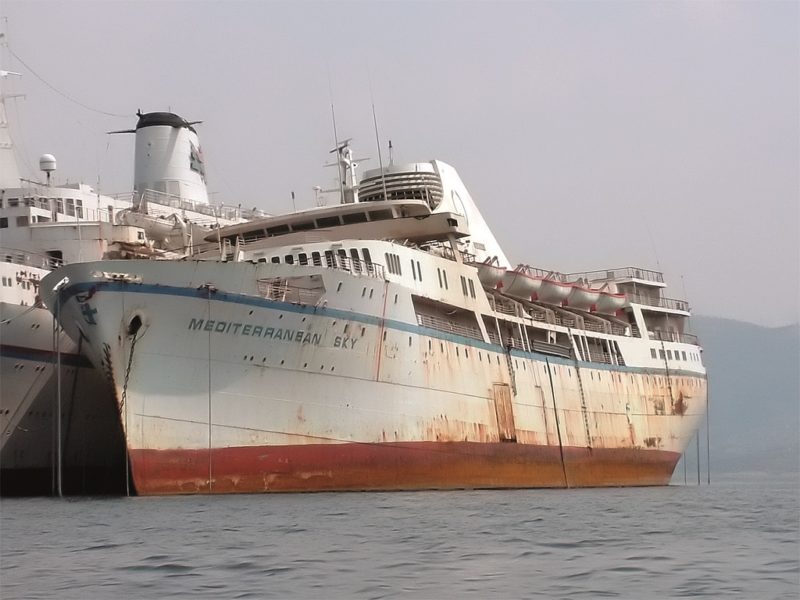 Promenade Deck
First Class Special de Luxe cabins for 32 passengers were located 'midships aft of the First Class Lounge with a bar on the starboard side, and with a swimming pool and deck space located as far forward as the sweep of the bow permitted. The Tourist Class Lounge and dance floor was located aft with a corner bar on the starboard side
Upper Deck
First Class de Luxe cabins were located as outside cabins, with three berth or two berth First Class cabins inside for almost the full length of the new long superstructure. A total of 126 First Class passengers were carried in some comfort and style on this deck. The First Class Dining Room was aft on the port side and the Tourist Class Dining Room aft on the starboard side, with galleys and pantries aft of these over the stern.
Main Deck
All of the Tourist Class cabins for 670 passengers were on this deck, with the four berth outside and four berth inside cabins taking most of the length of this deck, while the six berth outside and inside cabins were aft.
These two Greek ferries had very striking appearances and served Karageorgis Lines for over twenty years until withdrawn in 1993. Competition from the more enterprising Anek Lines, Minoan Lines and a whole host of smaller Greek family ferry lines forced the sale of Mediterranean Sea to Turkish owners in 1995 after a brief charter as a hotel ship at Luanda. This ferry, the former City of Exeter, was sold in June 1995 to Istanbul Sea Lines and renamed Tutku and registered at Panama. In 1996, she was sold to Armon Trading of Piraeus and renamed Alice and arrived for lay up in Eleusis Bay on the last day of that year of 1996. She was towed away for scrapping to Aliaga in Turkey arriving on 7th September 1998.
The former City of York, as Mediterranean Sky, was chartered to the Libyan Government for a service between Tripoli and Libya, and then sailed out to Jamaica for a charter as a hotel ship. She last ran as a ferry between Patras and Bari on charter, but this ended when there was a crew sit-in on her at Patras in August 1996 as the crew had received no pay, with the vessel arrested for debts on 9th September 1996. The ferry remained at Patras until 1999 when she was towed to Eleusis Bay for lay up and she was auctioned off on 3rd February 1999. She remained at Eleusis Bay for another three years until she began to take on water in November 2002 and listed heavily until she was towed to shallow water and grounded. The list grew even steeper and in January 2003 she keeled over on to her starboard side and she remains forlornly in this position to this day.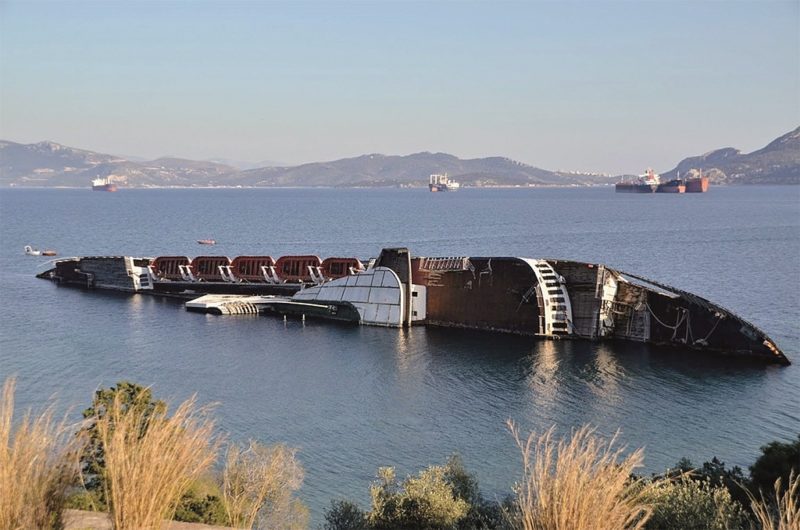 POSTSCRIPT
It is pleasing to note that the hull of the former City of York still exists, albeit lying on her side in Eleusis Bay with the port side of her hull above water. It is amazing that this product of the Walker Naval Yard survives, and also the hammer head crane that was used to fit her out sixty years ago. The crane with a safe working load (SWL) of 250 tonnes is in daily use at the renamed Offshore Technology Park (OTP) to lift heavy offshore flexible pipe drum reels.
After 1971, the South African service of the Ellerman and Bucknall Line became cargo only. The Ellerman Harrison Container Line began operations to South Africa in November 1976 by chartering for one year from Common Brothers of Newcastle their Ria Jean McMurtry, which was renamed City of Pretoria. The big container ship City of Durban of 2,436 TEU capacity was launched on 16th September 1977 for service in the SAECS (Southern Africa Europe Container Service) along with partners Harrison Line and German lines. In 1980, the Ellerman fleet was only four container ships compared to 130 cargo-liners twenty years before, however the capital tied up in the four ships represented one quarter of that tied up in 1960. In 1987, Trafalgar House, owners of Cunard Line, purchased all of the assets of the Ellerman Group for £24.1 million and created Cunard-Ellerman. A total of nineteen cargo ships were owned by Cunard-Ellerman at the end of 1988 in ACT (Associated Container Transportation of which Ellerman had been a founder member in 1966)), Atlantic Container Line (ACL), Ben Line Containers (Ellerman 20%, Ben Line 80%), Ellerman Harrison Container Line to South Africa, and three H. E. Moss tankers.
In October 1991 P. & O. completed the acquisition of all of the Cunard-Ellerman container services and ships from Trafalgar House. Andrew Weir Shipping then purchased the Mediterranean services from P. & O., thus acquiring four of the seven container ships involved in the sale. As part of the deal, Andrew Weir Shipping also purchased the Ellerman cargo rights for services to the Middle East, Red Sea (Camel consortia) and East Africa (Beacon consortia). In 1997, a large new fixed guides containership was completed by Stocznia Gdynia of 23,734 grt with a container capacity of 2,064 TEU for Ellerman Asia Ltd. Further container ships were chartered from 1998 by Andrew Weir Shipping for the Eastern Mediterranean services and were given traditional Ellerman names of City of Glasgow, City of Liverpool, City of Dublin and City of Salerno. The final chapter of the great Ellerman shipping story came to a close on 1st January 2005 after over one hundred years of operations. The name was changed to that of its parent company, Hamburg-Süd A.G., which acquired Ellerman in 2003.